Lemony Cucumber Couscous Salad
THIS is the salad of the summer. This Lemony Cucumber Couscous Salad is so fast, so easy, and SO refreshing! I just love it. Bring it to a potluck, eat it as a cold refreshing lunch, or serve it along side some grilled goodies for dinner. It's a total winner.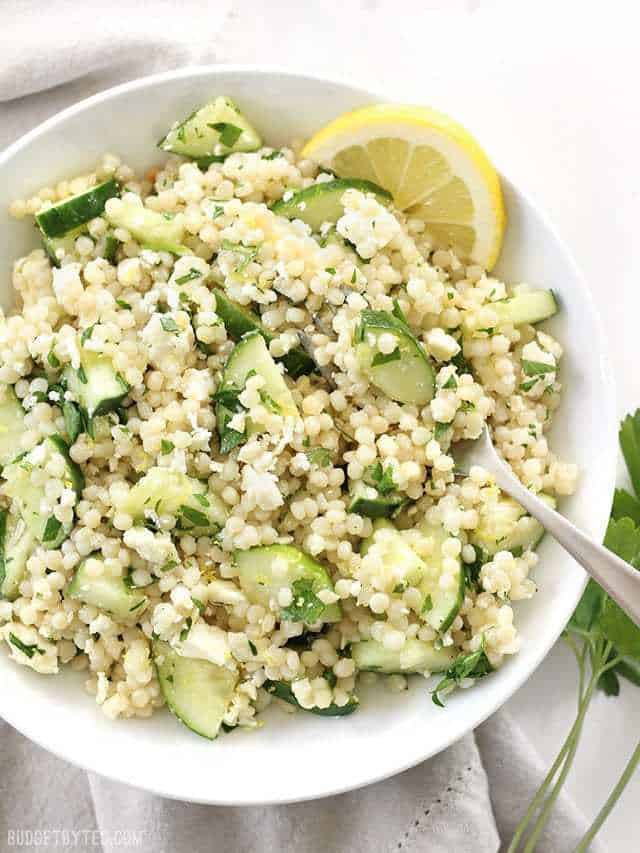 What is Couscous?
If you're unfamiliar with couscous, it's basically little pasta pellets. It cooks really fast, is a fun texture, and is a great way to bulk up salads. I used large Israeli couscous for this Lemony Cucumber Couscous Salad, which is quite a bit larger than regular couscous, but you could certainly use regular couscous or even orzo, if that's what you have available. Regular couscous cooks a little differently, so take a look at this couscous salad (made with regular-sized couscous) for cooking instructions and size reference.
I buy my couscous from the bulk bins at the grocery store because it's super cheap and I can buy exactly the amount I need without having a half package leftover. I used about 1.5 cups for this recipe, but you could go up to to two cups if needed (it really doesn't need to be exact). Also, if you want to bulk it out a little more, a can of chickpeas would be great!
Can I Use Bottle Lemon Juice?
Fresh lemon is key to achieving the powerfully fresh lemon flavor in this Lemony Cucumber Couscous Salad, so I do not suggest substituting for bottled juice. The zest from the fresh lemon alone is responsible for most of the lemon flavor in this salad, and you just can't get that from bottled juice.
Lemony Cucumber Couscous Salad
Lemony Cucumber Couscous Salad is a light, fresh, and vibrant pasta salad perfect for any summer meal.
Servings: 6
Ingredients
1 1/2 to 2 cups Israeli couscous ($1.47)
2 medium cucumbers ($1.50)
1/4 bunch parsley ($0.20)
1 medium lemon ($0.49)
2 Tbsp olive oil ($0.32)
1/4 tsp garlic powder ($0.02)
1/4 tsp salt ($0.02)
freshly cracked pepper to taste ($0.05)
3 oz. crumbled feta cheese ($1.30)
Instructions
Bring a medium pot of water to a rolling boil. Add the couscous and continue to let it boil for 5-7 minutes, or until the couscous is tender. Drain the couscous in a colander or wire mesh sieve (if the holes in the colander are too big). Rinse briefly with cool water to cool off the couscous, then allow to drain while you prepare the rest of the salad.

Cut the cucumber into quarter rounds and place them in a large bowl. Take a big handful (or about 1/4 bunch) of parsley and pull the leaves from the stems. Roughly chop the parsley and then add it to the bowl with the cucumber. Use a fine holed cheese grater or a zester to remove the thin layer of yellow zest from the lemon and add it the bowl with the other ingredients.

Cut the lemon in half and squeeze the juice into a small bowl (you should get 2-3 tablespoons of juice). Add the olive oil, garlic powder, salt, and some freshly cracked pepper. Stir to combine and then pour the dressing over the cucumber, parsley, and lemon zest. Stir to combine.

Add the cooled and drained couscous and crumbled feta to the bowl. Gently stir to combine all of the ingredients. Taste and adjust the salt and pepper as needed. Serve immediately or chill until ready to eat.
Notes
If you are substituting regular couscous for Israeli couscous, be aware that the cooking instructions are different. You can find instructions and step by step photos in this recipe post. You can substitute orzo for the couscous without any adjustments.
See how we calculate recipe costs here.
---
Nutrition
Serving: 1 Serving ・ Calories: 307.02 kcal ・ Carbohydrates: 48.17 g ・ Protein: 10 g ・ Fat: 8.08 g ・ Sodium: 308.32 mg ・ Fiber: 3.82 g
Nutritional values are estimates only. See our full nutrition disclaimer here.
---
The equipment section above contains affiliate links to products we use and love. As an Amazon Associate I earn from qualifying purchases.
Scroll down for the step by step Photos!
How to Make Lemony Cucumber Couscous Salad – Step by Step Photos
This is what the Israeli couscous looks like when it's dry. It cooks exactly like pasta. Again, if you want to see what regular couscous looks like, check out this other post.
Cook couscous just like you would pasta – bring a pot of water to a rolling boil, add the couscous, and then continue to boil until the couscous is tender. Since it's small, it cooks fairly quickly. 5 min or so.
Drain the couscous and then rinse briefly with cool water to bring the temperature down. You may want to use a mesh wire sieve to drain the couscous because, as you can see, even with the large Israeli couscous I lost a few through the holes :(
So while the couscous is cooking and cooling, you can prepare the rest of the salad. Cut your cucumbers into quarter rounds, roughly chop the parsley, and remove the zest from the lemon. Place them all in a bowl.
To make the lemony dressing, I squeezed the juice from the lemon (about 2-3 tablespoons) and added 2 tablespoons of olive oil, 1/4 tsp of garlic powder, 1/4 tsp of salt, and some freshly cracked pepper. Stir to combine. If you're a garlic lover, you could certainly mince up a clove of fresh garlic instead of the garlic powder. I decided that I wanted the salad to have just a hint of garlic flavor, so I added a touch of powdered garlic instead of fresh.
If I haven't told you yet, this is one of my favorite weapons in the kitchen. These little disposable grinders are usually around $3 and last me at least 6 months with heavy use. There are different varieties and you can adjust the size of the grind. They're awesome.
Add the dressing to the ingredients in the bowl and then toss to coat.
Now you can add the cooled and drained couscous and the crumbled feta. Stir to combine once more.
Give it a taste and adjust the salt and pepper if needed (I added a touch more of both).
And now you're ready to eat! Or, you can chill it until it's time for dinner. This salad is SO good cold.
Seriously, this Lemony Cucumber Couscous Salad is my favorite summer treat. Sometimes I add a grilled chicken breast on top and make it a meal. A dollop of hummus is also good in there!
It's like a forkful of freshness!