Not a summer goes by without me making this incredible Lemony Cucumber Couscous Salad. It's so fresh and delicious, quick to make, AND it stays good in the fridge for days. What more could you want from a summer salad?? Plus, it's a great dish to bring to all those summer potlucks and BBQs, too!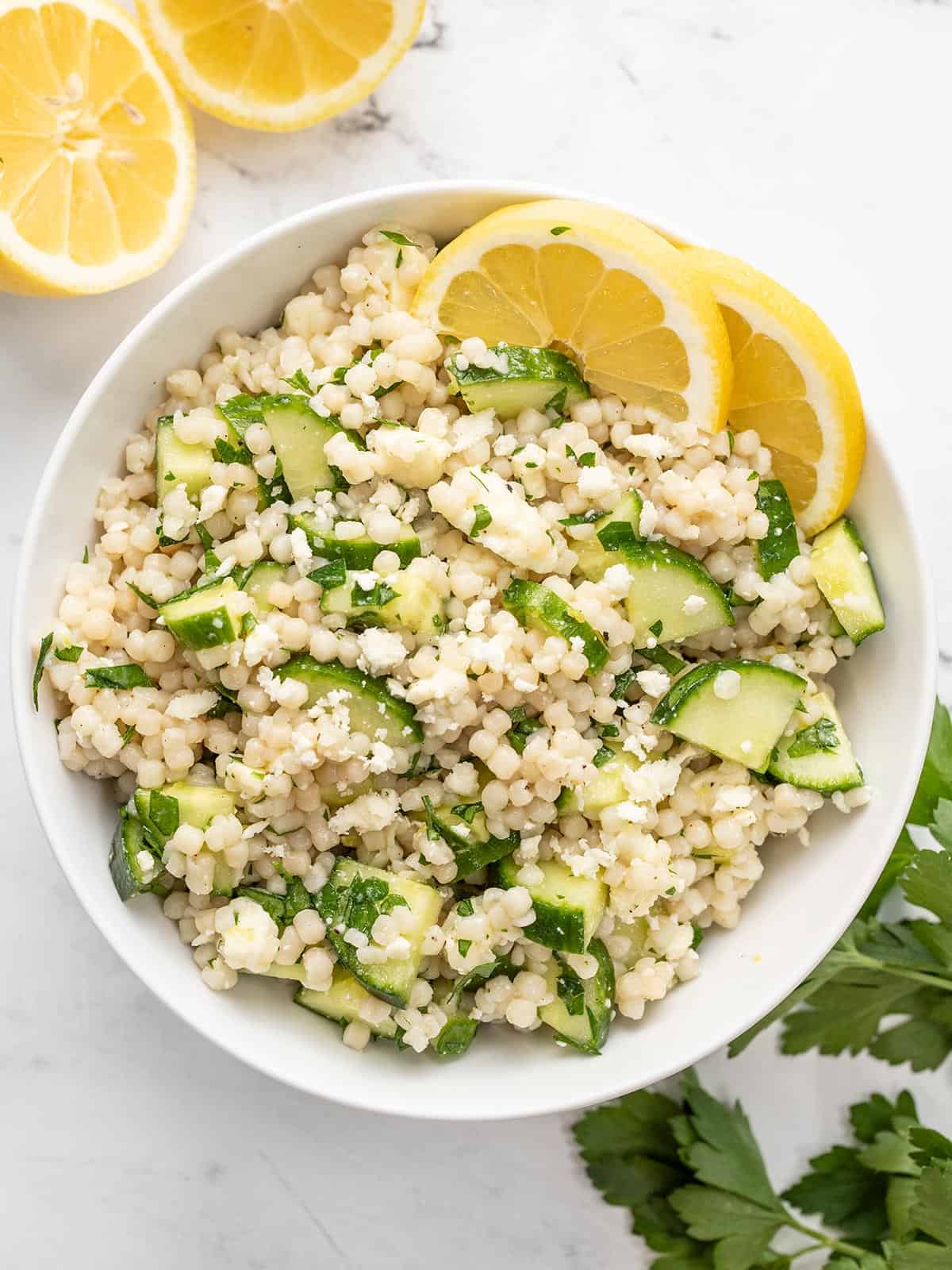 What is Couscous?
Couscous is a small, ball-shaped pasta. It cooks really fast, is a fun texture, and is a great way to bulk up salads. The variety used for this Lemony Cucumber Couscous Salad is a larger-sized couscous called pearl couscous, or sometimes Israeli couscous or giant couscous. If you can't find pearl couscous, you can use regular couscous or even orzo in its place (orzo would be my first choice since it's similar in size). Regular couscous cooks a little differently, so take a look at this couscous salad (made with regular-sized couscous) for cooking instructions and size reference.
Can I Use Bottled Lemon Juice?
Fresh lemon is key to achieving the powerfully fresh lemon flavor in this Lemony Cucumber Couscous Salad, so I do not suggest substituting the fresh lemon with bottled lemon juice. The lemon zest alone is responsible for most of the lemon flavor in this salad, and, unfortunately, you just can't get that from bottled juice.
What to Serve with Lemony Cucumber Couscous Salad
This super fresh summer salad is a great side dish for anything you might cook on the grill, or you could serve it with something like Garlic Marinated Chicken, a giant Veggie Sandwich, or Mediterranean Turkey Burgers.
How Are the Leftovers?
I love this salad so much simply because it stays good in the fridge for days. The couscous sort of acts like a moisture regulator, keeping the cucumbers from getting soft or soggy and keeping the salad almost as perfect as it was on day one. So if you're looking for something to meal prep for lunch this summer, this couscous salad is it!
And if you love cucumber salads, then you've got to try our Creamy Cucumber Salad recipe!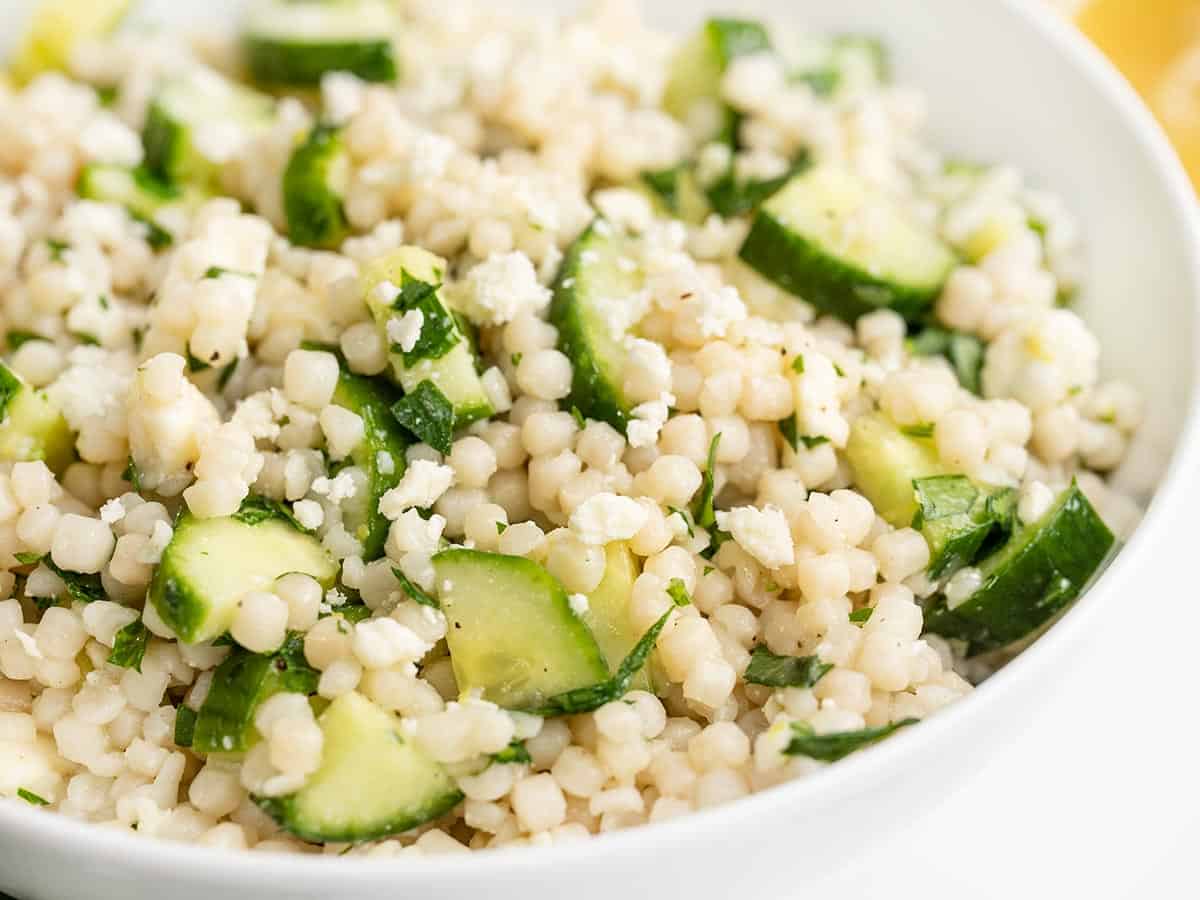 Lemony Cucumber Couscous Salad
Lemony Cucumber Couscous Salad is a light, fresh, and vibrant pasta salad perfect for any summer meal.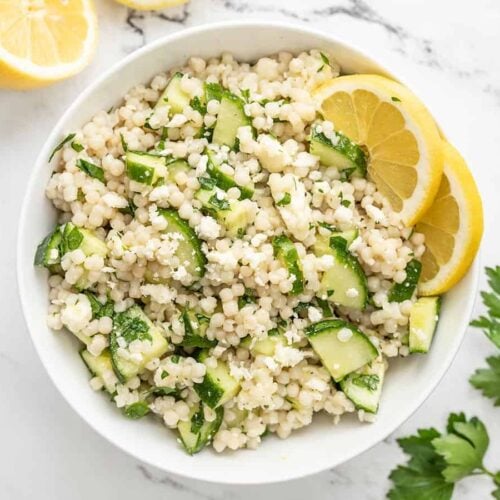 Ingredients
1.5

cups

pearl couscous

($2.20)

1

fresh lemon

($0.89)

2

Tbsp

olive oil

($0.32)

1/4

tsp

garlic powder

($0.02)

1/4

tsp

salt

($0.02)

1

English cucumber

($1.49)

1/2

cup

parsley

($0.27)

1/4

tsp

freshly cracked pepper

($0.02)

3

oz.

feta cheese, crumbled

($1.23)
Instructions
Bring a pot of water to a boil. Add the couscous and continue to boil for about 5 minutes, or until the couscous is tender. Drain the couscous in a colander or wire strainer. Rinse briefly with cool water to cool off the couscous, then allow to drain while you prepare the rest of the salad.

Zest the lemon and then squeeze the juice. You'll need about ½ tsp of zest and 3 Tbsp of juice.

Add the lemon juice, olive oil, garlic powder, salt, and some freshly cracked pepper to a bowl and stir to combine.

Chop the cucumber into quarter-rounds and roughly chop the parsley.

Add the cooled and drained couscous to a large bowl along with the cucumber, parsley, lemon zest, and feta. Pour the dressing over top, then stir to combine. Serve immediately or refrigerate until ready to eat.
See how we calculate recipe costs here.
---
Notes
If you are substituting regular couscous for Israeli couscous, be aware that the cooking instructions are different. You can find instructions and step by step photos in this recipe post. You can substitute orzo for the couscous without any adjustments.
Nutrition
Serving:
1
cup
Calories:
250
kcal
Carbohydrates:
36
g
Protein:
8
g
Fat:
8
g
Sodium:
265
mg
Fiber:
3
g
Read our full nutrition disclaimer here.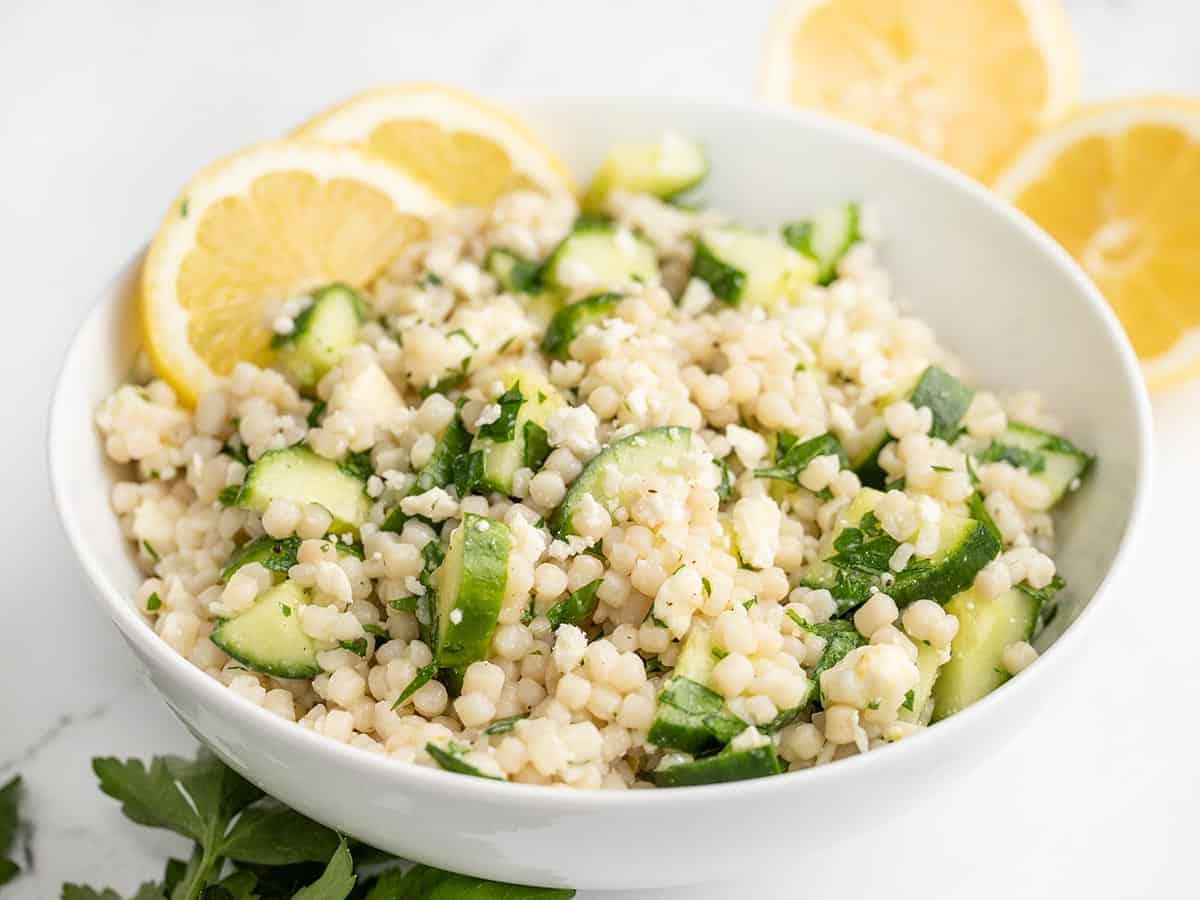 How to Make Lemony Cucumber Couscous Salad – Step by Step Photos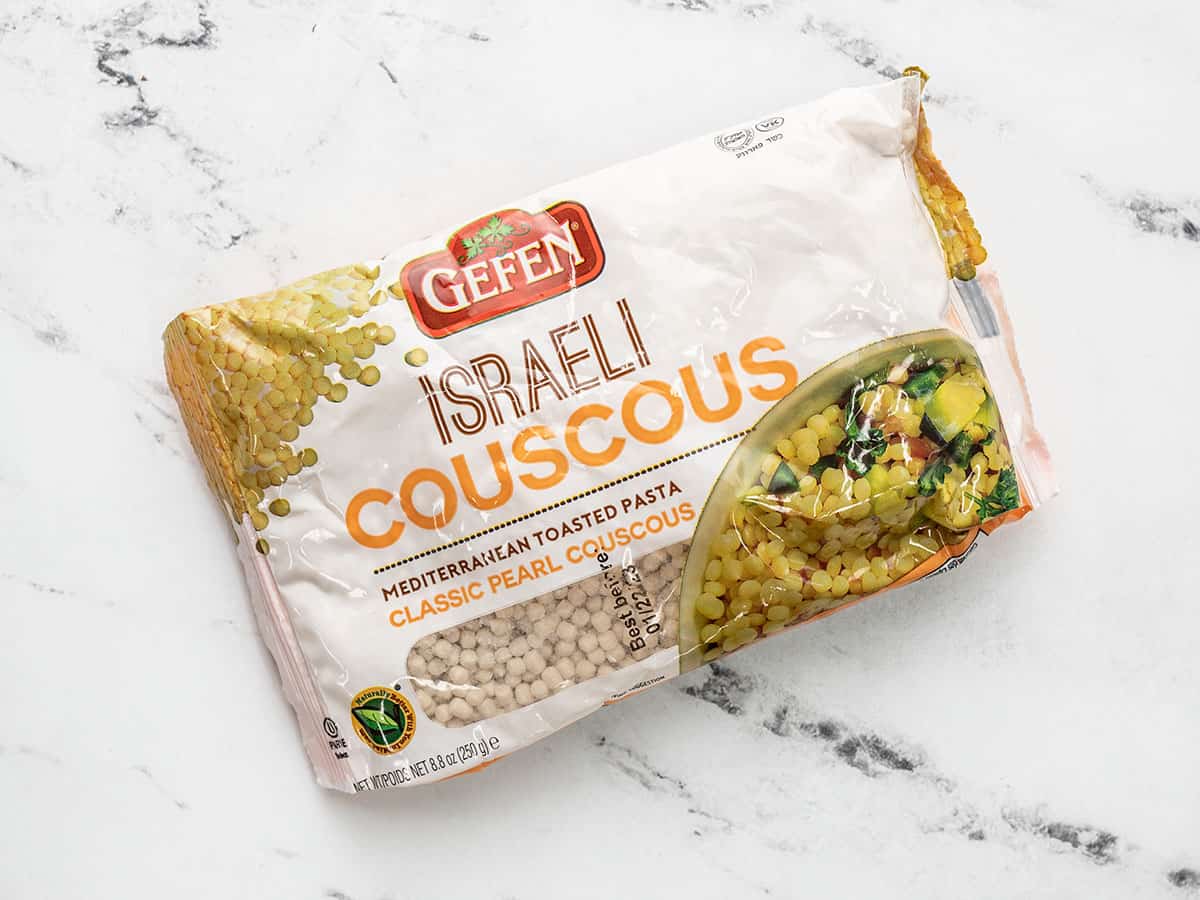 This is what pearl or Israeli couscous looks like. It cooks exactly like pasta. For reference, check out this couscous salad to see the size of regular couscous. You'll need about 1.5 cups of pearl couscous for this recipe.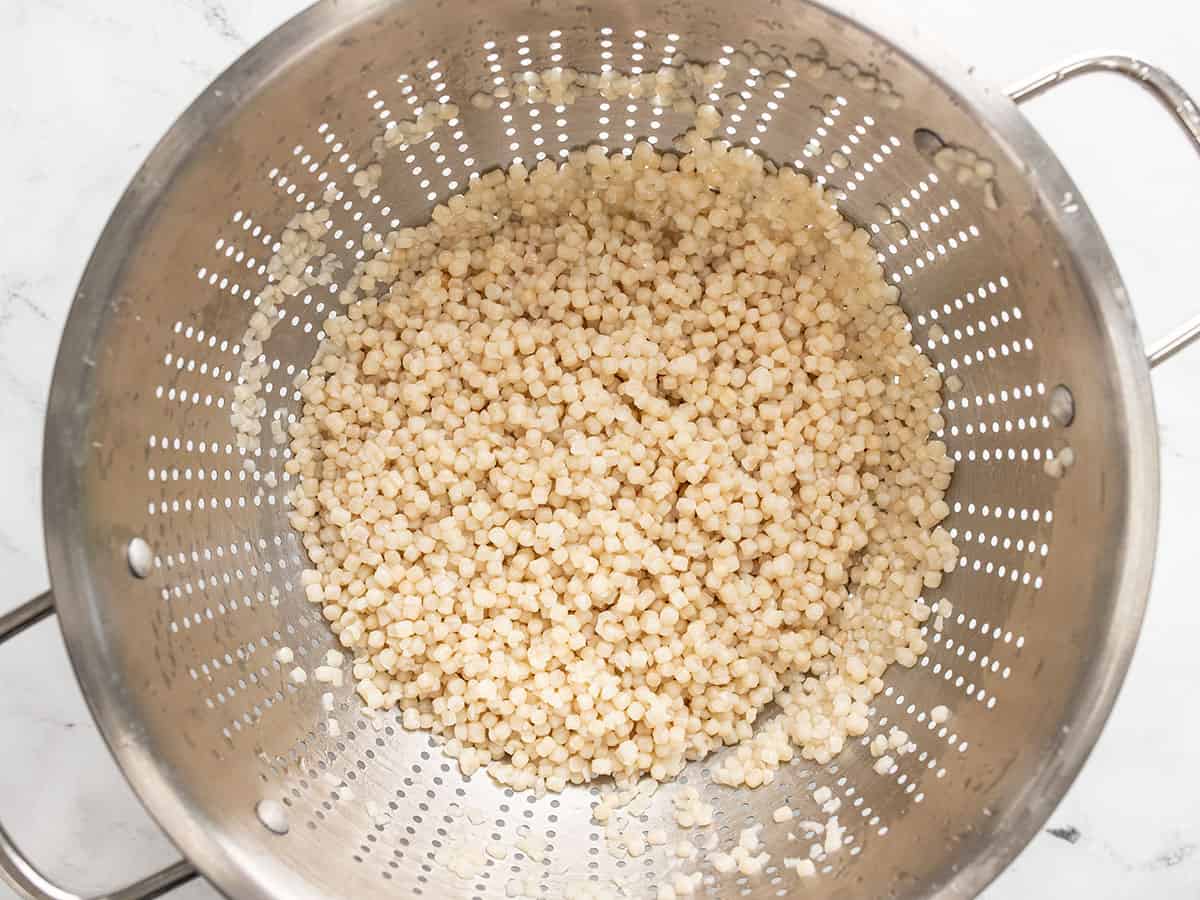 To cook the couscous, bring a pot of water to a rolling boil, add the couscous, and then continue to boil until the couscous is tender. Since the couscous is small, it cooks very quickly (about 5 minutes). Drain the couscous and then rinse briefly with cool water to bring the temperature down.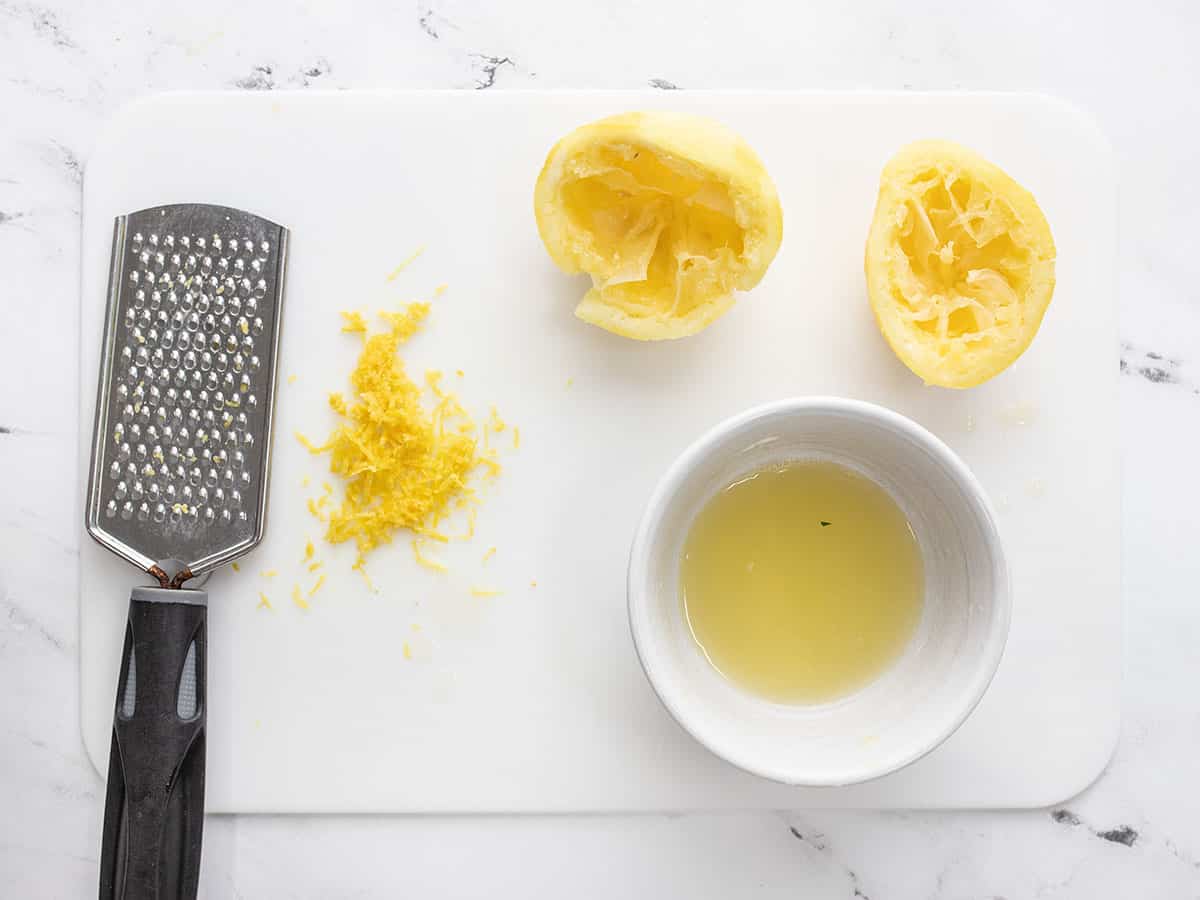 While the couscous is cooking and cooling, prepare the rest of the salad. Start by zesting and juicing one lemon. You'll need about 1 tsp zest and 3 Tbsp juice.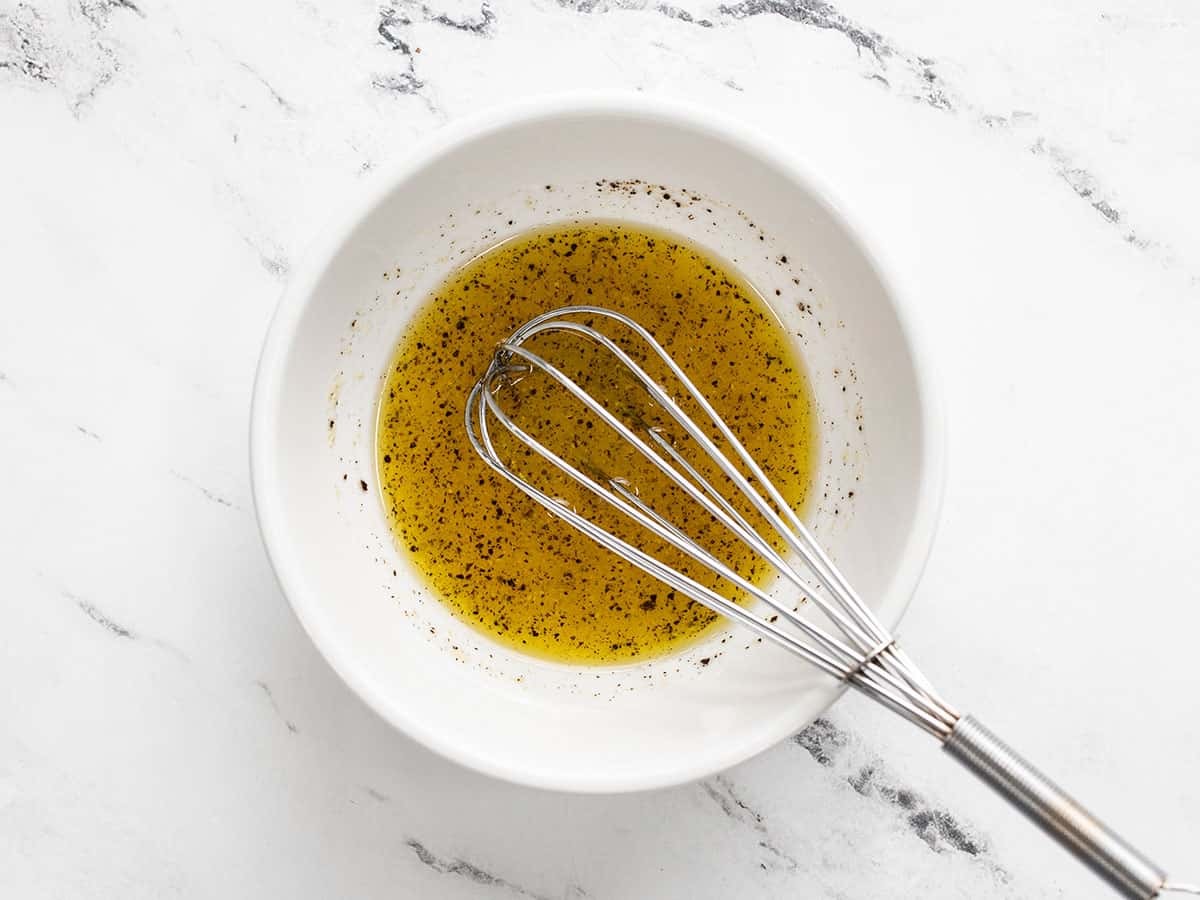 To make the lemony dressing, whisk together 3 Tbsp lemon juice, 2 tablespoons olive oil, 1/4 tsp of garlic powder, 1/4 tsp of salt, and some freshly cracked pepper. If you're a garlic lover, you can mince up a clove of fresh garlic instead of garlic powder. I decided that I wanted the salad to have just a hint of garlic flavor, so I added a touch of powdered garlic instead of fresh.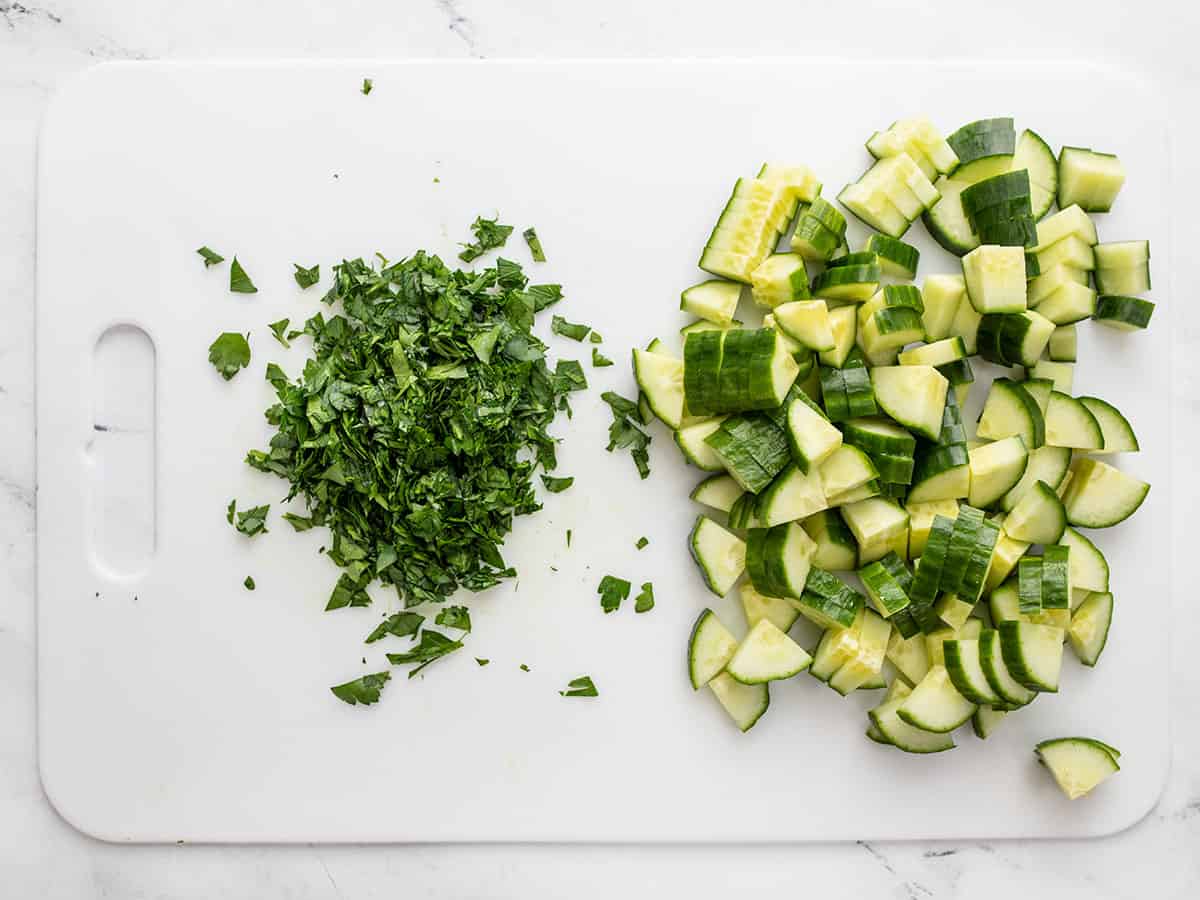 Roughly chop ¼ bunch parsley (about ½ cup chopped) and slice one cucumber into quarter-rounds.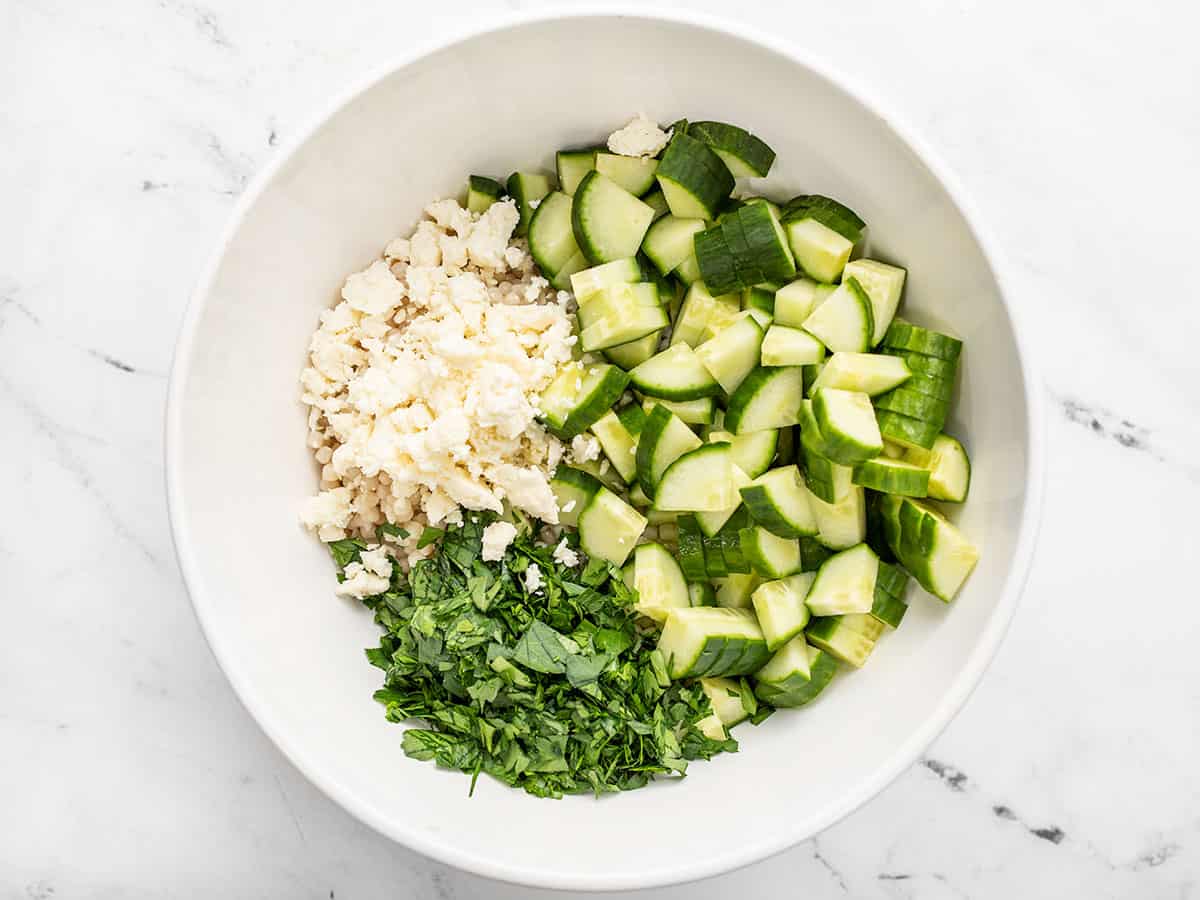 Transfer the cooked and cooled couscous to a large bowl, then add the chopped parsley and cucumber, and about 3 oz. crumbled feta.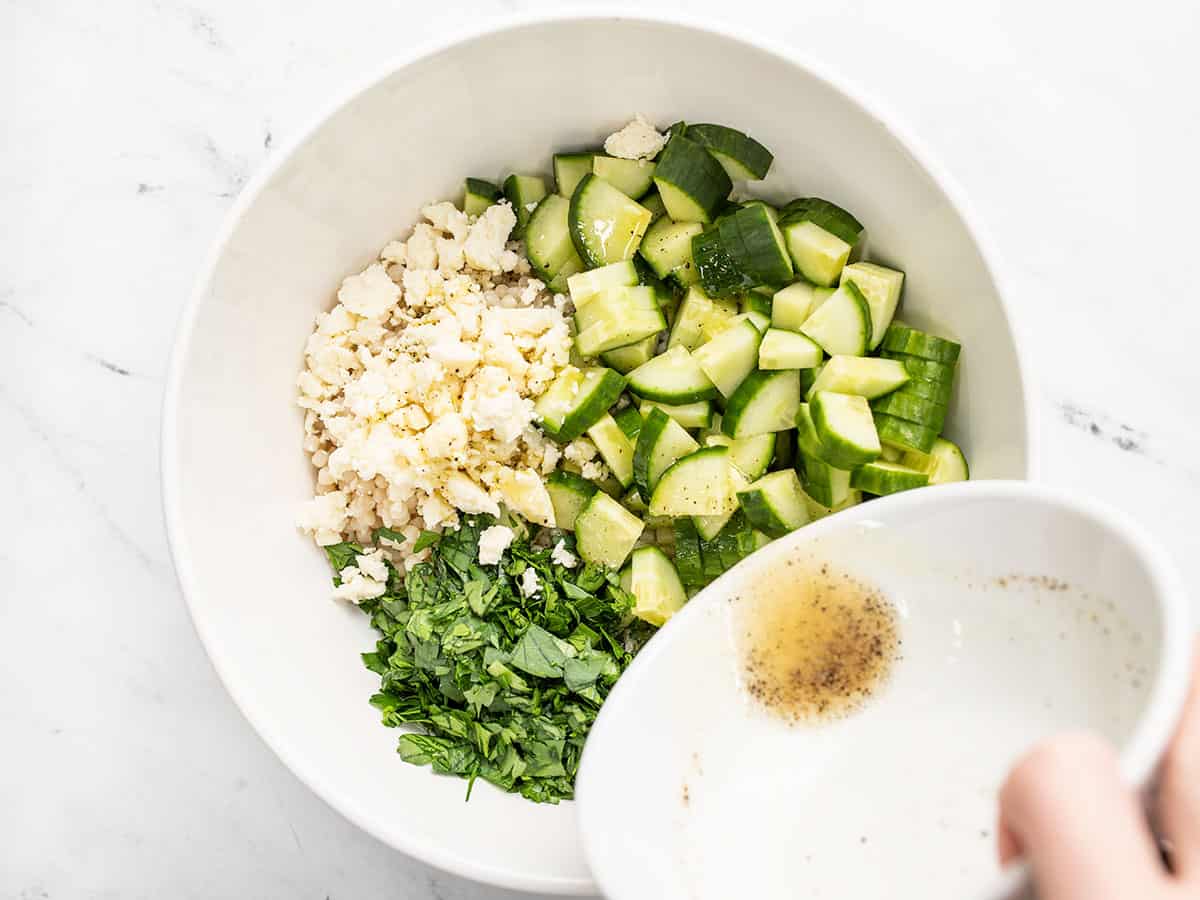 Pour the prepared dressing over the salad ingredients in the bowl.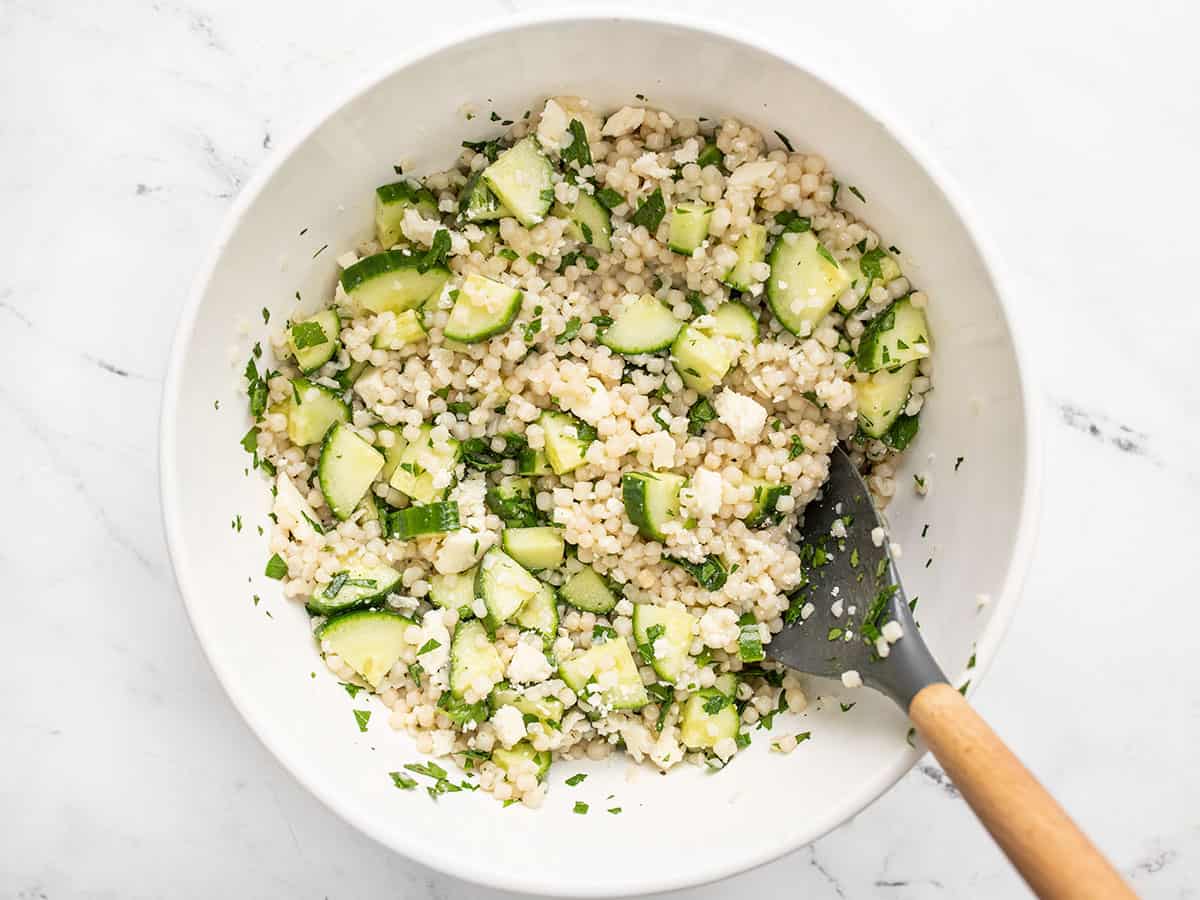 Stir the salad until everything is evenly mixed and coated in dressing. You can give it a taste here and adjust the salt, pepper, or any other ingredients to your liking.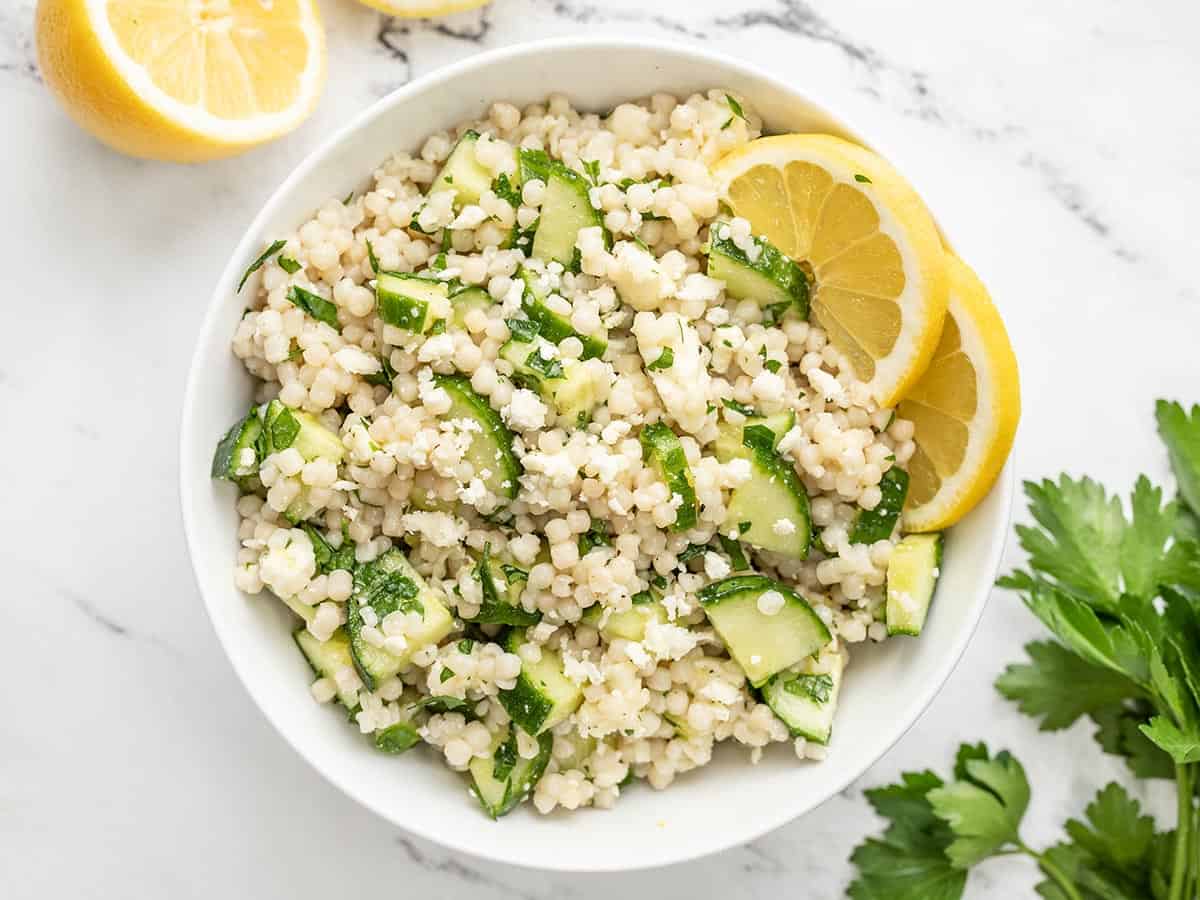 And now you're ready to eat! Or, you can chill it until it's time for dinner. The flavors get even better as it chills and once it's cold the salad is extra refreshing!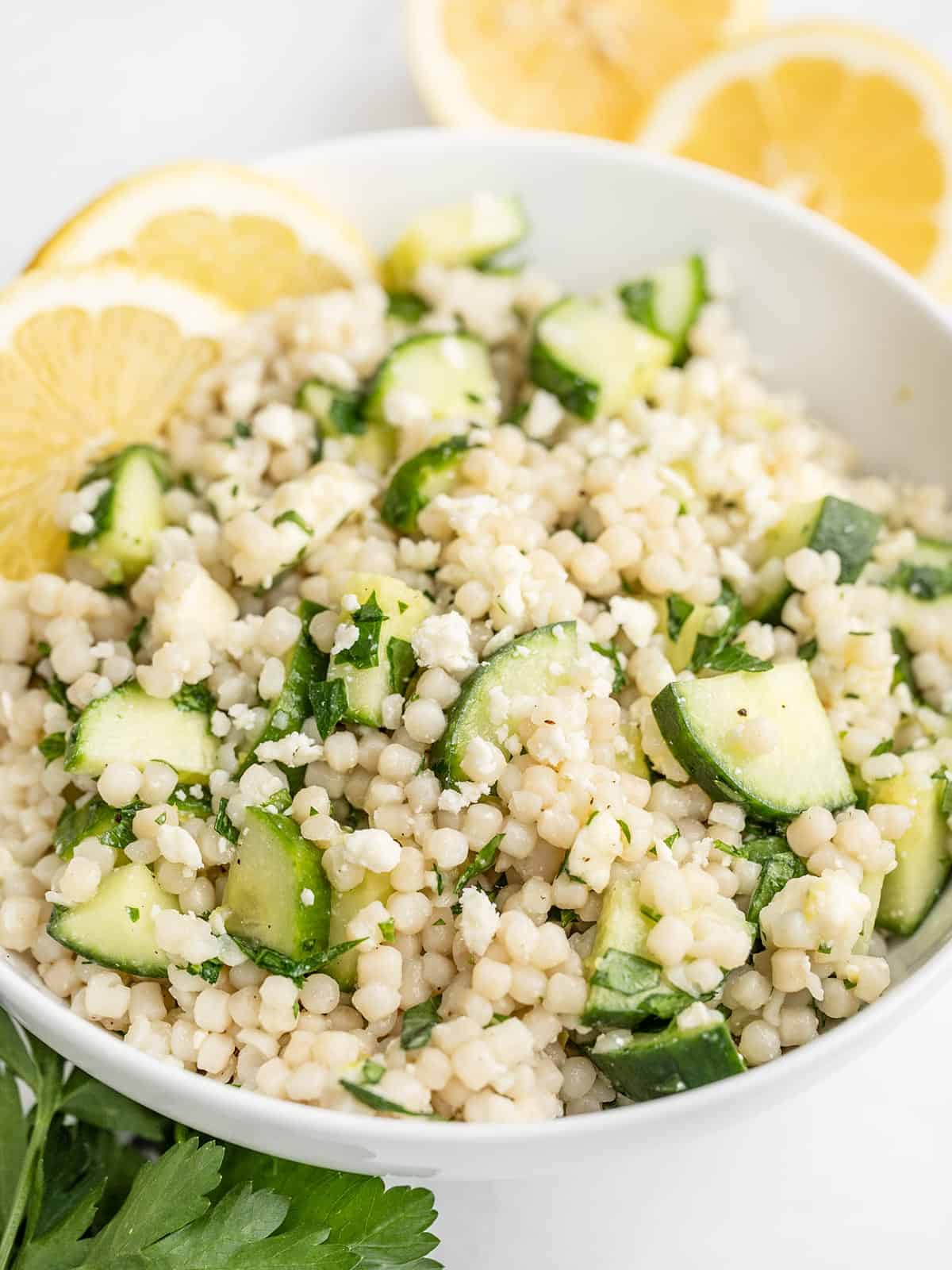 Seriously, this Lemony Cucumber Couscous Salad is my favorite summer treat. Sometimes I add a grilled chicken breast on top and make it a meal. A dollop of hummus is also good in there!
More Cucumber Salad Recipes