It's the season for cozy mugs of hot cocoa, pumpkin pies, and other delectable desserts, all of which are made even better with a heaping spoonful of fluffy, cloud-like whipped cream. And not just any whipped cream, homemade whipped cream. If you've been using pre-made whipped cream your whole life, you need to know how to make whipped cream at home. It's too easy and too good not to. This homemade whipped cream recipe requires only three ingredients, takes minutes to make, and is the smoothest, creamiest dream you've ever tasted. Please promise me you'll try it, at least once!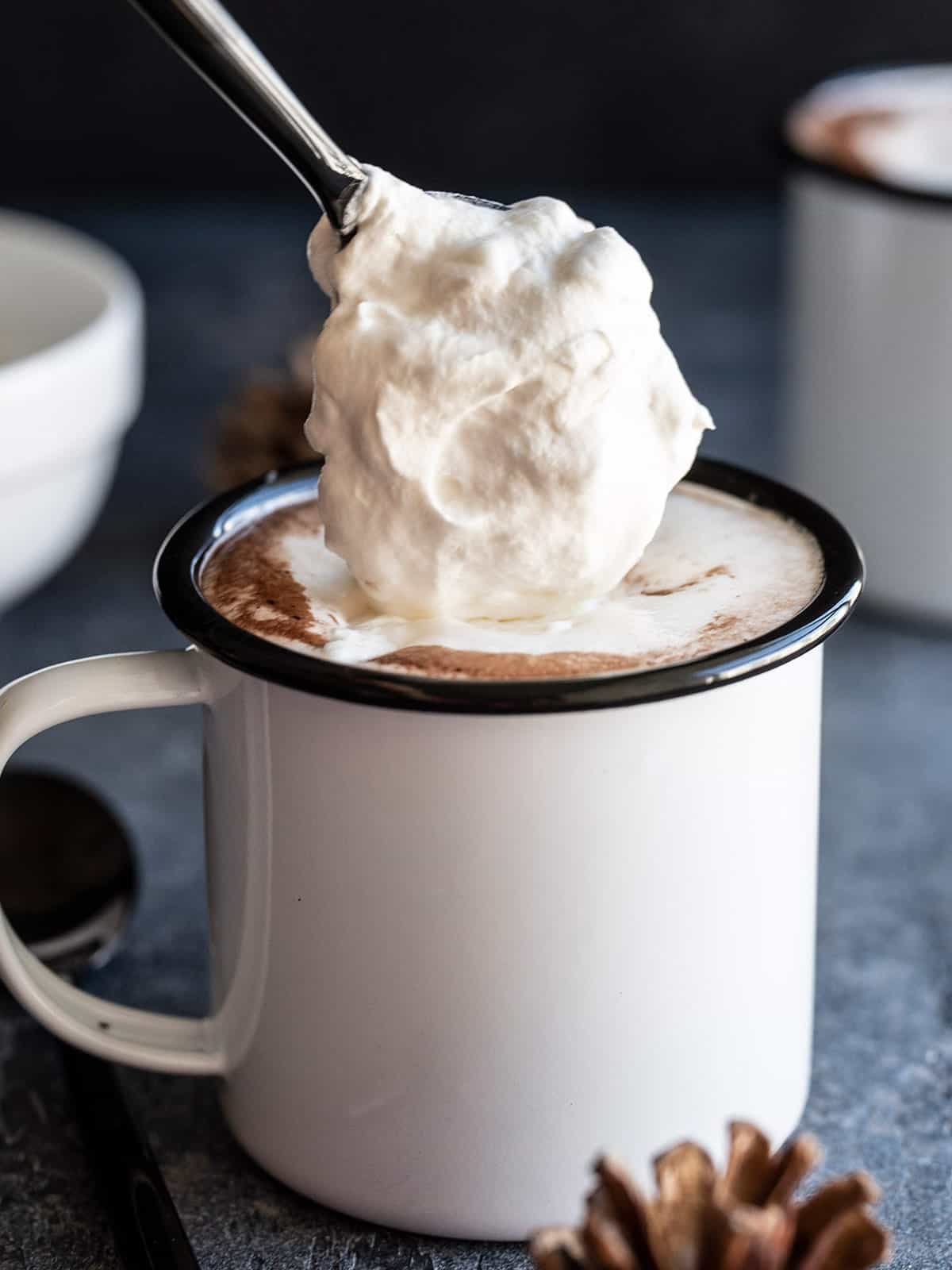 Ingredients for Whipped Cream
Making homemade whipped cream is incredibly fast and easy. In fact, you'll only need these three simple ingredients:
Heavy Cream: Use cream labeled "heavy cream" or "heavy whipping cream" which are 36% fat. "Whipping cream" can be as low as 30% fat and may not whip up as well. Keep your cream chilled for the best results.
Sugar: Simple white sugar is all you'll need to add just the right amount of sweetness to your homemade whipped cream.
Vanilla Extract: For an extra creamy flavor, we add a little bit of vanilla extract. You can play around with different flavored extracts to make more fun flavors of whipped cream.
Do I Need a Mixer to Make Homemade Whipped Cream?
Homemade whipped cream can easily be made with nothing more than a bowl, a whisk, and about five minutes of intense tricep work. That being said, it's a lot easier if you have a hand mixer or stand mixer. It takes me about five minutes to whisk heavy cream into whipped cream by hand, but only about two minutes to do it using a basic hand mixer.
How Long Does Homemade Whipped Cream Last?
Homemade whipped cream is best when whipped fresh just before serving. Luckily, it's so fast and easy to make that this is usually doable. If you can't use it right away, you can refrigerate it for a day or so, but it will slowly deflate over that time. There are ways to stabilize homemade whipped cream and make it last longer, usually by adding additional ingredients. Here's a great article from Food52 about ways to stabilize whipped cream.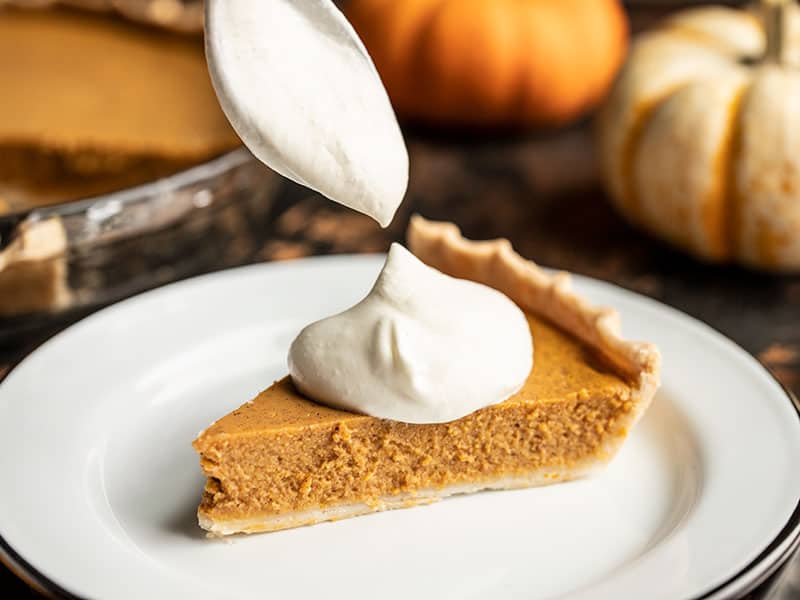 Can You Freeze Whipped Cream?
Another option for saving leftover whipped cream is to freeze it! Simply add dollops of your whipped cream to a parchment lined baking sheet, freeze until solid, then transfer to a freezer bag for long term storage. The frozen whipped cream dollops can be stored for about three months in the freezer. To use the frozen whipped cream, add the dollop directly to the top of a hot mug of coffee or cocoa, or let it sit at room temperature for about 10 minutes to thaw.
Tips for Making Whipped Cream
Making whipped cream is pretty fast and easy, but here are a few tips and tricks to make sure it turns out perfectly every time!
Use heavy whipping cream, not just whipping cream, because it has more fat and will whip up more easily.
Use a chilled glass or metal bowl to whip the cream. The cream will whip up faster when the proteins and fat are kept cold while whisking.
Don't over whip. If you keep whipping past the point of stiff peaks, the proteins will begin to clump and your whipped cream will separate (that's how you make butter!). I usually stop when the cream is whisked to medium or medium-stiff peaks. Leaving it slightly soft makes for pretty dollops.
If you accidentally over whip the cream, it can be recovered by folding in a tablespoon or two of fresh cream until it becomes smooth once again.
What to Serve with Whipped Cream
Everything is better with a dollop of homemade whipped cream, IMHO! But here are some of my favorite desserts that are traditionally served with whipped cream:
Sweet Potato Pie
Vanilla Pudding or Chocolate Pudding
Your favorite coffee drink!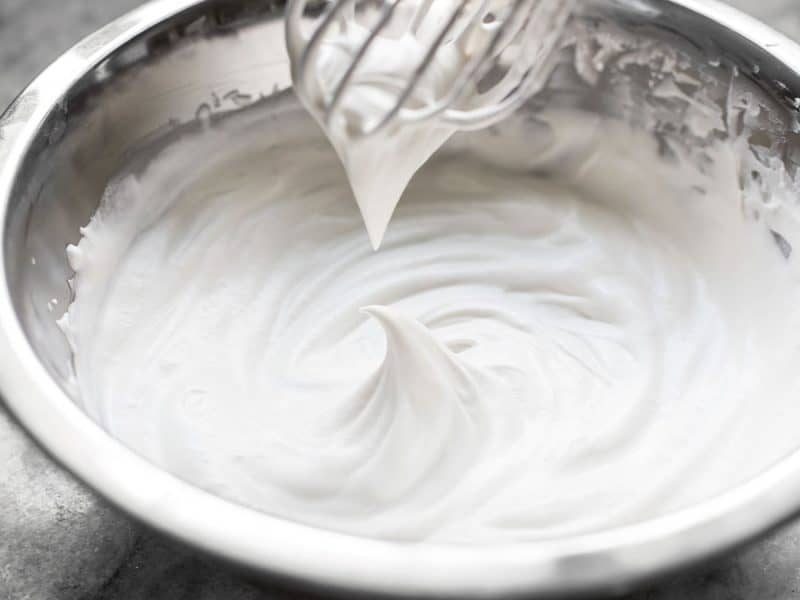 Medium peak whipped cream pictured above.
Homemade Whipped Cream
Learn how to make whipped cream with this fast and easy 3-ingredient recipe for homemade whipped cream. Easy and delicious!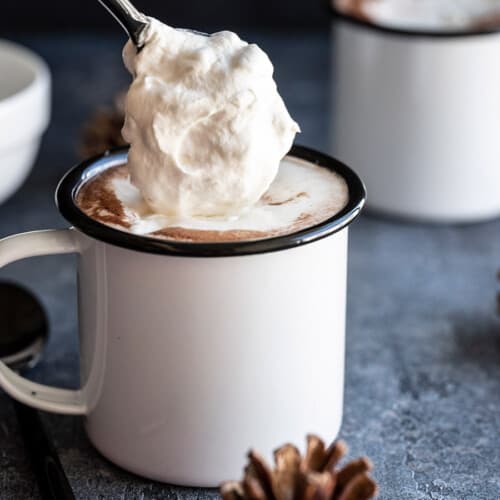 Ingredients
2

Tbsp

granulated sugar

($0.04)

1

tsp

vanilla extract

($0.30)

1

cup

heavy cream or heavy whipping cream, chilled

($0.78)
Instructions
Add the sugar, vanilla, and heavy cream to a glass or metal bowl. Use a hand mixer or stand mixer* to whip the cream on high until medium or stiff peaks form (depending on your preference, about 2-3 minutes). Stop the mixer occasionally to test the stiffness of the peaks, to avoid over whipping.
See how we calculate recipe costs here.
---
Notes
*This can be done by hand. If whipping by hand, it can help to pre-chill your bowl and whisk.
Nutrition
Serving:
0.25
cup
Calories:
114
kcal
Carbohydrates:
4
g
Protein:
1
g
Fat:
11
g
Sodium:
8
mg
Read our full nutrition disclaimer here.
Homemade whipped cream goes perfectly on a mug of homemade hot chocolate!
How to Make Whipped Cream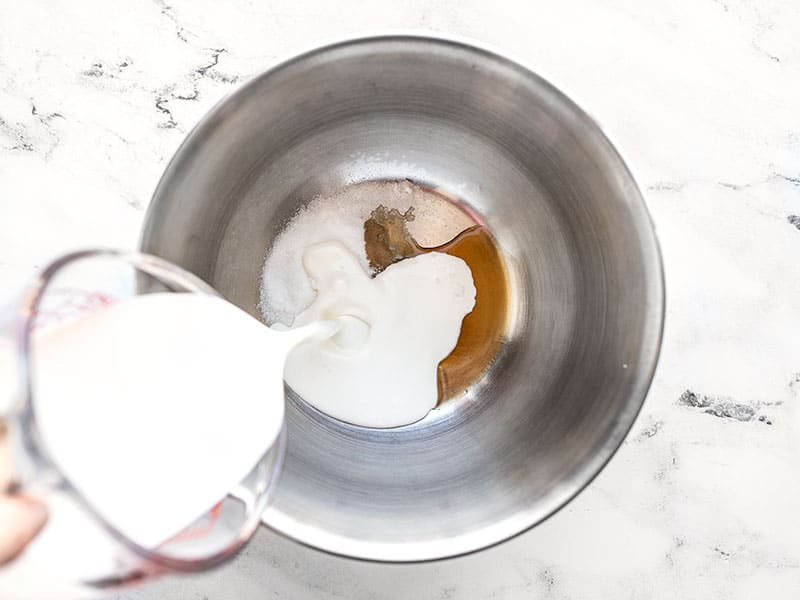 Add 2 Tbsp granulated sugar, 1 tsp vanilla extract, and 1 cup cold heavy cream to a bowl. If you're going to be whipping by hand, pre-chilling the bowl in the freezer will make the task a lot easier.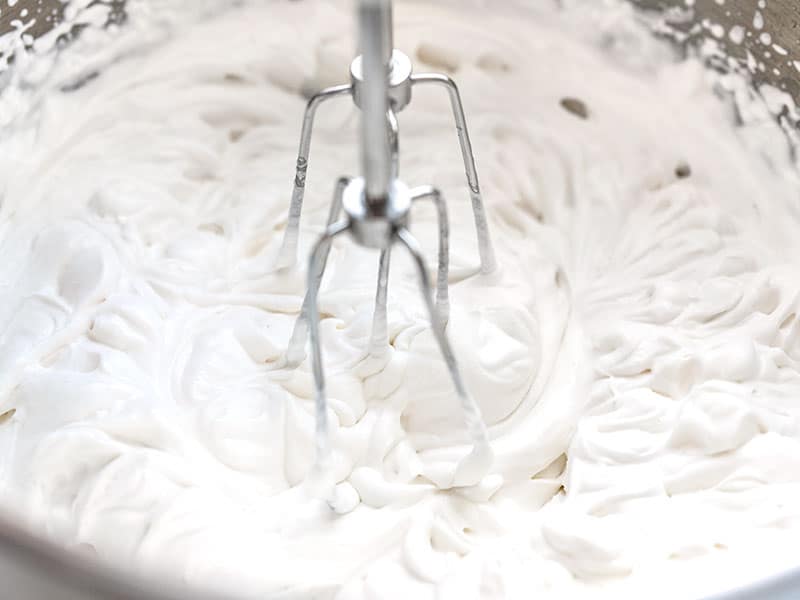 Use a hand mixer or stand mixer to whip the cream on high for about 2-3 minutes, or until medium or stiff peaks form. Whether you want the whipped cream to be softer or stiffer is a personal preference. I like mine slightly on the soft side for pies, a little more stiff for hot cocoa.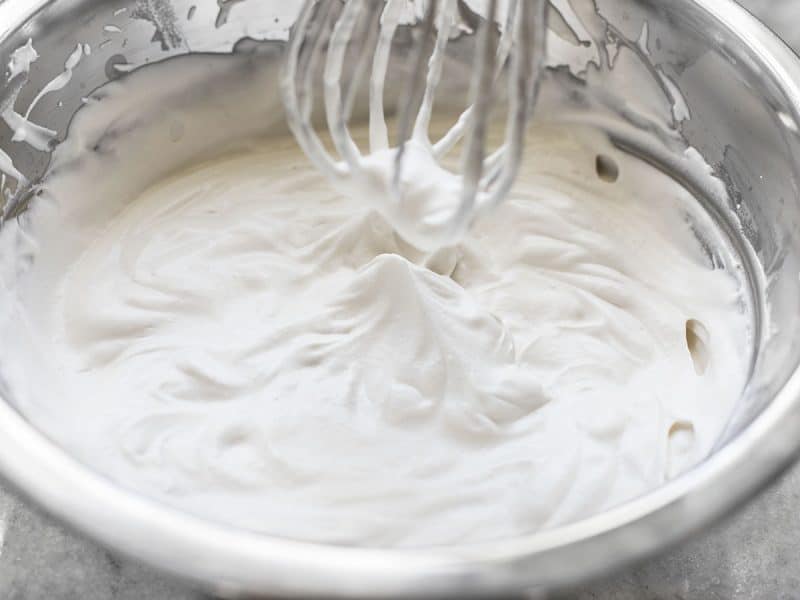 As you whip the cream, occasionally lift the whisk or beaters out of the cream to see how stiff the peaks are. If they slump over, they are soft peaks, if they bend slightly they are medium peaks, if they stand straight up they are stiff peaks. Do not whip past stiff peaks or the cream will begin to separate and you'll make butter.
If you want to freeze your leftover whipped cream, line a baking sheet with parchment paper, then drop dollops of the whipped cream on top (about the size that you'd use for serving). Freeze the whipped cream on the baking sheet until the little mounds are solid.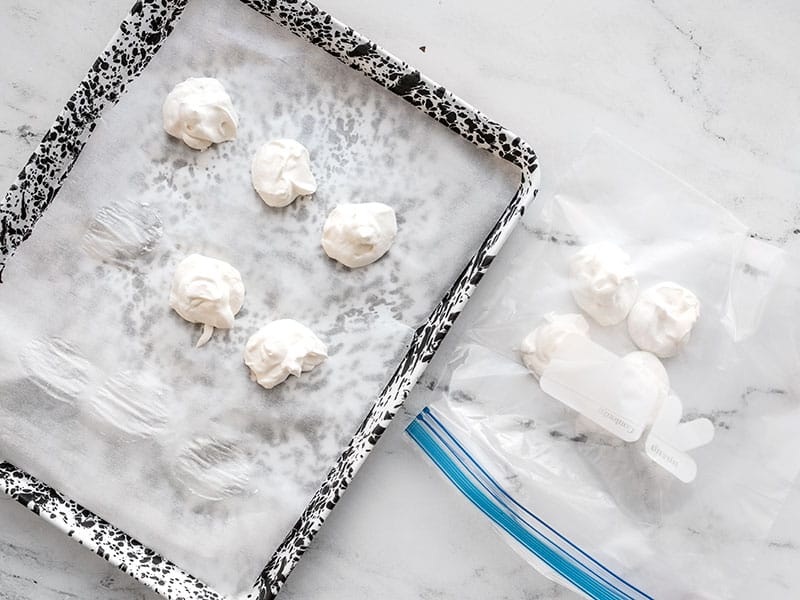 Then once frozen solid, transfer them to a freezer bag for air-tight long term storage. You can keep them in your freezer for about three months. Either pop them directly onto a hot mug of cocoa or coffee, or let them thaw at room temperature for about 10 minutes.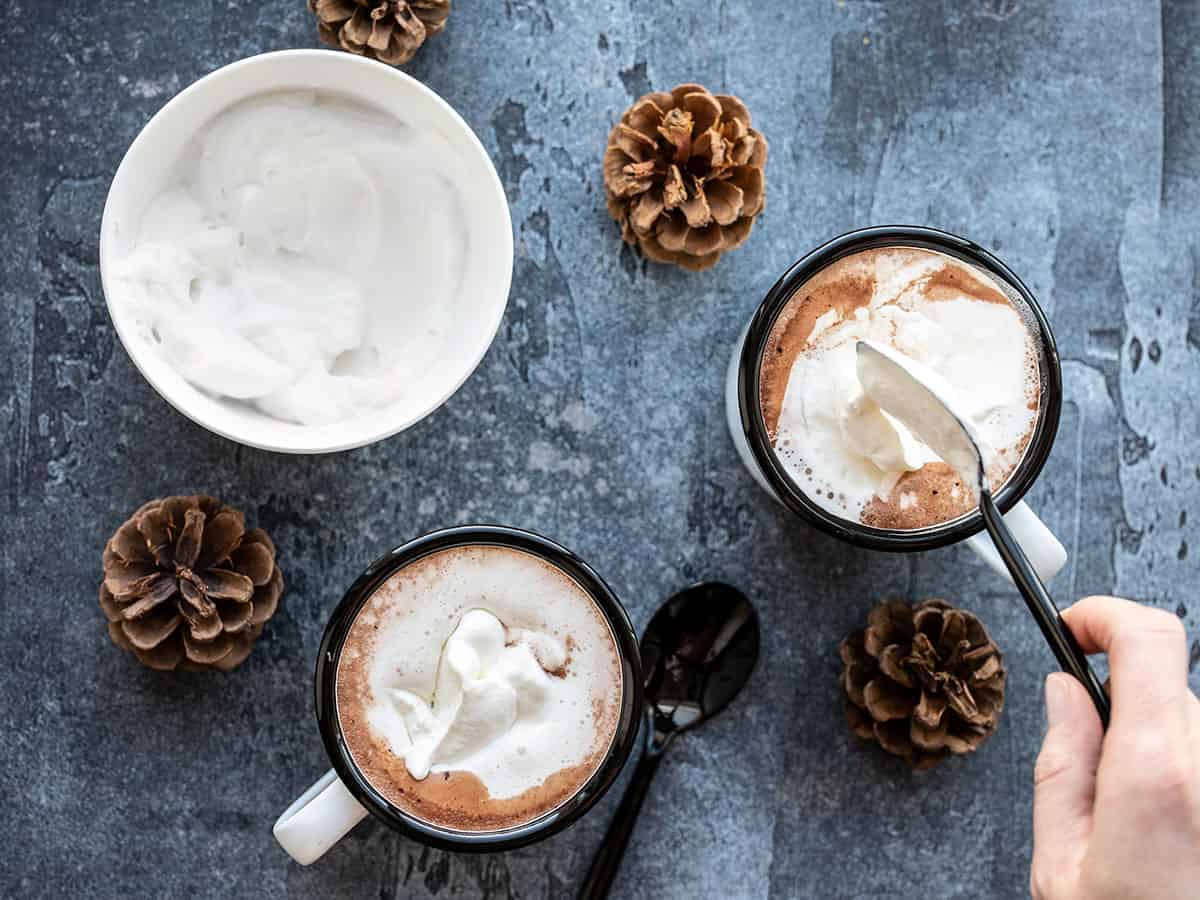 I'm tellin' y'all. Homemade whipped cream is where it's at!! Try it in my Blueberry Lemon Curd Shortcakes, Apple Crisp, Strawberry Shortcake, No-Churn Balsamic Peach Ice Cream, Jello Salad, or Peanut Butter Fluff Cups. It's also great on pies, cakes, flan, and other desserts!