Apple crisp is probably my favorite fall dessert because it's just so ridiculously simple and I love the way the uncomplicated design keeps fresh fall apples at the forefront of the dessert. It's warm, comforting, sweet, and utterly divine with a scoop of cold vanilla ice cream on top. So if you're looking for a warm and cozy dessert for these fall evenings, you're going to love this Easy Apple Crisp.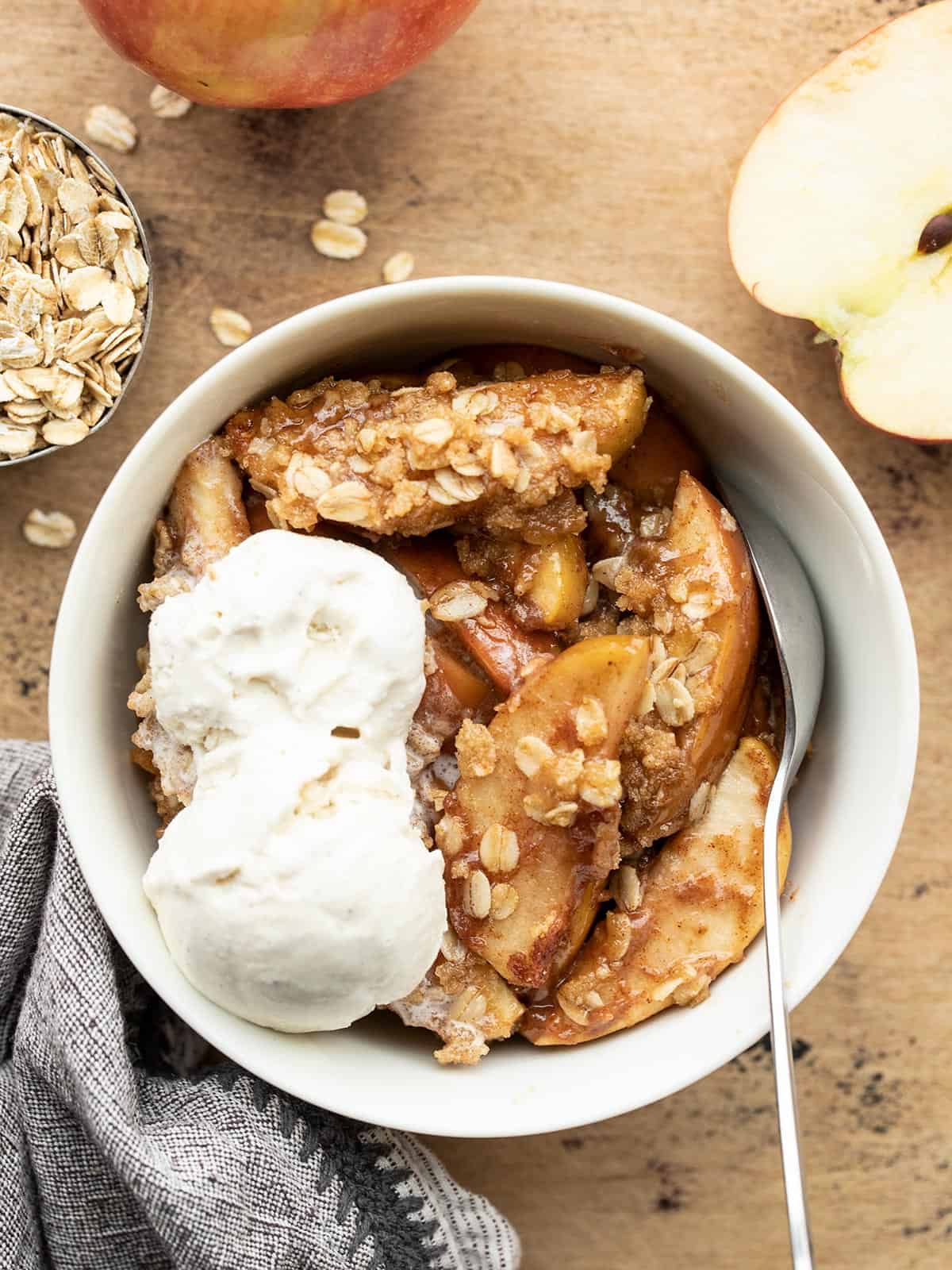 What is Apple Crisp?
Apple crisp is as simple as simple gets, when it comes to dessert. It's just apples seasoned with a warm mix of spices, topped with a sweet and crunchy oat topping, and baked until the apples are gloriously tender. It's kind of like apple pie for people who don't feel like fiddling with pie crust. And it's absolutely perfect with a scoop of vanilla ice cream or homemade whipped cream!
What Kind of Apples are Best for Apple Crisp
I prefer a sweet and juicy apple for apple crisp, like Gala or Fuji, but you can make almost any type of apple work. If you have an apple that is more tart, like a Granny Smith or Braeburn, you may want to add more sugar to the apple seasoning mixture. But the most important thing to look for when you're choosing apples is to make sure your apples are juicy. Apples that are not fresh and juicy will make an apple crisp that is a little more on the dry side rather than deliciously saucy. Here's a really cool chart showing apples according to their level of sweetness!
Can I Reduce the Sugar?
Sugar plays a very important role in both the filling and the topping of this apple crisp. In the filling the sugar helps draw out the juices from the apples, creating that nice saucy consistency. In the crumble topping, sugar helps crystalize the crumble and make everything crunchy. So, if you do choose to reduce the sugar, keep in mind that it will not only affect the sweetness of the dish, but also the texture.
How to Store Leftover Apple Crisp
Wait until your apple crisp cools to reduce condensation, then cover with plastic and refrigerate. Apple crisp will stay good in the refrigerator for about four days. The crumble topping will continue to absorb moisture from the apples as it refrigerates, so it won't stay crispy, but it is still amazingly delicious all the same!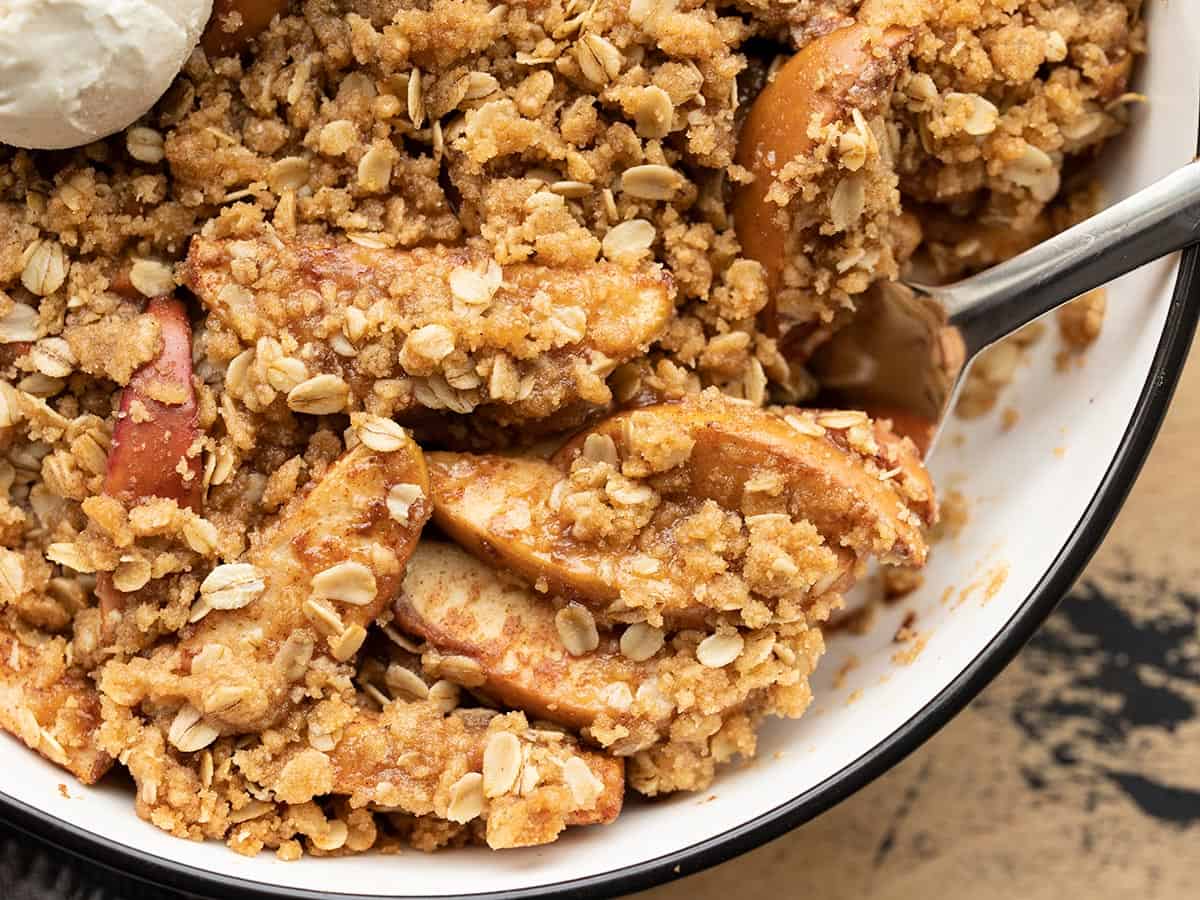 Easy Apple Crisp
This Easy Apple Crisp is a simple dessert that is warm, cozy, and sweet. It's the perfect dessert for chilly fall evenings.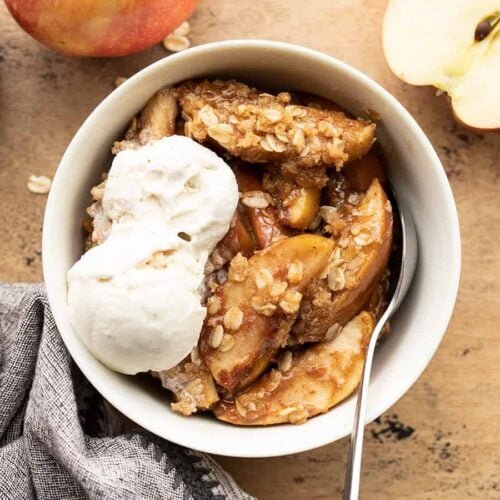 Ingredients
Oat Topping
1/4

cup

all-purpose flour

($0.03)

1/3

cup

rolled oats

($0.06)

1/2

cup

brown sugar

($0.32)

1/4

cup

butter, room temperature

($0.44)

1/8

tsp

salt

($0.01)

1/4

tsp

cinnamon

($0.02)
Instructions
Preheat the oven to 350ºF. Core and slice the apples into ¼-½ inch wide slices (peel, if desired). Place the sliced apples in a large bowl.

In a small bowl, combine the sugar, flour, cinnamon, ginger, and cloves to season the apples. Sprinkle the mixture over the sliced apples and drizzle the vanilla extract over top. Stir the apples until they're evenly coated in spices.

Next, make the oat topping. In a medium bowl, stir together the flour, oats, brown sugar, salt, and cinnamon. Cut the butter into chunks and then use your hands to work it into the oat mixture until it is crumbly and appears sort of damp.

Sprinkle the crumbly oat mixture over the seasoned apples. Transfer to the oven and bake for 45 minutes. Serve hot with ice cream or whipped cream on top!
See how we calculate recipe costs here.
---
---
Nutrition
Serving:
1
serving
Calories:
282
kcal
Carbohydrates:
53
g
Protein:
2
g
Fat:
8
g
Sodium:
123
mg
Fiber:
5
g
Read our full nutrition disclaimer here.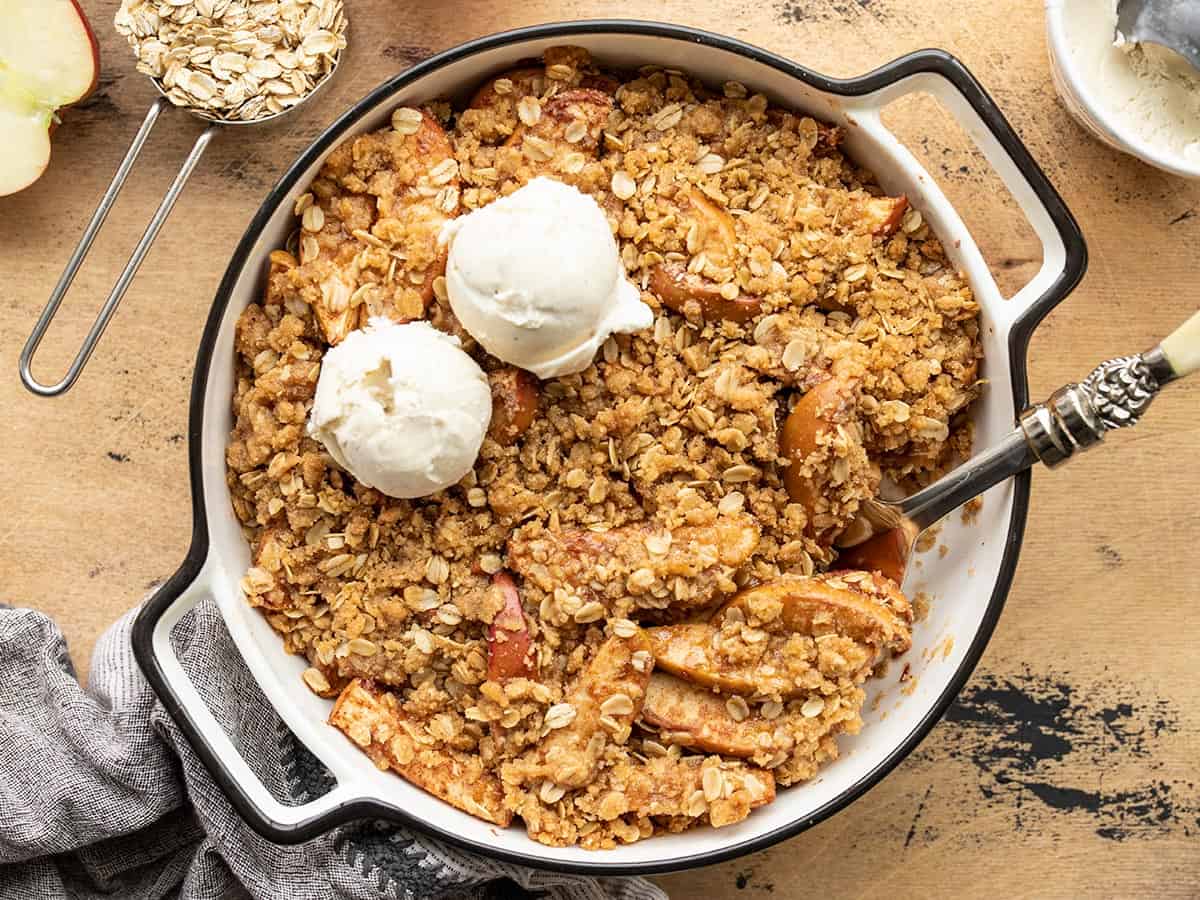 How to Make Apple Crisp – Step by Step Photos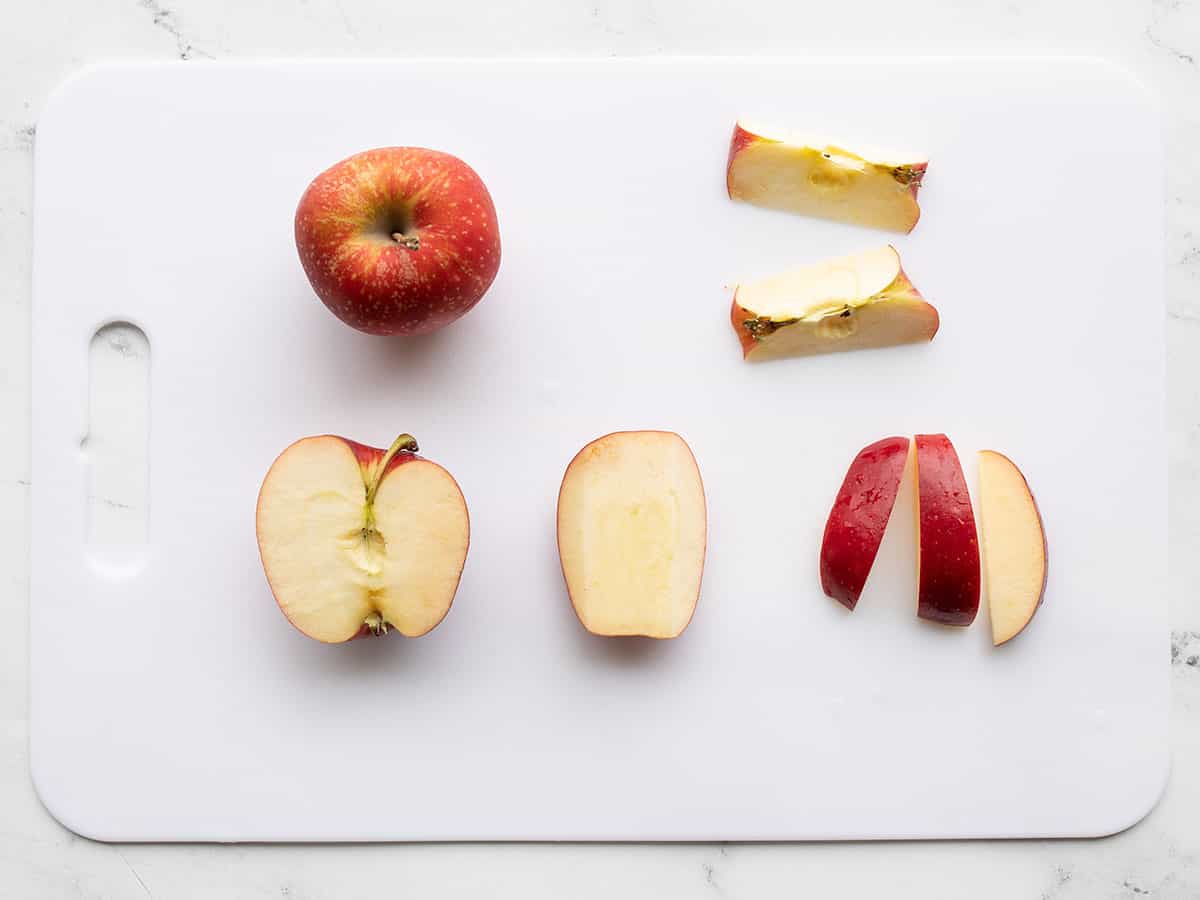 Preheat the oven to 350ºF. Clean and slice 2 lbs. of apples (about six medium apples) into ¼-½ inch wide slices. You can peel them if you prefer, but I like the color and texture that the peels bring to the dessert. Place the sliced apples in a large bowl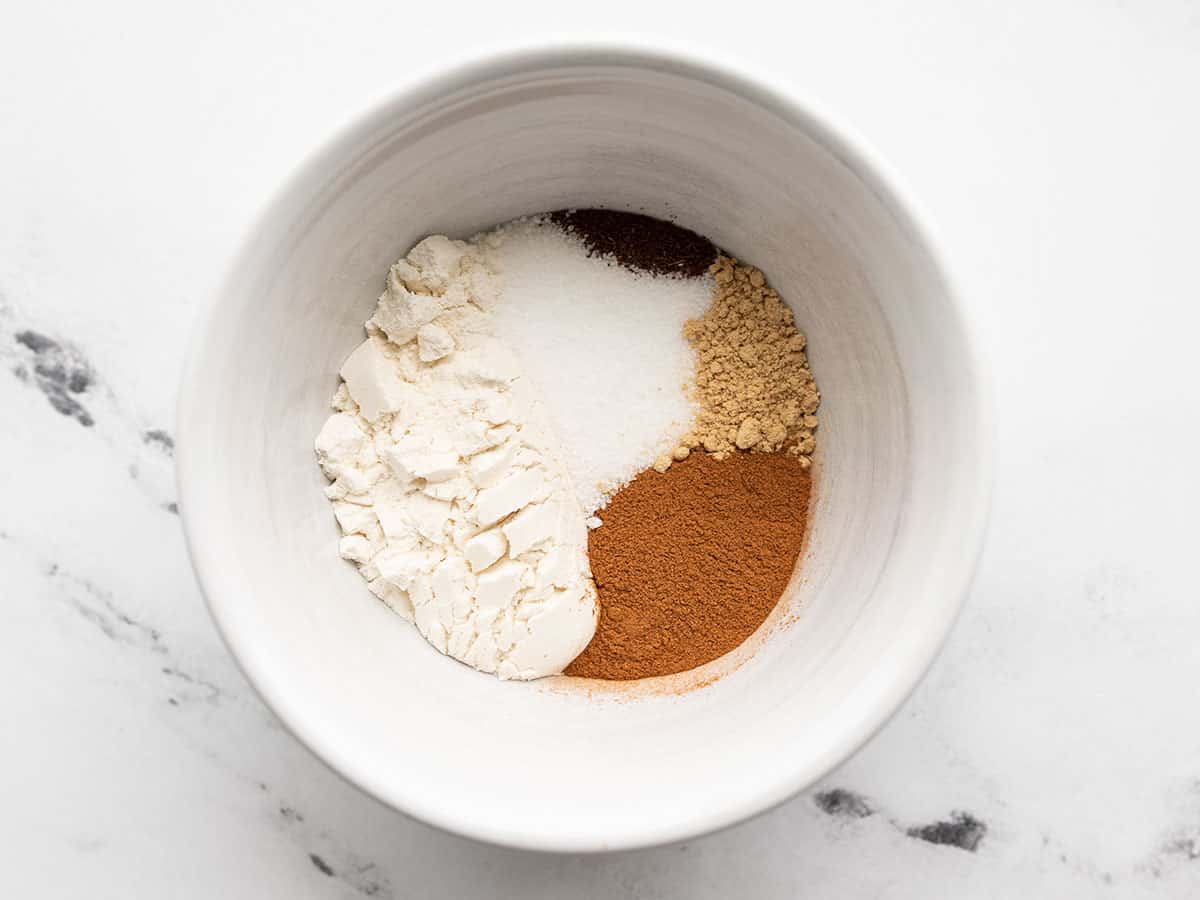 Prepare the seasoning for the apples by combining 3 Tbsp sugar, 1 Tbsp all-purpose flour, 1 tsp cinnamon, ¼ tsp ground ginger, and ⅛ tsp ground cloves. The sugar helps draw the juices out of the apples and then the flour thickens it into a nice saucy consistency.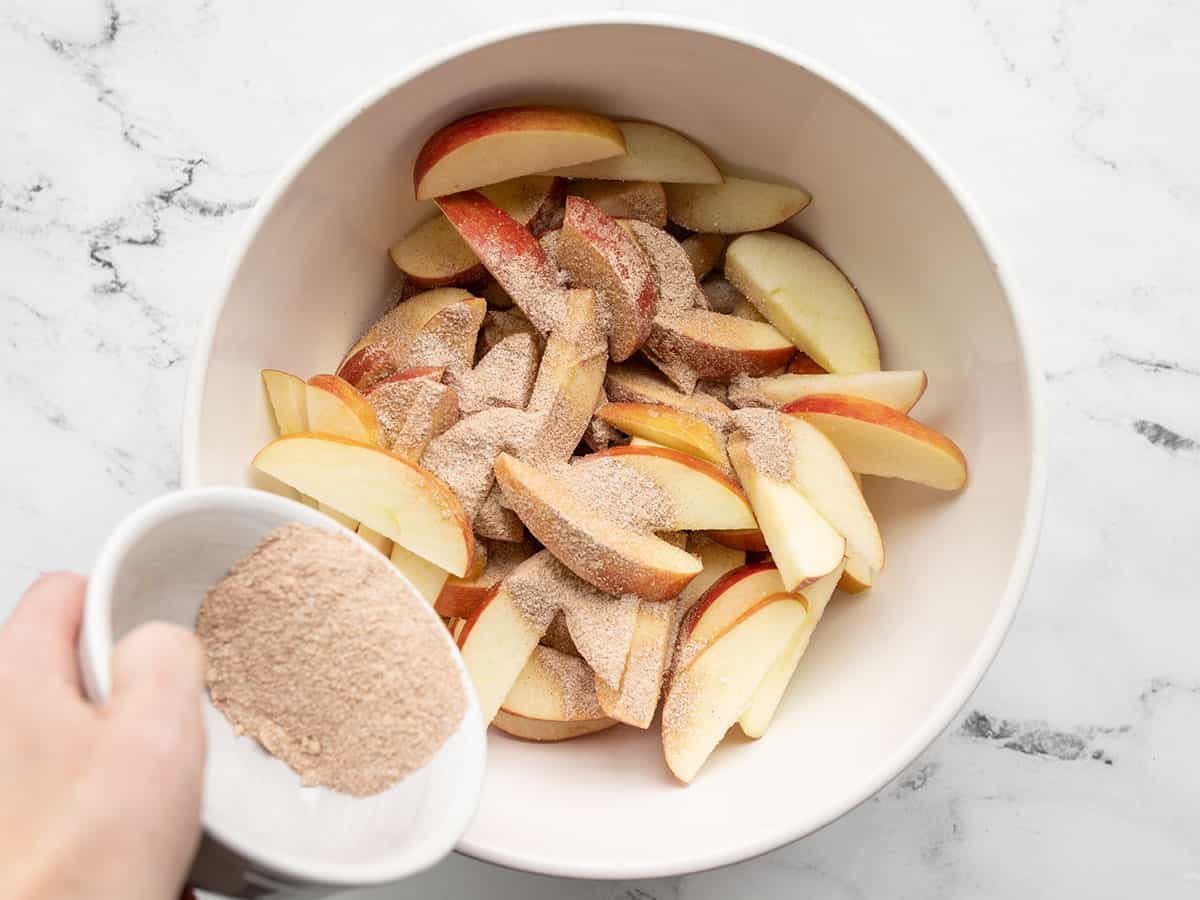 Sprinkle the seasoning mixture over the sliced apples along with 1/2 tsp vanilla extract. Stir until the apples are evenly coated in flour, sugar, and spices.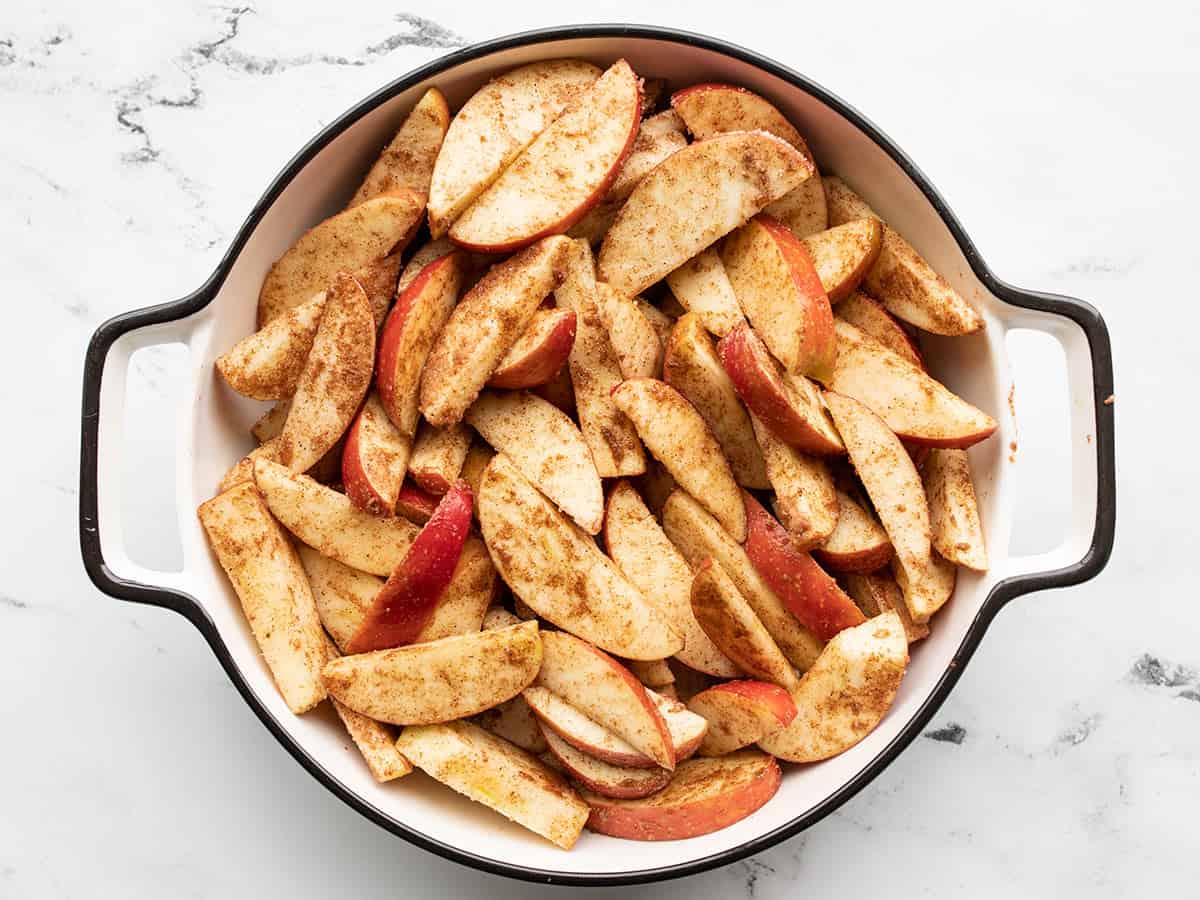 Place the seasoned apples in a 2-quart baking dish.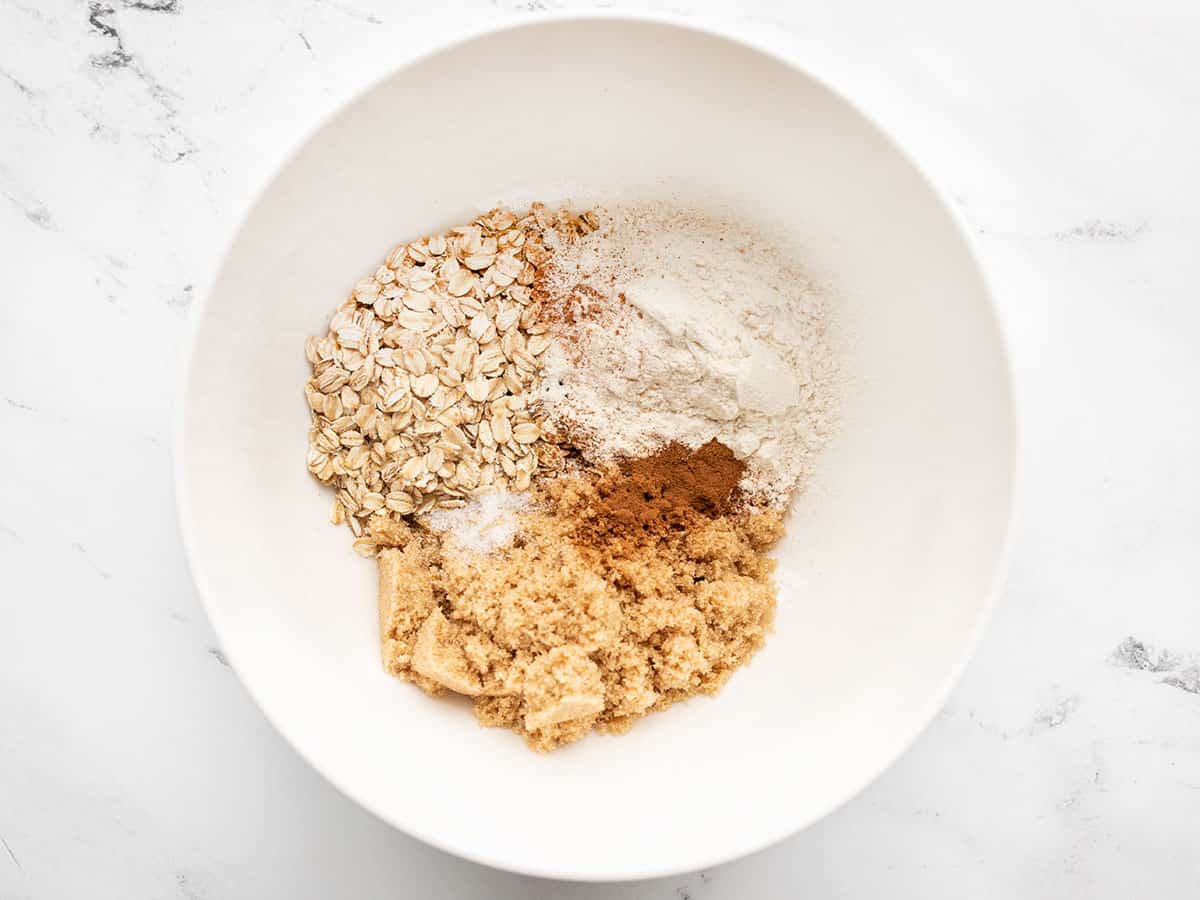 Next, create the crumbly oat topping. Stir together ¼ cup all-purpose flour, ⅓ cup rolled oats, ½ cup brown sugar, ⅛ tsp salt, and ¼ tsp cinnamon in a bowl.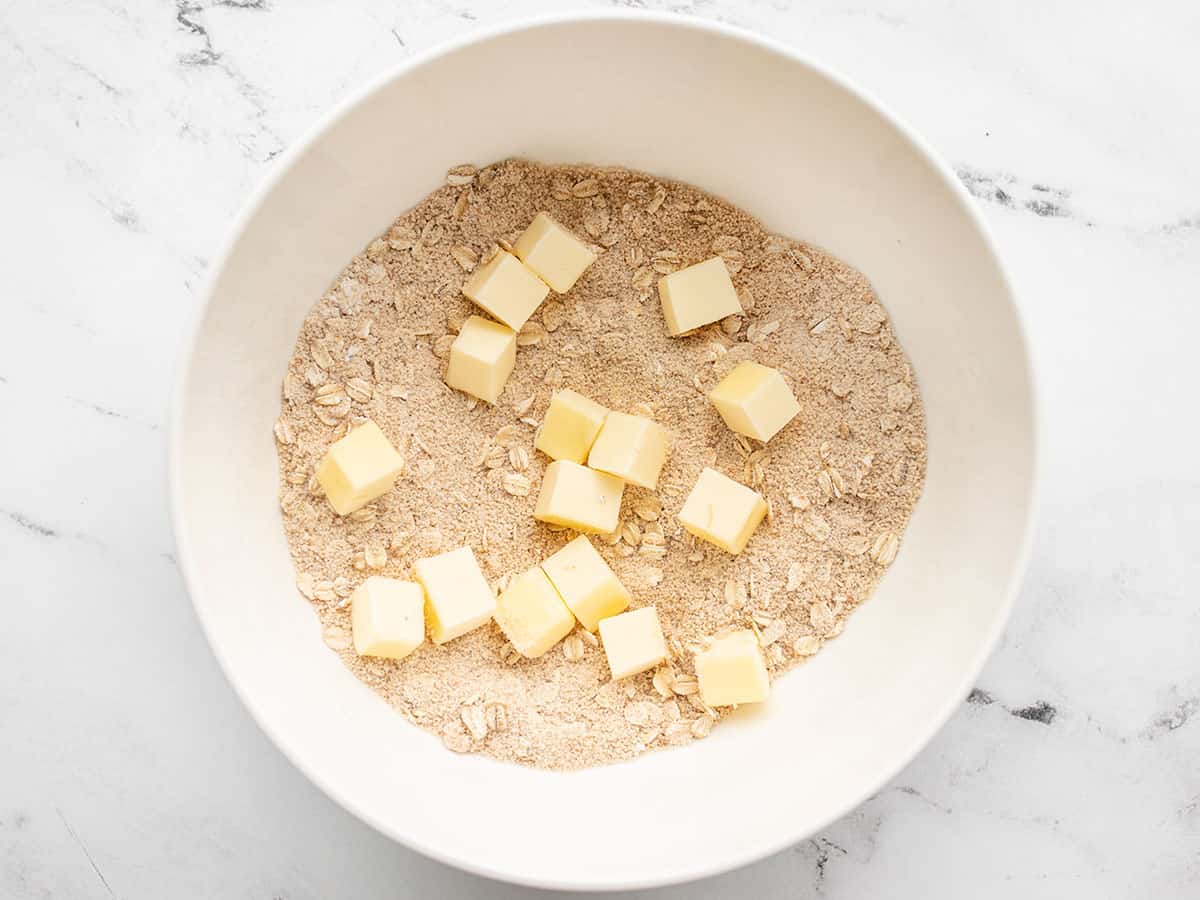 Cut ¼ cup (4 Tbsp) butter into chunks and add it to the oat mixture. Use your hands to work the butter into the other ingredients.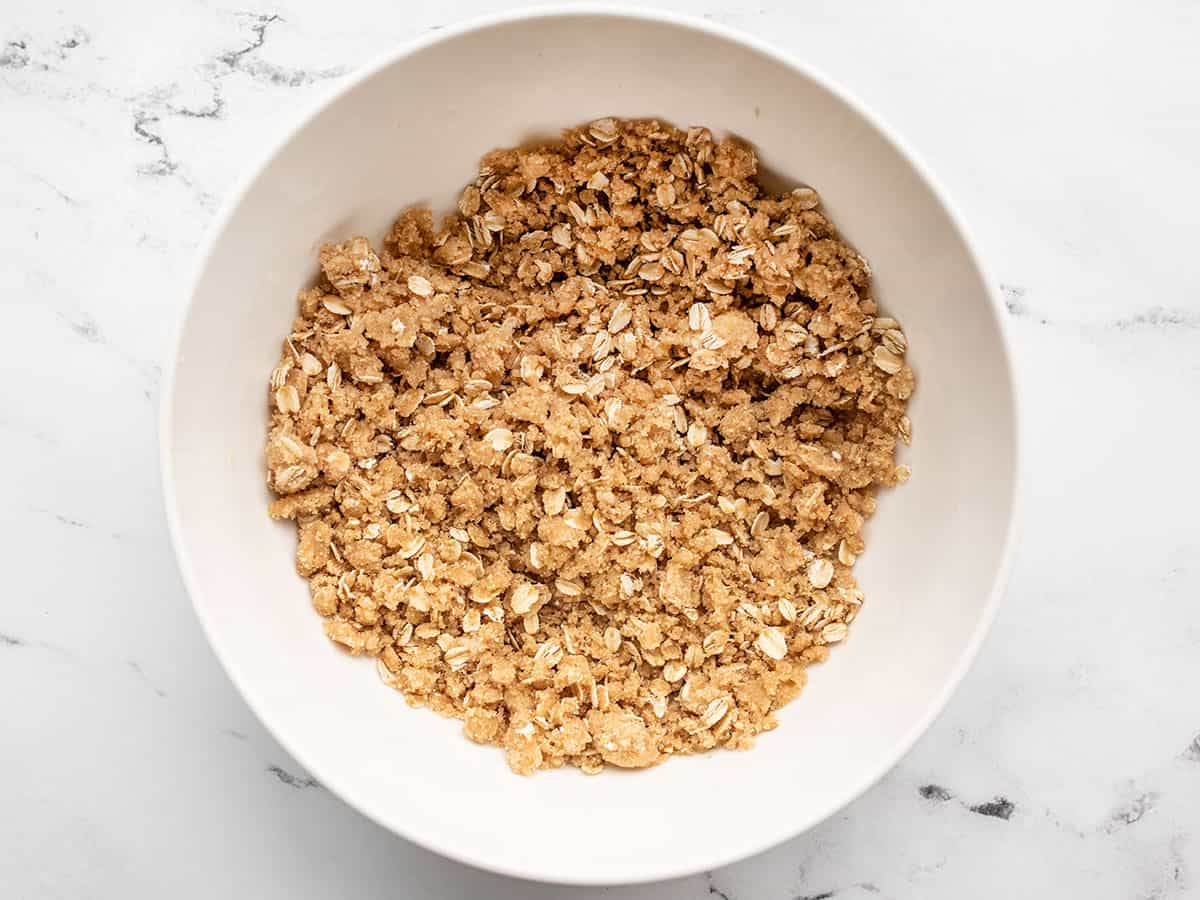 When the butter is fully mixed in, it should look kind of chunky and damp, like the photo above.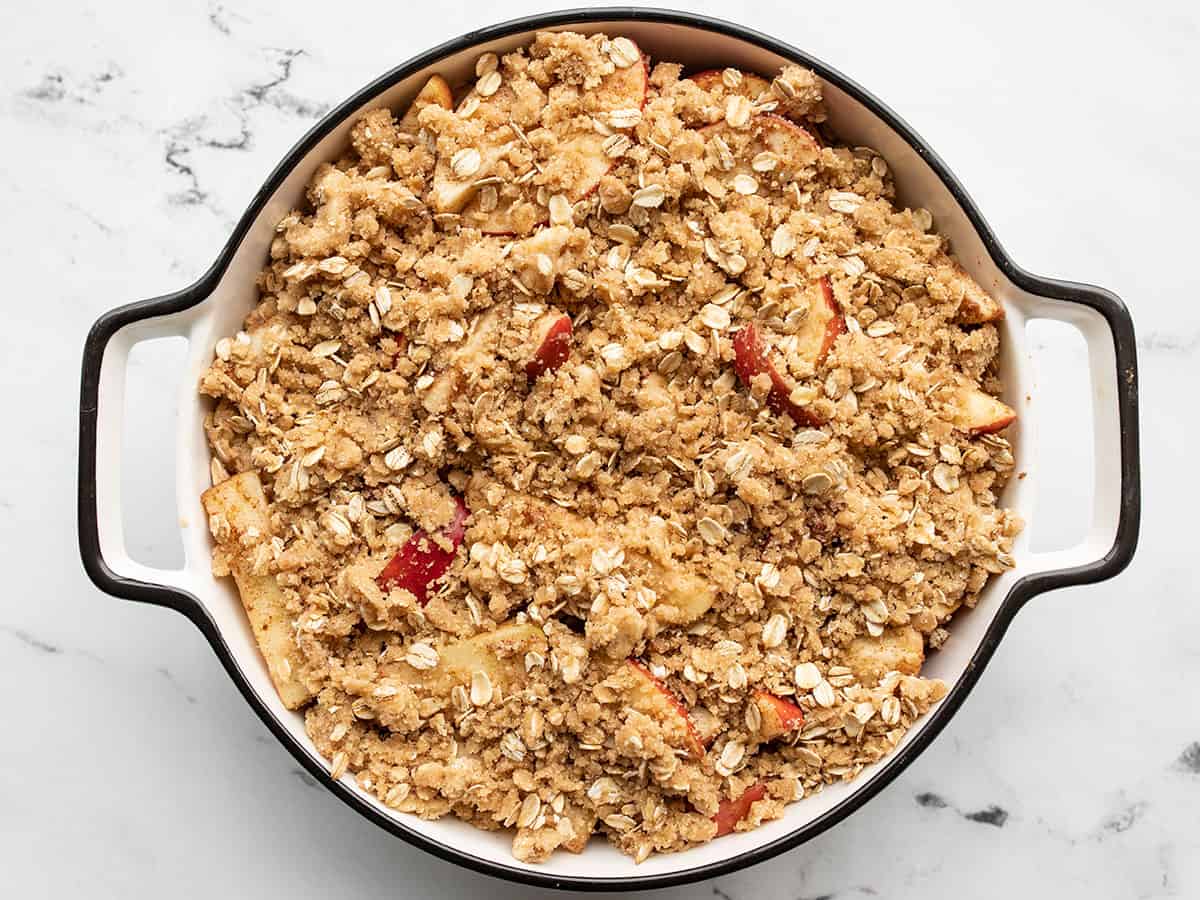 Sprinkle the oat topping over the seasoned apples.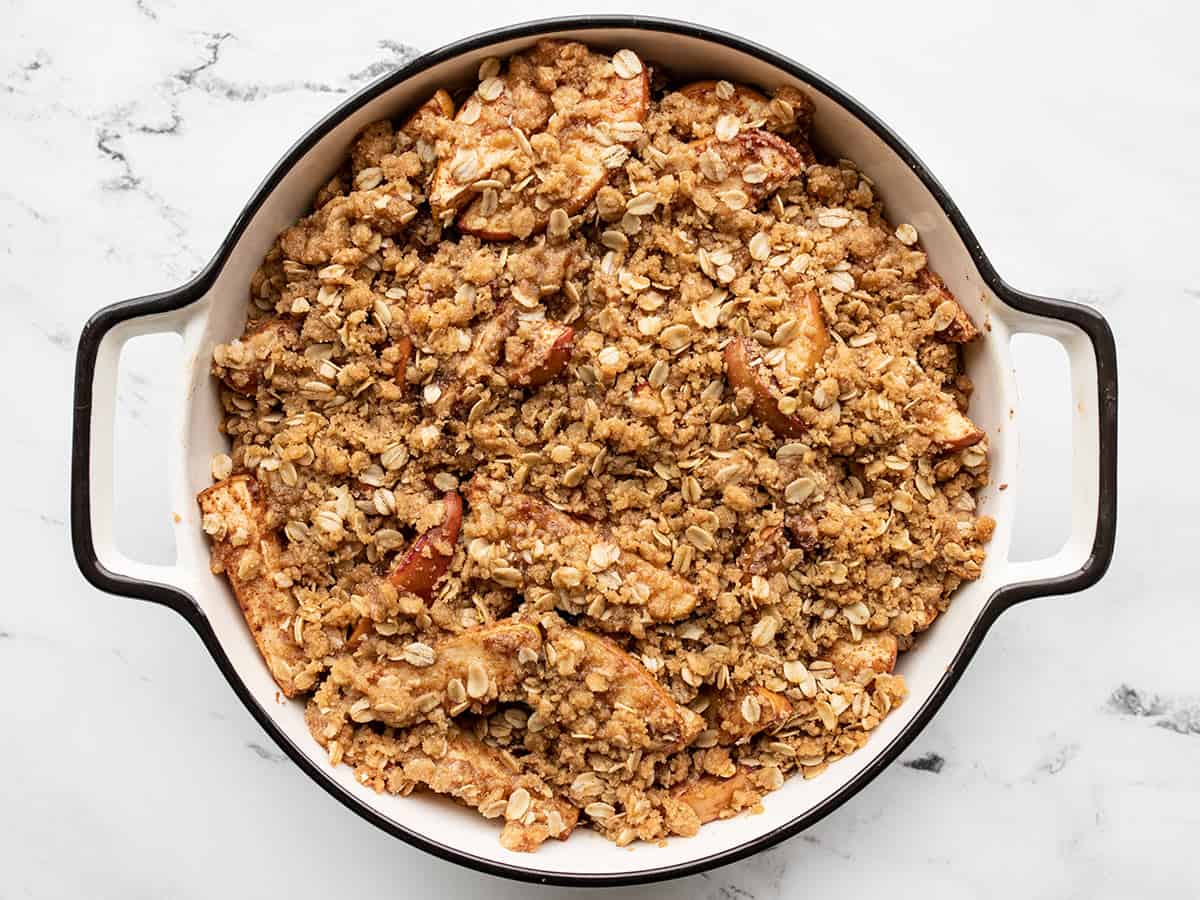 Bake the crisp for 45 minutes, or until the topping is deep golden brown.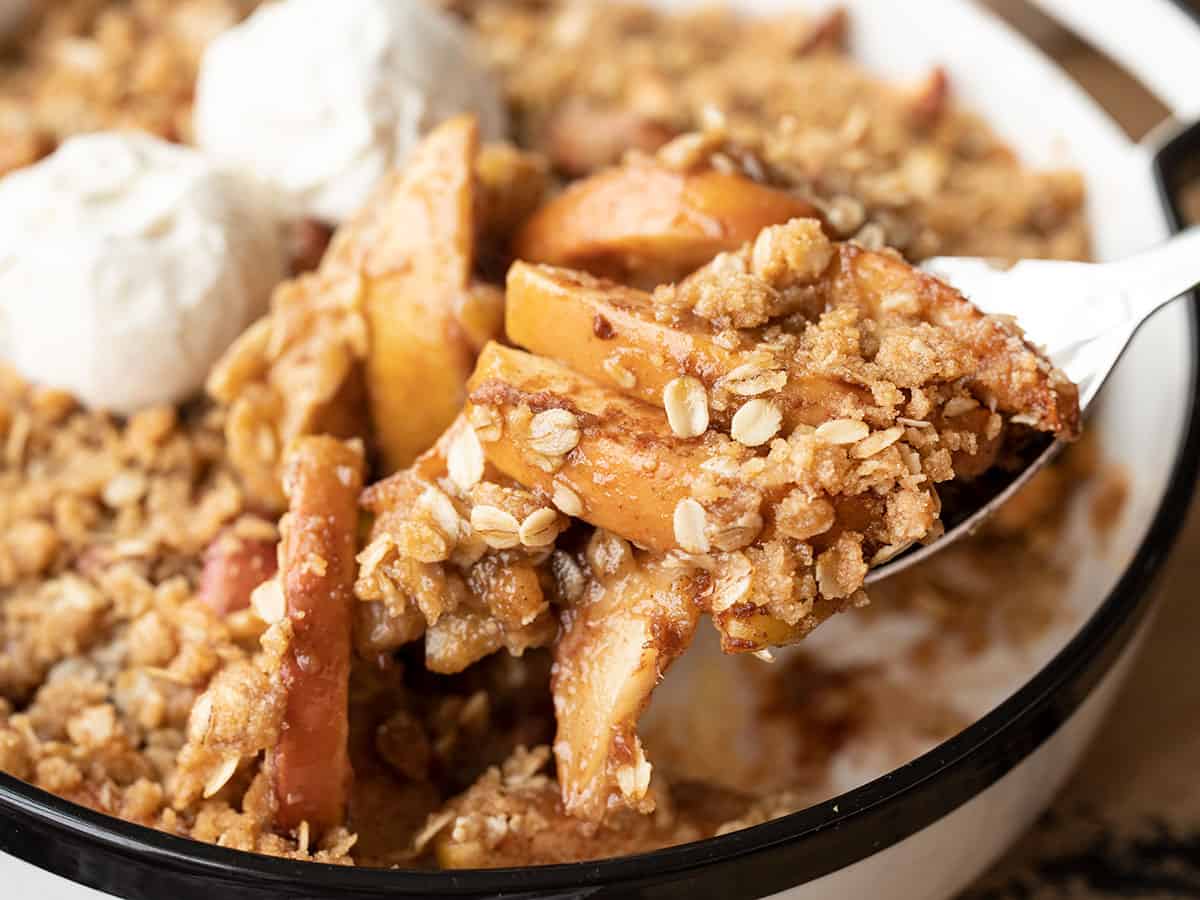 Enjoy hot, topped with vanilla ice cream or homemade whipped cream!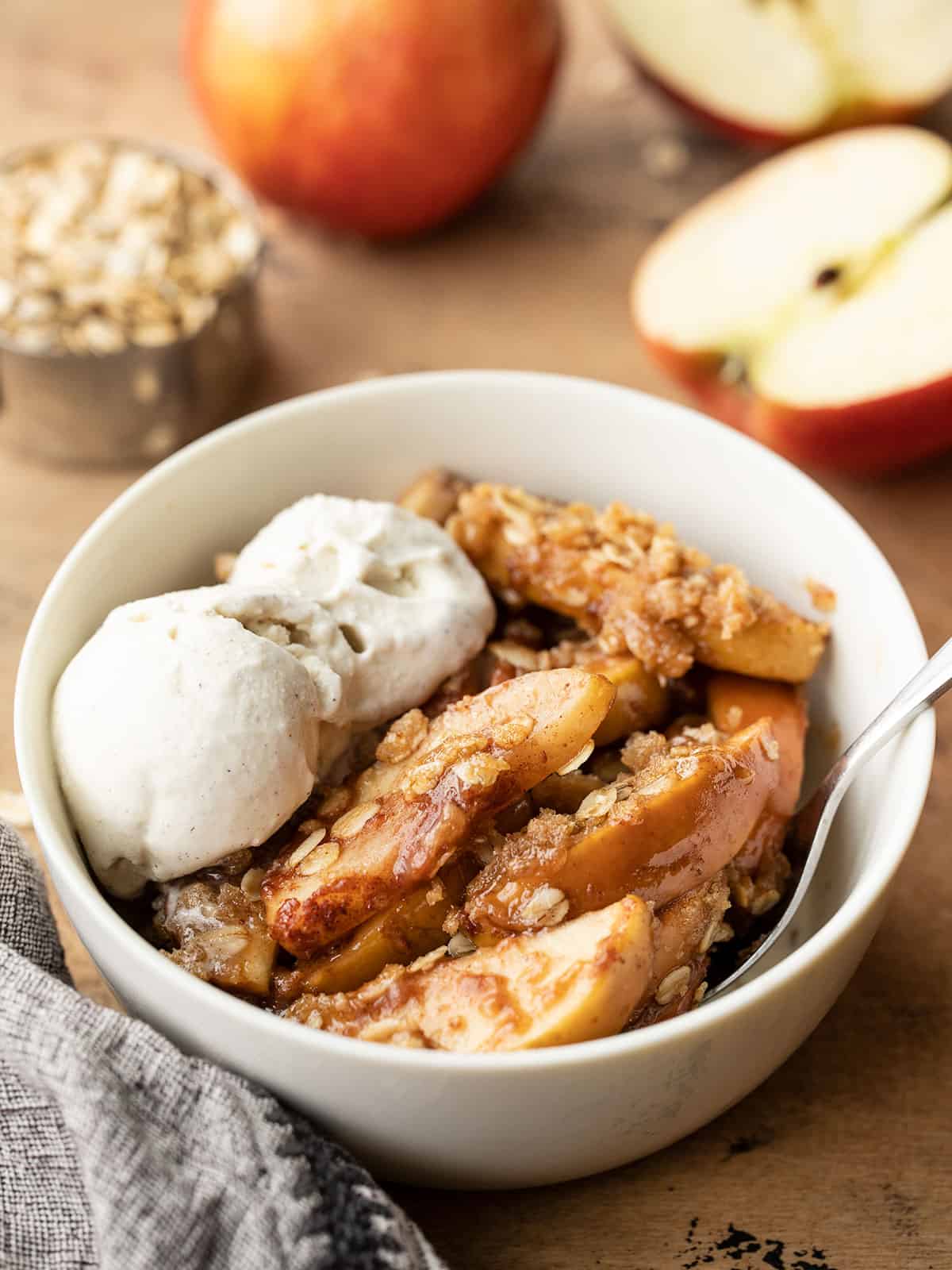 Other Desserts You Can Make For Under $1 A Serving:
Try these wide-open bags of deliciousness without breaking the bank!