Fun fact: the number of times people searched the internet for hot chocolate in December 2020 was twice that of previous years. Why? Probably because we all needed that extra comfort after a hard year. I don't know about you, but I still need the creamy, cozy comfort of a mug full of hot chocolate. 😅 Thankfully, homemade hot cocoa is super fast to make, you can make one mug at a time or in a big batch, and I've got a bunch of fun ideas for add-ins so you can make a new flavor every time. :) Keep scrolling for delicious, chocolatey goodness!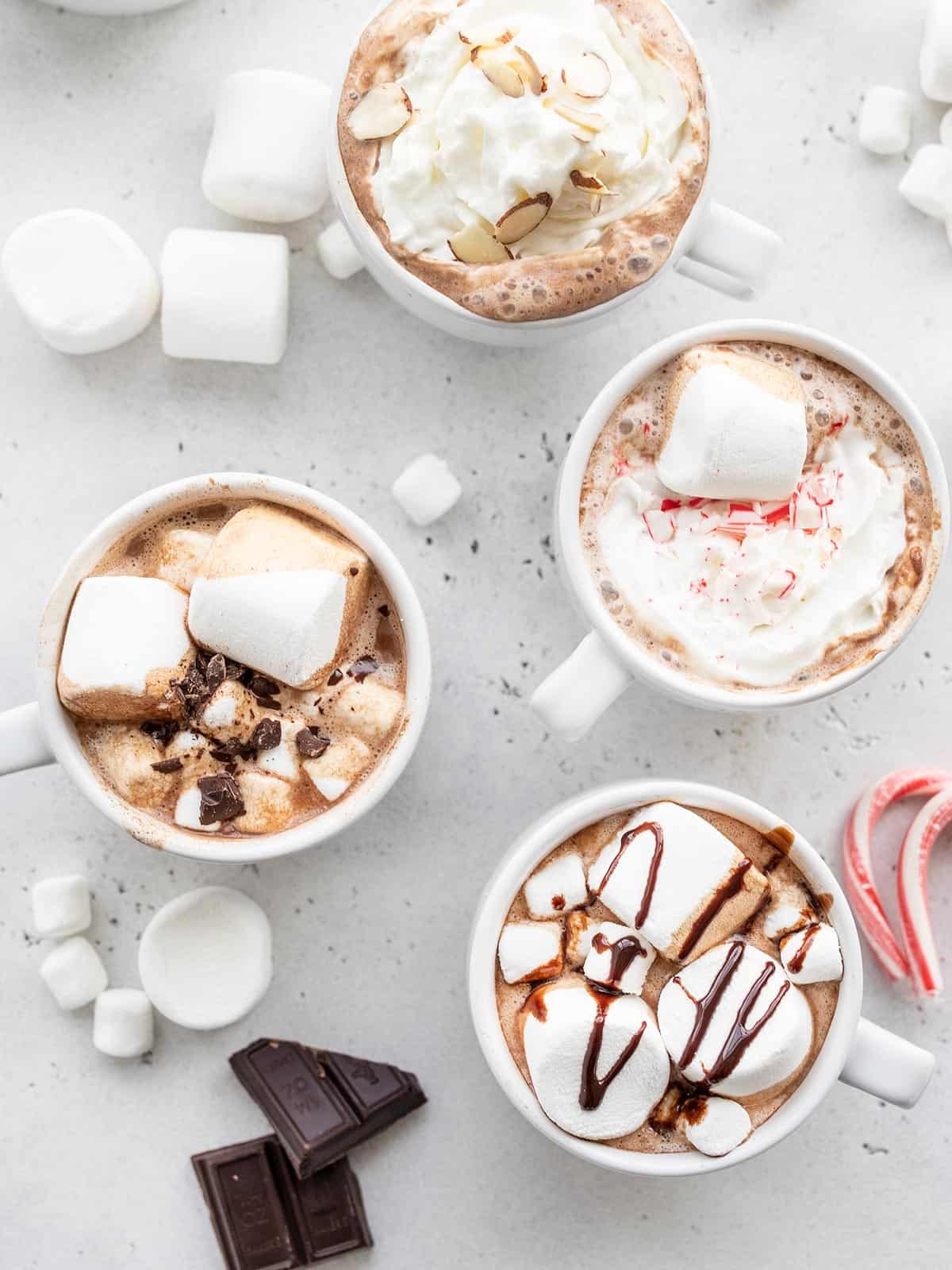 What Makes this Hot Chocolate Extra Good
I went all out with this hot chocolate. To make it extra creamy and extra chocolatey I used a 50/50 mix of milk and half and half, semi-sweet chocolate, and unsweetened cocoa powder for a one-two chocolate punch. I added just enough sugar to keep it sweet, but not so much that it's hard to finish your mug (you can always add more to taste). The result is a perfectly balanced rich, sweet, and chocolatey mug that will give you all the warm and fuzzy cozy winter vibes.
What Type of Chocolate to Use
I used Baker's semi-sweet chocolate because that's what I had on hand, but you can definitely use semi-sweet chocolate chips to make this hot chocolate more affordable. You can also experiment with using either milk chocolate or dark chocolate depending on how sweet or bitter you like your hot cocoa. Semi-sweet is right in the middle, which fits my flavor preferences.
Can I Use a Different Type of Milk?
Technically, you can use different types of milk or non-dairy milk substitutes for your hot chocolate, just keep in mind that the type of milk you use will directly impact the creaminess and sweetness of your hot chocolate. The recipe below is designed for a combination of whole milk and half and half, which I found to be rich and creamy without being too heavy.
Half and half is a 50/50 mix of whole milk and heavy cream, so if you don't have half and half you can change the ingredients below to be 3 cups whole milk and one cup heavy cream for the same result.
What Else Can I Add to Hot Chocolate?
This is where homemade hot chocolate gets fun. There are so many extra ingredients that you can add to make new flavors. Here are a few things you can add to hot chocolate to give it more flavor:
Instant coffee or espresso powder
Almond extract
Peppermint extract
Crushed candy canes or peppermint candies
Cinnamon
Cardamom
Cayenne pepper (see my Spicy Hot Cocoa)
Nutella
Caramel sauce
Maple syrup
Almond butter
White chocolate
Bailey's Irish cream ;)
Homemade Hot Chocolate
This homemade hot chocolate is extra rich and delicious, has two types of chocolate, and you can add other flavor add-ins for fun!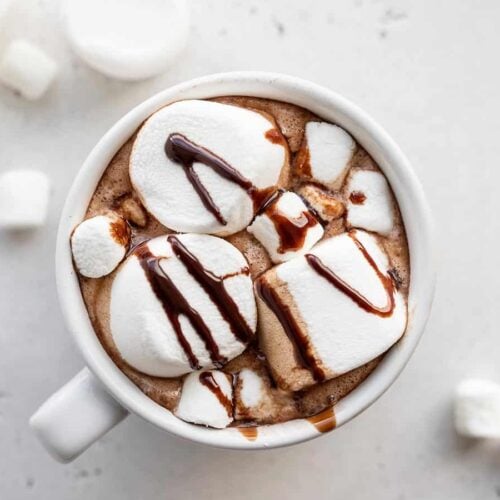 Ingredients
1/4

cup

unsweetened cocoa powder

($0.14)

2

oz.

semi-sweet chocolate

($1.75)

1/4

cup

sugar

($0.04)

1/8

tsp

salt

($0.01)

2

cups

whole milk

($0.84)

2

cups

half and half

($0.90)

1

tsp

vanilla extract

($0.28)
Instructions
Add the cocoa powder, semi-sweet chocolate, sugar, and salt to a medium saucepot. Pour the milk and half and half over top.

Place the saucepot over medium heat. Heat the ingredients over medium while whisking until the chocolate has fully melted into the milk and the milk is beginning to steam (but not simmering).

Once the chocolate is fully melted into the milk and the milk is has begun to steam, remove it from the heat and stir in the vanilla extract. Taste and adjust the sugar or chocolate to your liking.

Serve hot with your favorite toppings.
See how we calculate recipe costs here.
---
Notes
This recipe scales up or down easily. Just change the number in the box next to "servings" at the top of the recipe and the ingredient amounts will adjust for you.
Nutrition
Serving:
1
cup
Calories:
377
kcal
Carbohydrates:
34
g
Protein:
9
g
Fat:
24
g
Sodium:
178
mg
Fiber:
3
g
Read our full nutrition disclaimer here.
How to Make Homemade Hot Chocolate – Step by Step Photos
Add ¼ cup unsweetened cocoa powder, 2 oz. semi-sweet chocolate, ¼ cup sugar, and ⅛ tsp salt to a saucepot. Pour 2 cups whole milk and 2 cups half and half over top.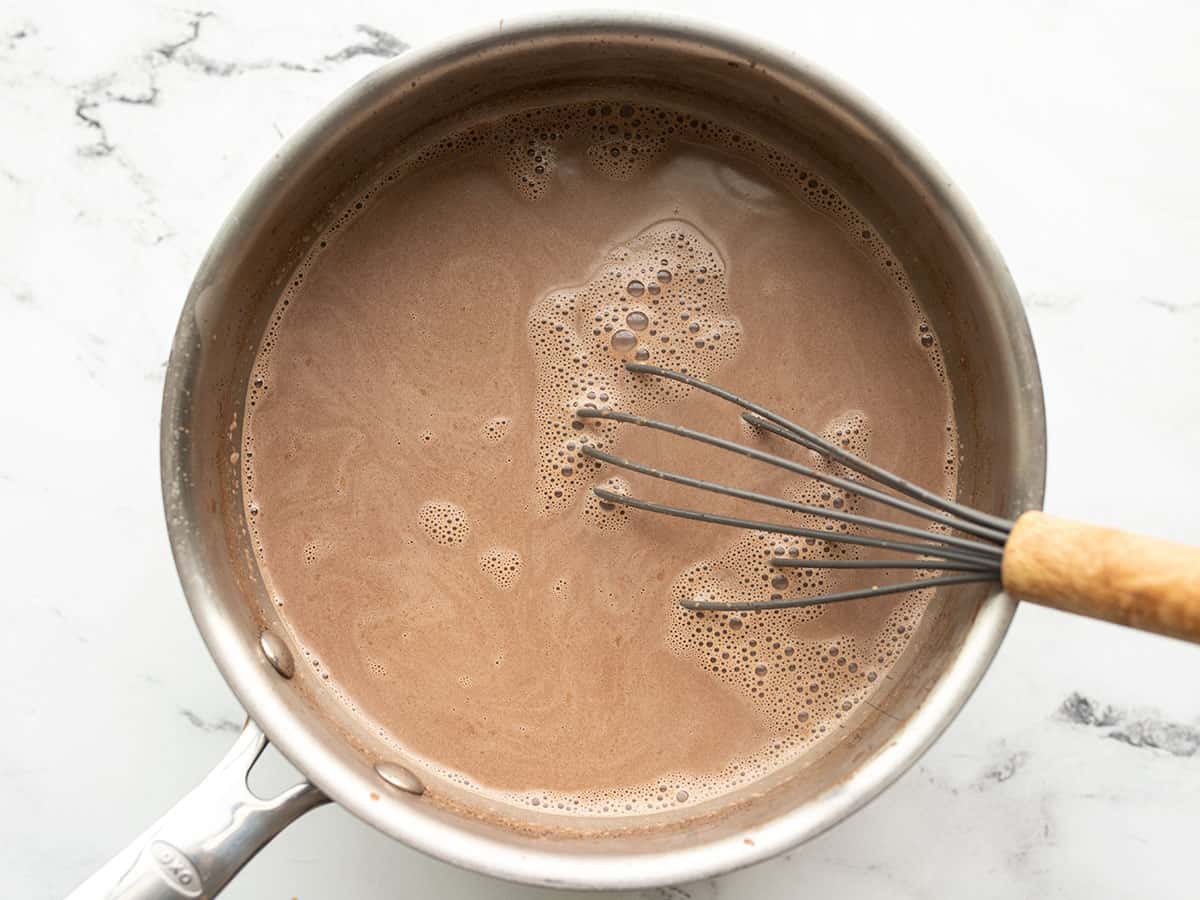 Heat the mixture over medium while whisking. The cocoa powder will sit on top at first while the milk is cold, but will begin to incorporate as the milk heats up. The semi-sweet chocolate will begin to melt as you heat, but will not fully incorporate into the milk until the milk gets so hot that it begins to steam. Once steaming, remove it from the heat and stir in the vanilla extract.
Taste the hot chocolate and adjust the sweetness or other ingredients before serving and adding your favorite toppings! If you want it to be extra, EXTRA special, try topping it with some homemade whipped cream!
LOVE CHOCOLATE? TRY THESE RECIPES: