I'm all about keeping my side dishes as easy as possible. I want my main dish to be the star of the show, and I don't want to spend tons of time or energy on something that is just being served on the side, so roasted vegetables are almost always on the menu! They're easy, tasty, and mostly hands off. Since we're moving into "winter vegetable" season, I thought I'd do a quick tutorial on roasted Brussels sprouts, so you can whip up this simple and delicious side dish with any of your fall or winter meals.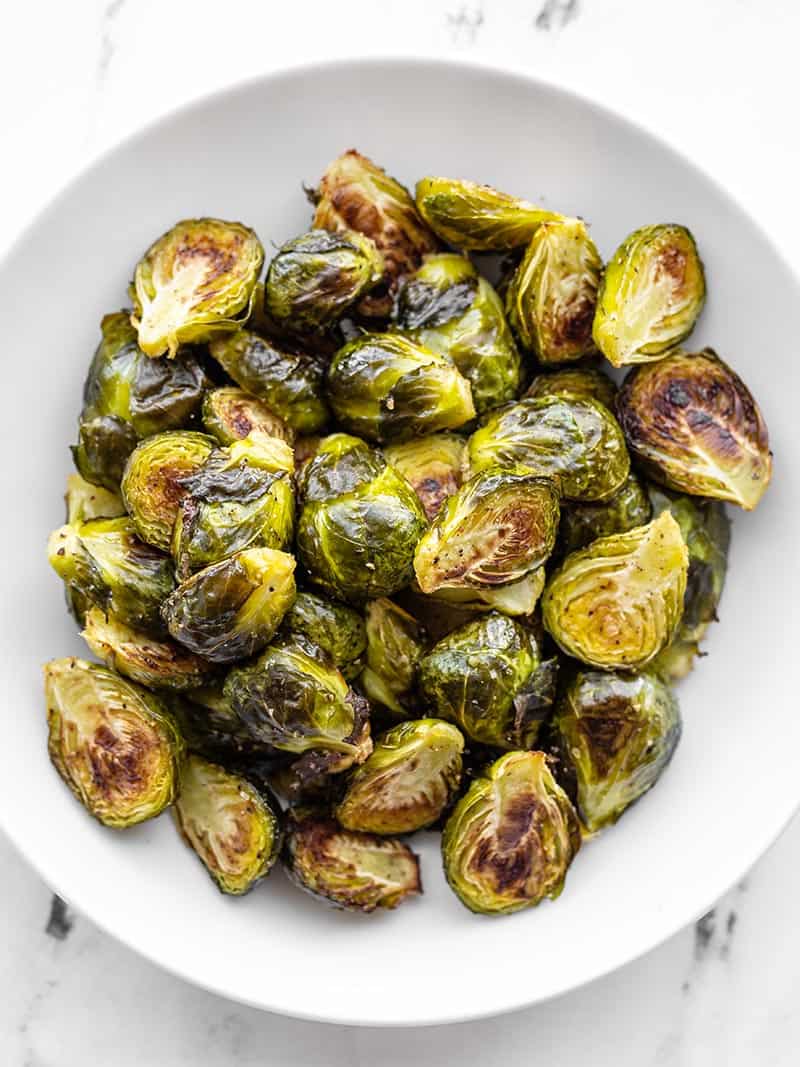 What do Brussels Sprouts Taste Like?
I'm sure there are many of you out there who have never had a Brussels sprout before in your life, so I want to describe them to you a bit first. To me they taste like mini cabbages, but perhaps not quite so bland. What makes them fun, to me, is the texture. The delicate, tightly bound leaves just are so enjoyable to eat! But they are more on the bitter end of the vegetable spectrum, so if you are very sensitive to bitter flavors, which some people just are genetically, Brussels sprouts may not be for you.
When are Brussels Sprouts in Season?
Brussels sprouts can be on the pricier side for vegetables, so it's important to take advantage of them while they're in season. The season can vary a bit, depending on where they're grown, but they are a cold weather vegetable so you'll most likely start to see them pop up on grocery stores in the U.S. from October to February.
Can I Use Frozen Brussels Sprouts?
Frozen Brussels sprouts can be found for a fairly good price year-round, so you may be tempted to try to roast those instead of fresh Brussels sprouts. While you certainly can roast a frozen Brussels sprout, I find that fresh create a much better texture and flavor. Frozen Brussels sprouts will be softer and a little more wet (even after roasting), and I find that roasted fresh Brussels sprouts have a more vibrant flavor.
How to Season Roasted Brussels Sprouts
One thing that I love about roasted vegetables, roasted Brussels sprouts included, is how many different ways you can season them. They're delicious with just a bit of salt and pepper, or you can really go to town. The recipe below uses a simple mix of salt, pepper, and garlic, but you could also do something like steak seasoning, curry powder, Cajun seasoning, seasoning salt (like Lawry's), a Garlic Herb Seasoning, Everything But the Bagel Seasoning, or Parmesan cheese (Parmesan would go great alone or along with any of the previously listed seasoning blends). And if you're a balsamic vinegar lover, try drizzling a little homemade balsamic glaze on top!
P.S. These roasted Brussels sprouts would be SO GOOD dipped in Comeback Sauce!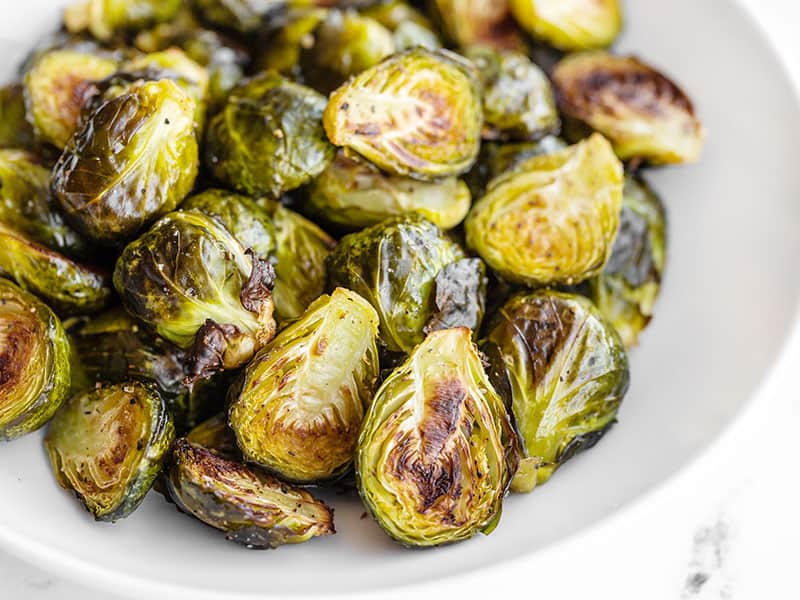 See Roasted Brussels Sprouts in our Thanksgiving Dinner for Two.
Roasted Brussels Sprouts
Roasted Brussels sprouts and an easy, tasty, and versatile side dish to compliment any of your fall or winter meals.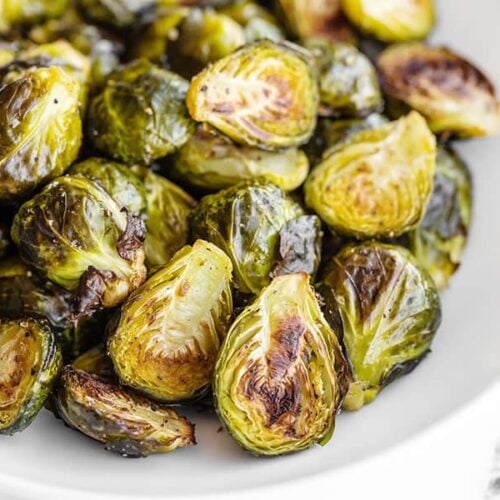 Instructions
Preheat the oven to 400ºF. Wash the Brussels sprouts and trim off any dry ends. Cut each Brussels sprout in half.

Place the cut Brussels sprouts on a parchment lined baking sheet. Drizzle with olive oil and sprinkle with salt, garlic powder, and pepper. Toss until the Brussels sprouts are well coated oil and seasoning. Turn each Brussels sprout so that it is cut side facing down.

Roast the Brussels sprouts in the oven for about 25 minutes, or until they are browned and caramelized on the edges. You can stir the Brussels sprouts at about 20 minutes to gauge the amount of browning on the bottom layer of the sprouts. No need to make sure they're all face down again for the final few minutes.

Taste one Brussels sprout and adjust the salt or pepper to your liking, then serve hot.
See how we calculate recipe costs here.
---
Nutrition
Serving:
1
serving
Calories:
80.03
kcal
Carbohydrates:
5.23
g
Protein:
3.83
g
Fat:
3.85
g
Sodium:
235.83
mg
Fiber:
4.3
g
Read our full nutrition disclaimer here.
How to Roast Brussels Sprouts – Step by Step Photos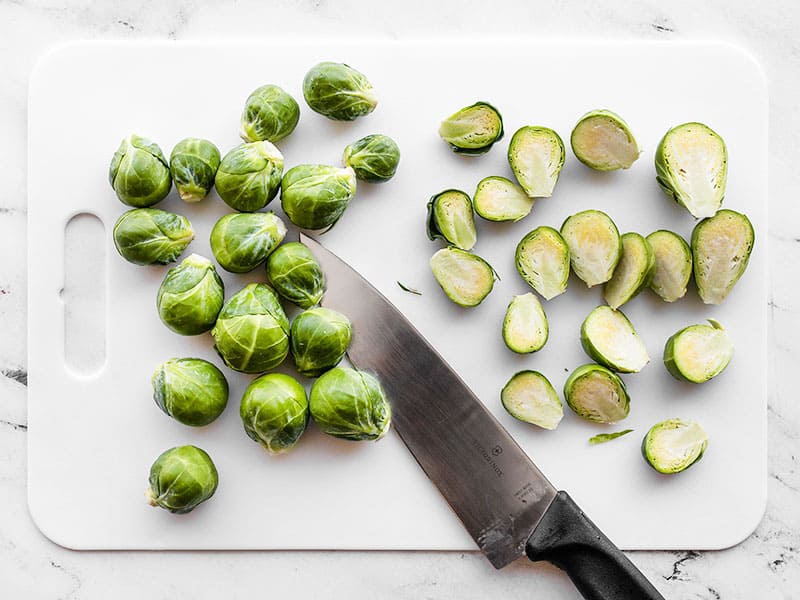 Preheat the oven to 400ºF. Wash 1 lb. Brussels sprouts, then cut off any dry stems. Cut each Brussels sprout in half. The sprouts I had today were very fresh and the ends were not dried out at all, so I simply cut them in half.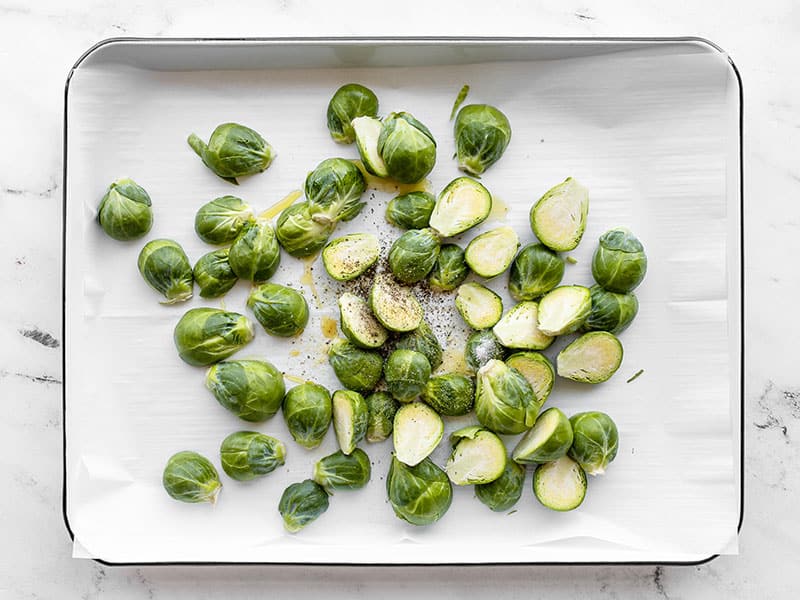 Place the Brussels sprouts on a parchment-lined baking sheet. Drizzle with 1 Tbsp olive oil, then add ¼ tsp salt, ¼ tsp garlic powder, and ¼ tsp freshly cracked black pepper.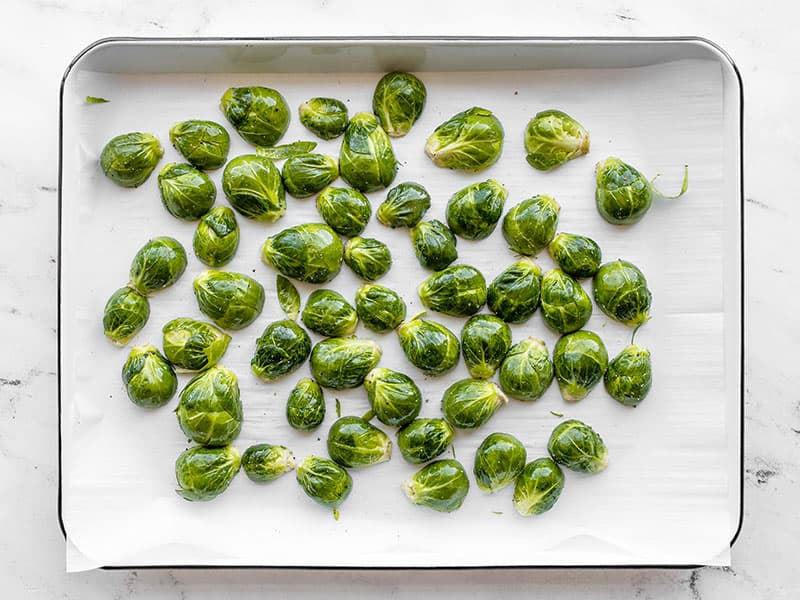 Turn all of the Brussels sprouts halves over so the cut side is facing down. Transfer the baking sheet to the preheated oven.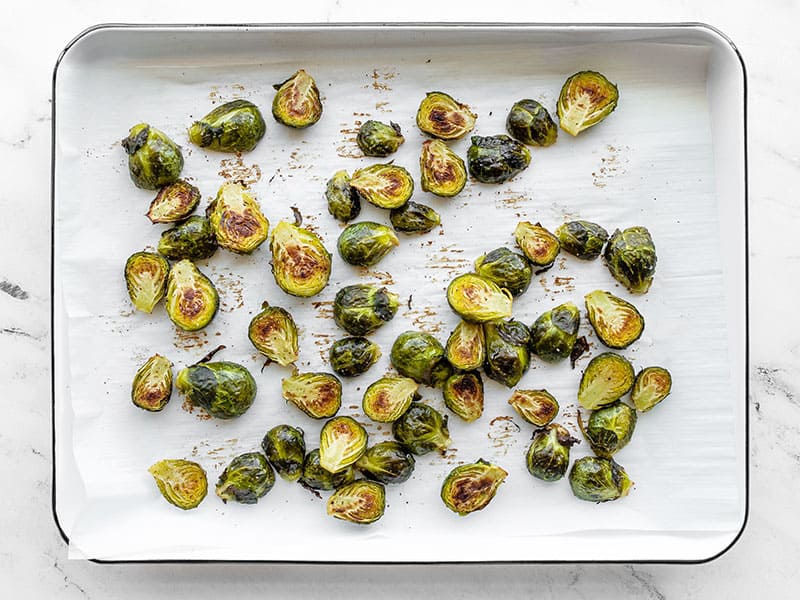 Roast for about 25 minutes, or until they have achieved the level of browning that you like. The total time may change depending on the size of your Brussels sprouts. You can give them a stir after about 20 minutes to see how much they have browned on the cut side. No need to flip them all back over for the final few minutes.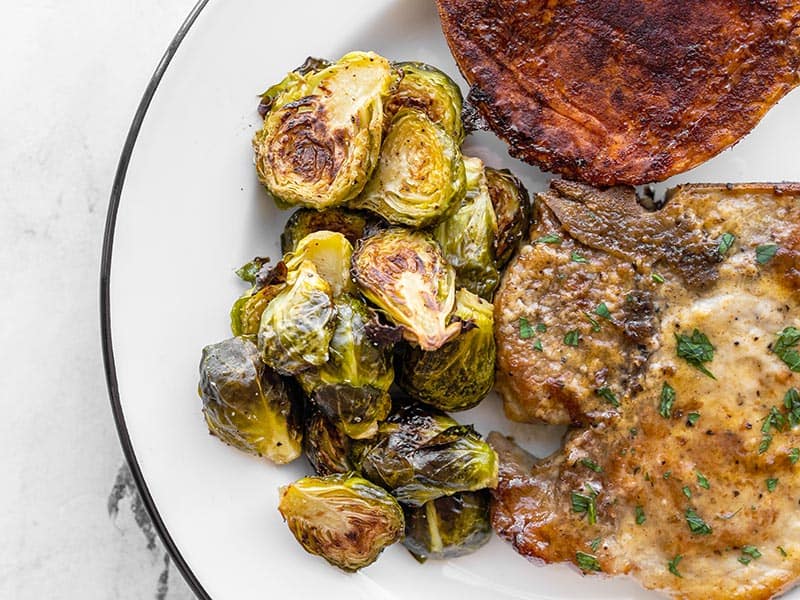 Give the roasted Brussels sprouts a taste and adjust the salt or pepper to your liking. Serve hot!
LOVE ROASTED VEGETABLES? TRY THESE RECIPES: