I really try my hardest not to have 50 different bottles of sauces and condiments in my fridge and pantry, so I stock up on the basics and try to make my own sauces whenever possible. A simple balsamic glaze or balsamic reduction is one of those sauces that is SUPER easy to make at home. Yes, you can buy it premade in the store, but it only takes a few ingredients and maybe 15 minutes to make at home. So it makes sense to just whip some up as needed instead of having that extra bottle hanging around!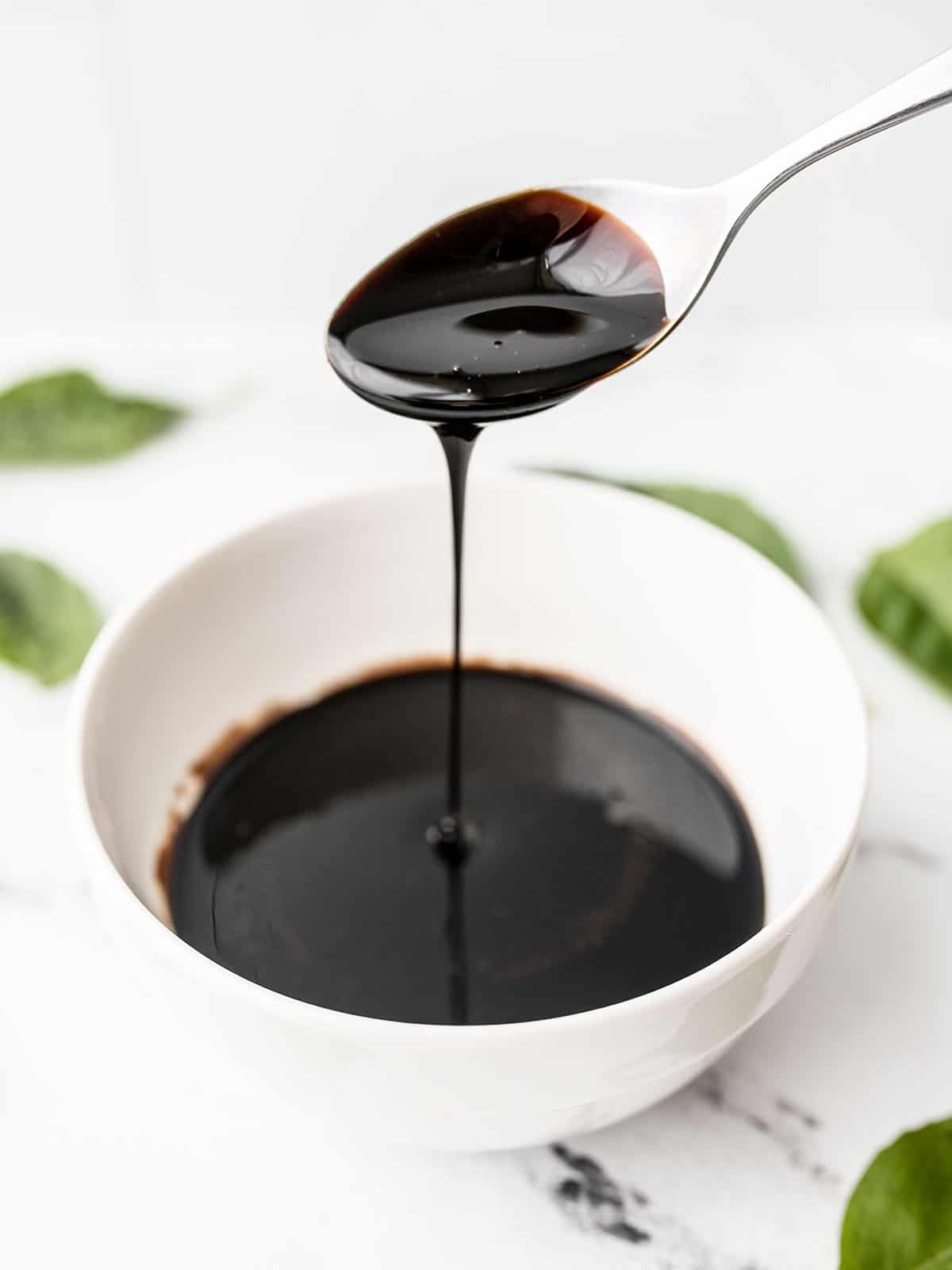 What is a Balsamic Glaze?
A balsamic glaze, sometimes called a balsamic reduction, is balsamic vinegar that has been simmered until a majority of the water content has evaporated away, leaving a thick, syrupy glaze. It's slightly sweet, tangy, and tastes great drizzled over all sorts of things like roasted vegetables, meat, pasta, pizza, and more.
For this balsamic glaze recipe, I added a little brown sugar to balance the acidity and help it thicken faster, but you can skip the sugar if you prefer a balsamic glaze with more of an acidic punch. You can also add a pinch of salt to your glaze, if you prefer. Depending on how I'm using it, I find that sometimes salt can help make it pop just a bit more. If you want your balsamic glaze to be extra rich, you can melt a tablespoon of butter into the glaze after simmering.
What Kind of Balsamic Vinegar to Use
Since the flavors of the balsamic vinegar are going to be intensified, I would not suggest going with the absolute cheapest vinegar available. A good place to start is to make sure the label says "balsamic vinegar of Modena". Here's a great article from the Huffington Post about choosing balsamic vinegar, if you want to dive deeper. Lately, I've been loving Colavita brand balsamic vinegar because it seems to have a good flavor and is priced low enough for every dayuse.
How Much Glaze Does it Make?
This recipe makes about a ½ cup of glaze. You can make a half batch if you just need a little bit of glaze for a couple of servings. The method will be the same, but the simmer time may be slightly shorter. You can keep the leftover glaze in a closed container in the refrigerator for about two weeks.
How to Use Balsamic Glaze
Balsamic glaze is great drizzled over roasted vegetables, like Roasted Brussels Sprouts, or roasted meat like Herb Roasted Pork Tenderloin. It's also great over fresh produce like salads, sliced tomatoes, or Bruschetta. This week, I used it on some Caprese pizzas (pictured below).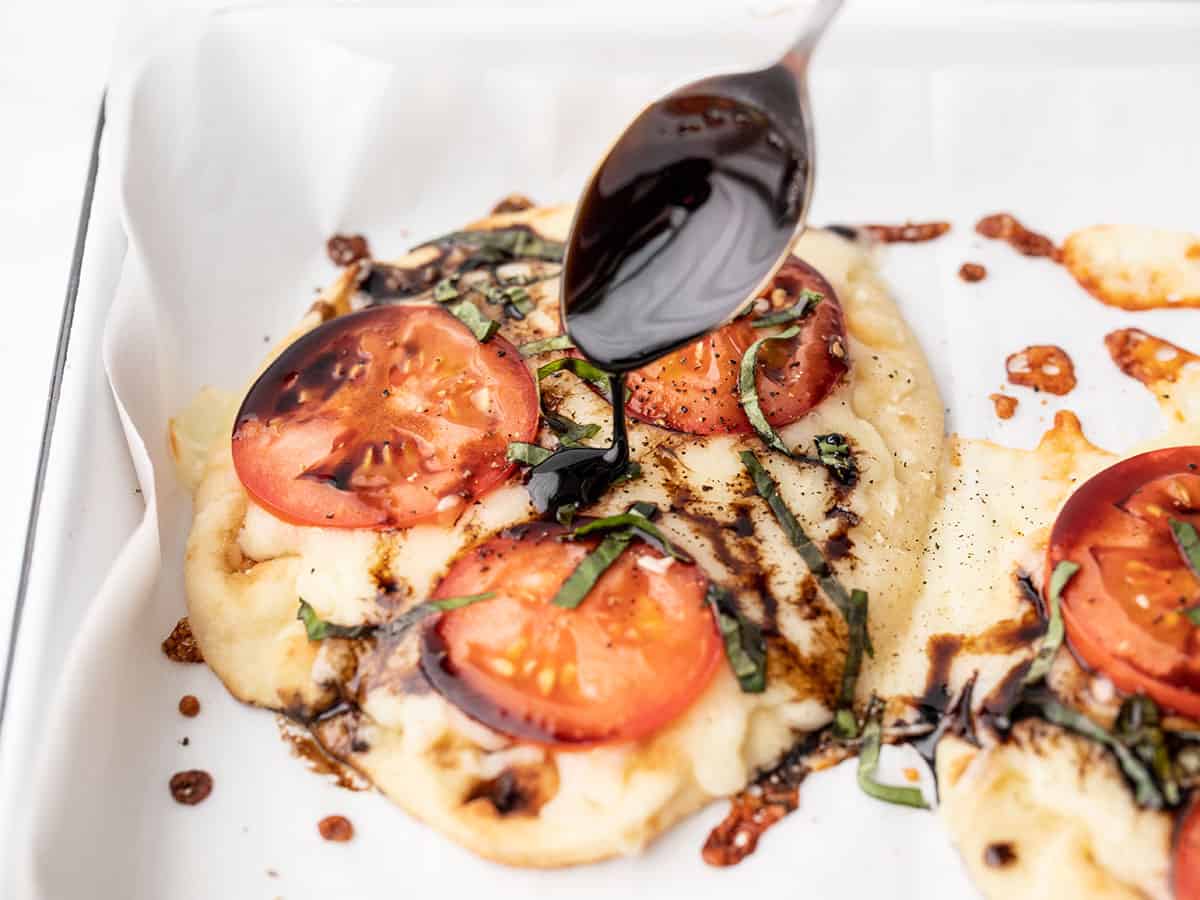 Homemade Balsamic Glaze
A simple homemade balsamic glaze or balsamic reduction is super easy to make and tastes great drizzled over vegetables, meat, and more!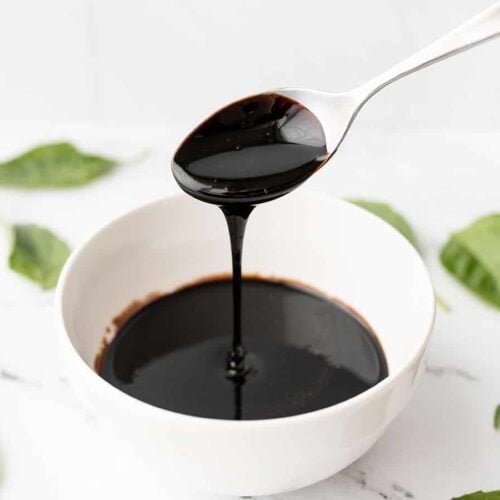 Ingredients
1

cup

balsamic vinegar

($2.16)

1/4

cup

brown sugar

($0.16)
Instructions
Add the balsamic vinegar and brown sugar to a small saucepot. Stir to dissolve the sugar.

Bring the mixture up to a simmer over medium heat. Reduce the heat to medium-low, then continue to simmer the mixture, stirring occasionally, until it has reduced in volume by about half. This should take around ten minutes, but the total time can vary depending on your cookware and burner. You'll know it's done when the simmering bubbles linger on the surface of the vinegar instead of immediately popping.

Remove the glaze from the heat and allow it to cool. It will thicken considerably more as it cools. If it isn't to your desired thickness, you can simmer the glaze again to further reduce.

Once cool, drizzle the glaze over your favorite foods and enjoy! Refrigerate leftovers until ready to use.
See how we calculate recipe costs here.
---
Nutrition
Serving:
2
Tbsp
Calories:
108
kcal
Carbohydrates:
24
g
Protein:
1
g
Sodium:
19
mg
Read our full nutrition disclaimer here.
How to Make Balsamic Glaze – Step by Step Photos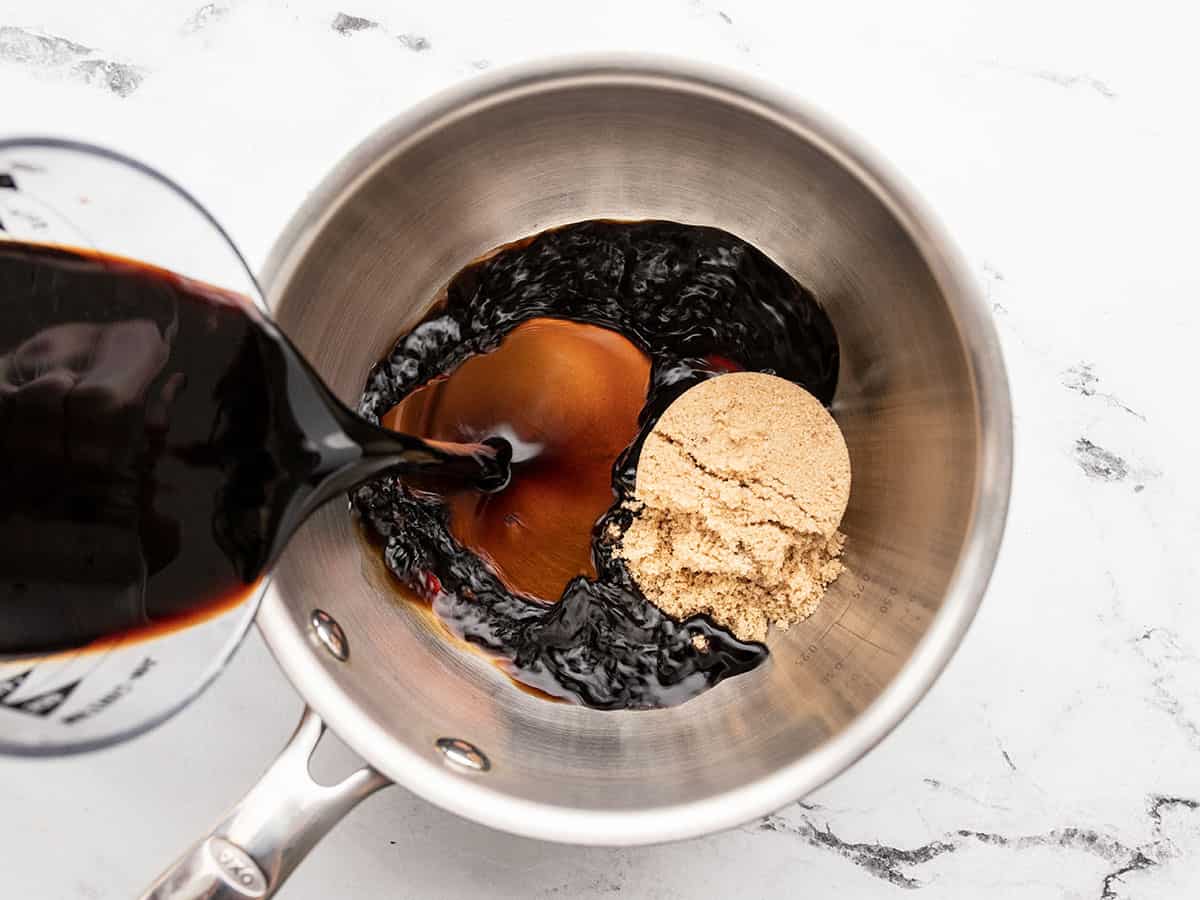 Add ¼ cup brown sugar and 1 cup balsamic vinegar to a small saucepot.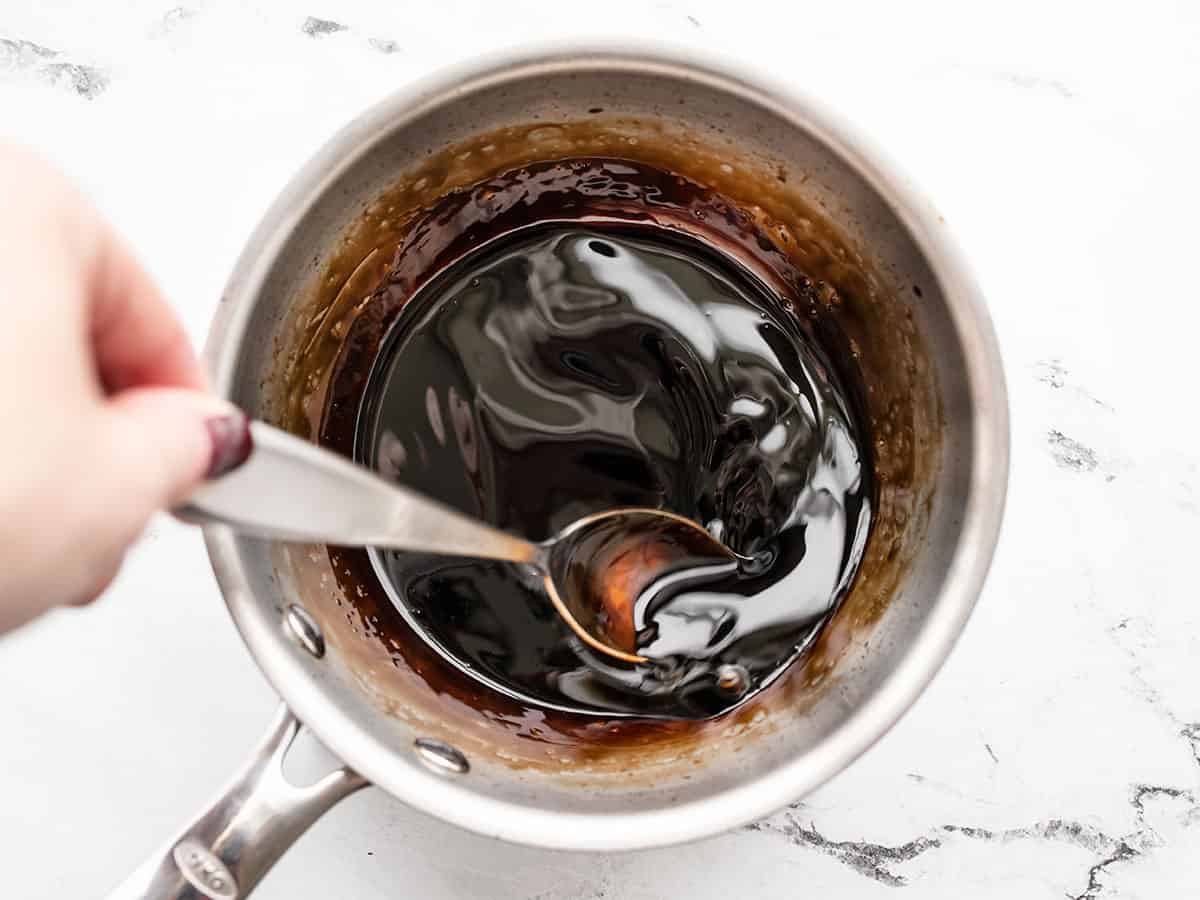 Stir the vinegar to dissolve the brown sugar. Heat the mixture over medium, allowing it to come up to a boil. Reduce the heat to medium-low and continue to simmer, stirring occasionally, for about 10 minutes, or until the mixture has reduced by half. You'll notice that as the vinegar gets thicker the bubbles from simmering take a little longer to pop on the surface.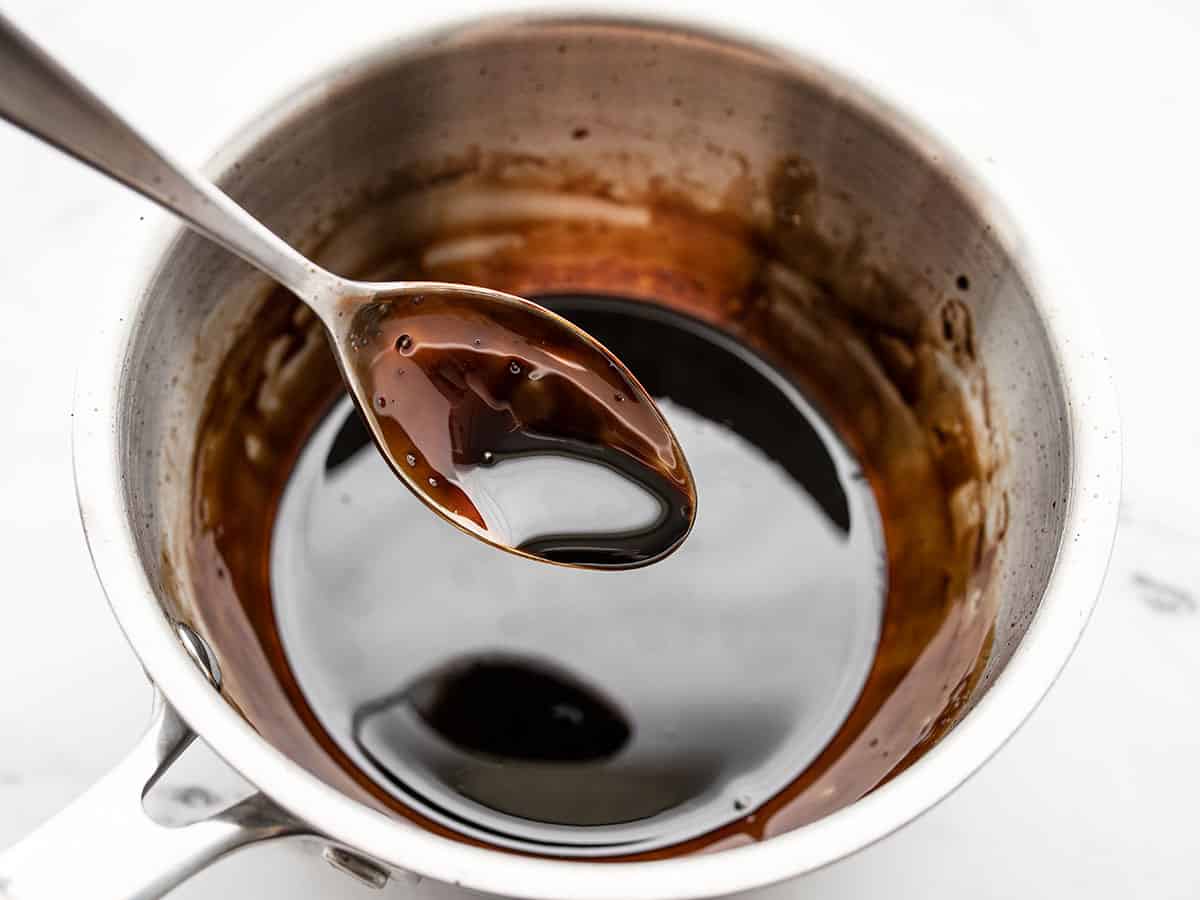 When the volume has reduced by half, remove the balsamic reduction from the heat. It will continue to thicken quite a bit as it gets closer to room temperature. If it doesn't get as thick as you'd like, you can just simmer the glaze again.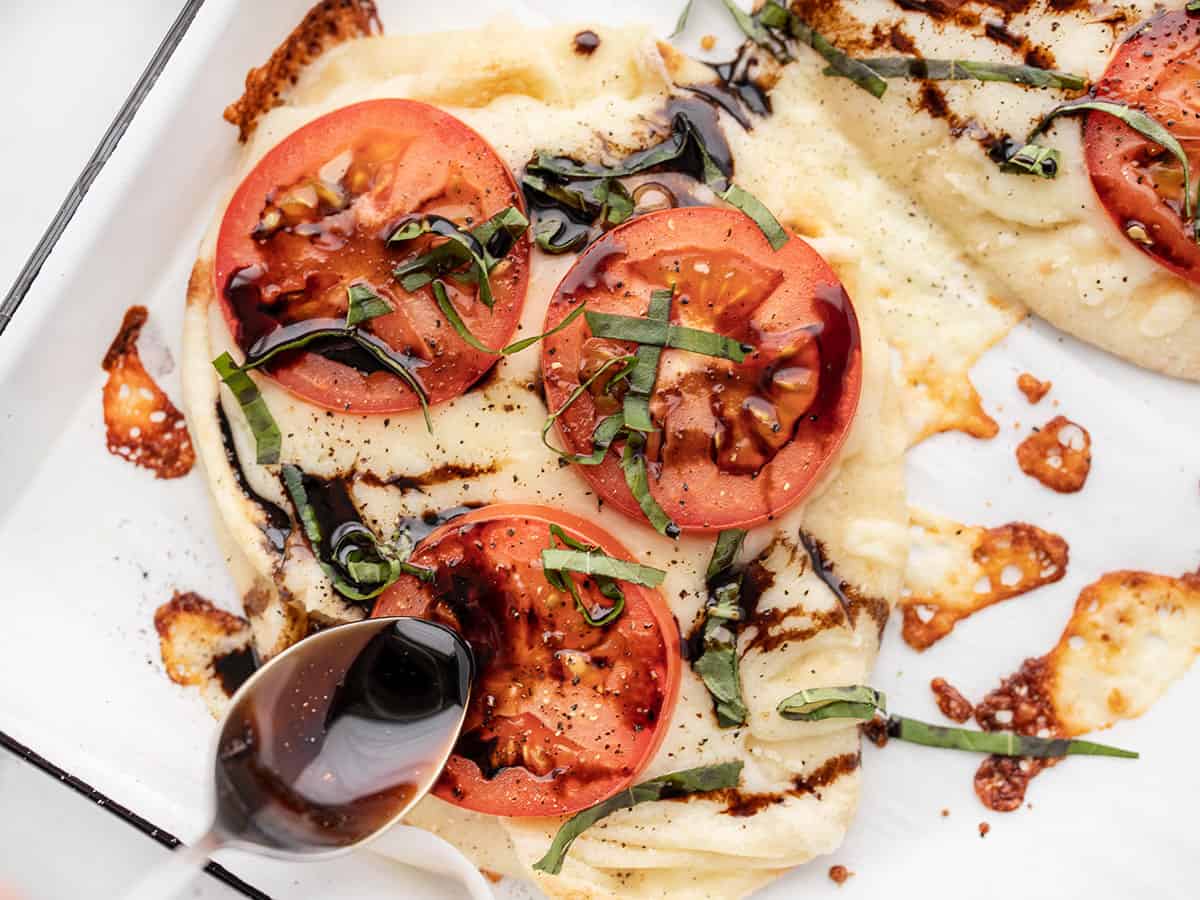 Drizzle the balsamic glaze over your favorite vegetables, pastas, salads, meat, and more!