I've been dying to post this all week because these Sweet Potato Corn Cakes are SOOO good and I just know that you'll love them as much as I do… and if you don't, I might be forced to ask myself what is wrong with you.
These are "every bite is better than the last one" good. They're so good that they make you wonder why other food even exists when flavors this bright and vibrant are possible.
…and thats what I was thinking when eating the reheated leftovers a minute ago. So, can you imagine how good they were fresh? Probably not. It's unimaginable. You have to experience it.
Anyway, enough gushing. Onto the important stuff.
First – This recipe makes a HUGE batch, so feel free to half it. I wouldn't suggest trying to half a raw egg, instead just add more than half breadcrumbs (probably 3/4 cup) to make up for the extra moisture.
Second – These sweet potato corn cakes are fried. You'll just have to accept that. I tried to bake some and they were horrid. Dry, poor texture, just not good. If you're brave enough to try baking them yourself and actually have success, please share your technique… because I just couldn't make it work.
Third – I demand that you to try these.
Sweet Potato Corn Cakes with Garlic Dipping Sauce
Sweet Potato Corn Cakes with Garlic Dipping Sauce
Cumin, cilantro, and cayenne pepper add big flavor to these savory Sweet Potato Corn Cakes. Dip them in the creamy garlic sauce for even more zing!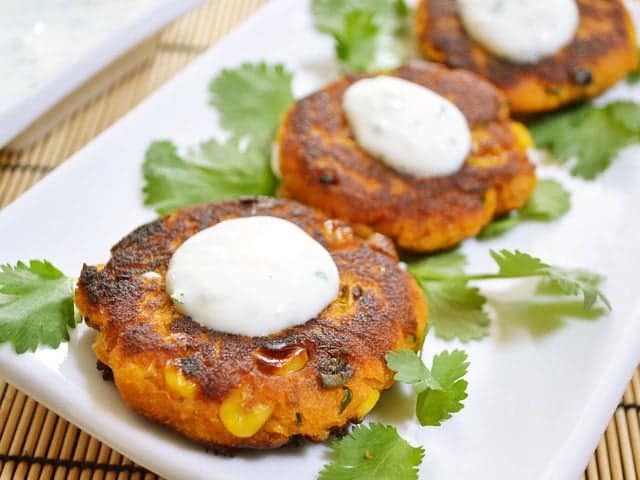 Ingredients
3

lbs

sweet potatoes

($3.17)

1

cup

frozen corn kernels

($0.30)

2

green onions

($0.19)

1/4

bunch

cilantro, divided

($0.21)

1/4

tsp

cayenne pepper

($0.02)

1

tsp

cumin

($0.05)

1

tsp

salt

($0.02)

1

large egg

($0.25)

1/3

cup

yellow cornmeal

($0.19)

1

cup

plain breadcrumbs

($0.50)

1/2

cup

vegetable oil for frying

($0.43)

1

cup

plain yogurt

($0.55)

1

clove

garlic

($0.08)
Instructions
Begin by cooking the sweet potatoes. The fastest way to do this is in the microwave. Prick the skin of each potato with a fork. Wrap one potato in a paper towel, place it on a plate, and microwave on high for 5 minutes. Carefully remove it from the microwave, squeeze it to make sure it's soft in the center, and the allow it cool as you cook the next one. When the potatoes are cool enough to handle, cut them open and scoop the flesh into a large bowl.

Slice the green onions and roughly chop a handful of cilantro (about 1/8th of a bunch). Add the green onions, cilantro, frozen corn kernels, salt, cumin, and cayenne pepper to the bowl with the cooked sweet potatoes. Stir until well combined. You can taste it at this point and adjust the seasoning as desired.

Add the breadcrumbs, cornmeal, and egg to the bowl. These ingredients will bind the mixture together and keep it from falling apart while cooking. Stir until evenly combined. Cover the bowl and refrigerate for 30 minutes to allow the breadcrumbs to absorb moisture.

While the sweet potato mixture is refrigerating, mix up the garlic sauce. In a small bowl combine the yogurt, one clove of well minced garlic, and a handful of cilantro leaves (roughly chopped). Stir until combined and then refrigerate until ready to serve.

After the sweet potato mixture has refrigerated, it's time to cook. Add enough vegetable oil to fully cover the bottom of a medium skillet. Heat the oil over medium-high heat until the surface appears wavy (if it begins to smoke, remove it from the burner immediately and turn down the heat). Shape the sweet potato mixture into small patties (about 2-3 Tbsp each) and cook about 4 at a time in the hot oil. Cook until golden brown on each side; about 2 minutes per side. After cooking, place on a paper towel covered plate to drain. Add more oil to the skillet as needed.
See how we calculate recipe costs here.
---
Nutrition
Serving:
3
Cakes
Calories:
342.95
kcal
Carbohydrates:
40.24
g
Protein:
5.45
g
Fat:
18.23
g
Sodium:
566.18
mg
Fiber:
4.37
g
Read our full nutrition disclaimer here.
Serve warm with the garlic yogurt dipping sauce.
Step By Step Photos

Start by pricking the skin of each sweet potato to allow steam to escape as they cook. No one wants to clean exploded sweet potato out of their microwave.

Wrap one potato in a paper towel and microwave on high for 5 minutes. Carefully squeeze it to make sure it's soft in the center and then cook the next one. I used one paper towel for all four sweet potatoes.

They'll be super hot when they come out of the microwave, so let them cool just a bit before cutting into them. Slice it open and scoop out the cooked flesh.

Place the cooked sweet potato in a bowl and add the frozen corn kernels (they'll help cool the sweet potato the rest of the way), sliced green onions, roughly chopped cilantro, salt, cumin, and cayenne pepper. Stir it all together.

Now it's time to add the binders. I used one egg, 1/3 cup of cornmeal (it helps bind and gives more texture than just breadcrumbs) and one cup of breadcrumbs. The breadcrumbs are not in the picture (don't ask). Stir it all together and then refrigerate for 30 minutes.

While the sweet potato mix is refrigerating, make the garlic yogurt sauce. Finely mince a clove of garlic and roughly chop another handful of cilantro. Stir those into a cup of plain yogurt. You can add a pinch of salt if you'd like. Refrigerate the sauce until you're ready to serve.

After the mixture has chilled, it's time to cook. Take about 2 Tbsp of sweet potato mix and shape it into a small patty. My mixture was still pretty wet/sticky, but it was shape-able.

Heat some vegetable oil in a skillet over medium-high heat. You want the oil to be quite hot before adding the cakes. It should look wavy on the surface. You can take a pinch of the sweet potato mixture and add it to the skillet to test it. It should sizzle heavily. Add about four patties to the skillet and cook until deep golden brown on one side, then flip.

Cook on the other side in the same manner. It should only take about two minutes per side. Try not to make your patties too thick otherwise the inside won't heat through before the outside browns. About a half inch thick is good.

Place the cooked sweet potato cakes on a paper towel lined plate and cook the next batch. Add more oil as needed, always allowing it to heat up before adding more sweet potato cakes.

Why, hello there little warm, delicious sweet potato corn cakes…