Here's a little tasty treat that I've been making for myself lately, super easy Caprese Pizza! They're quick, light, and fresh, which is a nice change of pace sometimes in the middle of all of fall and winter. Plus, they just kind of feel extra special on a weeknight or night spent at home. So the next time you have a pizza and movie night, try making these cute little Caprese Pizzas. The night will feel extra special without a ton of extra work!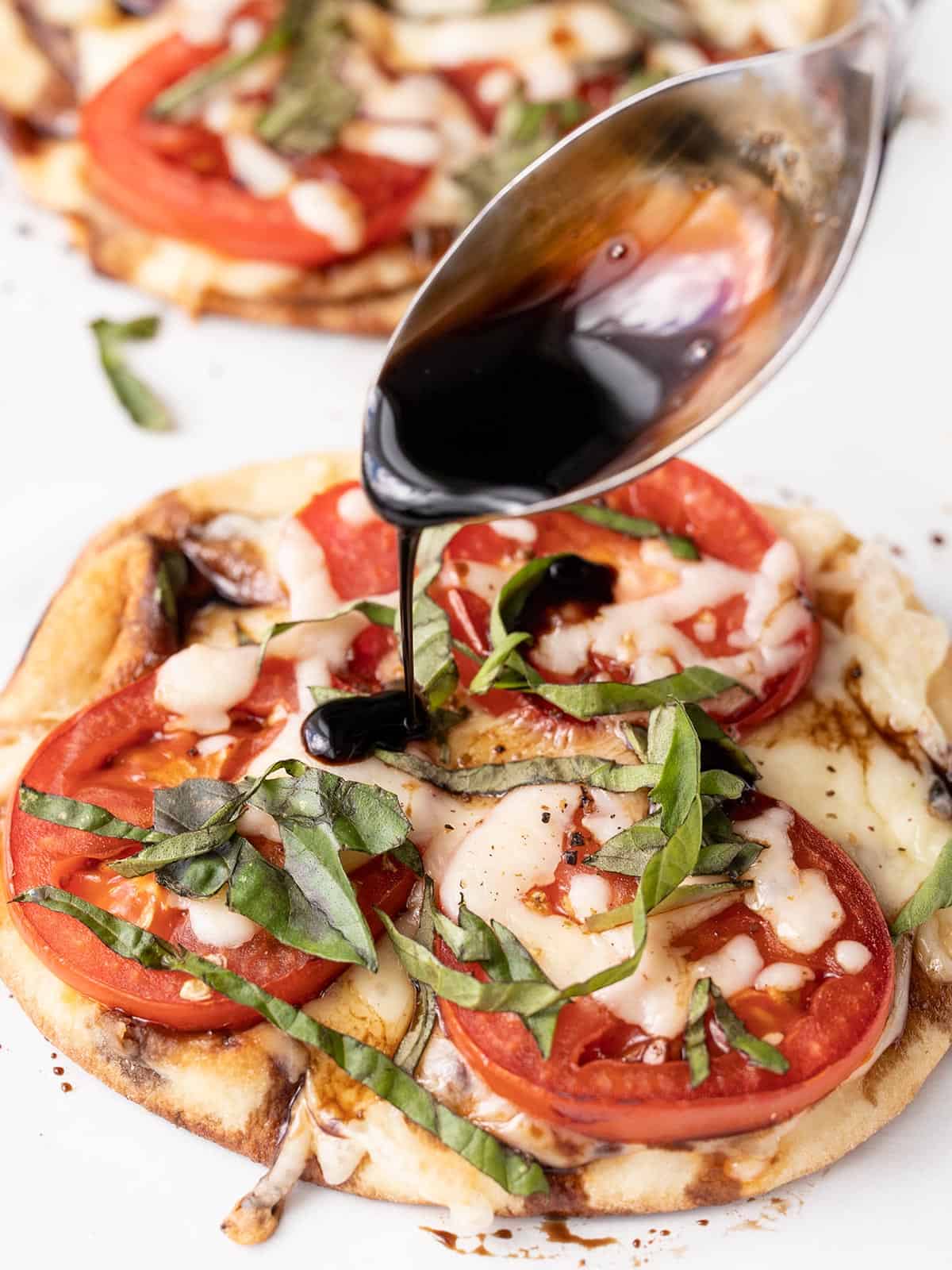 What is Caprese Pizza?
Caprese pizza is a pizza based on the flavors of Caprese Salad, fresh tomato, mozzarella, and basil. While balsamic glaze is not usually part of caprese salads, the flavor goes beautifully with these ingredients and just adds a something a little extra special to the pizza's flavor (not to mention that stunning color contrast!).
Do I Need Fresh Basil?
Yes and no. The fresh basil really changes the entire flavor personality of these pizza, so if you leave it out you'll be missing a LOT. That being said, I would never turn down melted cheese on bread of any kind, so if I couldn't get the fresh basil for some reason I would still totally make this pizza. You can sprinkle it with dried basil if you want, but just be aware that the flavor of fresh basil compared to dried basil is completely different.
Can I Make a Whole Caprese Pizza instead of Minis?
Yes, this is super easy to make as a whole pizza instead of mini individual pizzas. Just use your favorite pizza dough or store-bought pre-baked crust. Baking time will be slightly longer, since they're larger, but just keep an eye on them and bake until the cheese is melted. Since you don't really want the mozzarella to brown at all on this pizza, I would definitely par-bake any raw pizza crust first and then add the cheese and tomatoes later rather than adding all the toppings to the raw dough like you normally would.
What to Serve with Caprese Pizza
The beauty of this pizza is that it is incredibly simple, so I would stick with a very simple side dish as well, like a Simple Side Salad. Keep it light and fresh with delicate greens, a light vinaigrette dressing, and maybe just one or two extra vegetables, like artichoke hearts or olives. And then maybe some Garlic Bread on the side, too, because garlic bread goes with everything. ;)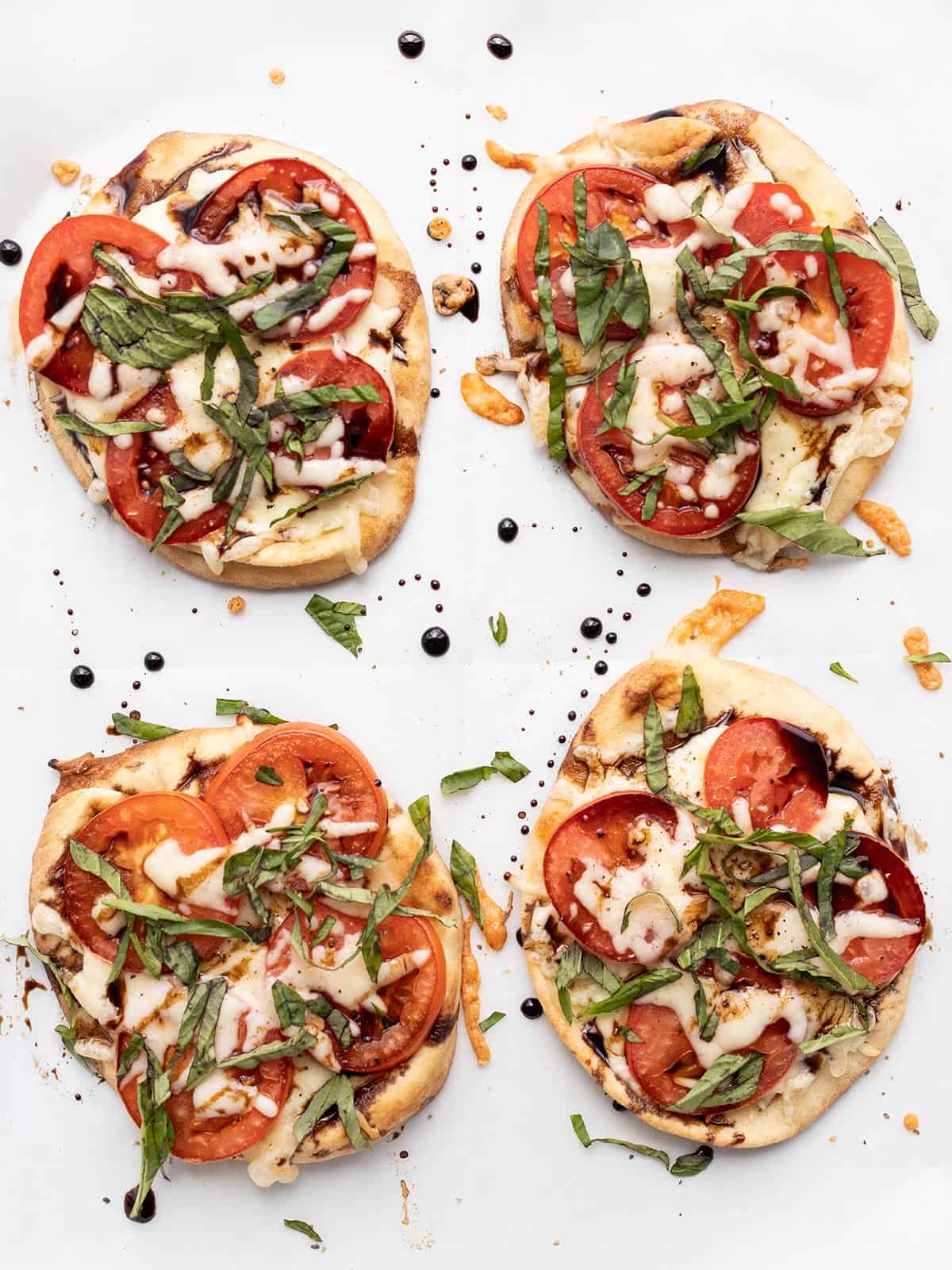 Easy Caprese Pizzas
Creamy mozzarella, fresh tomatoes and basil, and a light drizzle of tangy balsamic glaze make this easy Caprese pizza phenomenal!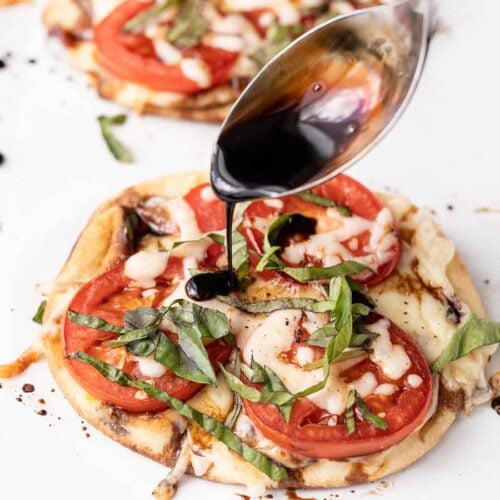 Ingredients
Balsamic Glaze
1/2

cup

balsamic vinegar

($1.08)

2

Tbsp

brown sugar

($0.08)
Caprese Pizzas
4

mini naan

($2.00)

2

Roma tomatoes

($0.52)

4

oz.

mozzarella, shredded

($0.83)

4

fresh basil leaves

($0.90)

1

pinch

salt and pepper

($0.05)
Instructions
Preheat the oven to 400ºF. To make the balsamic glaze, add the balsamic vinegar and brown sugar to a small saucepot. Place over medium heat and stir to dissolve the sugar. Allow the vinegar to come up to a simmer. Reduce the heat to medium-low and continue to simmer for about 10 minutes, stirring occasionally, or until thickened. Remove from the heat and set aside.

Place the mini naan on a parchment-lined baking sheet. Pre-bake the naan for 5 minutes in the preheated oven.

Slice each Roma tomato into eight slices. Place 1/4 of the shredded mozzarella and four slices of tomato on each piece of naan.

Bake the topped pizzas in the oven for about 7 minutes, or until the cheese is melted and bubby.

While the pizzas are in the oven, thinly slice the basil. Top each pizza with a pinch of salt and pepper, a little fresh basil, and a drizzle of the balsamic glaze just before serving.
See how we calculate recipe costs here.
---
Nutrition
Serving:
1
pizza
Calories:
235
kcal
Carbohydrates:
28
g
Protein:
9
g
Fat:
9
g
Sodium:
410
mg
Fiber:
1
g
Read our full nutrition disclaimer here.
How to Make How to Make Caprese Pizza – Step by Step Photos
I used this mini inidividual-sized naan from Aldi as my pizza base, but you could use a regular size naan, or your favorite pizza crust or dough instead. You could even par-bake a tortilla until stiff and use that!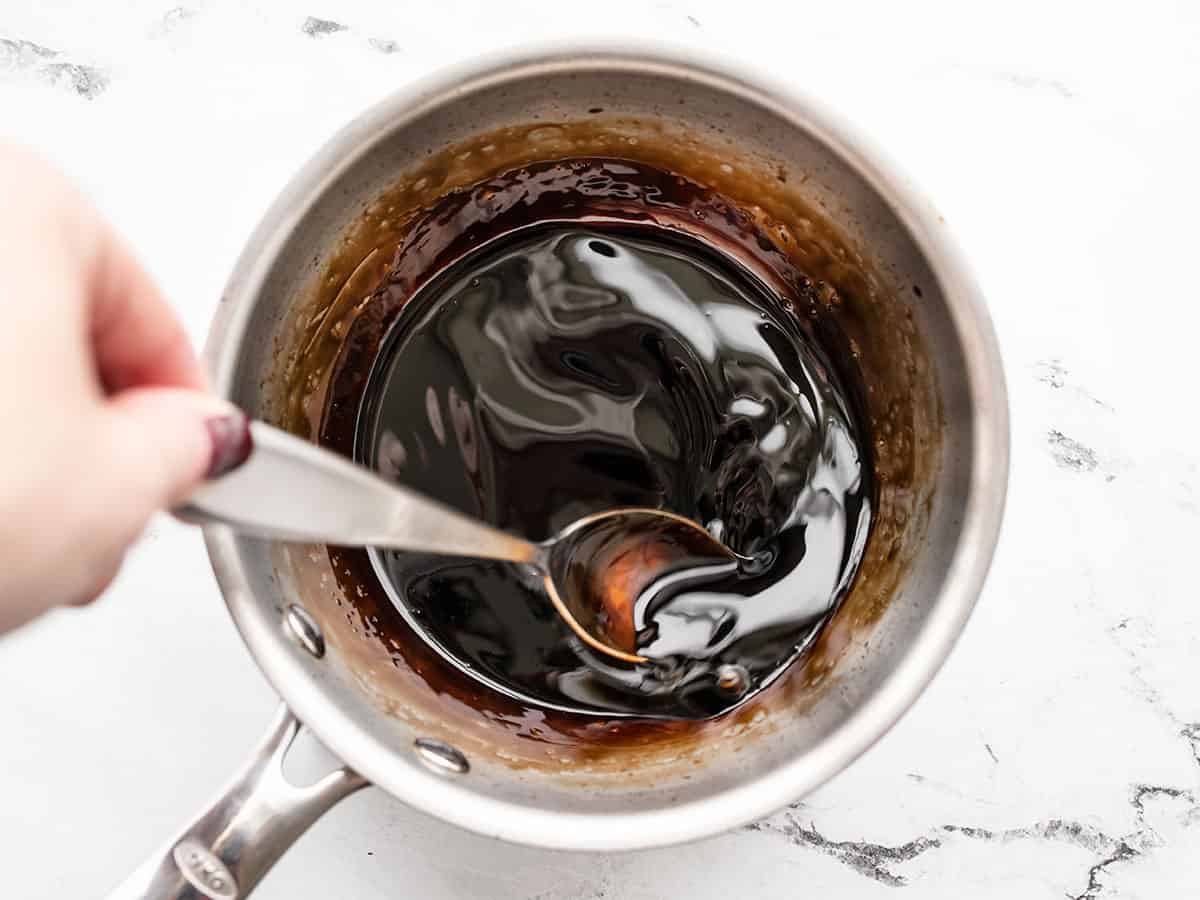 Preheat the oven to 400ºF. While the oven is preheating, make the balsamic glaze. Add ½ cup balsamic vinegar and 2 Tbsp brown sugar to a small saucepot and stir to dissolve the brown sugar. Heat the mixture over medium, allowing it to come up to a boil. Once it reaches a boil, turn the heat down slightly and allow it to continue to simmer, stirring occasionally, until it has reduced in volume by half (about ten minutes). It will appear slightly thicker, but it will fully thicken upon cooling.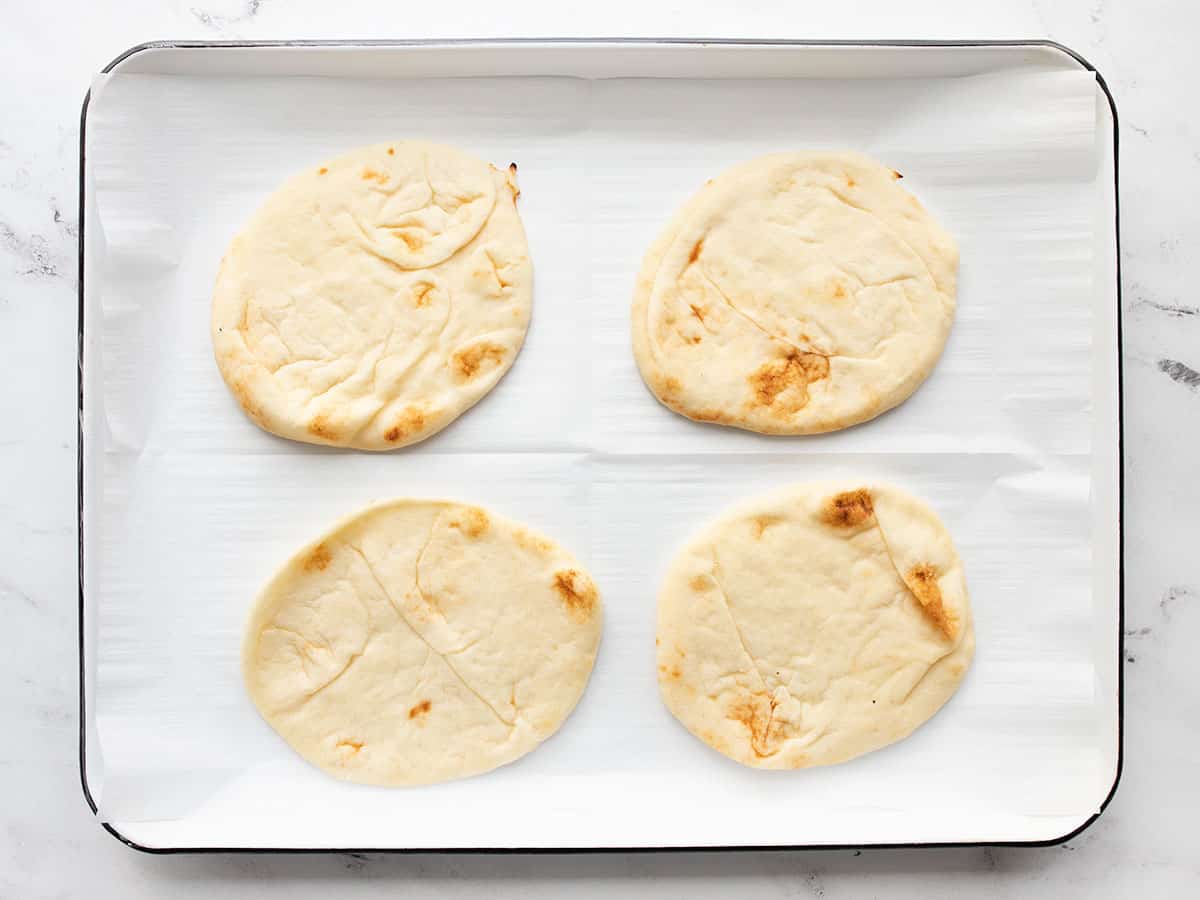 Once the oven is hot, place four pieces of naan on a parchment-lined baking sheet and then pre-bake for about 5 minutes just to get them heated through. If you want to be *extra special* you can lightly brush your naan with olive oil and sprinkle a little garlic powder over top.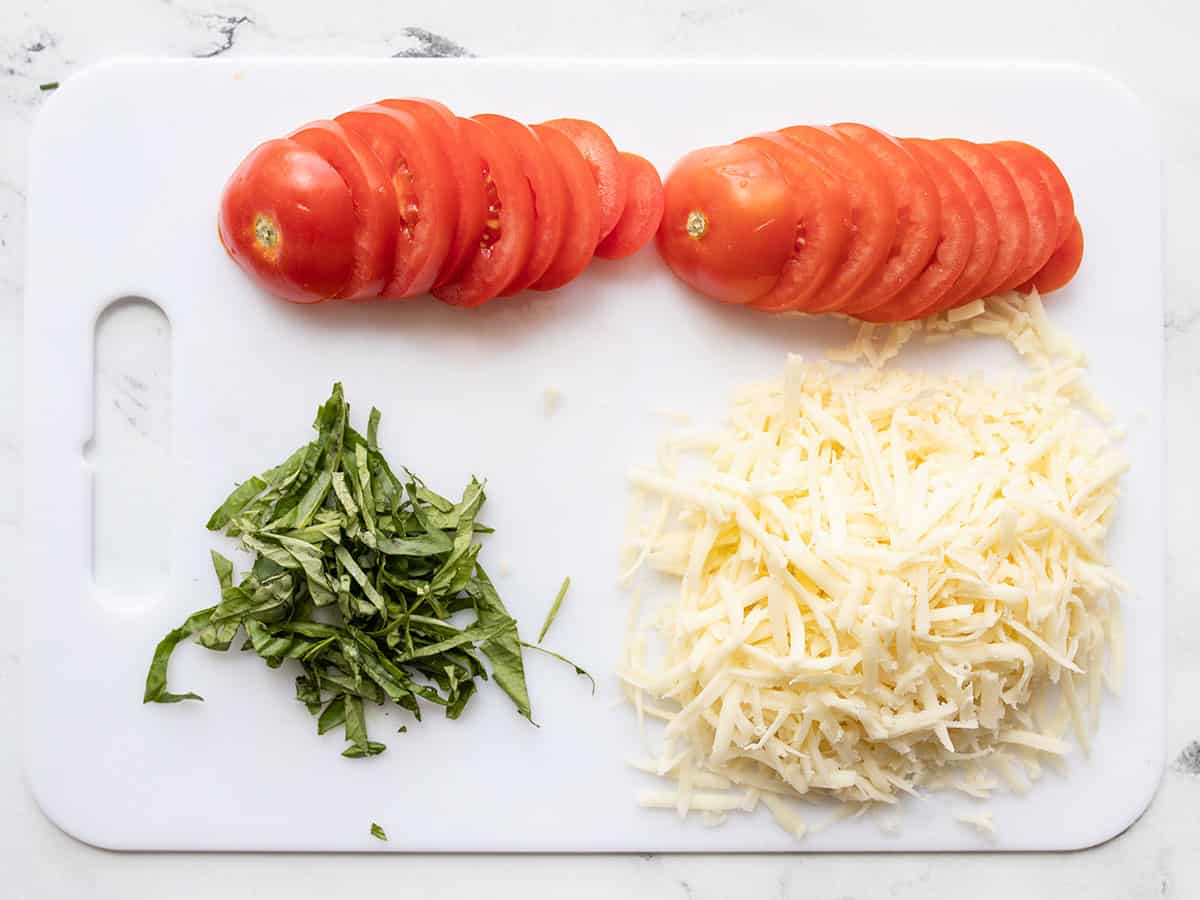 While the naan are preheating, you can prepare the toppings. Slice two Roma tomatoes into eight slices each so that you'll have four slices of tomato per mini-pizza. Shred 4oz. mozzarella, and thinly slice about four basil leaves (you can wait to do the basil while the topped pizzas are in the oven, if you run out of time).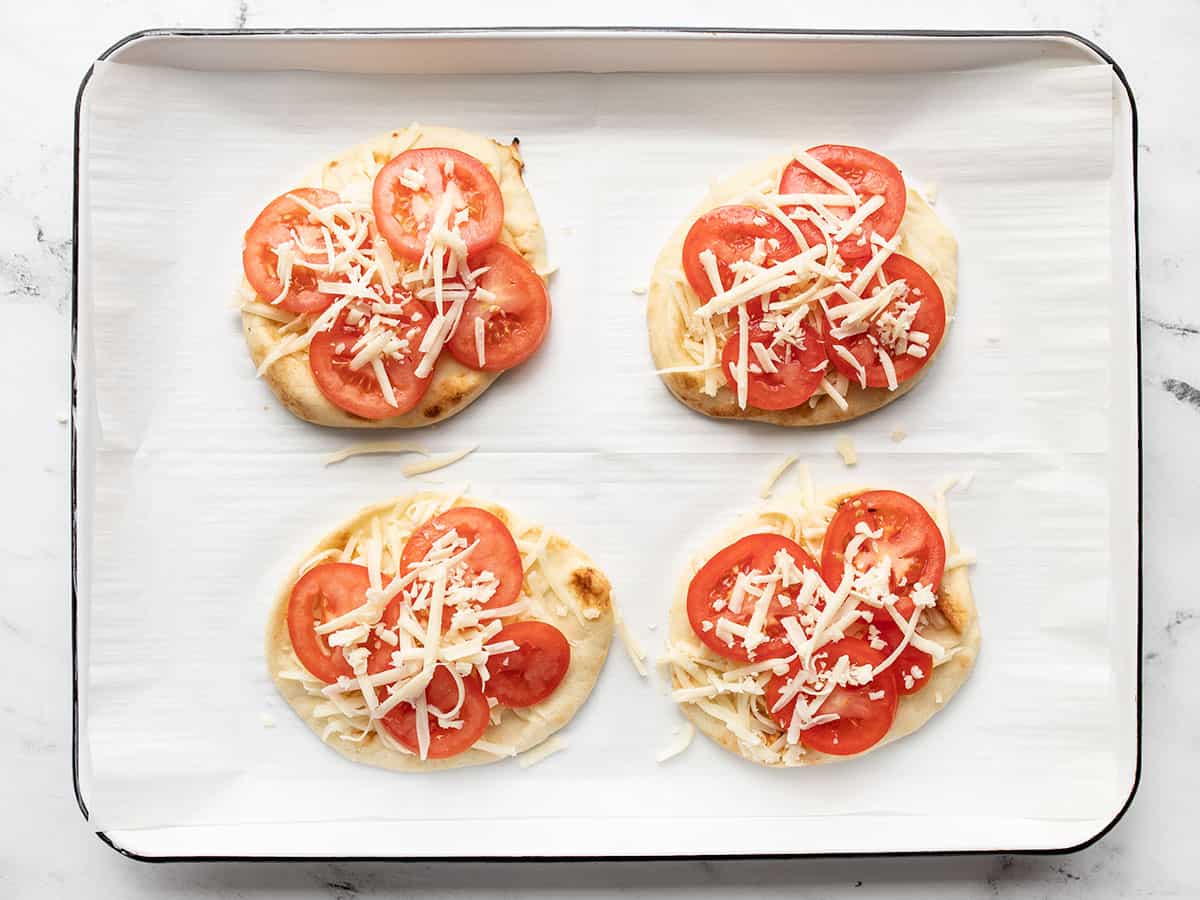 Once the naan is heated, top each pizza with four slices of fresh tomato and ¼ of the shredded mozzarella (I put mozzarella under the tomatoes and then just a pinch on top as well).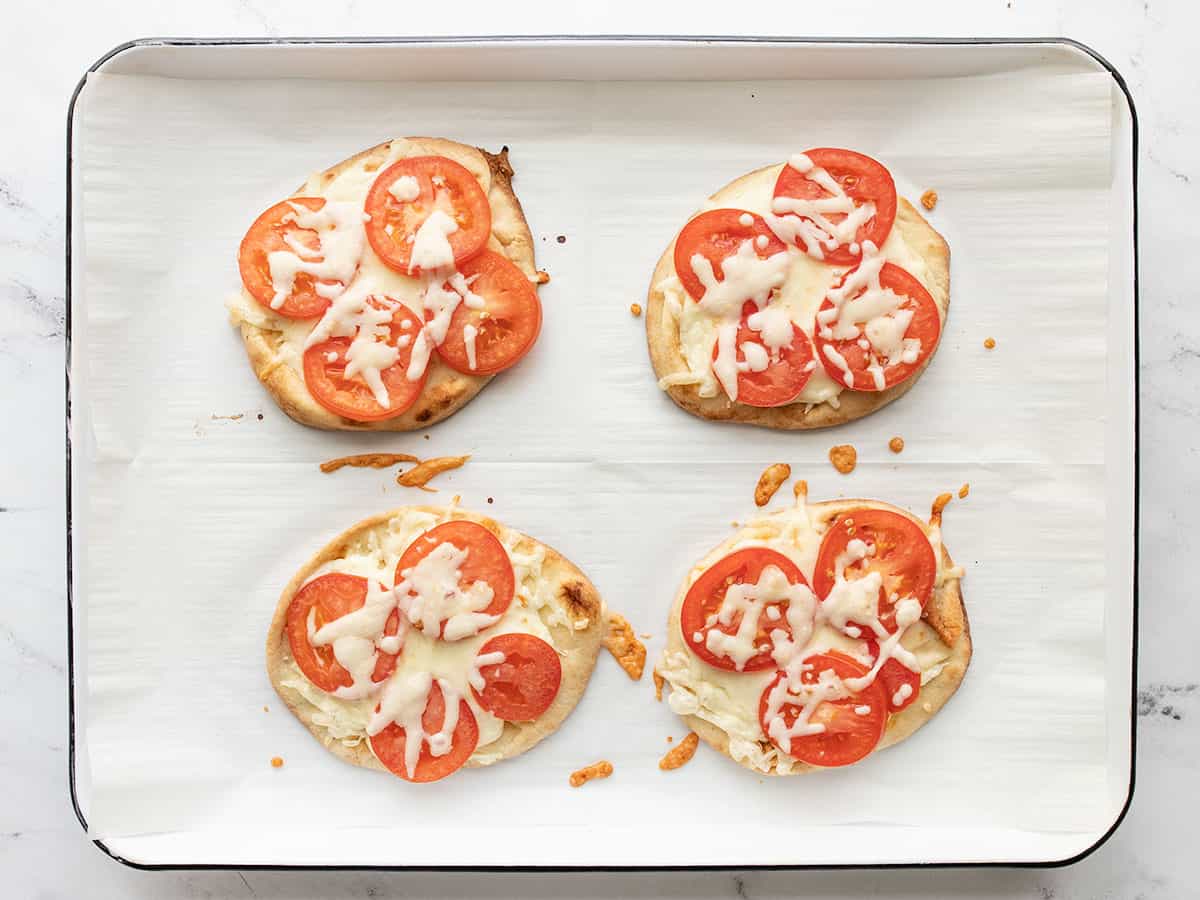 Bake the caprese pizzas again for about 7 minutes, or just until the cheese is melted and beginning to bubble a bit. You don't really want the cheese to brown for this one as we're trying to keep things light and fresh.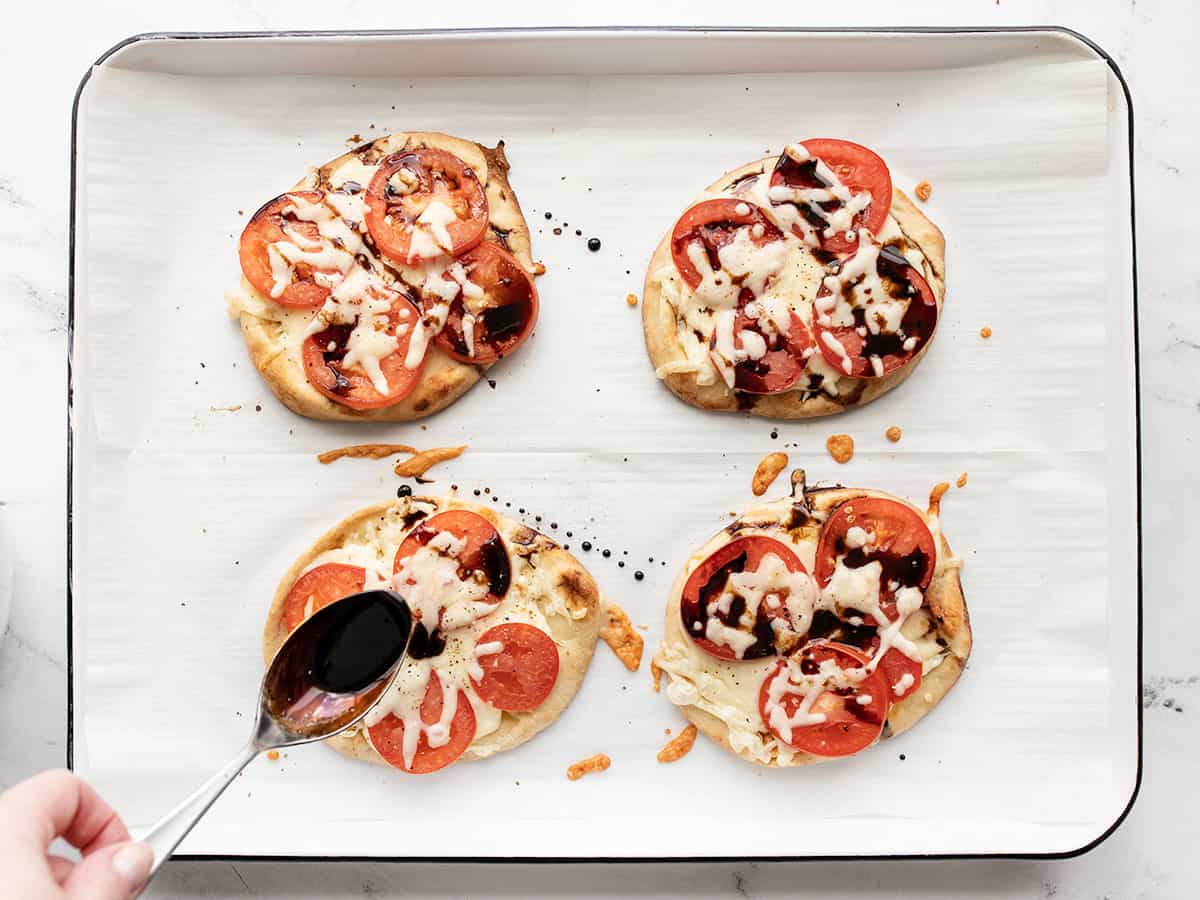 Add a pinch of salt and pepper to each pizza, then drizzle the balsamic reduction over top.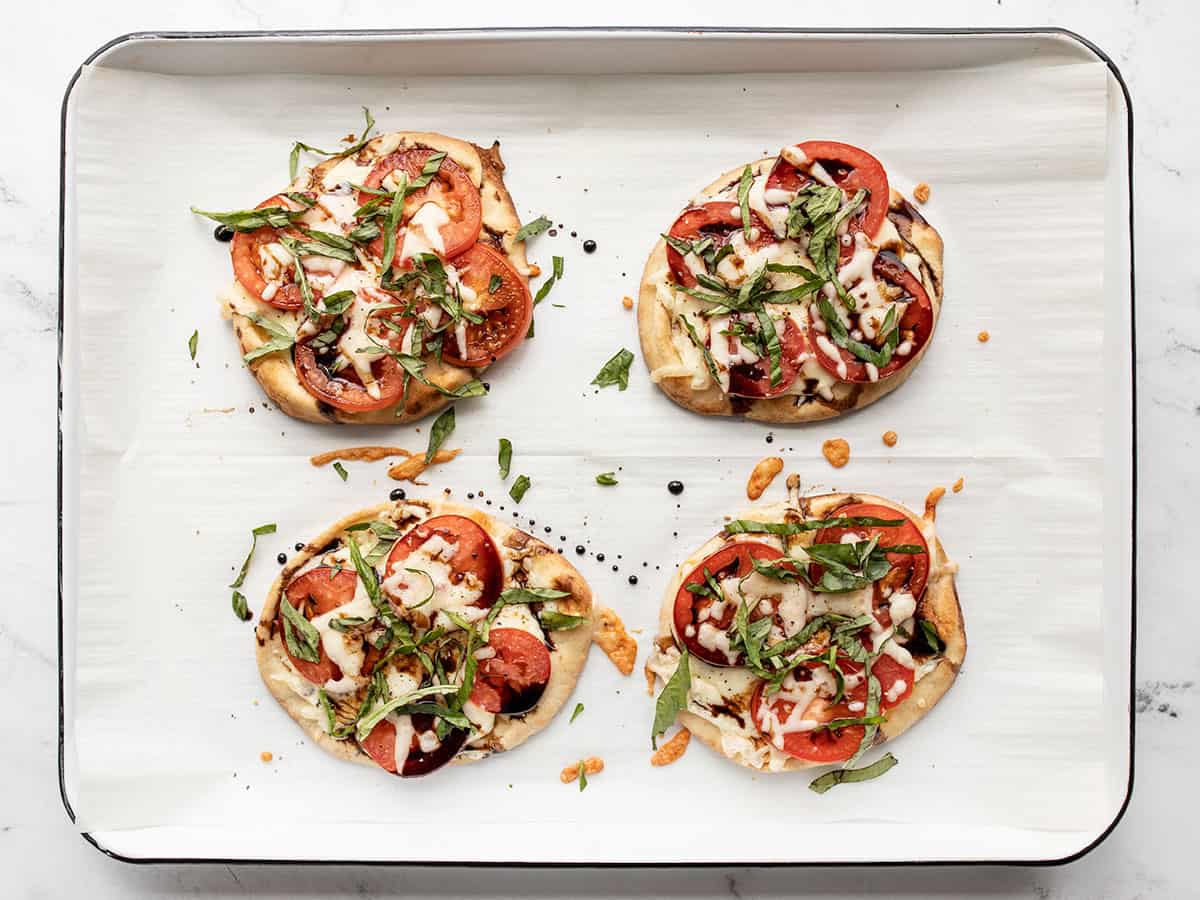 And finally, top the pizzas with the sliced basil and enjoy!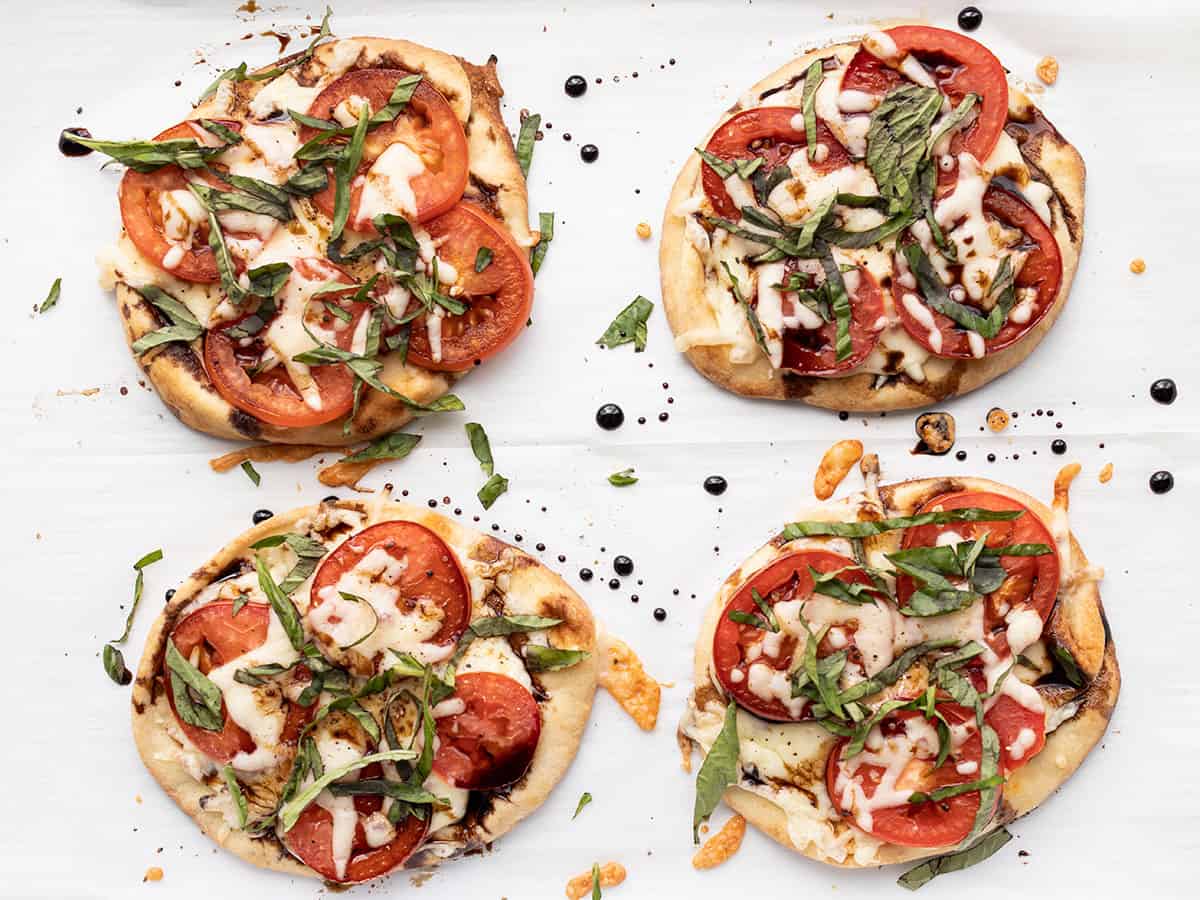 These little homemade pizzas will make you feel ✨so fancy✨!