Oh baked oatmeal, how do I love thee? Let me count the ways… There's Cranberry Apple, Banana Bread, Lemon Raspberry, Pumpkin Pie, and let us not forget Blueberry Banana. With each flavor I fall deeper in love with your warm, filling, and flavorful breakfast ways.
In this version, rich walnuts and warm cinnamon compliment small bits of naturally sweet chopped dates to create a perfect breakfast for cold winter mornings. As usual, this baked oatmeal is a breeze to whip up and is enough to provide you with easy-to-reheat breakfasts for the rest of the week. Just portion the oatmeal into single serving containers after baking and refrigerate until ready to eat. It can be enjoyed cold or warmed quickly in the microwave… because who wants to get out of bed early enough to prepare breakfast when it's all cold out but toasty and warm under your covers? Not me.
People often mistake the baked oatmeals for being crunchy based on the pictures, but it's soft, almost like a bread pudding. Not gooey like regular oatmeal, but not hard. The edges get a little chewy like the edges of baked brownies, but overall it's pretty soft… soft and totally delicious!
Cinnamon Date & Walnut Baked Oatmeal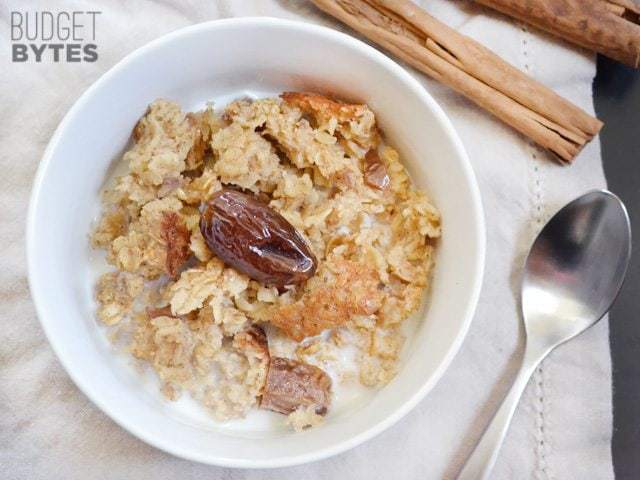 Cinnamon Date & Walnut Baked Oatmeal
This Cinnamon Date & Walnut Baked Oatmeal is a simple and flavorful way to have a hearty and nutritious breakfast all week.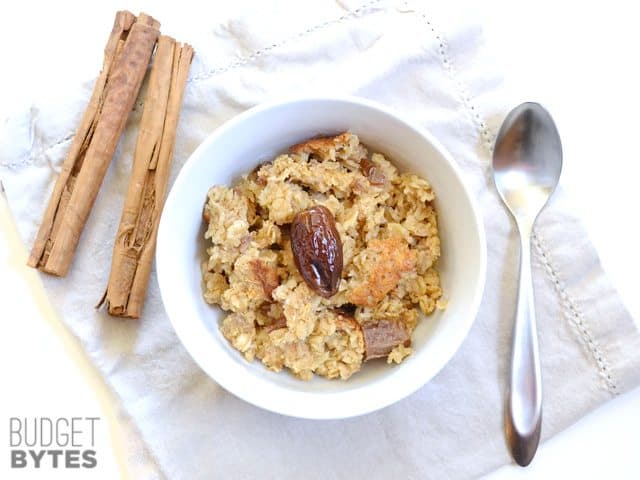 Ingredients
1 1/2

cups

plain yogurt

($0.75)

2

large eggs

($0.34)

1/2

cup

brown sugar

($0.16)

1

tsp

vanilla extract

($0.28)

1

tsp

cinnamon

($0.10)

1

tsp

baking powder

($0.06)

1/2

tsp

salt

($0.02)

1 1/2

cups

milk

($0.56)

1/2

cup

dried dates

($0.88)

1/2

cup

walnut halves

($1.92)

3

cups

old-fashioned rolled oats

($0.51)
Instructions
Preheat the oven to 375 degrees. In a large bowl, whisk together the yogurt, eggs, brown sugar, vanilla, cinnamon, baking powder, and salt. Once the mixture is whisked smooth, add the milk and whisk until smooth again.

Roughly chop the walnuts and dates until they are in small pieces. Add the walnuts, dates, and rolled oats to the milk mixture. Stir until well combined.

Pour the oat mixture into a 8x8 or 9x9 inch casserole dish coated with non-stick spray. Bake in the preheated oven for 45 minutes, or until the center is no longer wet.
See how we calculate recipe costs here.
---
Nutrition
Serving:
1
Serving
Calories:
397.55
kcal
Carbohydrates:
68.05
g
Protein:
10.5
g
Fat:
11.18
g
Sodium:
257.1
mg
Fiber:
6.25
g
Read our full nutrition disclaimer here.
Step by Step Photos
Preheat the oven to 375 degrees. In a large bowl whisk together 1 1/2 cups yogurt, 2 large eggs, 1/2 cup brown sugar, 1 tsp vanilla extract, 1 tsp baking powder, and 1/2 tsp salt. It's easier to whisk together these thicker ingredients first and then add the milk later—less splishy-splashy.
Once that mixture is smooth, pour in 1 1/2 cups milk and whisk again until smooth.
I used about 1/2 cup of walnuts and 1/2 cup of dried dates. I bought both from the bulk bins at the grocery store so that I wouldn't have "leftovers" of each. I like to buy just what I need.
Give them a rough chop. Smaller pieces mean you'll get some in each bite… but you don't want the pieces to be so small that you don't notice them when eating.
Add the chopped walnuts and dates, plus 3 cups of old-fashioned rolled oats to the milk mixture. Stir it all up good.
Pour it into an 8×8 or 9×9 inch casserole dish (coated with non-stick spray for easy clean up). The oats don't really expand at all while baking, so it's okay if your dish is a little more full than mine (this is a 9×9 inch dish).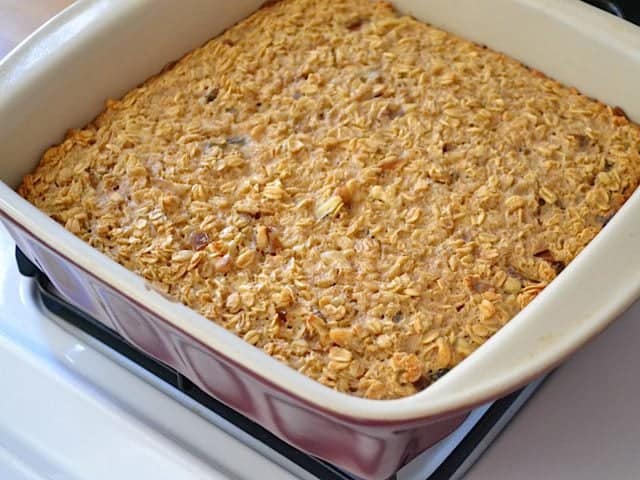 Bake for 45 minutes, or until the center is no longer liquid. Eat it warm or refrigerate it for the rest of the week. :D
I like to pour a little cold milk over top. YUM.