Will I ever get tired of baked oatmeal? Probably not. It's easy, cheap, deceptively filling, and I can cook it one day and then eat it throughout the rest of the week.
I love this version because I barely had to add any extra sugar thanks to the super sweet bananas. I used only 1/4 cup for the entire batch, and honestly, I probably could have cut that down to 2 Tbsp. Bananas are fantastic. The frozen blueberries were delightfully tart against the sugary bananas, which made them a perfect mate. If you're lucky enough to have fresh blueberries, this recipe is a great way to use them up!
If you've got a few extra bucks, adding some nuts would be a nice texture contrast (try walnuts or almonds)!
Blueberry Banana Baked Oatmeal
Blueberry Banana Baked Oatmeal
Fresh fruit and rich, custardy oats make this baked oatmeal a filling and flavorful "fix ahead" breakfast. Just heat and eat each morning!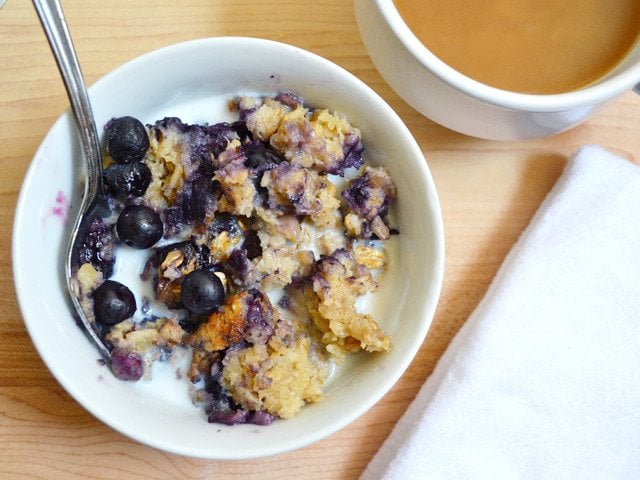 Ingredients
1.5

cups

mashed bananas (about 3 bananas)

($0.75)

2

large eggs

($0.50)

1/4

cup

white sugar

($0.04)

3/4

tsp

vanilla extract

($0.21)

1/2

tsp

salt

($0.02)

3/4

tsp

baking powder

($0.03)

2

cups

milk

($0.50)

2.5

cups

old fashioned oats

($0.43)

8

ounces

frozen blueberries

($1.70)
Instructions
Preheat your oven to 375 degrees. Mash the bananas in a measuring cup, starting with two or three and adding more until you have 1.5 cups of banana mash.

Combine the banana mash in the large bowl with the eggs, sugar, vanilla, salt, and baking powder. Whisk to combine. Add the milk and whisk again until smooth.

Stir in the dry old-fashioned oats. Lastly, stir in the frozen blueberries (keeping them frozen and stirring them in last helps prevent the entire mix from turning purple). Spray an 8×8 inch baking dish with non-stick spray and then pour in the oat mixture.

Bake in the preheated 375 degree oven and bake for about 45 minutes or until the top is golden brown and the center is no longer wet to the touch.
See how we calculate recipe costs here.
---
Notes
Serve warm or refrigerate until ready to eat. These oats can be quickly reheated in the microwave each morning for a quick, filling breakfast.
Nutrition
Serving:
1
Serving
Calories:
305.87
kcal
Carbohydrates:
53.05
g
Protein:
9.98
g
Fat:
6.97
g
Sodium:
306.78
mg
Fiber:
5.92
g
Read our full nutrition disclaimer here.
Step By Step Photos

Mash the bananas with a fork, starting with just a couple and adding more until you have 1.5 cups of banana mash. Try not to leave any large chunks. (last time it took me 4 medium bananas, this time only 3).

Add the banana mash to a bowl along with the eggs, vanilla, sugar, baking powder, and salt. Whisk until smooth.

Next, add the milk and whisk again. It's a lot easier to make a smooth, cohesive mixture if you whisk the other ingredients prior to adding the milk. That's why it's done in two steps.

Stir in the dry oats. It's easier to stir them in with a large spoon than a whisk, but I didn't feel like dirtying another utensil.

I love having frozen blueberries on hand. They're a great addition to many dishes, are less expensive than fresh, and keep for quite a while in the freezer. I used half a bag for this recipe (and used the rest for my smoothie packs).

Keep the blueberries frozen until you add them so they don't bleed purple color throughout the oatmeal. Adding them at the very end helps this as well. Pour the blueberry oat mixture into an 8×8 inch casserole dish that has been sprayed with non-stick spray.

Bake for about 45 minutes at 375 degrees or until the top is golden brown and no longer wet to the touch in the center. I baked this oatmeal at 25 degrees higher than my other baked oatmeals to compensate for the little blueberry ice cubes floating around in it. It worked out well.

I like to eat mine with a little bit of cold milk poured over top. This makes for a very fast, very hearty breakfast every morning of the week!