This dessert-like banana bread baked oatmeal is rich, sweet, hearty, and totally breakfast worthy, thanks to hearty oats and the natural sweetness of bananas. So if you're tired of using your brown bananas for actual banana bread, you can change things up a bit with this banana bread flavored baked oatmeal, which makes a great make-ahead breakfast meal prep for the week. BONUS: it's freezer-friendly!
Originally posted 12-30-2011, updated 7-16-2020.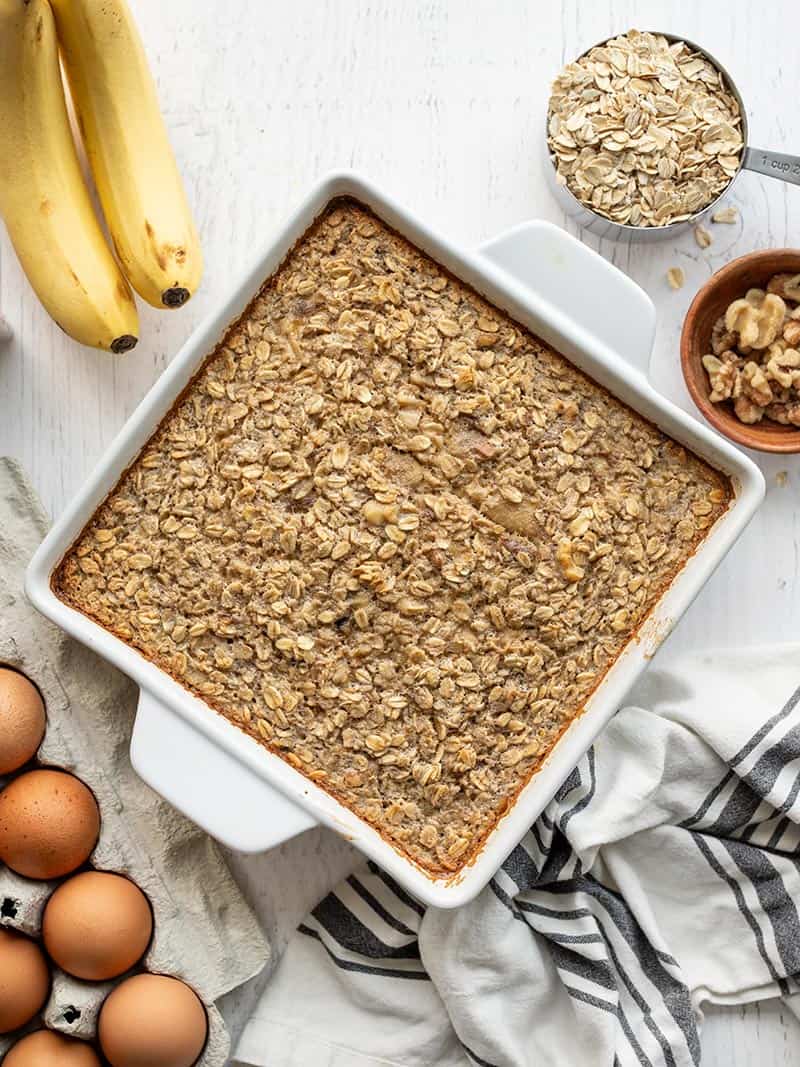 What is Baked Oatmeal?
If you're new to the world of baked oatmeal, it's a wonderfully rich and moist breakfast treat. It's basically oats baked into a custard. Kind of like bread pudding, but with oats instead of bread. If you think you don't like oats because they tend to be gooey when boiled with water, try baked oatmeal. It's soft, moist, and rich, but not at all gooey. Some people also mistakenly think baked oats are crunchy, but they're not.
Try these other baked oatmeal flavors: Pumpkin Pie Baked Oatmeal, Oatmeal Cookie Baked Oatmeal, or Blueberry Banana Baked Oatmeal.
How to Store the Leftovers
This recipe makes a pretty big batch, so you'll want to save the leftovers to eat throughout the week. Make sure to refrigerate your baked oatmeal soon after cooking. I like to divide my baked oatmeal into single servings right after baking, then refrigerate them in individual containers. Once chilled, you can keep the baked oatmeal in the refrigerator for about 5 days, or freeze for about 3 months.
How to Serve Banana Bread Baked Oatmeal
Baked oatmeal can be eaten hot OR cold. You can eat it as-is, or pour cold milk over top. And, if you like things a little sweeter, you can drizzle a little maple syrup over top.
Can I Use Steel Cut Oats?
You can not substitute steel cut oats in this recipe without making other changes because steel cut oats require a lot more moisture and a longer cooking time than rolled oats. While it may be possible to tweak it to make it work, I have not tested this method so I can not offer suggestions for that particular substitution.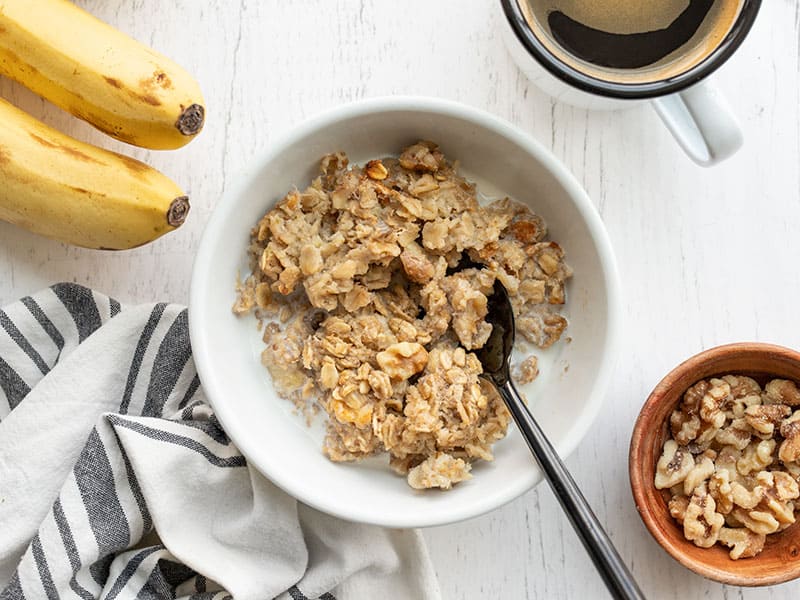 Banana Bread Baked Oatmeal
The rich and sweet flavor of banana bread infused into a healthy baked oatmeal. This Banana Bread Baked Oatmeal is perfect for breakfast meal prep!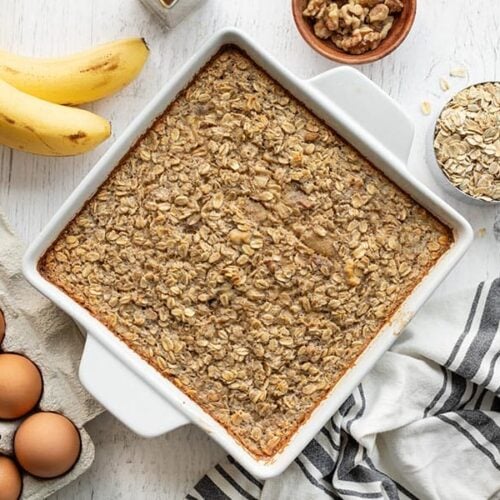 Ingredients
1 1/2

cups

mashed banana (about 3 bananas)

($0.63)

1/3

cup

brown sugar

($0.12)

2

large eggs

($0.46)

1/2

tsp

salt

($0.02)

1/2

tsp

vanilla extract

($0.15)

1

tsp

baking powder

($0.02)

1/4

tsp

cinnamon

($0.02)

1/8

tsp

nutmeg

($0.02)

2

cups

milk

($0.75)

2 1/2

cups

old-fashioned rolled oats

($0.45)

1/2

cup

chopped walnuts

($0.60)
Instructions
Preheat the oven to 375ºF. Mash the bananas well with a fork (you'll need 1.5 cups).

Add the mashed bananas to a large bowl along with the brown sugar, eggs, salt, vanilla, baking powder, cinnamon, and nutmeg. Whisk until the ingredients are combined.

Add the milk and whisk until combined again.

Finally, stir in the rolled oats and chopped walnuts.

Pour the oat mixture into a 9x9-inch casserole dish and transfer to the preheated oven. Bake for 45 minutes, or until it is golden brown on top and around the edges.

Serve warm or refrigerate and enjoy cold!
See how we calculate recipe costs here.
---
---
Nutrition
Serving:
1
serving
Calories:
367.87
kcal
Carbohydrates:
54.22
g
Protein:
11.4
g
Fat:
13.28
g
Sodium:
324.97
mg
Fiber:
5.7
g
Read our full nutrition disclaimer here.
You might also like my Yogurt Banana Bread recipe!
How to Make Banana Bread Baked Oatmeal – Step By Step Photos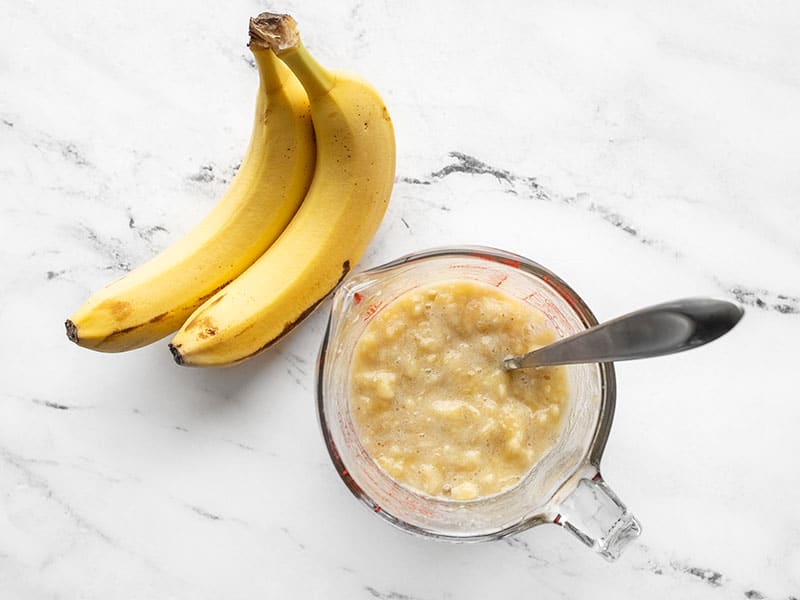 Preheat the oven to 375ºF. You'll need 1.5 cups mashed bananas, which is about three bananas. I like to mash my bananas right in a liquid measuring cup so I can see the volume on the side.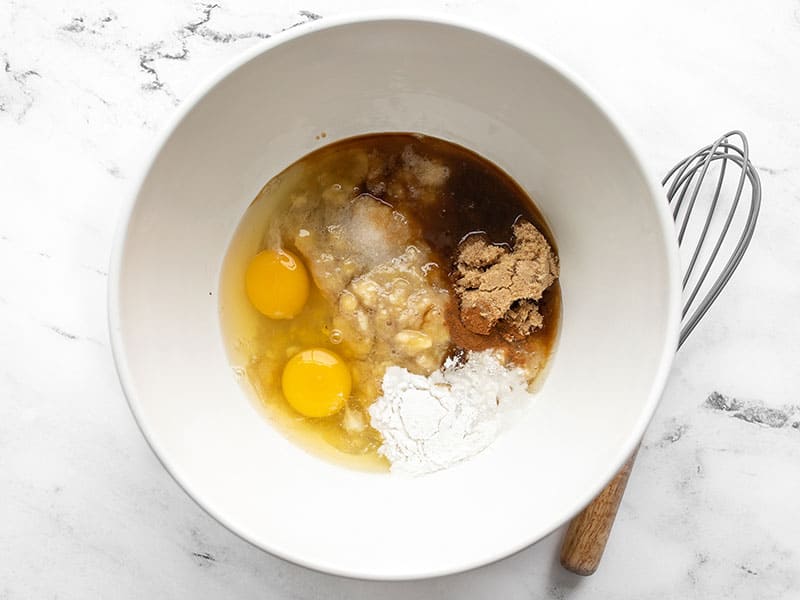 Add the mashed bananas to a large bowl along with ⅓ cup brown sugar, 2 large eggs, ½ tsp salt, ½ tsp vanilla extract, 1 tsp baking powder, ¼ tsp cinnamon, and ⅛ tsp nutmeg. Whisk the ingredients together until they're evenly combined.
Add 2 cups milk and whisk to combine again. It's easier to whisk in the milk after the other ingredients have been combined because it causes less splashing.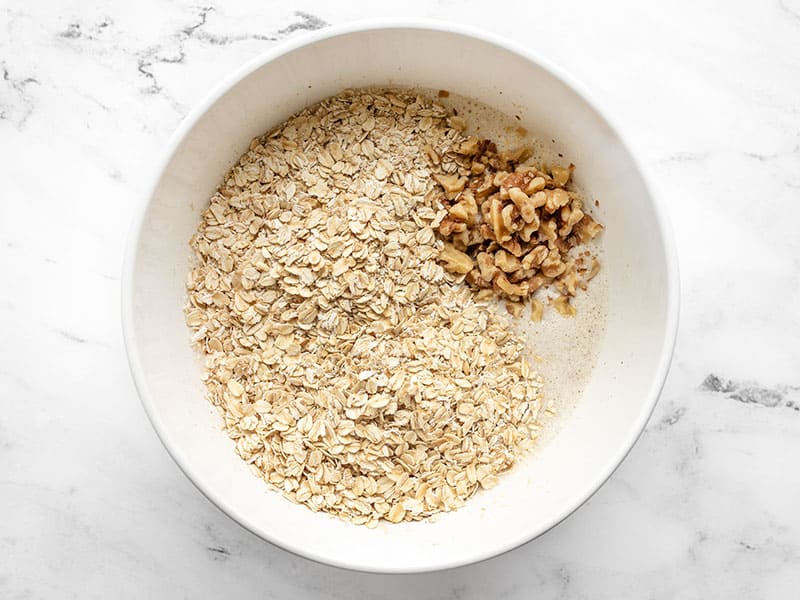 Finally, stir in 2.5 cups rolled oats and ½ cup chopped walnuts.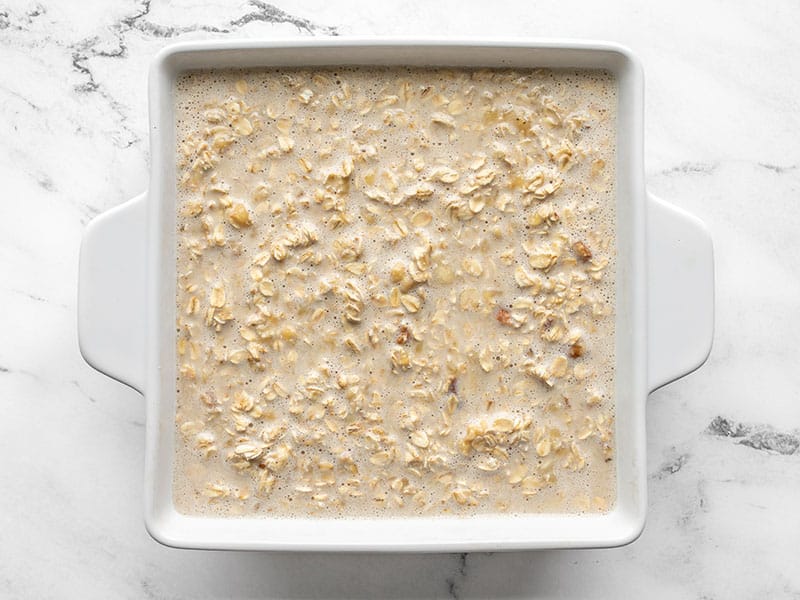 Pour the oat mixture into a 9×9-inch casserole dish.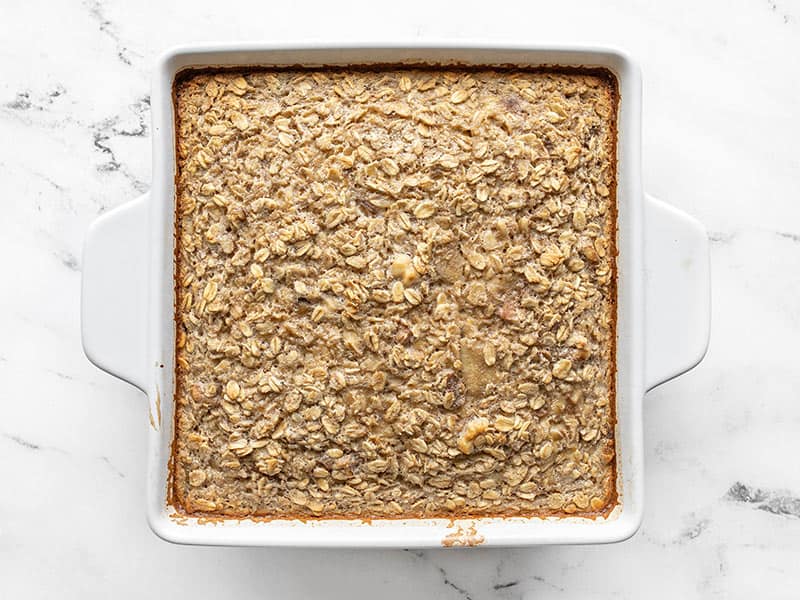 Bake the oatmeal in the preheated 375ºF for 45 minutes, or until it's golden brown on top and around the edges.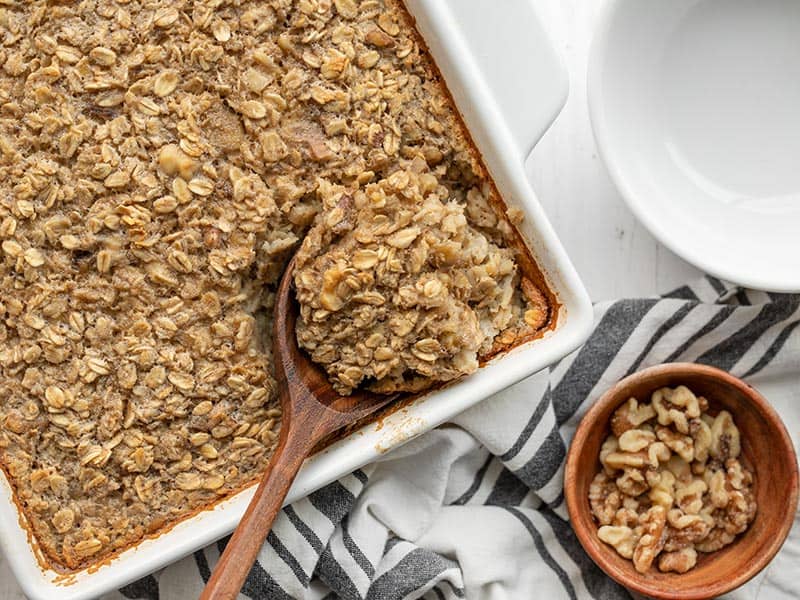 Serve the banana bread baked oatmeal immediately, or divide into six portions and refrigerate for later!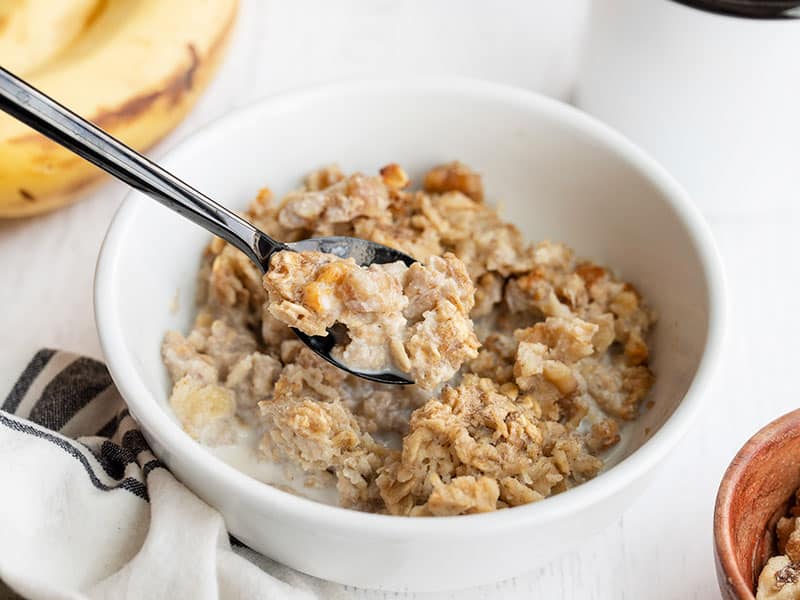 Serve hot or cold, alone or topped with milk.
Try These Other Sweet Breakfast Ideas