If you're the type to love anything and everything pumpkin pie flavored, you're going to LOVE this Pumpkin Pie Baked Oatmeal. It's got all the goodies of pumpkin pie baked right into your breakfast oats. …But with a lot less sugar so you can actually feel good about eating it first thing in the morning. :)
Originally posted 9-24-11, updated 10-13-15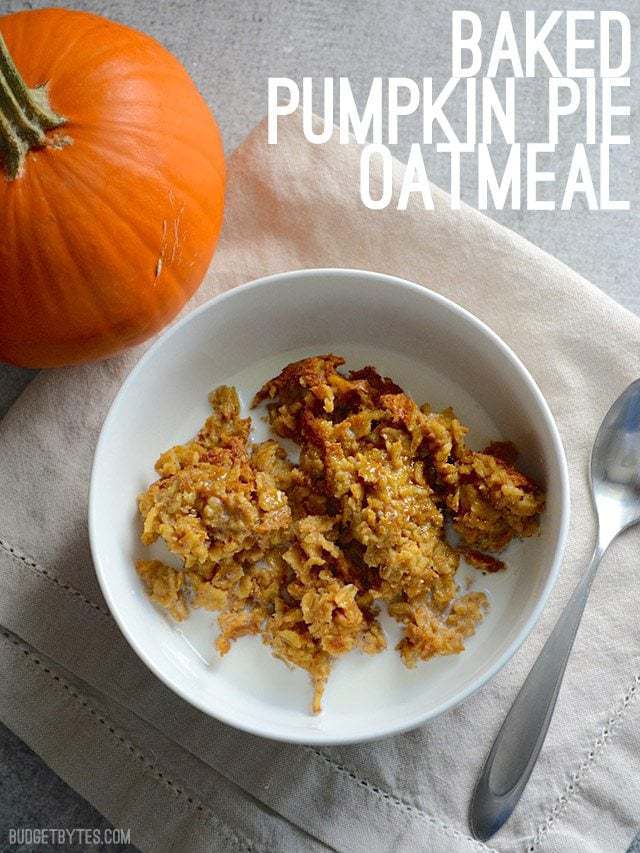 What is Baked Oatmeal?
Baked oatmeal is basically like oats baked into a custard-like mixture. They're soft (not crunchy like the photos sometimes appear), warm, and very moist. Baked oats are more firm than traditionally cooked oats because they contain eggs and less liquid, but still remain soft. Almost like bread pudding! Want more baked oatmeal recipes? Check out Sweet Potato Casserole Baked Oatmeal and Oatmeal Cookie Baked Oatmeal.
How to Serve Baked Pumpkin Pie Oatmeal
I absolutely loved eating this cold every morning (you can also reheat, if preferred). I drizzled some maple syrup on top and then added some milk. It was the best oatmeal I've had in a while… and since the oats are pretty much baked in a pumpkin pie filling mixture (minus a lot of the fat), it truly does taste like pumpkin pie. You can also try topping it with nuts, whipped cream, or raisins.
How to Store Baked Oatmeal
This is a bake once, eat all week type of meal. After baking I divide the pumpkin pie baked oatmeal into single portions, then store them in the refrigerator for 4-5 days or freeze them for up to a few months. If you plan to freeze some of your baked oatmeal, chill it completely in the refrigerator first, then transfer to the freezer.


Baked Pumpkin Pie Oatmeal
It tastes like dessert, but is healthy enough for breakfast! Baked Pumpkin Pie Oatmeal is a great "fix ahead" breakfast option.
Ingredients
1 15 oz.

can

pumpkin purée

($1.88)

1/2

cup

brown sugar

($0.32)

2

large eggs

($0.75)

1/2

Tbsp

pumpkin pie spice

($0.15)

1/2

tsp

salt

($0.03)

3/4

tsp

baking powder

($0.03)

1/2

tsp

vanilla extract

($0.14)

1 1/2

cups

milk

($0.74)

2 1/2

cups

dry old-fashioned oats

($0.65)
Instructions
Preheat the oven to 375 degrees. In a large bowl, whisk together the pumpkin purée, brown sugar, eggs, vanilla, pumpkin pie spice, salt, and baking powder until smooth. Whisk in the milk.

Mix the dry oats into the pumpkin mixture. Coat an 8×8 (or similar sized) baking dish with non-stick spray. Pour in the pumpkin oat mixture. Bake in the preheated oven for 45 minutes, or until the center no longer looks wet and the edges are lightly golden brown.

Serve hot right out of the oven or refrigerate until ready to serve. Can be eaten cold or reheated. Top with milk, maple syrup, whipped cream, or nuts.
See how we calculate recipe costs here.
Nutrition
Serving:
1
Serving
Calories:
286.5
kcal
Carbohydrates:
50.23
g
Protein:
9.37
g
Fat:
6.13
g
Sodium:
471.83
mg
Fiber:
5.53
g
Scroll down for the step by step photos!
How to Make Pumpkin Pie Baked Oatmeal – Step By Step Photos

First, preheat your oven to 375 degrees. Then, in a large bowl, whisk together one 15oz. can pumpkin purée, 1/2 cup brown sugar, 1/2 tsp vanilla, 2 large eggs, 1/2 Tbsp pumpkin pie spice, 1/2 tsp salt, and 3/4 tsp baking powder.
Whisk those ingredients together until smooth.

Add 1.5 cups milk, and whisk until smooth again. This mixture is like a pumpkin pie custard, or very similar to the filling of a pumpkin pie! :D

Add 2.5 cups rolled oats. I find that "old-fashioned" rolled oats work the best because they have more texture than quick or instant oats.
Stir the oats into the pumpkin custard.

Coat a baking dish with non-stick spray. Pour in the pumpkin oat mixture and bake for 45 minutes, or until the center is no longer wet and the edges are slightly golden brown.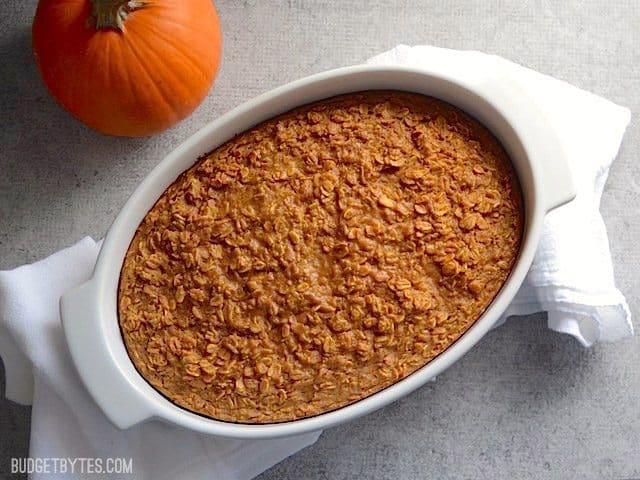 And then you have a delicious, gorgeous, vibrant orange, baked oatmeal packed full of nutrients.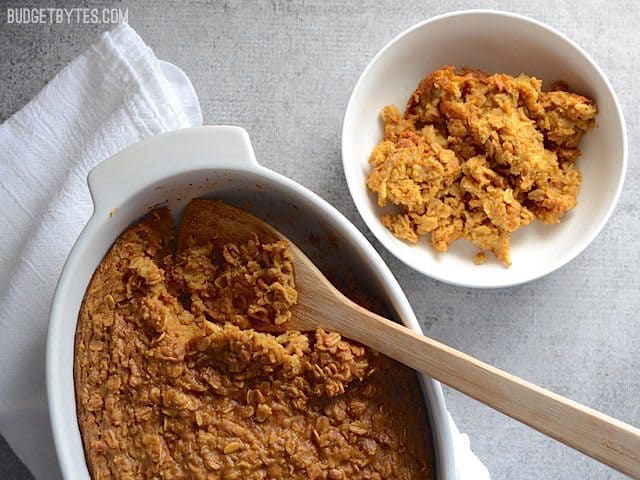 I refrigerated the whole dish of oatmeal and just scooped some out every morning. It makes breakfast *so much* faster.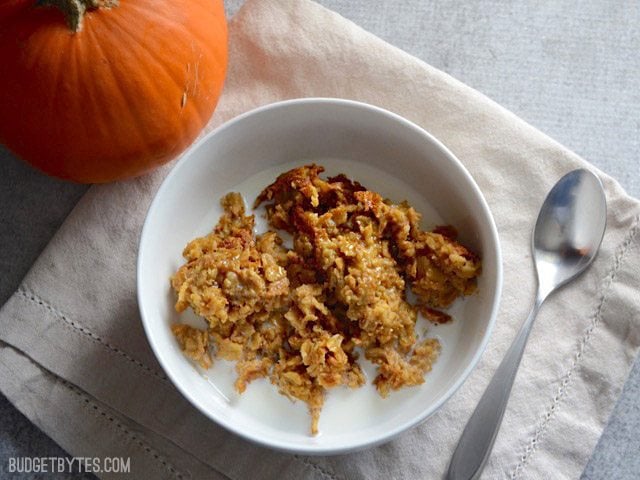 I adore walnuts so I added some to my first bowl. Surprisingly, the oatmeal itself was so good that the walnuts were just lost in the awesomeness… so I didn't even bother with them for the rest of the week!