Let's get into some of our favorite cheap and easy bean recipes! We love beans over here at Budget Bytes because they're inexpensive, shelf-stable, incredibly versatile, and full of fiber and other nutrients. They adapt well to different spices and flavors, creating the perfect foundation for lots of delicious bean recipes! Beans can also easily help bulk up a recipe while keeping the cost low. So whether you love black beans, pinto beans, cannellini beans, kidney beans, or a combination of ALL the beans, we've rounded up several easy bean recipes we're sure you're going to love!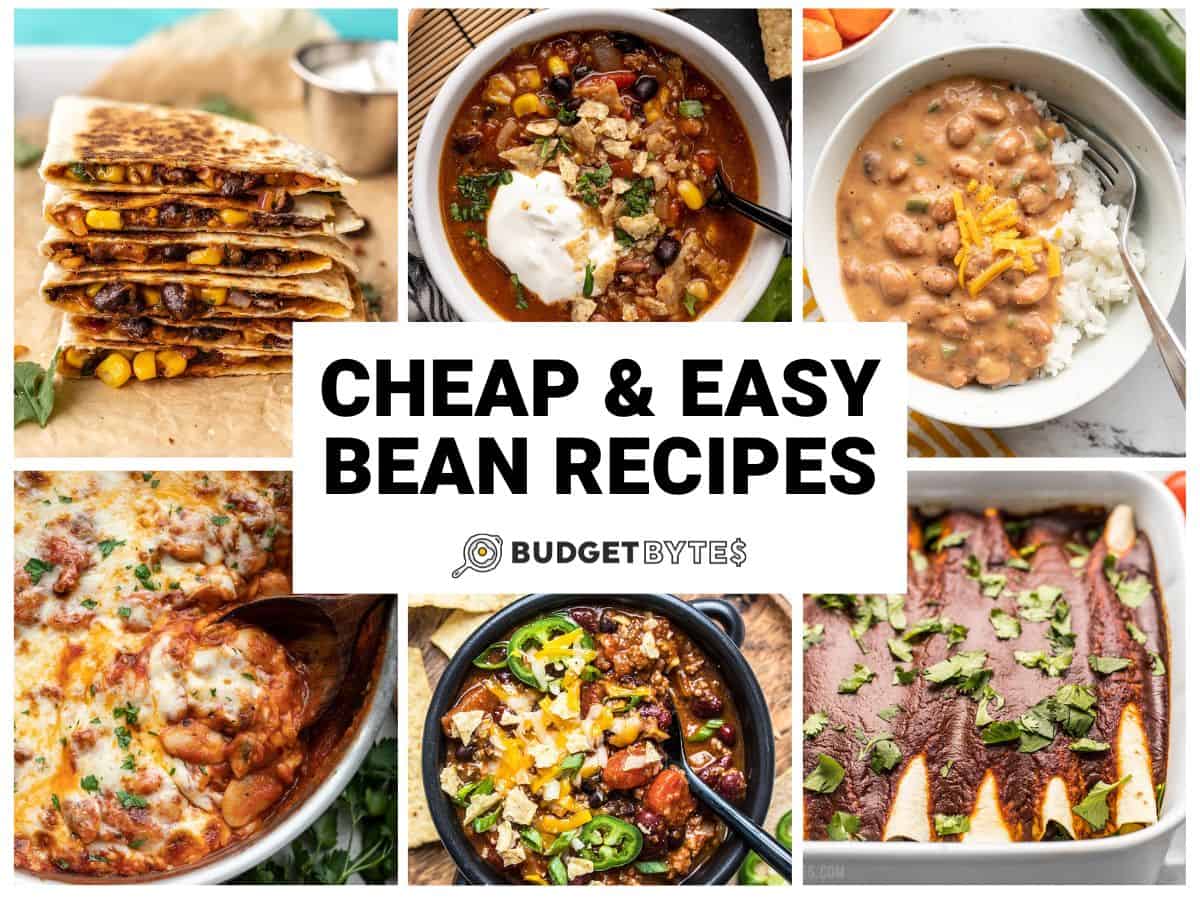 Black Bean Recipes
Prepare to fall head over heels for these hearty and super delicious Black Bean Quesadillas! This is one of those vegetarian black bean recipes that meat-eaters will also love. Promise! ;)
Who else loves soup season?! This quick and easy Smoky Black Bean Soup is made with canned black beans, veggies, spices, and tons of flavor!
If you're looking for a super delicious black bean dinner recipe, look no further. Our popular Black Bean and Avocado Enchiladas are filled with a simple black bean and veggie mixture, then covered with a rich homemade enchilada sauce! Yum!!
Ditch those expensive restaurant veggie burgers and make these Homemade Black Bean Burgers for dinner this week. Top with your favorite toppings and if you have leftovers, just freeze the rest for another day!
Make room for this super fresh, colorful and delicious bean salad! Cowboy Caviar is a cross between a bean salad and salsa and it's perfect served with chips, on top of salads, inside a burrito bowl, or as a simple side dish.
And if you love black beans, be sure to try out more of our favorite Black Bean Recipes!
Pinto Bean Recipes
Though this may seem like a simple recipe, you'll be surprised just how much flavor is packed into these Cheesy Pinto Beans! Serve with a bowl of rice and you instantly have an easy, satisfying meal.
Creamy White Chicken Chili is a thick and rich chicken and bean stew that's made with tender chicken, beans, veggies, and a medley of southwest-inspired spices. Easy enough for any weeknight dinner meal.
If you love easy, cozy, soup recipes then I know you'll love this super simple Pinto Bean Soup. When I first tried it, I was literally blown away by how delicious it was and yet incredibly easy to make!
These BBQ Bean Sliders are great to cook when you are craving BBQ and you don't have the time or money to slow cook an entire pork shoulder. Just add cooked beans and spices, your favorite BBQ sauce, and our homemade creamy coleslaw, and you've got a quick & easy BBQ bean sandwich!
Let's talk about this fun, hearty, and super flavorful, Taco Soup! It's made with seasoned ground beef, lots of beans, veggies, and a generously spiced tomato broth. It's the perfect way to get your taco fix in a big bowl of soup with ALL the toppings!
Cannellini Bean Recipes
This creamy and cozy Rosemary Garlic White Bean Soup comes together with just eight simple ingredients and it's perfect with some homemade croutons on top or a piece of crusty bread for dipping!
These Parmesan Beans are easy, delicious, and you only need seven simple ingredients! It's a simple side dish that only takes about twenty minutes to make!
This Smoky White Bean Shakshuka is the ultimate breakfast-for-dinner recipe! It's made up of poached eggs, cannellini beans, fresh herbs, and feta simmered in a rich and flavorful tomato sauce.
Switch up dinner tonight with these Creamy White Bean and Spinach Quesadillas! They're crispy on the outside, rich in flavor and can be made in just 20 minutes.
White Beans with Mushrooms and Marinara is an easy one-skillet meal that uses a few simple pantry and produce ingredients and comes together in under 30 minutes!
Kidney Bean Recipes
These Louisiana Style Red Beans and Rice are rich, flavorful, budget-friendly, has a TON of fiber and protein, and will have your house smelling amazing!
We're saving you time and money with this simple Classic Three Bean Salad! It has minimal ingredients, a tangy-sweet dressing, and it's the perfect side dish for get-togethers or busy weeknight meals.
If there's one bean recipe to keep in your back pocket, it's definitely a good Classic Homemade Chili recipe! This chili recipe is a budget bytes reader-favorite and can be customized in a number of ways to make it your very own.
Puerto Rican Style Red Beans and Rice can be a meal on its own with a side of ripe yellow plantain slices or you can serve it as a sidekick to any protein.
This Easy Minestrone Soup is warm, comforting, budget-friendly and great for meal prep! Wanna add pasta…go for it! Or just keep it simple by adding some extra beans for an even more hearty flavor.