In case you haven't heard, I finally bought an air fryer! After hearing so many wonderful things about them, I just had to try one out for myself. And what's the first thing I cooked in my air fryer? Crispy air fryer chickpeas! …Because I already had a can of chickpeas on hand, they're super easy, and I'll never say no to a delicious crunchy snack. ;)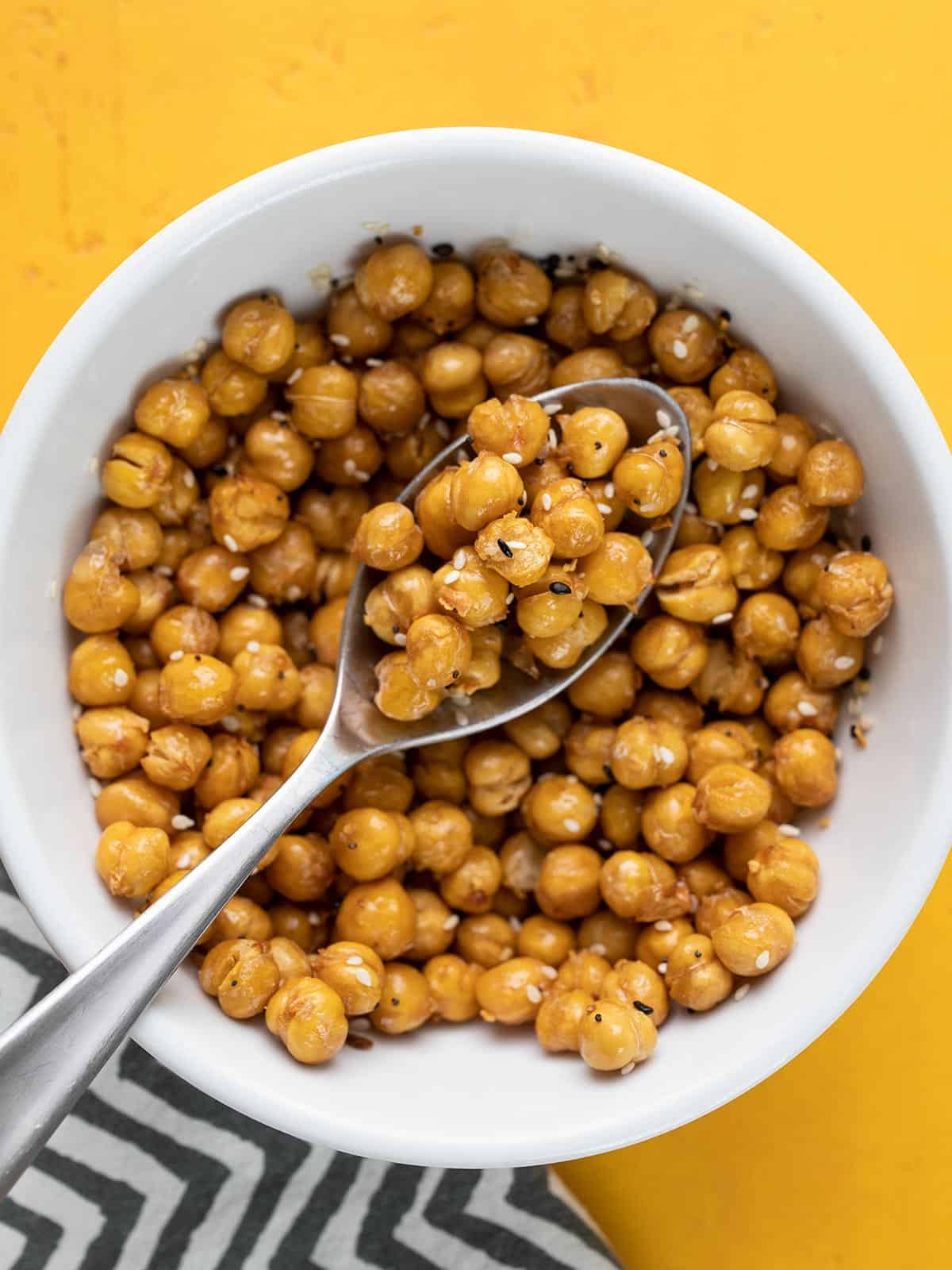 What are Air Fried Chickpeas Like?
Air-fried chickpeas are crunchy little snacks with a slightly dense and chewy center. You can season them with just about any seasoning blend you like and, quite honestly, they're ADDICTIVE. And not only are they high in fiber and protein, these crunchy little chickpeas are also inexpensive, making them a fantastic budget-friendly snack.
Do I Have to Dry the Chickpeas?
If you're used to roasting chickpeas in the oven, then you probably know that drying the chickpeas really well first is key to getting crispy chickpeas. But with an air fryer, the quickly circulating dry air acts to quickly dry the chickpeas so they can get nice and crispy without taking the extra step ahead of time. That being said, if you do want to take the time to dry them first, your chickpeas will be extra-SUPER crispy.
How to Season Air Fried Chickpeas
We used Everything Bagel Seasoning for these chickpeas because it's such a tasty all-purpose seasoning, but there are so many different options. Here are some ideas for flavoring your air fryer chickpeas:
Seasoning salt (Lawry's)
Steak seasoning
Curry powder
Italian seasoning
Cinnamon and sugar
Do They Stay Crispy?
Air-fried chickpeas will slowly absorb ambient moisture from the air and get a little soft as they're left out (similar to a cracker getting stale), so they're best to eat right away. But if you don't, you can crisp them back up again by popping them back into the air fryer for 2-3 minutes.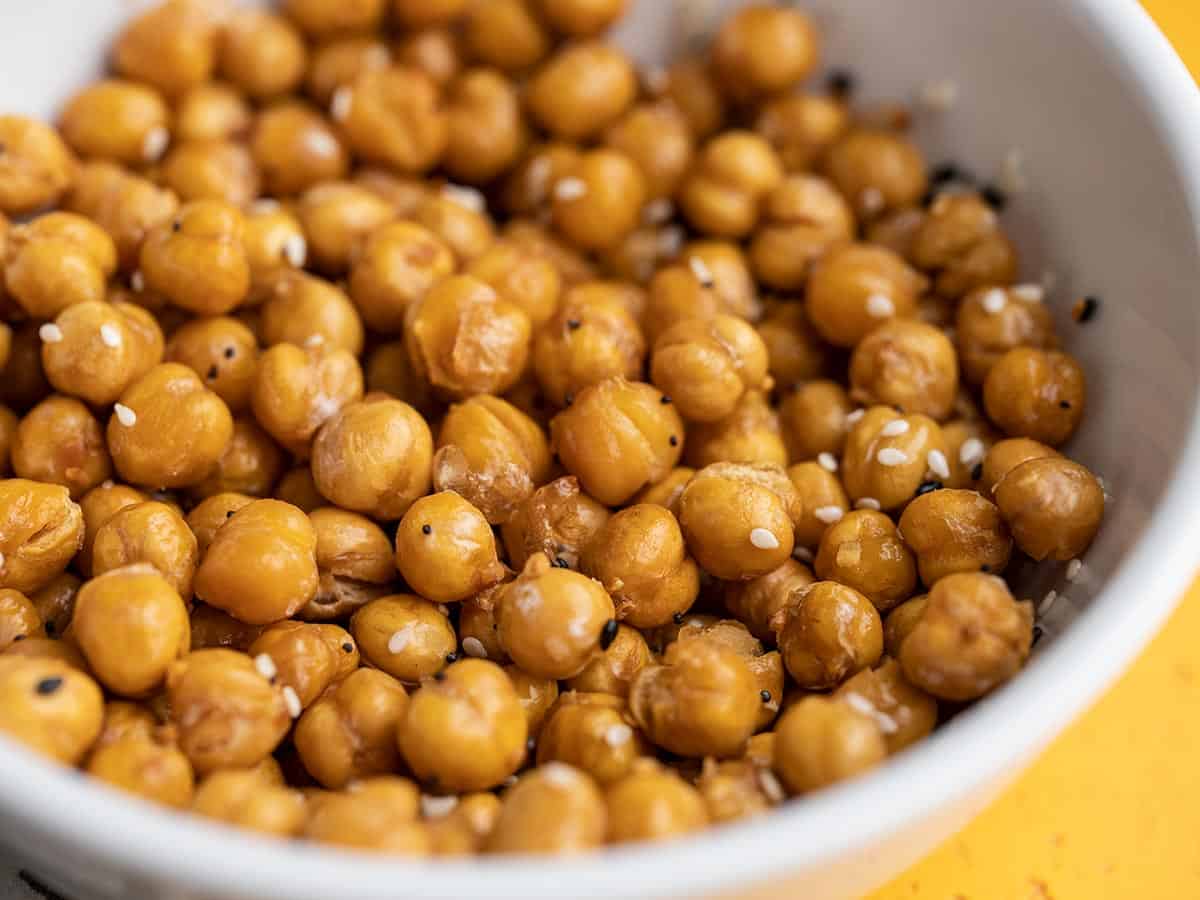 Air Fryer Chickpeas
Air fryer chickpeas are extra crispy, take only minutes to make, are a deliciously crunchy, high-fiber snack!
Servings: 4 ¼ cup each
Ingredients
1 15oz. can chickpeas ($0.88)
3 tsp cooking oil, divided ($0.04)
1/2 Tbsp seasoning of choice* ($0.15)
Instructions
Rinse and drain one can of chickpeas well. For extra crispy chickpeas, press the chickpeas between some paper towels or a lint-free kitchen towel to dry.

Add the drained chickpeas to a bowl and drizzle with 2 teaspoons cooking oil. Stir to coat.

Preheat the air fryer to 400ºF (if your air fryer does not have a pre-heat function, let it run empty for 2-3 minutes on 400ºF).

Add the chickpeas to the air fryer basket and spread them into a single layer. Air fry the chickpeas for 5 minutes, then shake to stir. Air fry for an additional 5 minutes and shake again. Check the chickpeas for doneness and add 2-3 more minutes or until they reach your desired level of doneness (we do 13 minutes total).

Transfer the air fried chickpeas to a bowl, drizzle with the second 1 teaspoon oil to help the seasoning stick, and stir to coat. Add your favorite seasoning and salt, if needed, then stir to coat again. Enjoy while warm and crispy!
Notes
*We used everything bagel seasoning. See the blog text for other seasoning ideas.
See how we calculate recipe costs here.
---
Nutrition
Serving: 0.25 cup ・ Calories: 124 kcal ・ Carbohydrates: 14 g ・ Protein: 5 g ・ Fat: 6 g ・ Sodium: 394 mg ・ Fiber: 5 g
Nutritional values are estimates only. See our full nutrition disclaimer here.
---
Equipment
The equipment section above contains affiliate links to products we use and love. As an Amazon Associate I earn from qualifying purchases.
How to Make Air Fryer Chickpeas – Step by Step Photos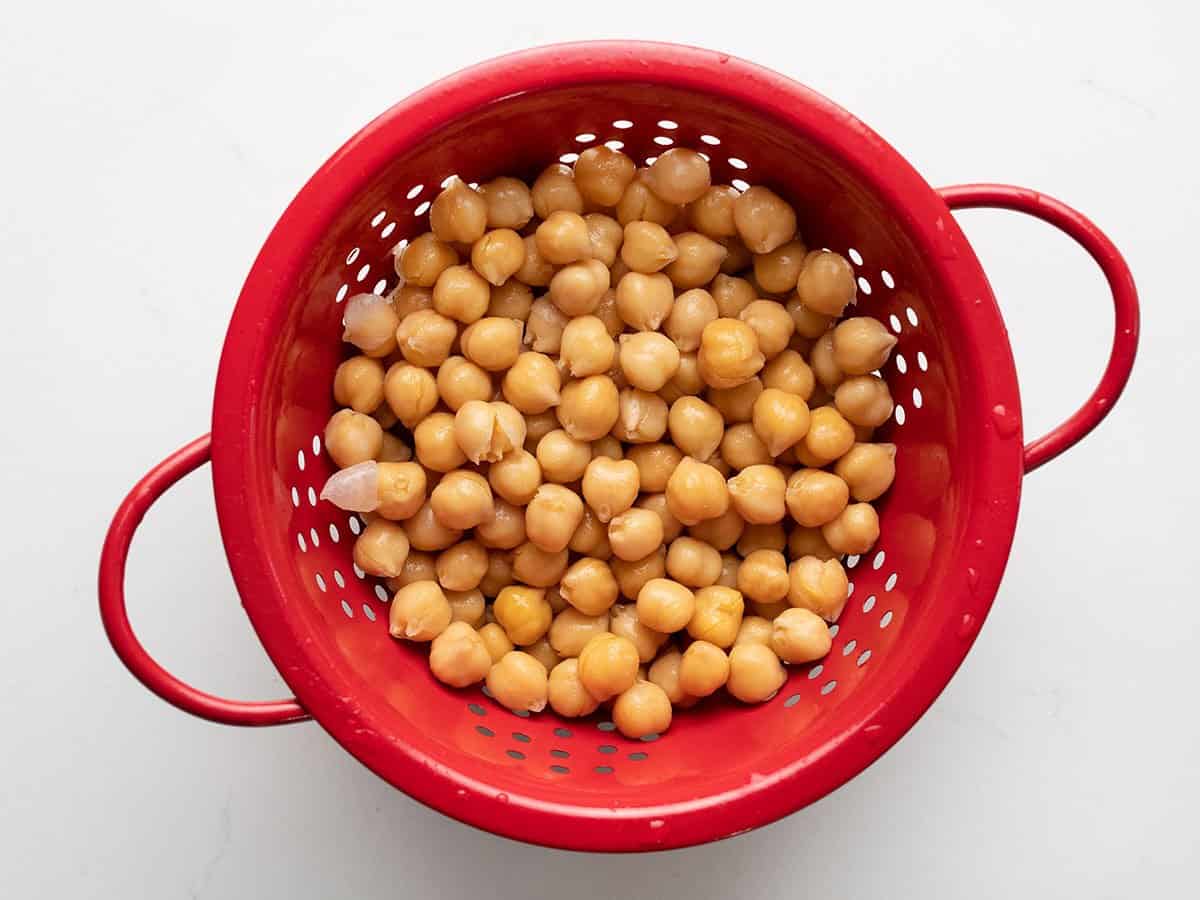 Rinse and drain one 15oz. can of chickpeas. If you want, you can take the extra step to towel-dry the chickpeas for maximum crispiness.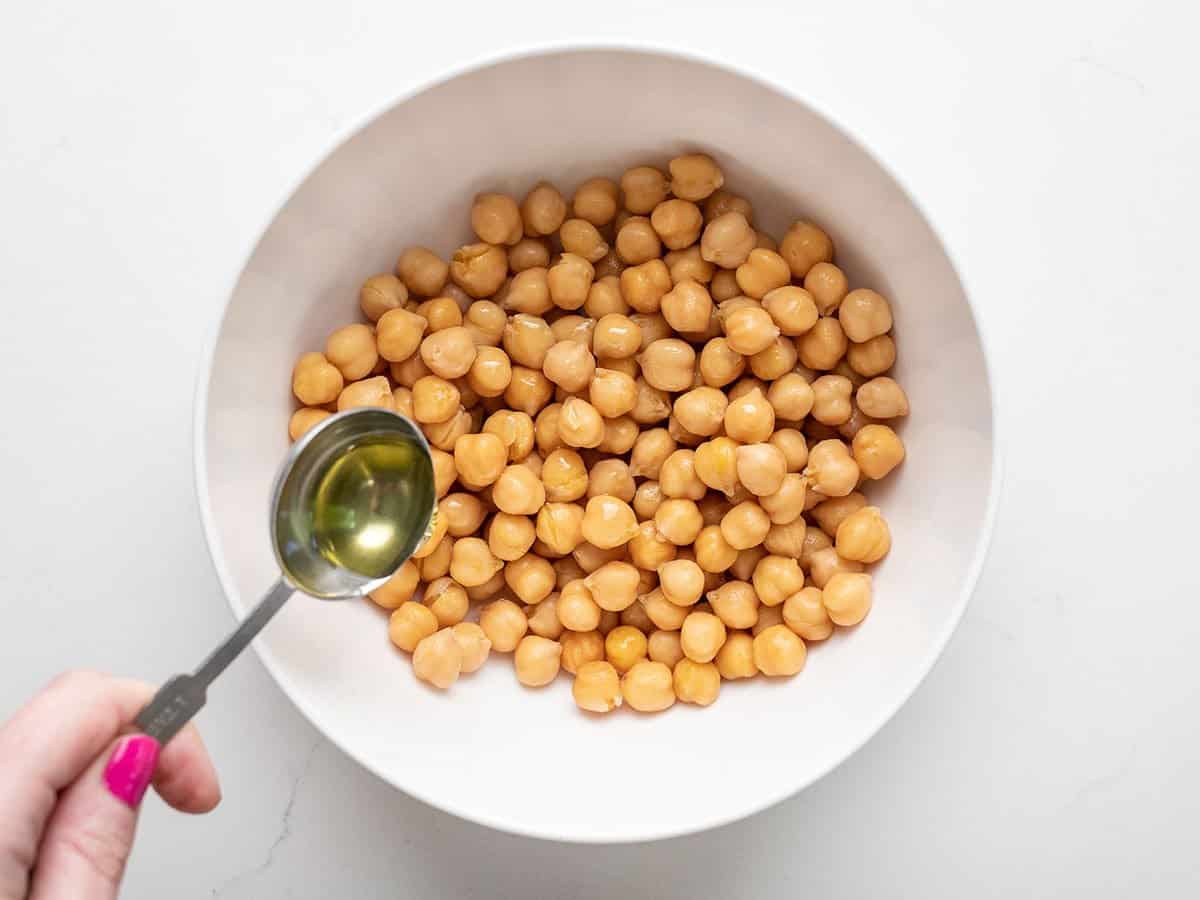 Place the chickpeas in a bowl and drizzle 2 teaspoons of cooking oil over the chickpeas. Stir the chickpeas well until they are evenly coated in oil.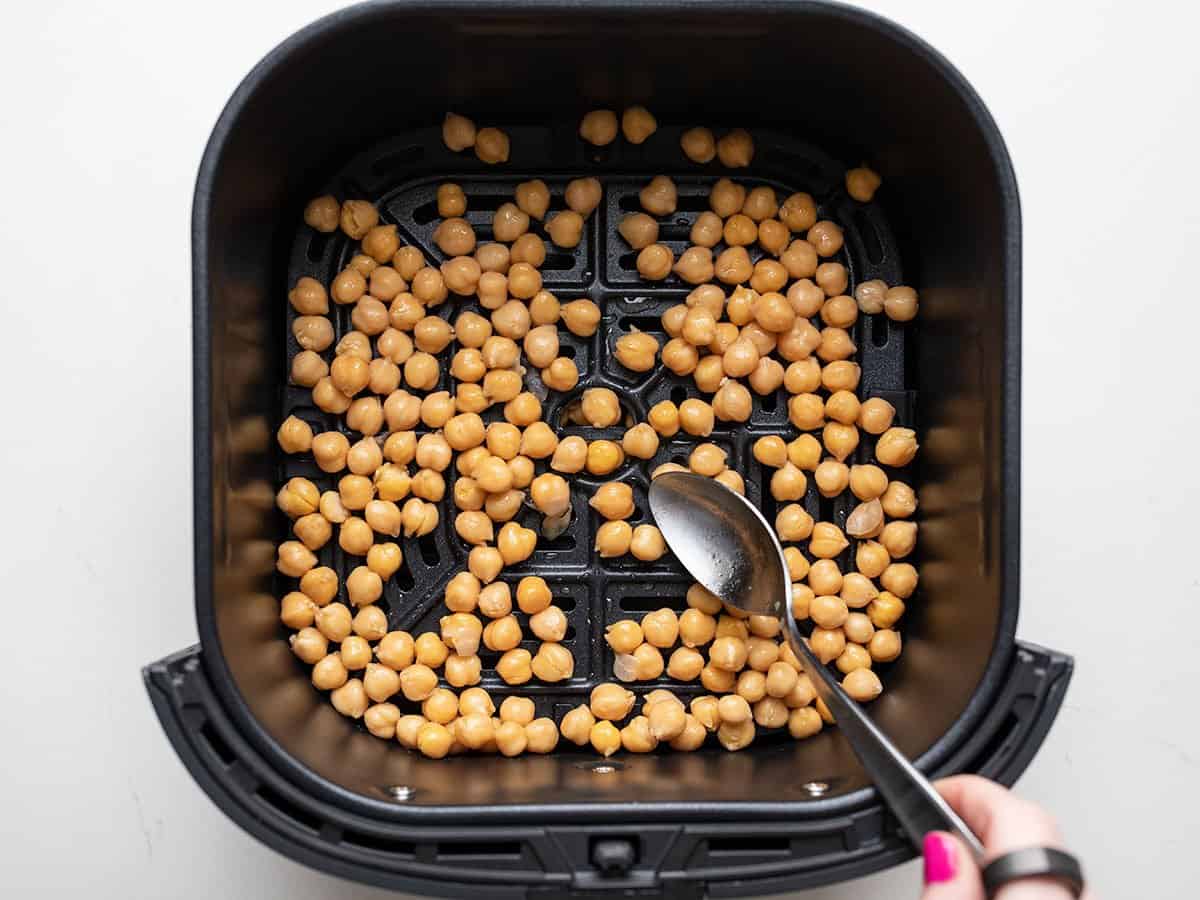 Preheat the air fryer to 400ºF (if your air fryer does not have a pre-heat function, simply let it run with an empty basket for about 3 minutes at 400ºF). Add the chickpeas to the basket and spread them into a single layer.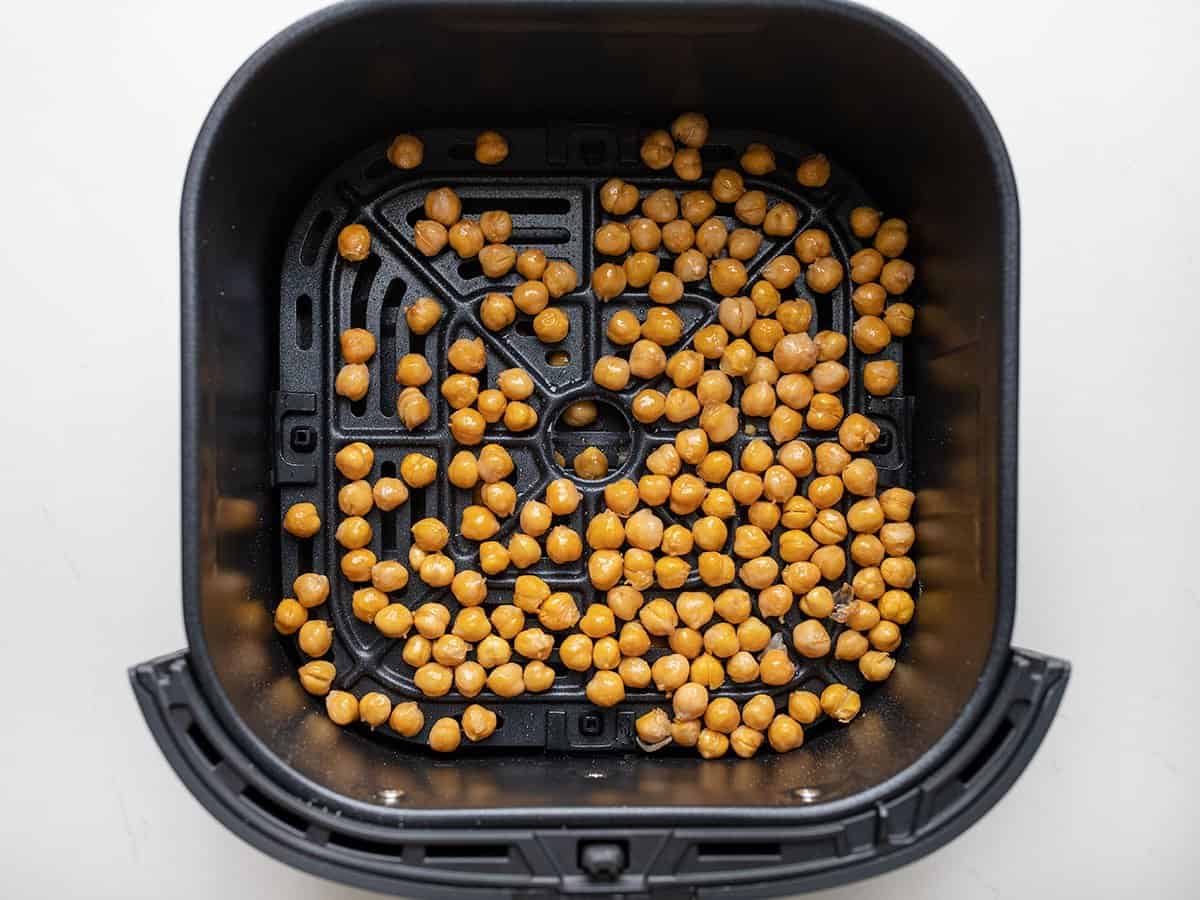 Cook the chickpeas in the air fryer for 10 minutes, shaking the basket after 5 minutes. (Photo above is after 5 minutes of cooking)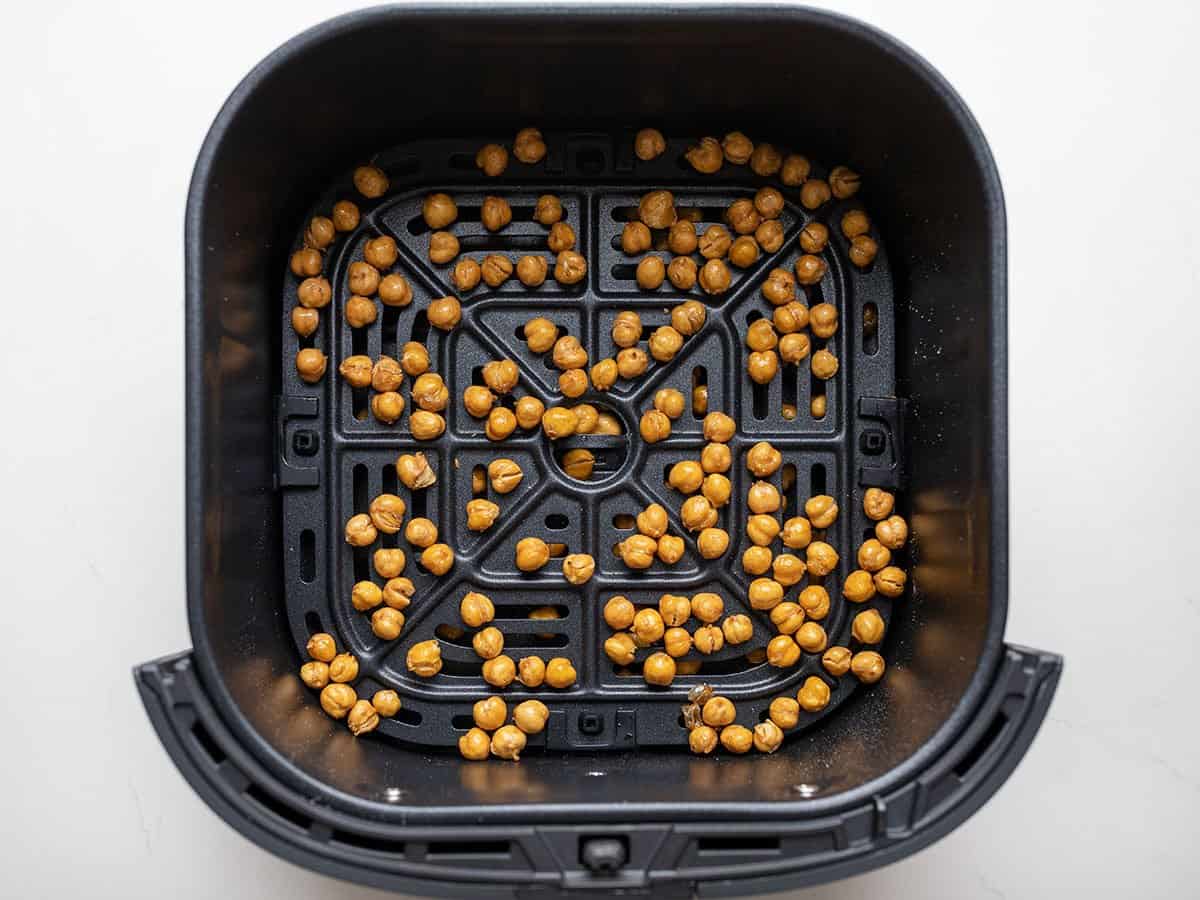 At ten minutes, shake the basket again and test the chickpeas for doneness. Add 2-3 minutes of cooking time or until they reach your desired level of crispness. We liked our chickpeas at 13 minutes when they were deliciously crispy and slightly cracked open like a kernel of popcorn.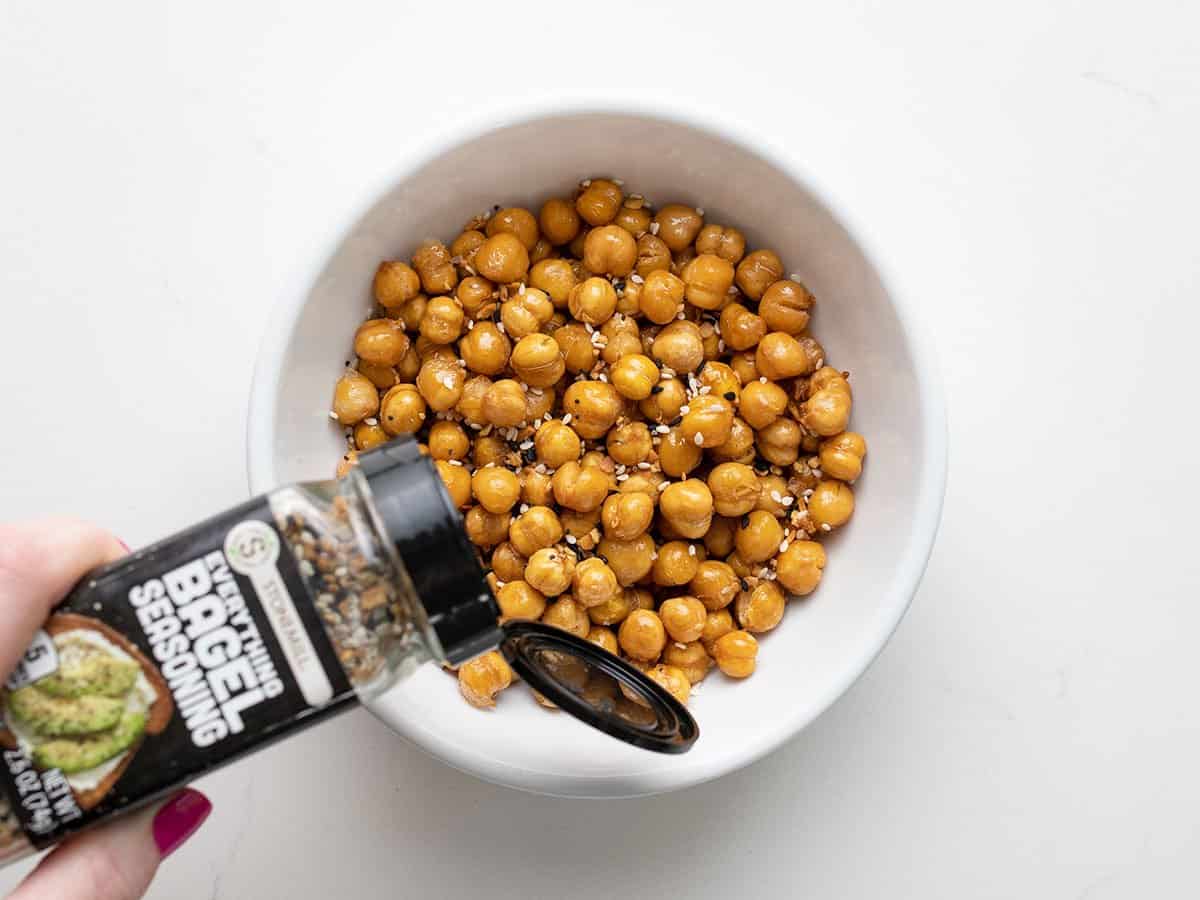 Add the air-fried chickpeas to a bowl, add the remaining teaspoon of oil and stir to coat. Add seasoning and or salt to your liking and stir to coat again. Enjoy!