As I ate my Roasted Poblano and Sweet Potato Salad this week it dawned on me- this salad would make a KILLER enchilada filling! Unfortunately, I didn't get a chance to make them until today… and I say unfortunately because this stuff is ten times better in enchilada form… something like a Latin carnival of flavor in my mouth! Next time I make this salad, I will surely roll half of it up in tortillas and freeze them so that I can take them out and bake at any time. If you don't have leftover Roasted Poblano and Sweet Potato Salad like I did, you can easily cut that recipe in half which should give you enough for about 8 enchiladas. I only made two here but I did the recipe costing for four so that it was a little bit more realistic.
Sweet Potato Enchiladas
Sweet Potato Enchiladas
Sweet potatoes and poblano peppers come together to make these flavorful and hearty enchiladas.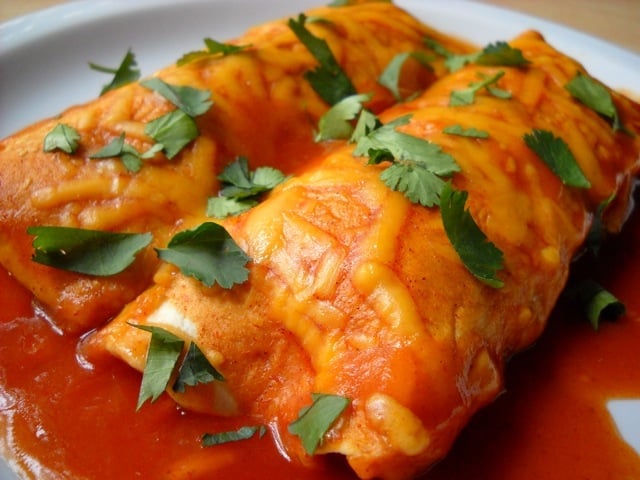 Instructions
Preheat your oven to 350 degrees. Spray a baking dish lightly with non-stick spray. Using a fork, slightly mash the Roasted Poblano and Sweet Potato Salad.

Lay out your tortillas and divide the mashed up sweet potato mixture evenly between all four (about 1/2 cup each). Sprinkle a little bit (about 2 Tbsp) of shredded cheddar in each tortilla as well. Gently fold the sides of the tortillas in toward the center, one side over the other, until they look like fat cigars.

Pour a little bit of enchilada sauce in the bottom of your baking dish. Place the rolled enchiladas in the baking dish, seam side down. Top the enchiladas with the rest of the sauce and the rest of the shredded cheese.

Bake the enchiladas at 350 degrees for about 30 minutes. Enjoy!
See how we calculate recipe costs here.
---
Nutrition
Serving:
1
Serving
Calories:
502.9
kcal
Carbohydrates:
61.45
g
Protein:
16.65
g
Fat:
21.6
g
Sodium:
1399.03
mg
Fiber:
7.95
g
Read our full nutrition disclaimer here.
Step By Step Photos

Mash the sweet potato salad with a fork to make it stick together better.

Fill each tortilla with the mashed sweet potato salad and a little shredded cheese.

Roll the enchiladas up, place in a baking dish and top with enchilada sauce (I've had readers say they've never heard of enchilada sauce, so here it is!).

Sprinkle with the remaining cheese and bake for 30 minutes.

And when they're done, you'll have these delicious bundles!
NOTE: This dish would freeze really well in an aluminum pan. Roll a bunch of the enchiladas up, place them in the aluminum baking dish, cover tightly with plastic wrap and freeze. When you are ready to bake, simply take the dish out, pour on a can of enchilada sauce and bake. you will need to add more baking time since they are frozen or you can thaw the dish in your refrigerator 24 hours prior to cooking.