Whew, what a week… after having out of town visitors for the past four days, I am finally getting back into my routine (school, blog, sleep… school, blog, sleep… school, blog… well, you get the idea). Anyway, I needed something quick an easy to make today that would feed me for the rest of the week. Stuffed poblano peppers fit the bill. Well, they weren't exactly quick (thanks to the rice and pepper roasting process) but a lot of that time was "passive cooking" so I was able to take care of other business at the same time.
I decided to do a vegetarian stuffed poblano but if you have extra chorizo, other sausage or chicken waiting in your freezer, by all means cook it, chop it and add it into the mix! My peppers contained seasoned rice, black beans, salsa and cheese. It is a classic combo that I can't ever seem to get enough of. Stuffing it into smokey and slightly spicy poblano peppers just made it extra special. I love these stuffed peppers because they are a cute little self contained meal that is easy to reheat and devour whenever I'm hungry. Normally I would put a dollop of sour cream right on top too but I gotta watch the saturated fat to keep my cholesterol in check so… you know.
Stuffed Poblano Peppers
Stuffed Poblano Peppers
Stuffed poblano peppers are a fun, filling, and flavorful vegetarian meal. The southwest flavors are vibrant while beans and rice keep you feeling full.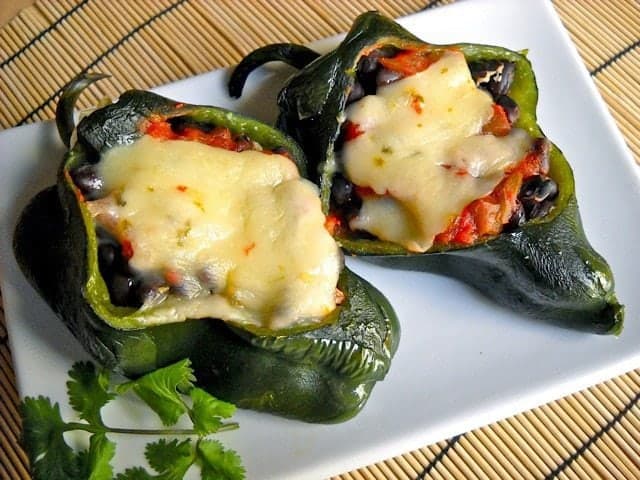 Ingredients
1

cup

uncooked long grain rice

($0.30)

2

cubes bullion, vegetable, or chicken

($0.24)

1/4

tsp

chili powder

($0.05)

1/4

bunch

fresh cilantro

($0.17)

6

poblano peppers

($2.98)

4

oz.

cheese

($0.99)

3/4

cup

divided salsa

($0.52)

1

15oz. can

black beans

($0.87)

non-stick spray (if needed)

($0.10)
Instructions
Cook the rice in a medium pot with 1.75 cups of water and two buillion cubes. (instructions for

cooking rice here

) While the rice is cooking, finely chop the cilantro. Mix the cilantro and chili powder into the rice after it has finished cooking. Set the rice aside until you are ready to use it.

While the rice is cooking, roast the poblanos. Preheat the broiler to 400 degrees. Spray a baking sheet and coat all sides of the poblano peppers with non-stick spray (you can rub olive oil all over them but I find spraying is much easier). Place the baking sheet a few inches under the broiler (I use the second rack level) and broil on each side for 5 minutes.

After broiling the poblanos, the skin should be blistered and bubbly. Immediately place the peppers into a ziplock bag for about 15 minutes to allow the steam to loosen the skin. Remove them from the bag and peel away as much of the skin as possible (be gentle and it is okay if you can't get ALL of the skin).

Cut a boat shaped piece out of each pepper and then carefully remove the seeds and seed pod. Save the pieces of pepper that are removed to make the openings because it makes a great ingredient for salads, burrito bowls or quesadillas (breakfast quesadilla anyone?).

Preheat the oven to 350 degrees (bake, not broil this time). Gently fill the peppers with layers of seasoned rice, salsa, cheese and beans. I began with rice (1/3 to 1/2 cup), then 1 Tbsp of salsa, 1/3 oz. of cheese, beans (as much as I could stuff in), then more salsa and cheese (same amounts as before).

Place the peppers back in the oven and bake until they are heated through and the cheese is melted (about 20 minutes). Enjoy!
See how we calculate recipe costs here.
---
Nutrition
Serving:
1
Serving
Calories:
290.52
kcal
Carbohydrates:
47.75
g
Protein:
13.53
g
Fat:
5.08
g
Sodium:
921.68
mg
Fiber:
9.8
g
Read our full nutrition disclaimer here.
Step By Step Photos

Cook the rice using 2 bullion cubes then mix in minced cilantro and chili powder after cooking.

Prepare the poblanos for roasting by coating them in oil and placing them on a baking sheet. Place under the broiler for 5 minutes on each side.

After roasting the skin will be blistered. Place in a ziplock bag for 15 minutes to allow steam to loosen the skin.

Peel off the skin, cut an opening in each and remove the seeds and seed pod.

Layer in the rice, salsa, cheese and beans… I added more salsa and cheese after this picture. Bake for 20 minutes at 350 degrees until they are heated through and the cheese is melted. Dig in!
NOTE: I had a little left over rice and beans so I piled that into a container with salsa and the chopped up bits of poblano that were cut away to make the openings. I sealed up the container and put it in the freezer. Later I can just pull it out, defrost in the microwave, add some sour cream or cheese and have a nice little burrito bowl! YUM!