While red cabbage is still on sale for $0.50/lb., I'm just going to keep going with it! This super simple Sesame Slaw is fast, fresh, and a nice break from the heavy, cooked down fall foods that I've been eating lately. It's good enough to eat as a salad on its own, but today I paired it with a few gyoza for one of the most delightful lunches I've had in a while. You can also use it as a bed for some Pan Fried Sesame Tofu or stir in some shredded rotisserie chicken. Eat it as a bowl meal or stuff it into a wrap. There are just so many possibilities for this very basic side dish.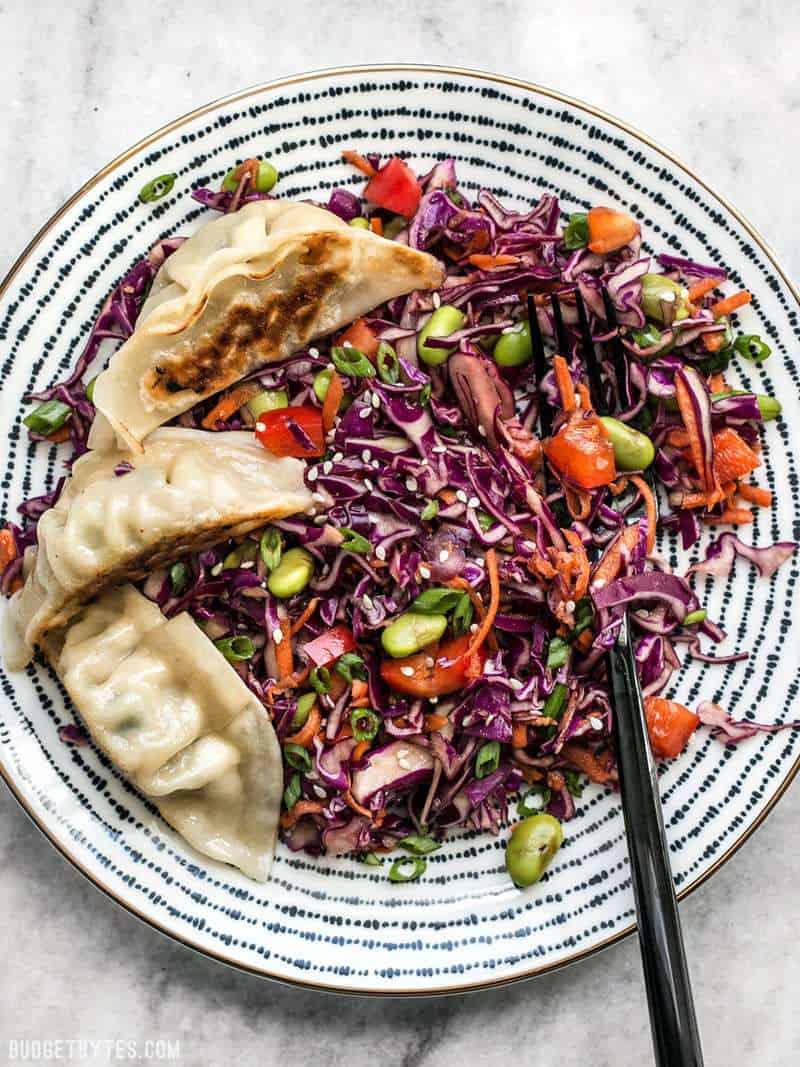 How to Store Sesame Slaw
If you're planning to eat this Sesame Slaw over the span of a few days, I do suggest waiting to add the dressing until just before serving. Make sure you shake your dressing just before adding it, as it does separate.
Finely Shredded Cabbage is Key
Another key aspect to making this slaw so good is making sure the cabbage is very finely shredded. I used my food processor because it's fast and easy, but a mandolin would be a great alternative. You can use a knife but make sure it's sharp and go as thinly as possible!
What is Toasted Sesame Oil?
Toasted sesame oil is oil that has been pressed out of sesame seeds that are first toasted. This gives the oil an extremely nutty flavor. I don't suggest substituting this oil in the recipe because it really gives a big boost of flavor that you can't get anywhere else. You can find toasted sesame oil in the International aisle of most major grocery stores, with the other Asian ingredients. The label may not say "toasted" on it, but you'll know it's toasted by the brown color (un-toasted sesame oil is a light straw color, like canola oil).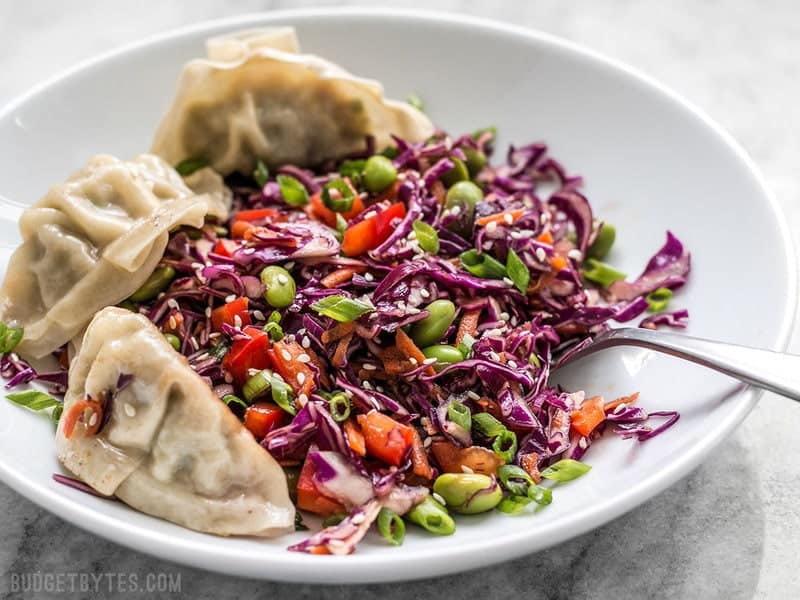 Sesame Slaw
This simple Sesame Slaw makes a great side dish, or a bed for other items like gyoza, fried tofu, or grilled chicken.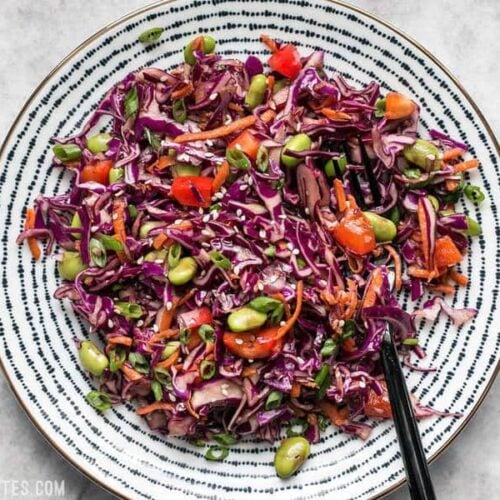 Ingredients
Sesame Dressing
2

Tbsp

neutral salad oil*

($0.04)

1

Tbsp

rice vinegar

($0.12)

3

Tbsp

soy sauce

($0.39)

1/2

Tbsp

toasted sesame oil

($0.16)

1.5

Tbsp

brown sugar

($0.03)

1

tsp

grated fresh ginger

($0.04)

1/2

Tbsp

sesame seeds

($0.04)
Slaw
6

cups

shredded red cabbage

($1.09)

1

large

carrot

($0.11)

1

red bell pepper

($1.89)

1/2

bunch

green onion

($0.50)

1

cup

frozen shelled edamame

($0.67)
Instructions
Prepare the dressing first to allow the flavors time to blend. Place the neutral oil, vinegar, soy sauce, toasted sesame oil, brown sugar, ginger, and sesame seeds in a jar or other small container with a lid, and shake until combined. Set the dressing aside.

Shred the cabbage as finely as possible. Use a large-holed cheese grater, mandolin, or food processor to shred the carrot. Finely dice the bell pepper, and slice the green onion. Cook the edamame according to the package directions (mine required microwaving for 5 minutes).

Place all the vegetables in a large bowl and pour about half the dressing over top. Toss the ingredients together until everything is combined and coated in dressing. Taste and add more dressing if desired (I used about 3/4 of the dressing). Serve immediately or refrigerate until you're ready to eat. Always stir the slaw just before serving to redistribute the dressing.
See how we calculate recipe costs here.
---
Notes
*Neutral salad oils do not have a strong flavor, and are a great base for dressing to allow other flavors to shine. Oils like canola, grapeseed oil, light olive oil, or safflower oil.
Nutrition
Serving:
1
Serving
Calories:
98.85
kcal
Carbohydrates:
10.86
g
Protein:
3.55
g
Fat:
3.75
g
Sodium:
354.74
mg
Fiber:
3.01
g
Read our full nutrition disclaimer here.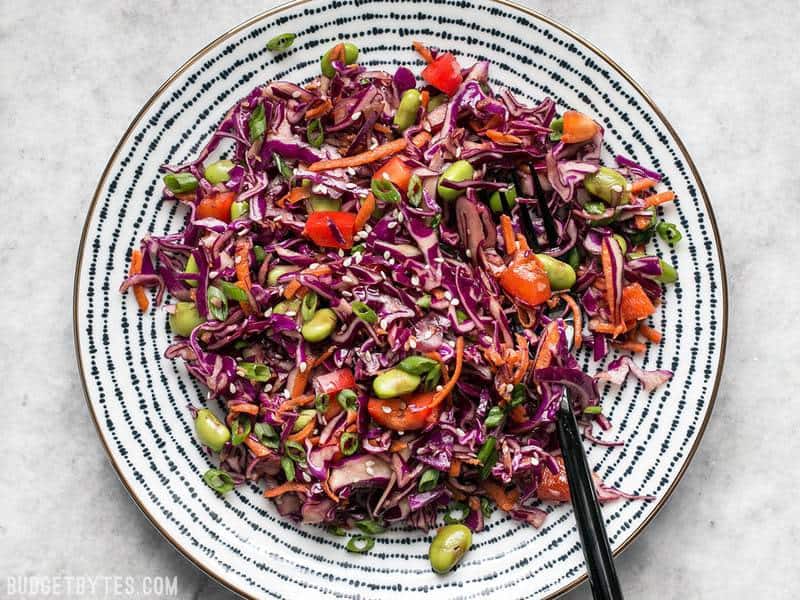 How to Make Sesame Slaw – Step by Step Photos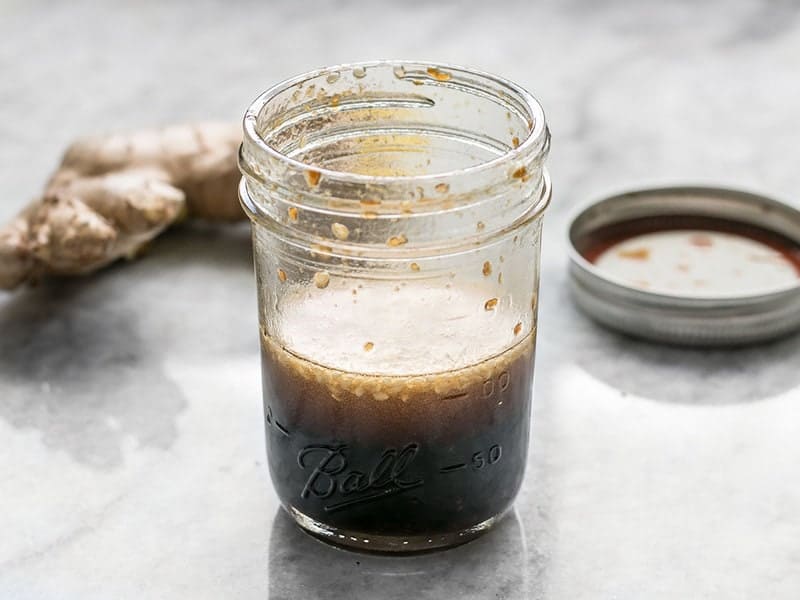 Begin with the dressing so the flavors have a little time to blend. To a small jar or other lidded container add 2 Tbsp neutral salad oil, 1 Tbsp rice vinegar, 3 Tbsp soy sauce, 1/2 Tbsp toasted sesame oil, 1.5 Tbsp brown sugar, 1 tsp grated fresh ginger, and 1/2 Tbsp sesame seeds. Close the container and shake, shake, shake. Set the dressing aside.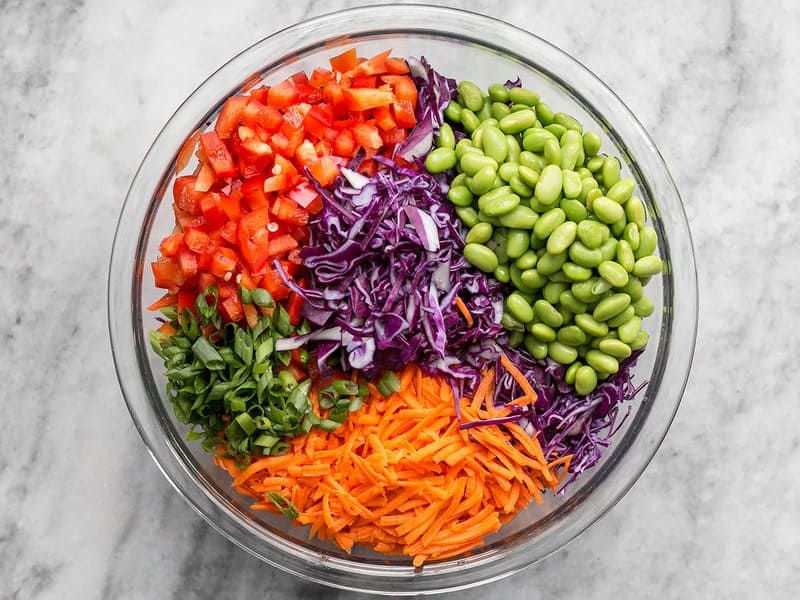 Finely shred a red cabbage (either one small head or half a large head, about 6 cups once shredded). Shred one large carrot, finely dice a red bell pepper, and slice 1/2 bunch green onions. Cook 1 cup frozen shelled edamame according to the package directions (mine required microwaving for 5 minutes). Add the vegetables to a large bowl.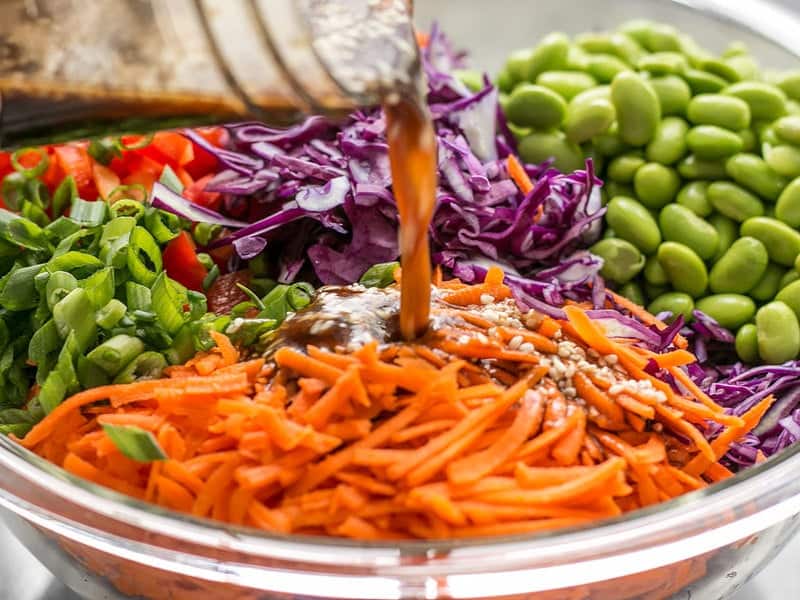 Give the dressing another good shake, then add about half of it to the vegetables in the bowl.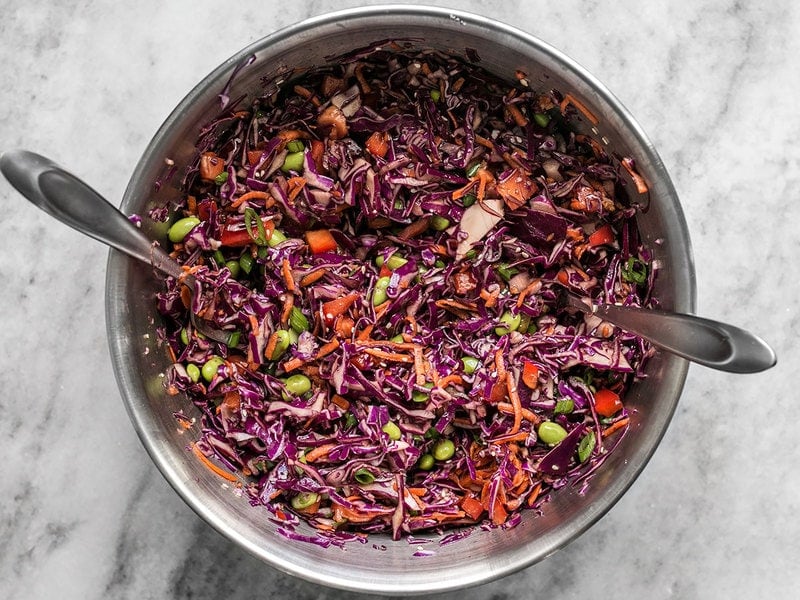 Toss all the ingredients together until they're evenly mixed and coated in the sesame dressing. Give it a taste and add more dressing if desired (I added about 3/4 of the total batch of the dressing).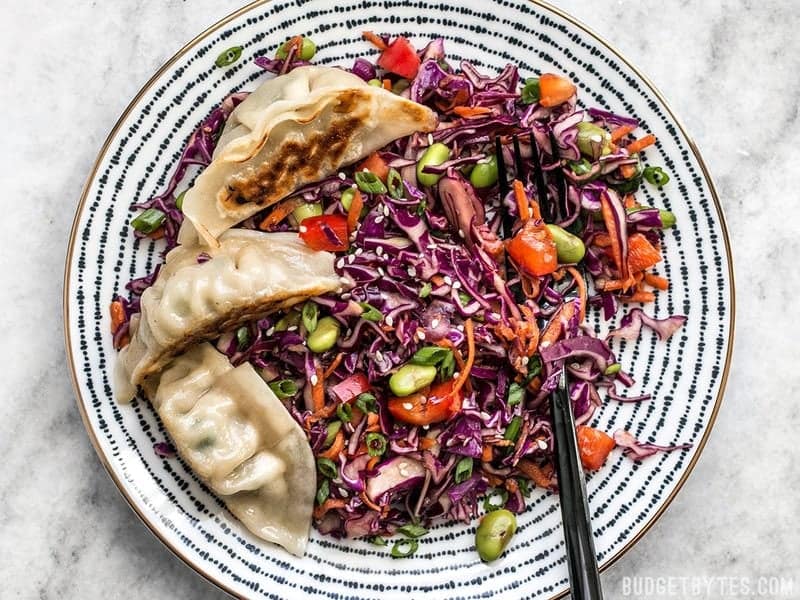 I served my Sesame Slaw with some gyoza and they were awesome together. While I have made my own gyoza before, I've become hooked on the frozen gyoza from Trader Joes. They are super inexpensive, fast and easy to cook, and super delish. I also have some rotisserie chicken in the fridge that I plan to serve with this over the next couple of days!