More often than not, I scrounge around in the fridge putting leftover ingredients together in a bowl to make random meals. I've discovered some of my favorite flavor combinations that way! This week I had some leftover cooked rice in the fridge, a little pineapple, and a few green onions that were half way to wilted. So, I threw a sweet and spicy spin on my favorite Spinach Rice Breakfast Bowls and came up with these nommy Pineapple Sriracha Breakfast Bowls. It's kind of like fried rice, without going through the process of stir frying, and making just one bowl at a time. That works for me!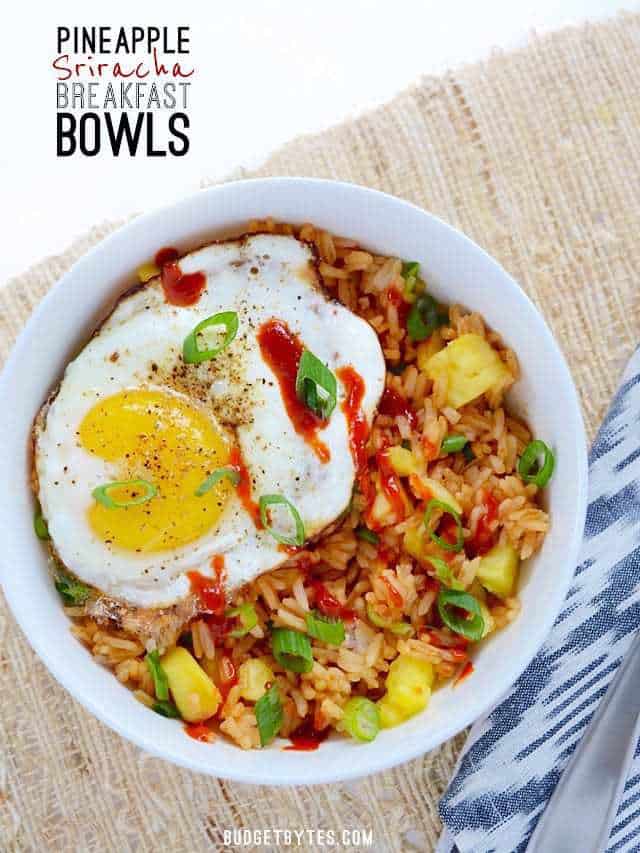 Customize the Breakfast Bowl
And sure, I know the chances that you'll have cooked rice, pineapple, and green onions just sitting around in your fridge are slim, but I think sometimes just seeing how someone throws random ingredients together can be inspiring and helpful in its own way.
Other random things that I think would be good in this bowl include:
bell peppers
peas
broccoli florets
cashews
jalapeños
ham
Basically, anything that you might like in fried rice will probably also go good in this. I love "bowl" recipes because you really can just start throwing ingredients in and you come up with something new and delicious every time!
No Price Estimates?
I'm going to skip the price estimates on this one because I feel like I would need to do way too much estimating. It's hard to say how much a few drops of sesame oil would cost and I have no idea how much that one small handful of chopped pineapple was compared to the whole fruit that I had purchased. I think it's safe to say that a meal that relies on one cup of cooked rice, an egg, and a few splashes of soy sauce and sriracha is going to be pretty darn cheap (even with my eggs running $0.27 each lately).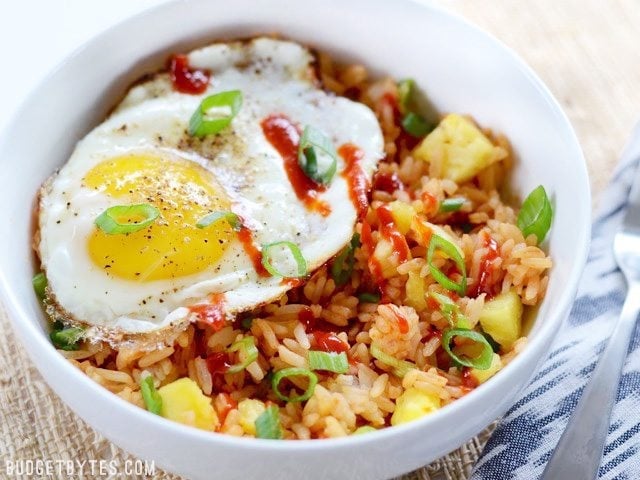 Pineapple Sriracha Breakfast Bowls
Use up the leftovers in your fridge with these fast and tasty Pineapple Sriracha Breakfast Bowls. Easy and customizable to fit what you have on hand.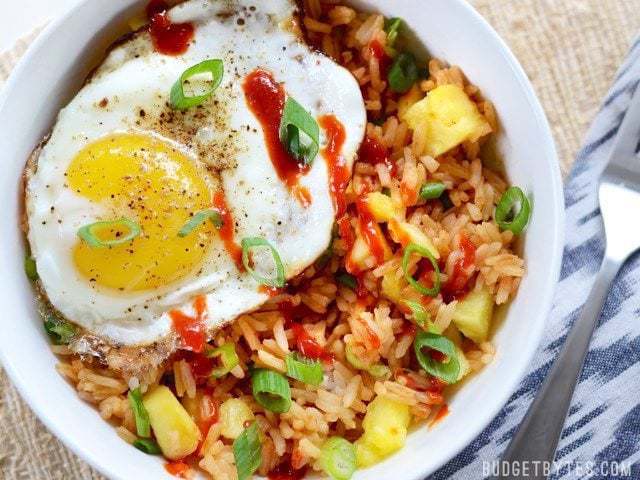 Ingredients
1

cup

cooked rice (preferably jasmine rice)

1

tsp

soy sauce*

1

tsp

sriracha*

Splash of sesame oil*

1/3

cup

chopped pineapple

1

green onion, sliced

1

large egg

Salt and pepper to taste
Instructions
Reheat the cooked rice in the microwave, then season with soy sauce, sriracha, and a splash of sesame oil.

Roughly chop the pineapple pieces and thinly slice the green onion. Stir them into the seasoned rice.

Fry the egg, seasoning it with salt and pepper, and leaving the yolk slightly runny. Top the seasoned rice bowl with the egg and enjoy.
See how we calculate recipe costs here.
---
---
Notes
*Use the recommended quantities for these ingredients, or just season to your liking.
Nutrition
Serving:
1
Serving
Calories:
359.5
kcal
Carbohydrates:
54.5
g
Protein:
11.5
g
Fat:
9.5
g
Sodium:
1479.2
mg
Fiber:
1.9
g
Read our full nutrition disclaimer here.
Scroll down for the step by step photos!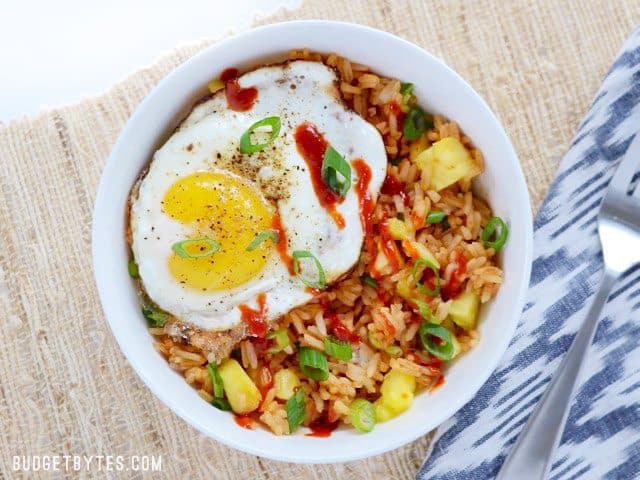 How to Make Pineapple Sriracha Breakfast Bowls – Step by Step Photos
Reheat a bowl of rice. Cooking a large batch of rice at the beginning of the week is sometimes very helpful. You can use it throughout the week for various meals, like burritos (or burrito bowls), stir fries, breakfast bowls, and more. To reheat, I just put the rice in a bowl and microwave for about 30 seconds. If the rice has gotten a little dry in the fridge, you can sprinkle a little water on top before microwaving.
Once it's warm, season the rice with sriracha, soy sauce, and a few drops of sesame oil. I used about a teaspoon each of soy sauce and sriracha, then a couple shakes of my tiny sesame oil bottle (make sure to use the dark, toasted sesame oil because it has a very strong nutty flavor).
Roughly chop some pineapple into small pieces and thinly slice a green onion. Add the pineapple and green onion to the seasoned rice, then stir it to combine.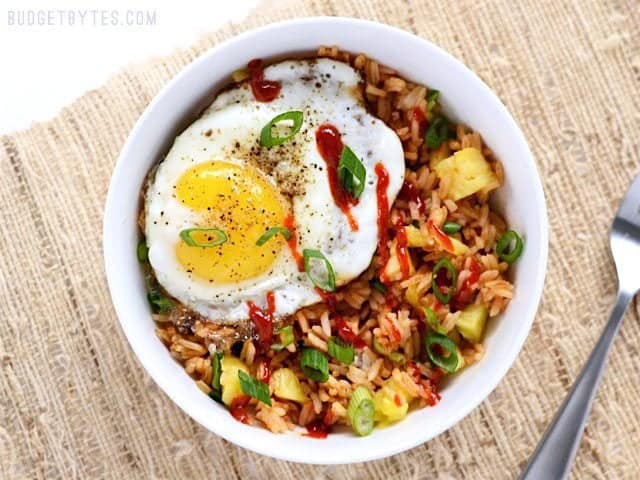 Lastly, fry an egg, leaving the yolk slightly runny. Top the seasoned rice bowl with the egg, then enjoy!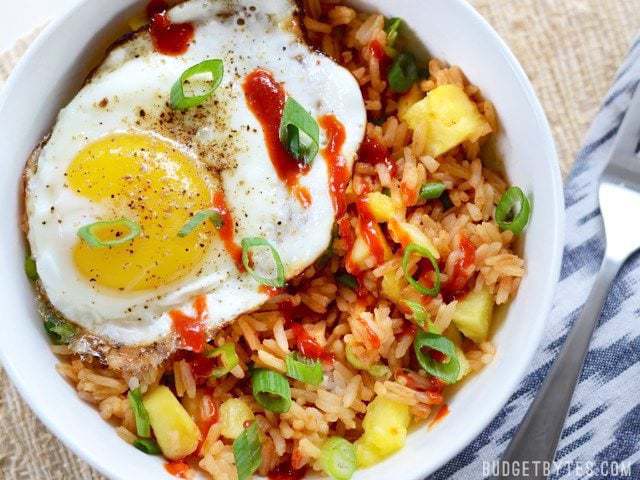 I kind of wish someone would open a restaurant with just stuff like this. Maybe with all the ingredients already prepped so you can just build your own bowl as you go. Oh wait, that's what Chipotle is, right? Hmmm.
Pineapple Sriracha Breakfast Bowls – easy enough!