It's only the second week of June but it's already a million degrees outside. I barely want to eat, let alone cook when it's this hot outside, so I practically live off of big batch cold salads. This Kale White Bean and Pesto Salad is the perfect example of a refrigerator sturdy salad that can be changed up daily with a variety of add-ins to prevent burn-out. Or you know, eat it as-is and don't put any more thought into it. Because there are beaches to see, sports games to attend, and summer fun to be had!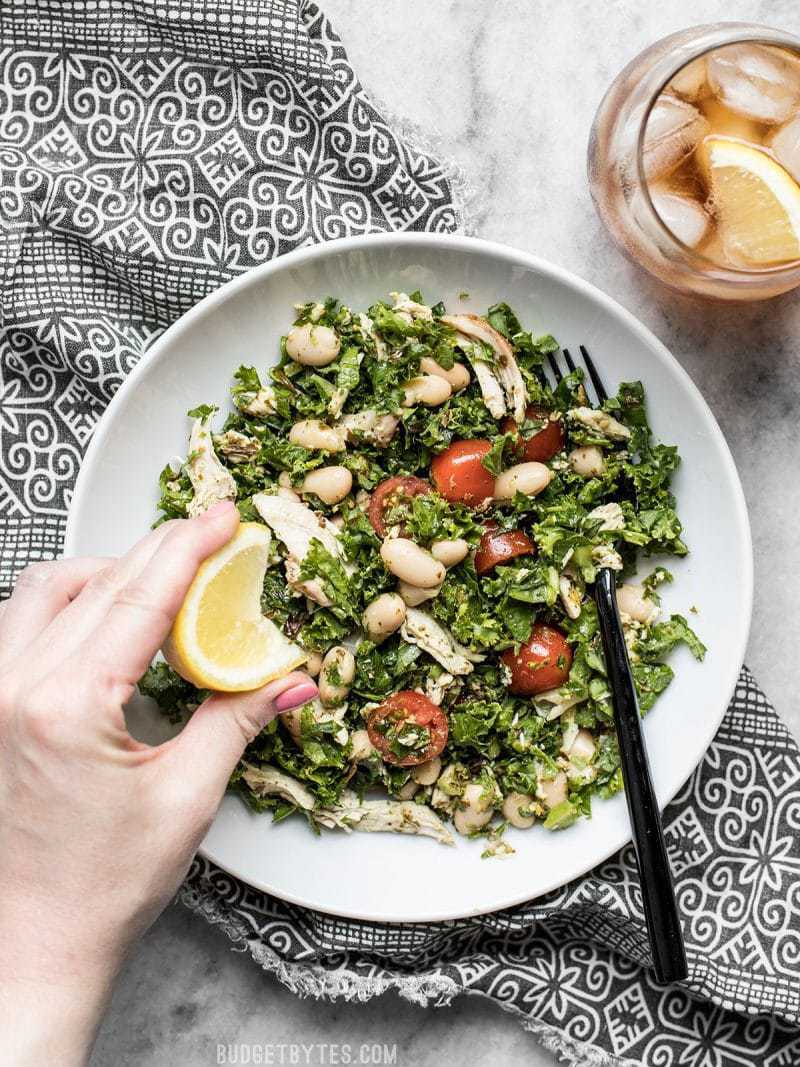 Salad Add-Ins
This Kale White Bean and Pesto Salad already has good bones. I can eat it as is and be perfectly happy. But when I do want to switch it up I can add things like a chopped hard boiled egg, some crumbled feta, leftover roasted vegetables, avocado, croutons or toasted pita triangles, or even leftover cooked quinoa. You can make each bowl unique.
Substitutions
If you're not a kale fan, you can use chopped spinach in a pinch, but it won't give this salad as much volume, or hold up as well in the refrigerator as kale. I'm almost more inclined to suggest using chopped parsley, which has a similar sturdiness to kale.
You can feel free to simply leave the chicken out, or add an extra can of white beans in its place. And while cannelini beans are the best for this salad due to their creamy, yet firm texture, I can see chickpeas also working well.
If you can't find pesto for a good price in your area, my parsley pesto is a great homemade substitute to the convenience of store bought pesto. You can also swap it out for my tangy Tomato Basil Vinaigrette.
How to Store Leftovers
I try to design my recipes with as little leftovers as possible, but for this recipe I had leftover kale, tomatoes, and pesto. The tomatoes will be no problem because I like to snack on grape tomatoes, add them to my scrambled eggs, and many other things. When faced with large amounts of fresh kale, I like to sauté it down with a little garlic, salt, and pepper. It's so good that I can eat it straight, and because it wilts so much when it's cooked, one big bag of kale quickly becomes one serving. And for the leftover pesto, I'll consult my archives.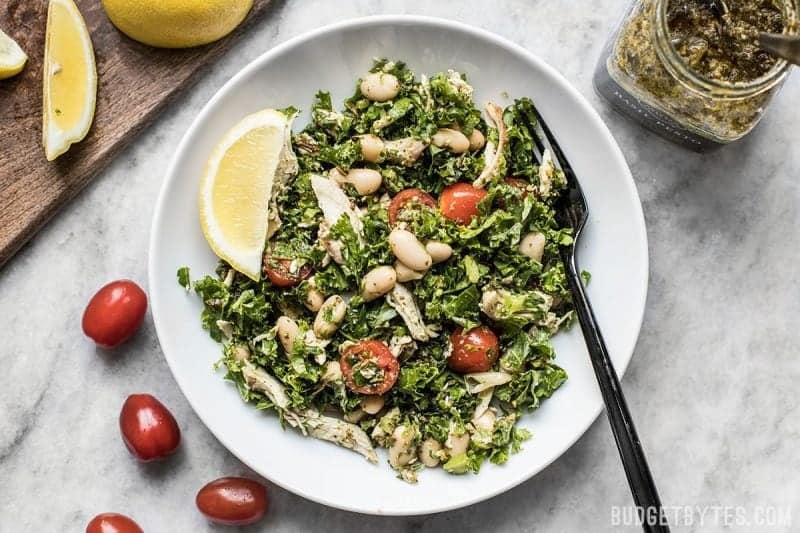 Kale White Bean and Pesto Salad
This Make Ahead Kale White Bean and Pesto Salad keeps your fridge stocked with good for you food that you can customize each day for a new meal.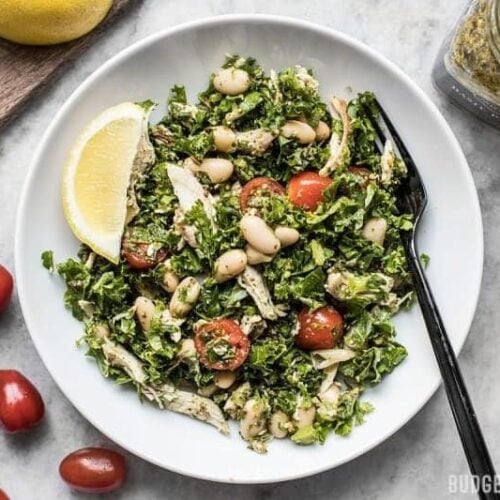 Ingredients
6

cups

kale, finely chopped

($1.50)

1

15oz. can

cannellini beans

($0.69)

1

cooked chicken breast*

($2.00)

1

cup

grape tomatoes

($1.00)

1/2

cup

pesto

($1.44)

1

large lemon, cut into wedges

($0.43)
Instructions
Place the finely chopped kale in a large bowl. Rinse and drain the cannellini beans, slice the tomatoes in half, and then add them both to the bowl. Chop or shred the chicken, and add it to the bowl as well.


Add the pesto to the bowl with the other salad ingredients, then toss until everything is lightly coated in pesto. Taste and add more pesto if desired (I used only 1/2 cup).


Serve the salad immediately, or refrigerate until ready to eat. Serve each portion of the salad with a wedge of lemon and squeeze the fresh lemon juice over top just before eating.

See how we calculate recipe costs here.
---
Notes
*I used a chicken breast from a rotisserie chicken, but you could also simply grill or cook a chicken breast in a skillet, then chop it once cooked.
Nutrition
Serving:
2
Cups
Calories:
332.2
kcal
Carbohydrates:
23.13
g
Protein:
27.9
g
Fat:
14.43
g
Sodium:
715.18
mg
Fiber:
7.38
g
Read our full nutrition disclaimer here.
How to Make Kale and White Bean Pesto Salad – Step by Step Photos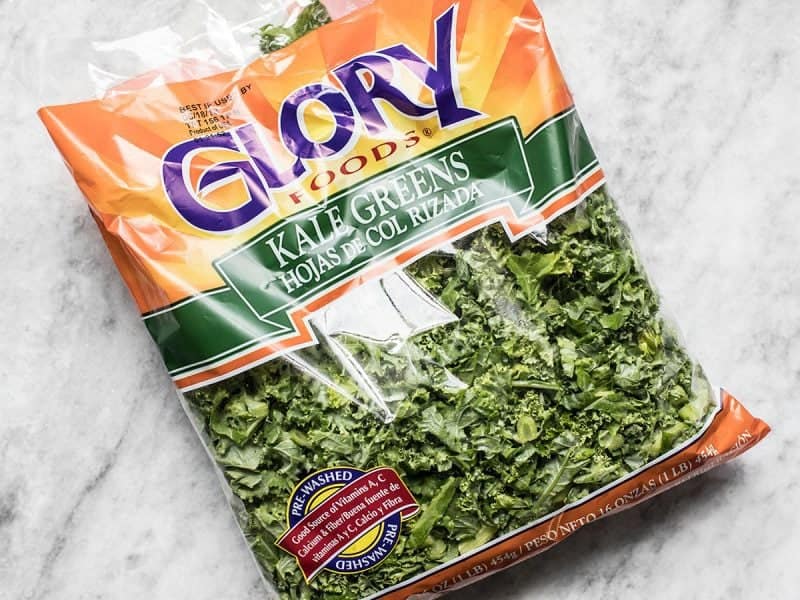 Pre-chopped kale is one of the very few produce convenience items I buy. It's usually about the same price as a kale bunch where I live, but all the hard work is already done for you, so why not?! I like this brand in particular because there are very few stems to pick out and it's already chopped quite fine…
But I ended up chopping my kale even a bit more finely. I just took a handful or two at a time and ran my knife over it a few times until it was very small pieces like this. You'll want about 6 loosely packed cups of finely chopped kale for this salad.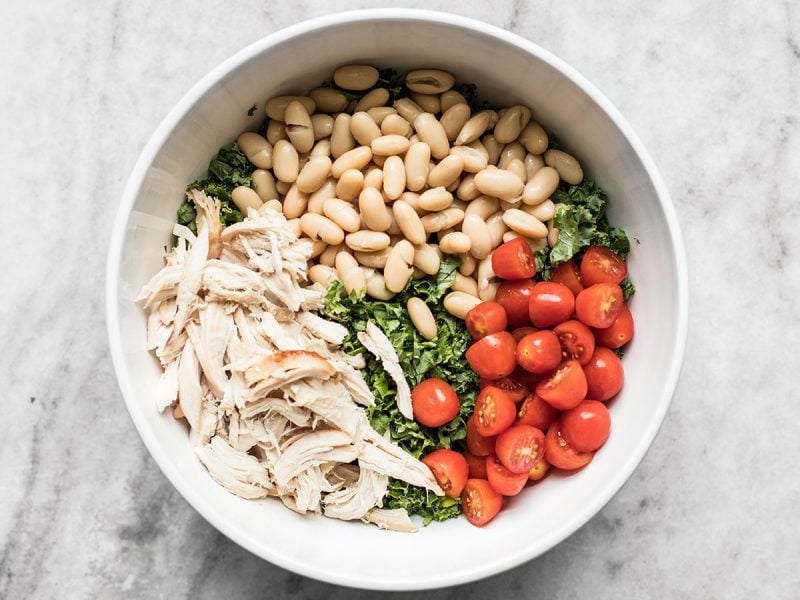 Place the kale in a large bowl. Rinse and drain one 15 oz. can of cannellini beans. Chop or shred one cooked chicken breast (mine is from a rotisserie chicken), and slice 1 cup grape tomatoes. Add the beans, chicken, and tomatoes to the bowl with the kale.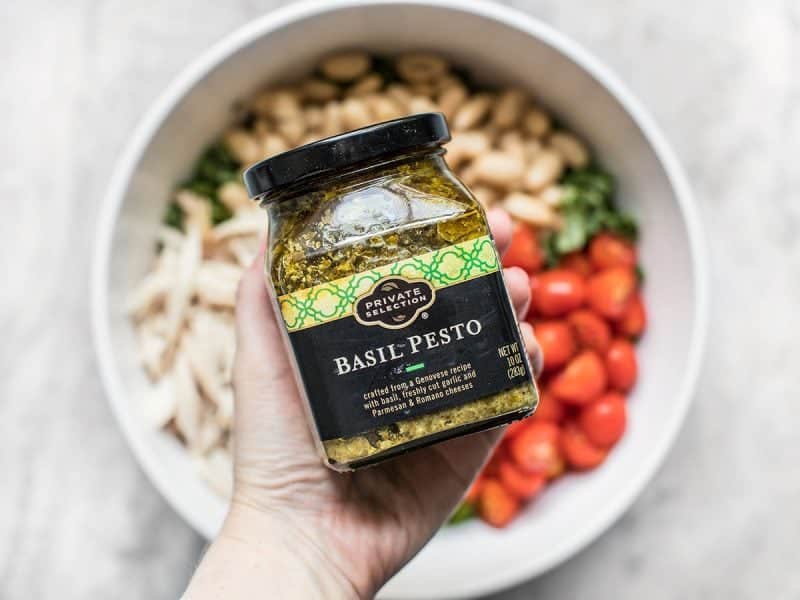 This is the type of basil pesto I'm using this time around, because it was the best price per ounce at the store (this is Kroger's private label brand). I find that you can usually find pretty good deals on store brand pesto, whether it be 365 brand from Whole Foods, Trader Joe's brand, or any other store brand. You can usually find them near the pasta sauces.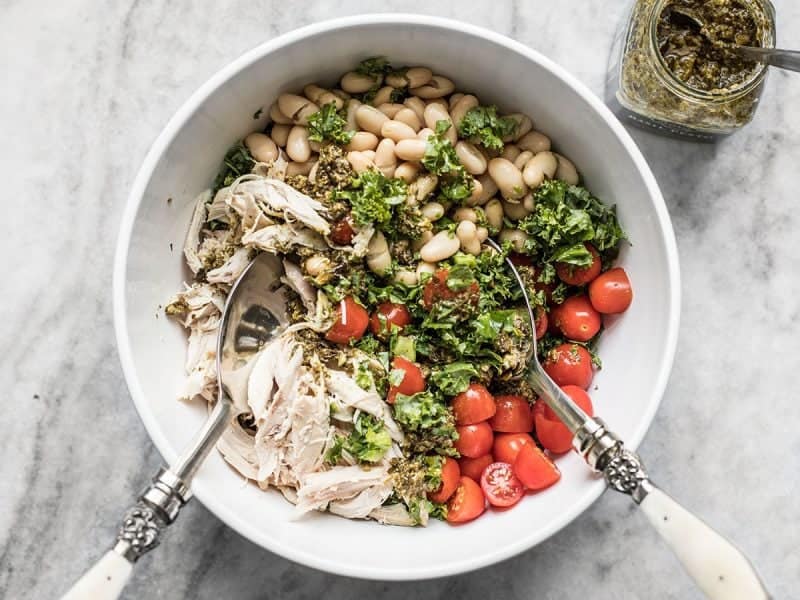 Start by adding 1/2 cup pesto to the salad, then toss until everything is lightly coated.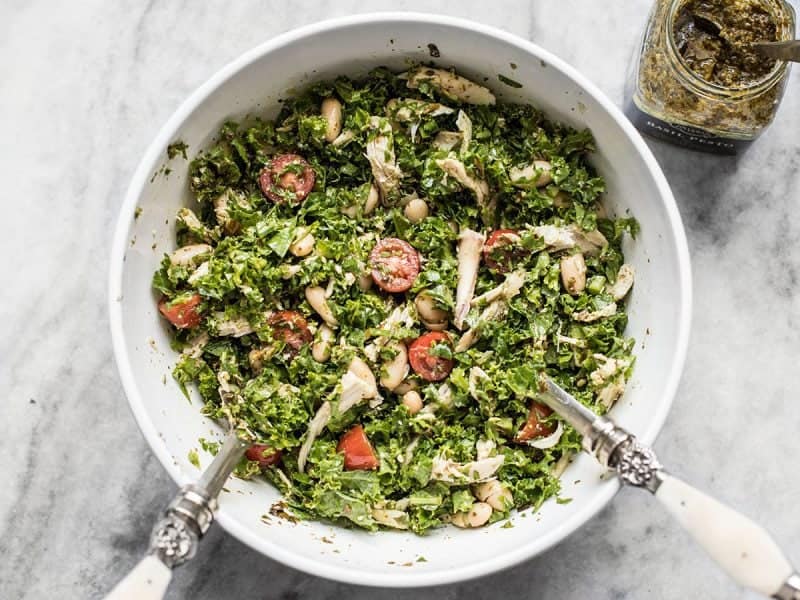 You can add more pesto if you prefer, but I stuck with just the 1/2 cup.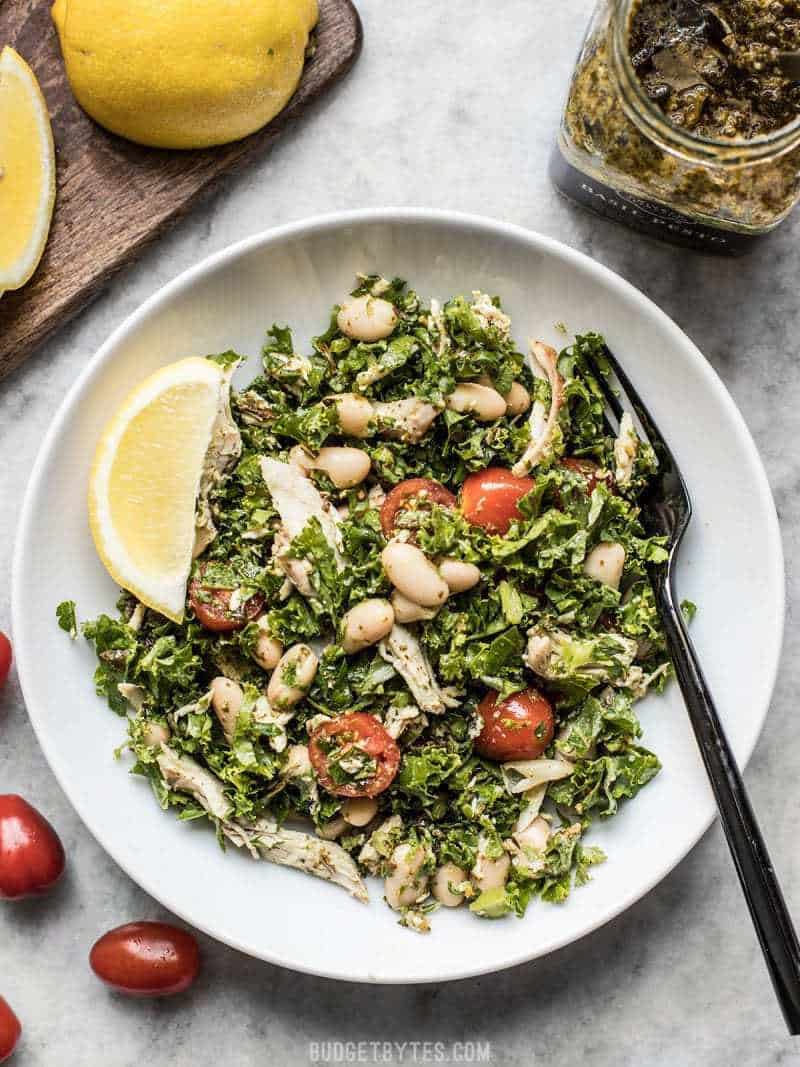 And that's it! I highly suggest serving the salad with a lemon wedge for an extra pop of bright flavor. Squeeze the lemon over top just before eating, and enjoy!