I made an impulse buy the other day… one of those little packets of Mexican hot cocoa mix. I constantly crave hot cocoa this time of year so I thought I'd give this Mexican hot cocoa a shot. I already knew that I liked the combination of chocolate and chiles, so I figured this would be a home run. Unfortunately, it was less than impressive. Much less. As usual, I thought, "I could do this better!" So I made my own Spicy Hot Cocoa. And it's good. REAL good.
My version, although unbelievably simple, truly WOW-ed me. Seriously. I know you're supposed to use really high-quality cocoa and high-quality spices for this, but I just used my run of the mill pantry basics and got a really rich cocoa with a nice earthy and spicy kick. I don't think I can ever go back to plain hot cocoa again.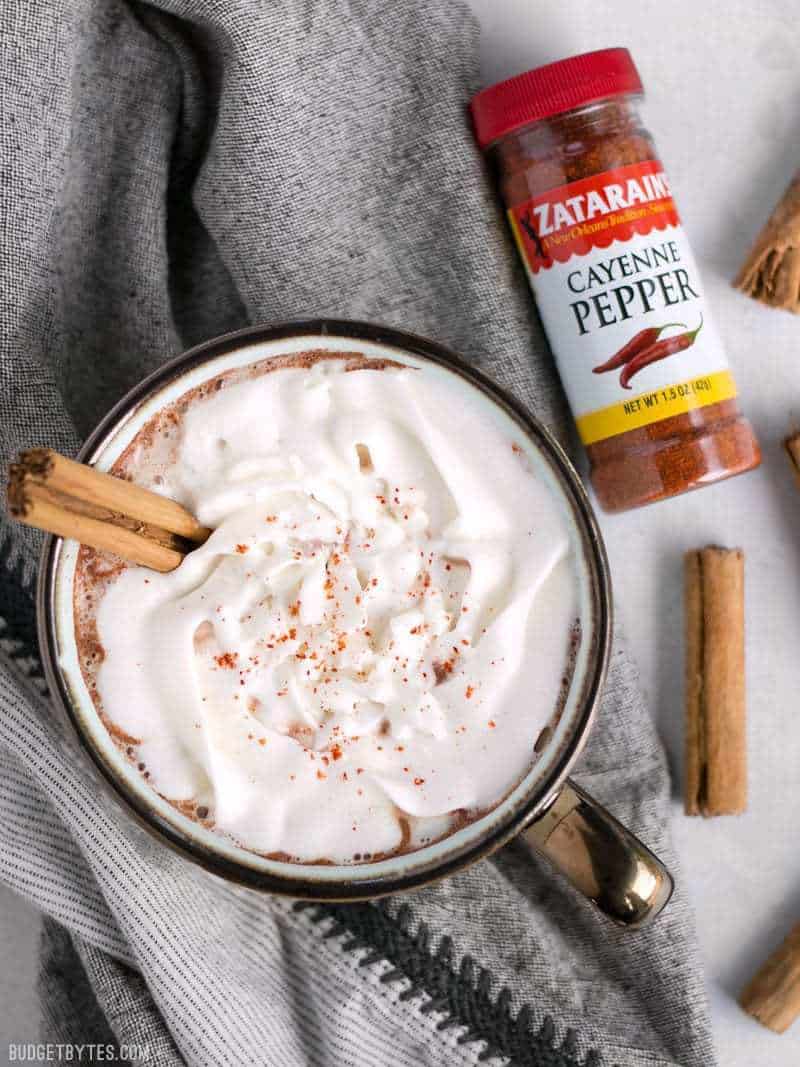 Chocolate and Chiles, An Ancient Combo
Adding a little spicy kick to chocolate is nothing new. In fact, it dates back to ancient civilizations of Central America, where chocolate originates. The Mayan and Aztec civilizations drank an unsweetened, bitter chocolate drink that was often flavored with chiles. You can still find recipes for the authentic "xocoatl" drink today.
What Does This Spicy Hot Cocoa Taste Like?
The cinnamon in this cocoa adds a little depth, earthiness, and warmth that regular hot cocoa doesn't have. Thanks to the molasses in brown sugar, the flavor is a little more rich than cocoa sweetened with white sugar. Then the pinch of cayenne provides just the right amount of burn in the back of my throat to make you giggle with glee. This stuff is awesome.
Just a fair warning – the spices do not totally dissolve in milk because, well, they're not soluble. So, there will be some sediment on the bottom of your mug. If you're a French press coffee drinker, this will not bother you.
Make a Big Batch for Gifts
Want to make a bunch of the mix to give as a gift? Here are the quantities to make 2 cups of cocoa mix:
1 cup unsweetened cocoa powder
1 cup brown sugar
4 teaspoons cinnamon
1 teaspoon cayenne pepper
Use 2 tablespoons of cocoa mix per 8 ounces of hot milk.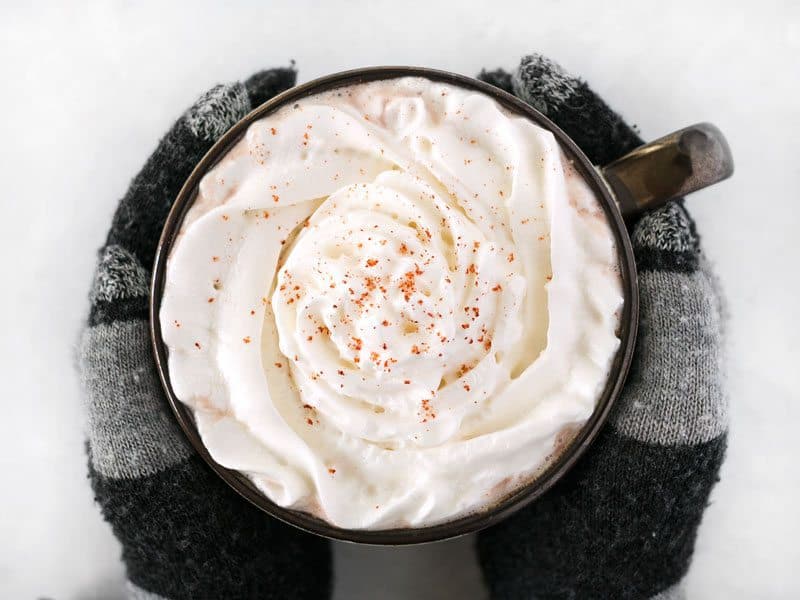 This Spicy Hot Cocoa is really good topped with whipped cream as well. Check out my tutorial on how to make homemade whipped cream (it only takes 5 minutes)!
Can I Use Non-Dairy Milk?
Yes, absolutely! I think almond, soy, coconut, or oat milk would all work great in this recipe!
Spicy Hot Cocoa
This spicy hot cocoa is rich and warm with a slight kick from cayenne pepper and cinnamon to heat you up inside and out, no matter how cold it is outside!
Ingredients
1

Tbsp

unsweetened cocoa powder

($0.04)

1

Tbsp

brown sugar

($0.02)

1/4

tsp

cinnamon

($0.02)

1/16

tsp

cayenne pepper

($0.01)

8

oz

milk (2% fat or higher)

($0.25)
Instructions
In a small bowl, stir together the cocoa powder, brown sugar, cinnamon, and cayenne.

Heat the milk until hot, but not boiling. (Heat in a small sauce pan over medium-low, whisking often, or microwave for about 1.5 – 2 minutes).

Once the milk is hot, whisk in the cocoa and spices. Drink. Be happy.
See how we calculate recipe costs here.
---
---
Nutrition
Serving:
1
Serving
Calories:
225.8
kcal
Carbohydrates:
29.2
g
Protein:
9.1
g
Fat:
8.7
g
Sodium:
125.1
mg
Fiber:
2.4
g
Read our full nutrition disclaimer here.
If spicy isn't your thing, check out my classic Homemade Hot Chocolate recipe!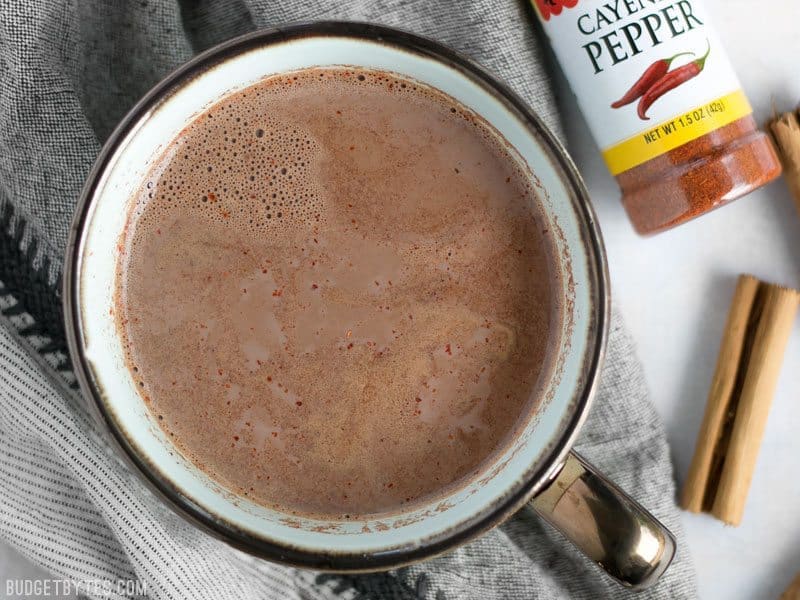 How to Make Spicy Hot Cocoa – Step By Step Photos

This is all that is needed to take cocoa from "yum" to "warm fuzzies all over": 1 Tbsp unsweetened cocoa powder, 1 Tbsp brown sugar, 1/4 tsp cinnamon, and 1/16 tsp cayenne pepper. To measure the cayenne pepper, I just filled my 1/8th tsp measuring spoon half way. If you're sensitive to spices, try just a pinch of cayenne first… a pinch would probably be like 1/32. Of course, that's just a guess.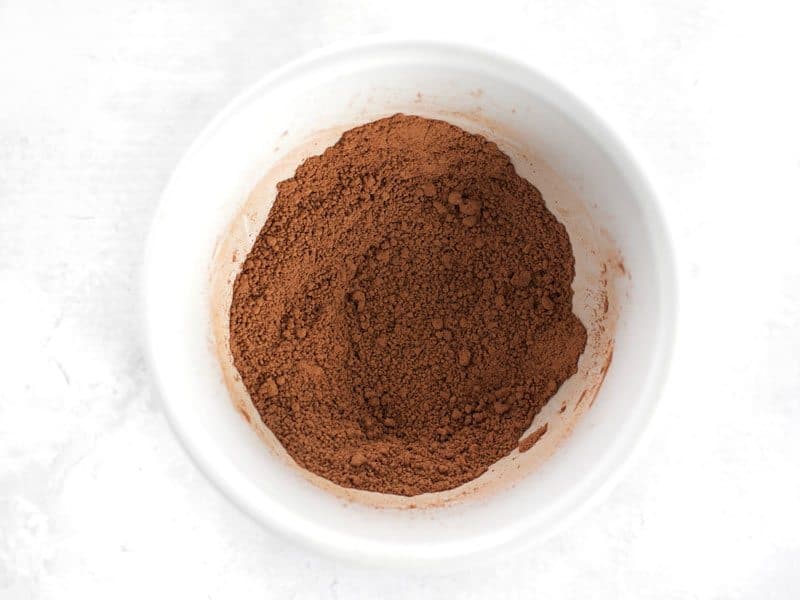 You don't have to mix the spices and sugar together before adding them to the milk, but I find it a bit easier this way. It will still be a little lumpy because of the moisture in the brown sugar.

Heat 8oz. of milk over medium-low heat, stirring often, until hot. Or, you can just use a microwave (1.5-2 minutes is usually good).

Once hot, whisk the mixed cocoa and spices into the milk.
Whisk until everything is pretty well combined. There will likely be a little sediment on the bottom, but not a huge amount.
Pour the Spicy Hot Cocoa into a mug and enjoy!
This Spicy Hot Cocoa is the ULTIMATE soul warmer.