I made a pot of my basic chili a few weeks ago, which uses my homemade chili seasoning, so I wanted to post the homemade chili seasoning blend by itself to highlight the fact that it can be used for so much more than just chili.
In addition to making a big pot of warm and comforting homemade chili, you can add this chili seasoning to vegetables, meat, or fish before roasting or grilling (check out my Chili Roasted Potatoes), or even sprinkle a little into your mac and cheese. I mean, what can't you do with chili seasoning?!
Originally posted 1-17-14, updated 8-14-18.
Homemade Chili Seasoning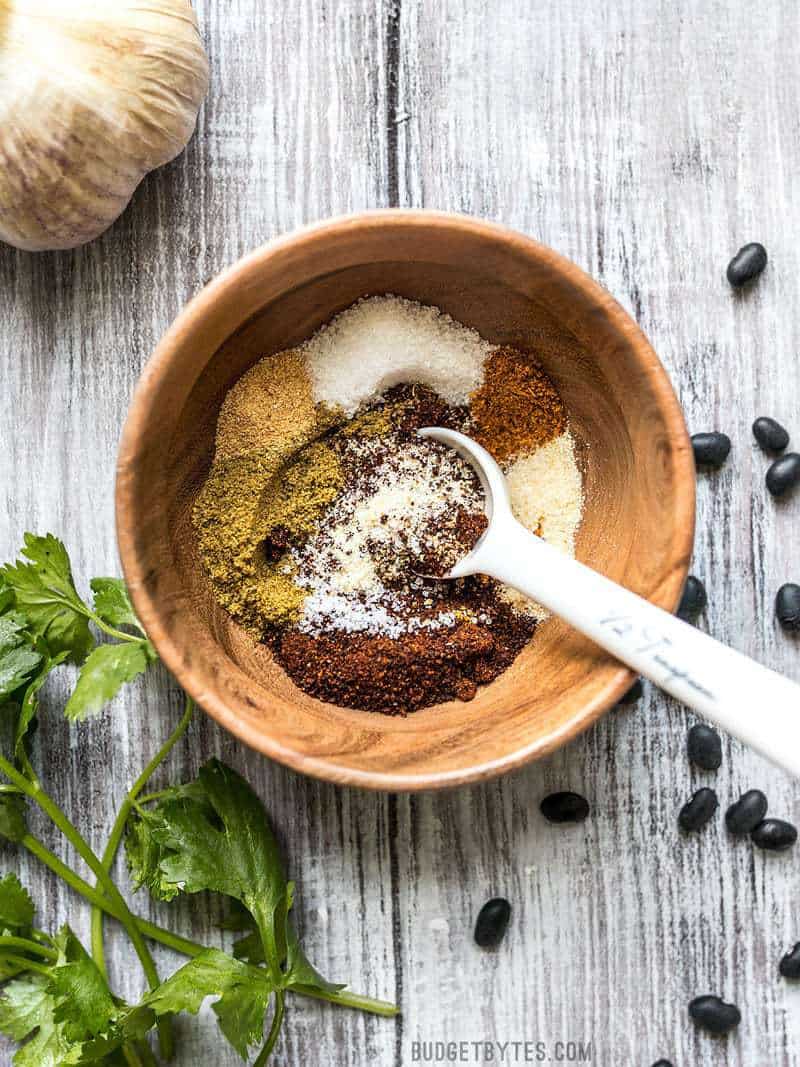 How to Use Homemade Chili Seasoning:
This homemade chili seasoning is equivalent to one store bought chili seasoning packet. You can use this to season one 6 serving batch of chili, or a batch of chili that uses one pound of ground beef. I prefer to brown my beef first, drain the excess fat if it's a higher fat content beef, then add the homemade chili seasoning. Continue to sauté the seasoning with the beef for about a minute more, which will toast the spices and make them a bit more pronounced. Proceed with your chili making from there! :)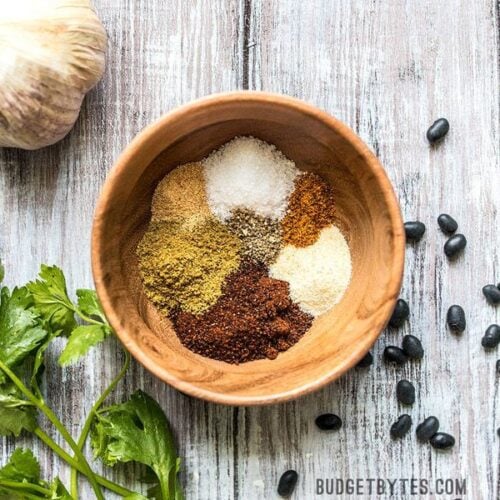 Print Recipe
Homemade Chili Seasoning
This simple homemade chili seasoning is made with a few basic pantry staple spices and can be used for so much more than a pot of traditional chili!
Prep Time: 5 mins
Total Time: 5 mins
Ingredients
1 Tbsp chili powder
1 tsp ground cumin
1/4 tsp cayenne pepper
1/4 tsp garlic powder
1/2 tsp onion powder
1 tsp salt
1/4 tsp approximately freshly ground pepper
Instructions
Add all of the ingredients to a bowl and stir to combine. Store in an air-tight container, away from heat and moisture for up to six months.
Notes
Makes enough for one pot of chili (about 6 servings). If the chili powder you are using is spicy, you can reduce or eliminate the cayenne pepper from this recipe.
What is "chili powder"?
Chili powder is a blend of spices used to season chili, which is commonly sold pre-mixed in the United States. So, in effect, you could use just that alone to season your pot of chili, but my homemade chili seasoning takes it up a few notches.
Chili powder can vary in heat from brand to brand, so make sure to give yours a taste before making your chili. If the chili powder you are using is spicy, you can reduce or eliminate the cayenne pepper from this recipe.
The chili powder pictured above (Kroger brand) is spicy, as the label indicates, but not every brand is nice enough to let you know ahead of time if their blend is spicy. If you're looking for a mild, not-spicy blend, check out McCormick's chili powder. They also make a "hot Mexican" chili powder, which is quite spicy.
Is Chili Seasoning the Same as Taco Seasoning?
They're quite similar, but not exactly the same. For my Homemade Taco Seasoning, I use a slightly smokier blend of spices and add a little oregano. I do think you could use them interchangeably in a pinch, if needed, but prefer this slightly more simple blend for chili.