This Easy Sesame Chicken is seriously so easy that you'll be tempted to toss those take-out menus. The delicious sauce takes only a few ingredients, all of which you can keep on hand indefinitely (keep your ginger in the freezer). You know, just in case you need some sesame chicken like, now. Oh, and this take-out fake-out sesame chicken works great for your weekly meal prep, too!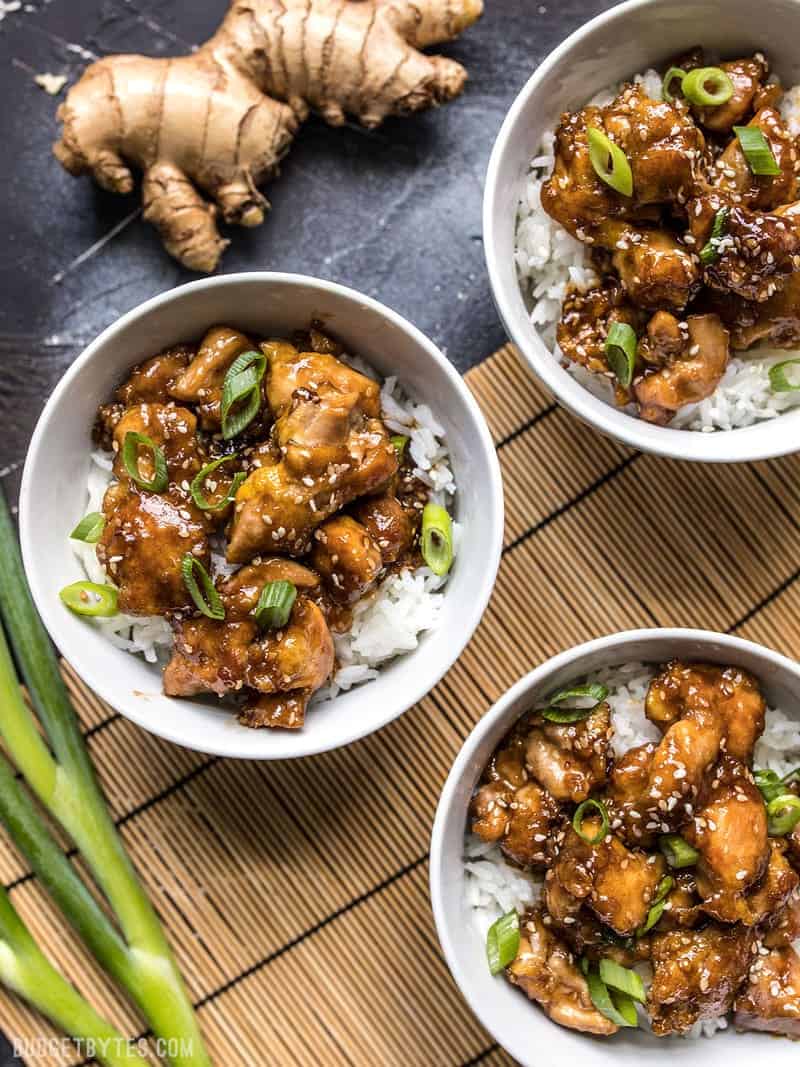 It's been almost five years to the day since I first posted this Easy Sesame Chicken, and I felt it was about time for me to pay it a visit. I've learned a lot since 2013, like a lot a lot, so I tweaked this classic recipe to make it even better. First, I doubled the sauce because the reviews almost unanimously agreed that it needed to be saucier. Second, I rebalanced the flavors in the sauce. They're the same ingredients, just a little more in balance. And lastly, I reduced the cornstarch in the sauce so that the texture of the finished sauce is a bit more smooth and doesn't seize up quite as much. I hope you love the new version as much as I do!
What is Sesame Chicken?
If you're unfamiliar with this Chinese-American fast food classic, it's small pieces of tender chicken that have been coated in an egg and cornstarch, deep-fried until crispy, and then coated in a deliciously sweet, salty, and tangy sauce. The sauce also has a light but toasty flavor thanks to sesame seeds. You'll find this dish at most Chinese-inspired takeout restaurants across America.
No Deep Frying Required
I specifically wrote this recipe for those of you out there who hate deep frying as much as I do. This recipe uses a very small amount of oil to cook the chicken Because of that, you don't get super crispy edges as you would with a deep fry, but the trade-off is well worth it in my opinion. No leftover oil to deal with, no cooking oil smell filling your house, and no splattering oil trying to kill you. So worth sacrificing crispy edges.
Use Chicken Thighs or Breasts
I used chicken thighs below because they are inexpensive and tender, which makes them perfect for this recipe. You can use chicken breast cut into small pieces if you prefer, but it definitely won't have quite the same texture as thighs. And if you use breast, make sure to cut the chicken into small pieces as the eggwash will not stick to larger pieces of chicken.
What to Serve with Sesame Chicken
I like to pair my Easy Sesame Chicken with jasmine rice and a little steamed broccoli. It's a super simple meal that is very satisfying, and stores well for meal prep! It also goes great with Crunchy Cabbage Salad, Sesame Cucumber Salad, Easy Egg Drop Soup, Savory Coconut Rice.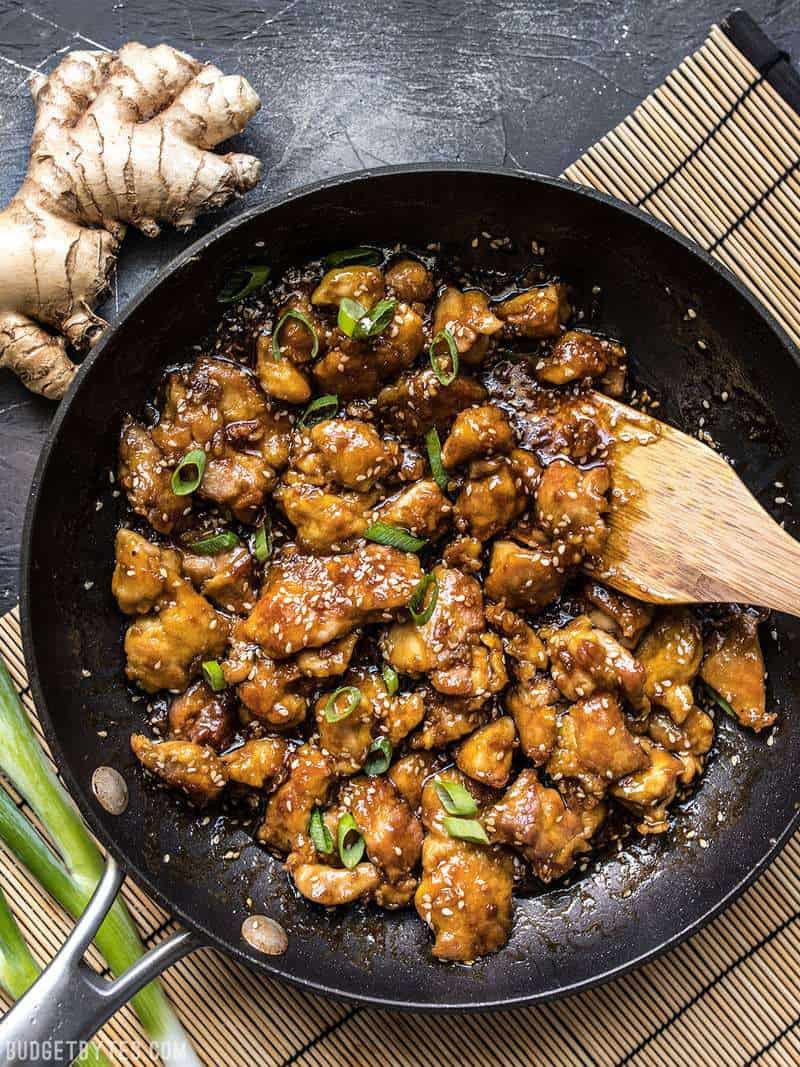 Easy Sesame Chicken
This incredibly Easy Sesame Chicken is faster and tastier than take out. You control the ingredients, you control the flavor.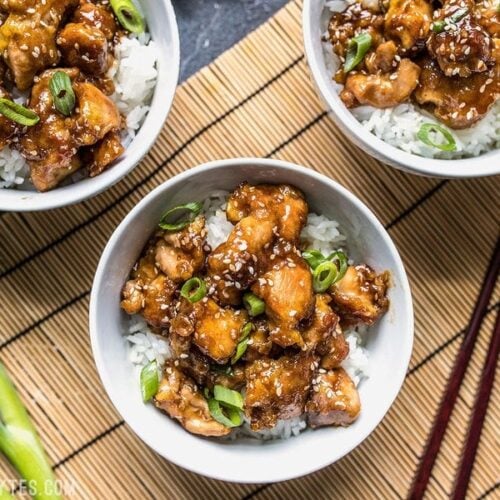 Ingredients
Chicken
1

large egg

($0.23)

2

Tbsp

cornstarch

($0.06)

1

pinch

each salt and pepper

($0.05)

1

lb

boneless skinless chicken thighs

($3.23)

2

Tbsp

cooking oil

($0.08)
Sauce
1/4

cup

soy sauce

($0.24)

2

Tbsp

water

($0.00)

1

Tbsp

toasted sesame oil

($0.33)

3

Tbsp

brown sugar

($0.12)

1

Tbsp

rice vinegar

($0.12)

1

tsp

grated fresh ginger

($0.10)

2

cloves

garlic, minced

($0.16)

1

Tbsp

sesame seeds

($0.8)

1/2

Tbsp

cornstarch

($0.02)
For Serving
4

cups

cooked jasmine rice

($0.70)

2

whole green onions

($0.22)
Instructions
First, prepare the sauce. In a small bowl stir together the soy sauce, water, sesame oil, brown sugar, rice vinegar, fresh ginger, minced garlic, cornstarch, and sesame seeds. (Grate the ginger with a small-holed cheese grater). Set the sauce aside.

In a large bowl, whisk together the egg, 2 Tbsp cornstarch, and a pinch of salt and pepper. Trim any excess fat from the chicken thighs, then cut them into small 1 inch pieces. Toss the chicken in the egg and cornstarch mixture.

Add the cooking oil to a large skillet and heat it over medium flame. Wait until the skillet is very hot, then swirl the skillet to make sure the oil coats the entire surface. Add the batter coated chicken and spread it out into a single layer over the surface of the skillet.

Allow the chicken pieces to cook, undisturbed, until golden brown on the bottom. Then, carefully flip the chicken, breaking up the pieces into smaller clumps as you flip. Continue to cook the chicken until golden brown on the other side. Stir the chicken as little as possible to avoid breaking the egg coating from the surface of the chicken.

Once the chicken is cooked through and golden brown on all sides, pour the sauce over top. Toss the chicken to coat in the sauce. As the sauce comes up to a simmer, it will begin to thicken. Continue to gently stir the chicken in the sauce until it has thickened, then turn off the heat.

Serve the chicken over a bed of rice and sprinkle the sliced green onions over top.
See how we calculate recipe costs here.
---
---
Nutrition
Serving:
1
Serving
Calories:
551.83
kcal
Carbohydrates:
60.38
g
Protein:
26.75
g
Fat:
23.3
g
Sodium:
1518.4
mg
Fiber:
1.5
g
Read our full nutrition disclaimer here.
How to Make Sesame Chicken – Step by Step Photos
Make the sauce first, so it's ready to go when you need it. In a bowl, stir together 1/4 cup soy sauce, 2 Tbsp water, 1 Tbsp toasted sesame oil, 3 Tbsp brown sugar, 1 Tbsp rice vinegar, 1 tsp grated fresh ginger, 2 minced cloves of garlic, ½ Tbsp cornstarch, and 1 Tbsp sesame seeds.
Let's just talk about this toasted sesame oil for a second. You must get the kind that is toasted to get the super vibrant nutty flavor that you want in your sesame chicken. Not all brands actually say "toasted" on the bottle, but you can recognize the toasted variety by its deep brown color. Regular sesame oil will be the color of straw, like vegetable oil. You want the brown stuff. ;) It's usually in the international foods aisle, instead of the baking aisle with the other oils.
Next, trim any extra fat off of one pound of boneless, skinless chicken thighs, then cut them into small one inch cubes. One pound for me was about three chicken thighs.
Add 1 large egg, 2 Tbsp cornstarch, and a pinch of salt and pepper to a medium bowl.
Whisk the egg and cornstarch together until it is light and frothy. It may seem thick at first, but as the cornstarch dissolves in the egg, it will thin out and get nice and frothy.
Add the cubed chicken thighs and stir them to coat in the egg mixture.
Add 2 Tbsp cooking oil to a large skillet and heat it over medium. Wait until it is very hot. This is VERY important. The skillet must be very hot! Once very hot, swirl the skillet to make sure the oil coats the entire surface, add the chicken, and make sure it's spread out into a single layer. Let the chicken cook, undisturbed, until golden brown on the bottom. It will kind of cook into a single round pancake, but don't worry, we'll break up the pieces next.
Then carefully flip the chicken pieces, breaking up them up slightly into smaller pieces as you flip. Cook on the other side until browned and cooked through. Make sure to not stir them too much, or you can cause the egg to come off the chicken. You can see that some of the chicken pieces are still kind of stuck together at this point. That's okay. Just do not over stir.
Finally, add the prepared sauce and stir to coat. Continue to carefully stir the chicken as the sauce beings to simmer and thicken. Once it's thickened, turn off the heat.
Sprinkle some sliced green onions over top and serve with warm rice. :) Doesn't get better than this.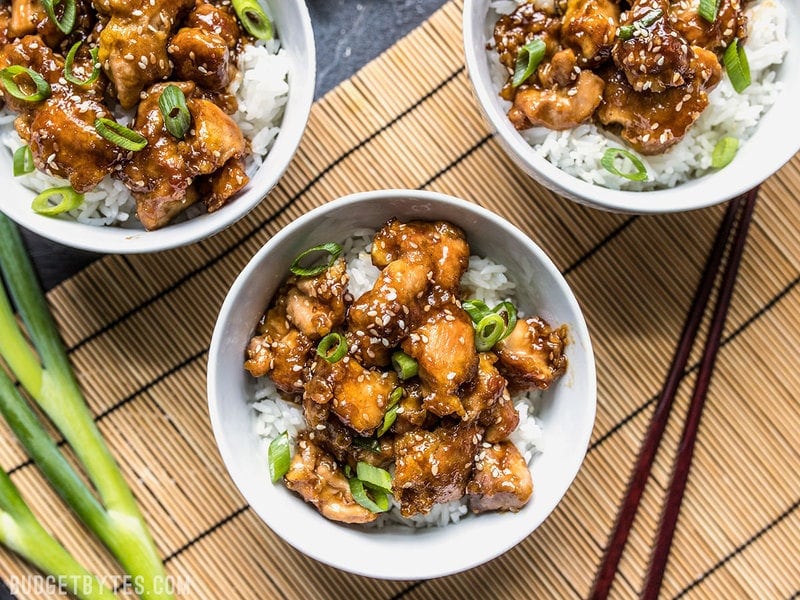 Easy Sesame Chicken – done in about 30 minutes, and NO DELIVERY FEE! :D