I had an "Ah-ha!" moment last week that I just had to share with you. I always thought frozen broccoli wouldn't work well for roasting because it's just too wet (it is blanched in hot water before freezing), but a couple weeks ago and a friendly commenter mentioned that they roast frozen broccoli all the time and it turns out great (this is why I love to hear your thoughts and experiences). So, I tried it, I loved it, and now I'm sharing it! Oven Roasted Frozen Broccoli is officially my new favorite easy side dish.
See this recipe used in my weekly meal prep.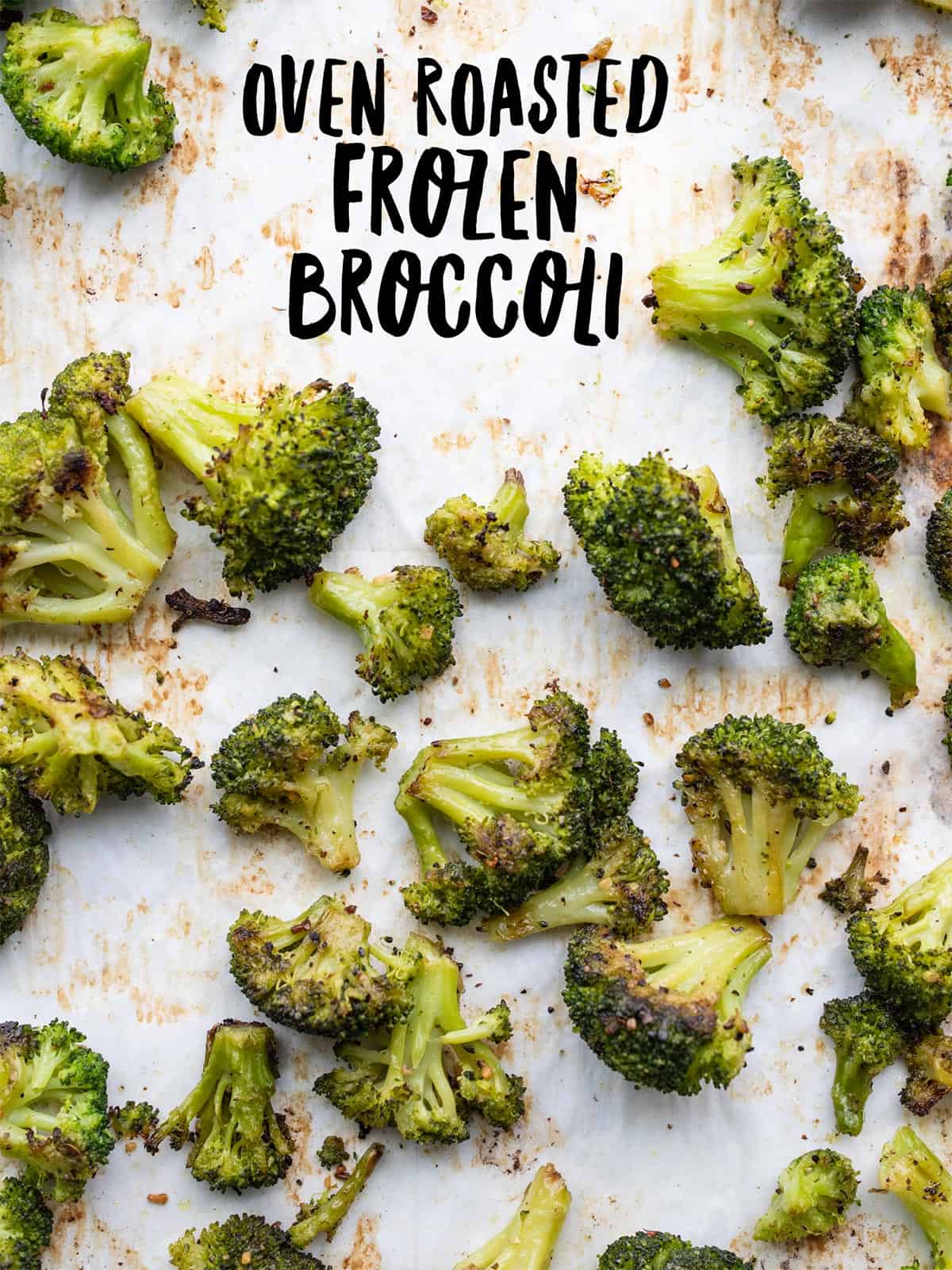 Why Roast Frozen Broccoli?
Not only is frozen broccoli generally less expensive than fresh broccoli, but it's already washed and chopped, which takes a lot of prep work out of your meal. And because frozen broccoli is blanched before it's frozen, it's already partially cooked, which means it takes less time to roast than fresh broccoli. It's seriously the easiest side dish ever and it goes with just about anything!
Is Roasted Frozen Broccoli Crispy?
Roasted frozen broccoli florets will not be quite as crispy as roasted fresh broccoli, but the edges of the florets still develop a nice gentle brown color that gives that slightly smoky roasted flavor. The inside of the broccoli florets maintains a nice level of moisture and a good amount of tooth/bite.
How Do You Keep it From Turning Out Wet?
Frozen broccoli can have a lot of ice on the outside, so it's really important that the broccoli florets are spaced out very well on the baking sheet. If they're crowded, the ice will not be able to evaporate well and your broccoli will turn out wet and mushy. You can also control the moisture level by roasting a bit longer, which again, allows for more evaporation.
What Do You Use to Season Roasted Broccoli?
I seasoned my broccoli with Montreal Steak Seasoning (coarse ground salt, garlic, pepper, red pepper), but you can customize the seasoning to be whatever your heart desires. I think lemon pepper would be great, as would chili powder, smoked paprika, and cumin. Play with it! :)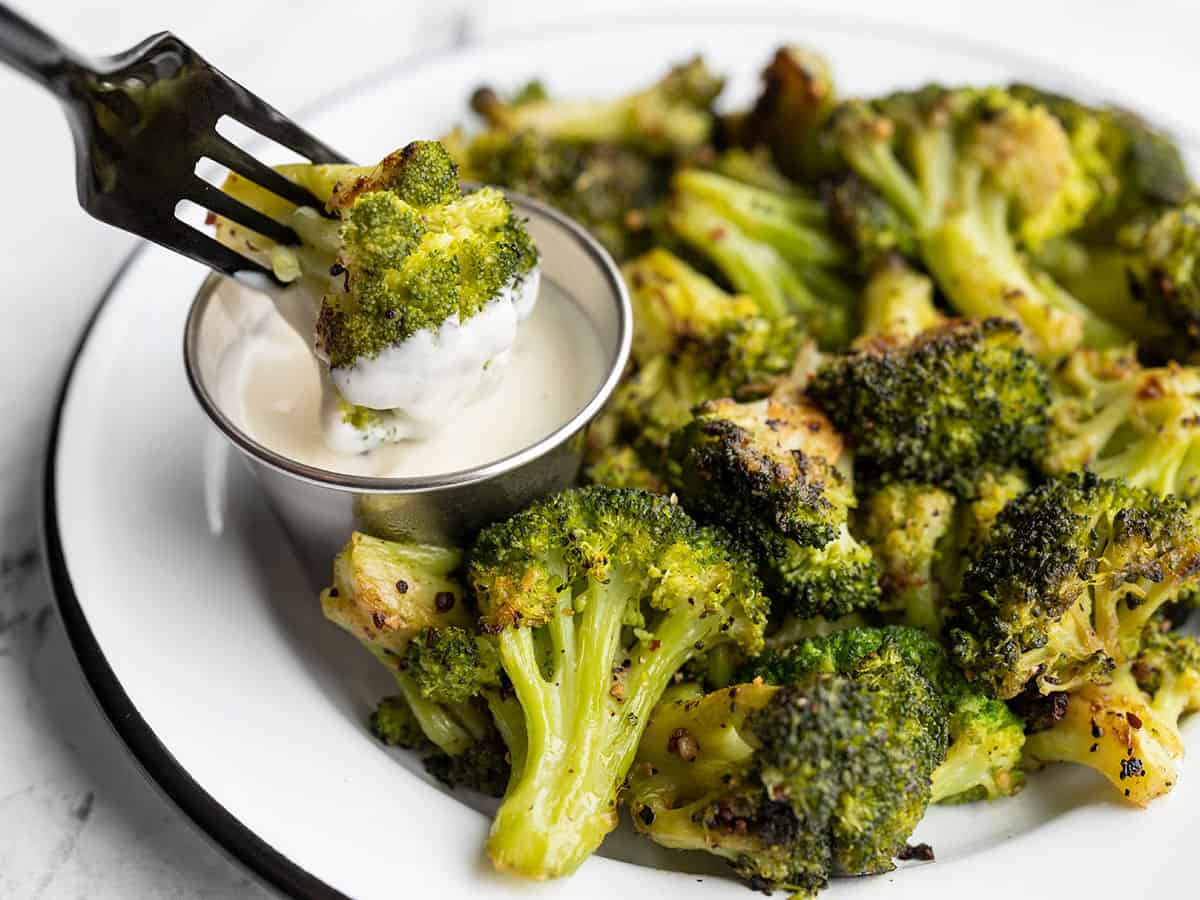 Oven Roasted Frozen Broccoli
Oven Roasted Frozen Broccoli florets is the fastest, easiest side dish that can go with just about any dinner!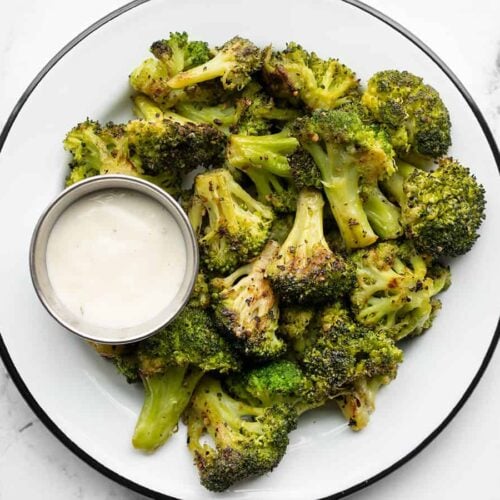 Instructions
Preheat the oven to 400ºF. Line a baking sheet with parchment paper. Spread the frozen florets out over the baking sheet (no need to thaw).

Drizzle the olive oil over the florets, then sprinkle the Montreal steak seasoning over top. Toss the florets in the oil and seasoning until everything is evenly distributed (it's okay if a lot of it falls onto the baking sheet, it will be stirred and redistributed again later).

Transfer the baking sheet to the oven and roast for 20 minutes. Take the baking sheet out and use a spatula to stir the broccoli and redistribute the oil and spices. Return the baking sheet to the oven and roast for another 10 minutes, or until the broccoli develops the amount of brownness desired. Serve hot.
See how we calculate recipe costs here.
---
Notes
I make this in small batches of 2-3 servings because it's best right when it comes out of the oven and it's so easy to prepare. The recipe can easily be doubled and will still fit on one sheet pan.
Nutrition
Serving:
1
Serving
Calories:
89
kcal
Carbohydrates:
5.45
g
Protein:
3.2
g
Fat:
7.1
g
Sodium:
402.45
mg
Fiber:
3.4
g
Read our full nutrition disclaimer here.
How to Roast Frozen Broccoli – Step by Step Photos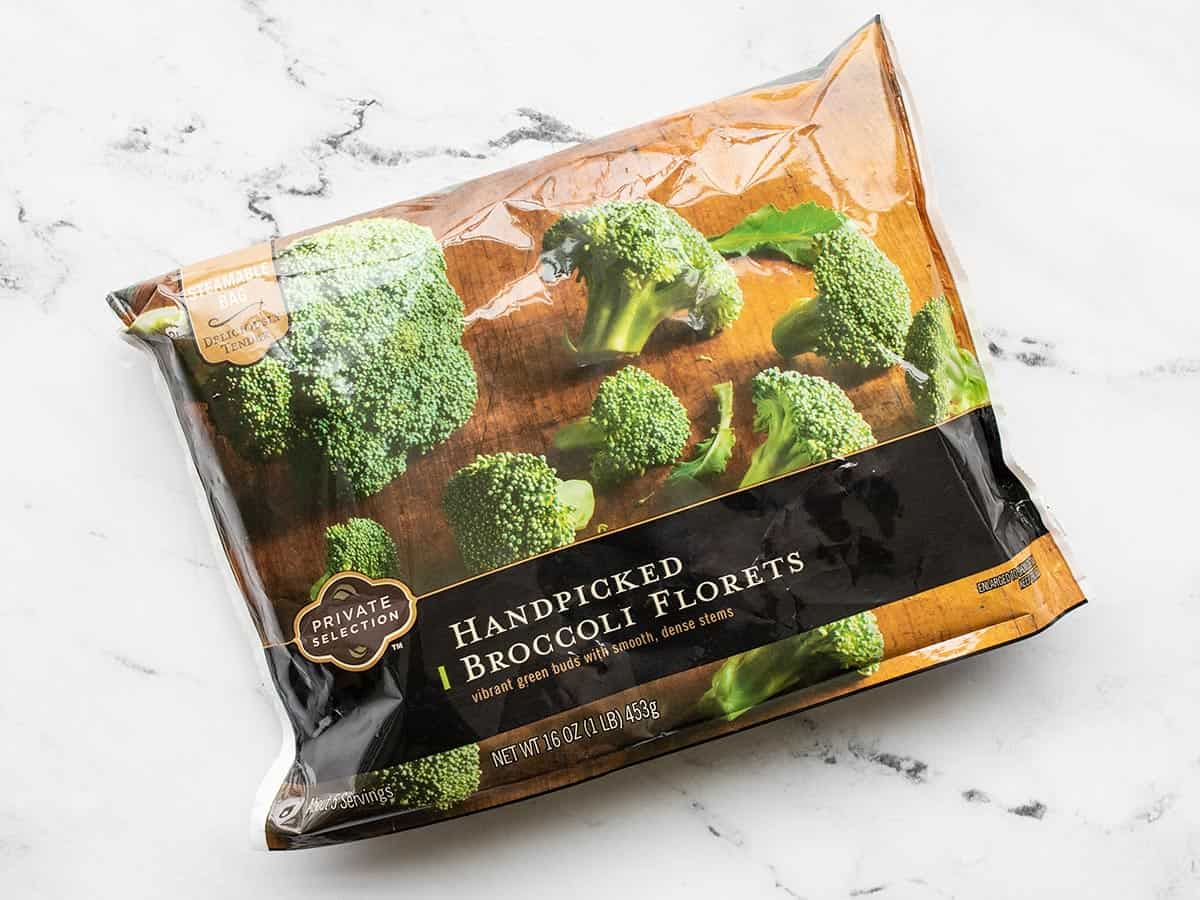 Make sure you buy "broccoli florets" and not "broccoli pieces" for this recipe. Broccoli pieces are usually at least half-stem pieces, which can be great for things like broccoli soup, but not as good for recipes like this. Preheat the oven to 400ºF before you begin so that it's fully up to temp before the broccoli goes in.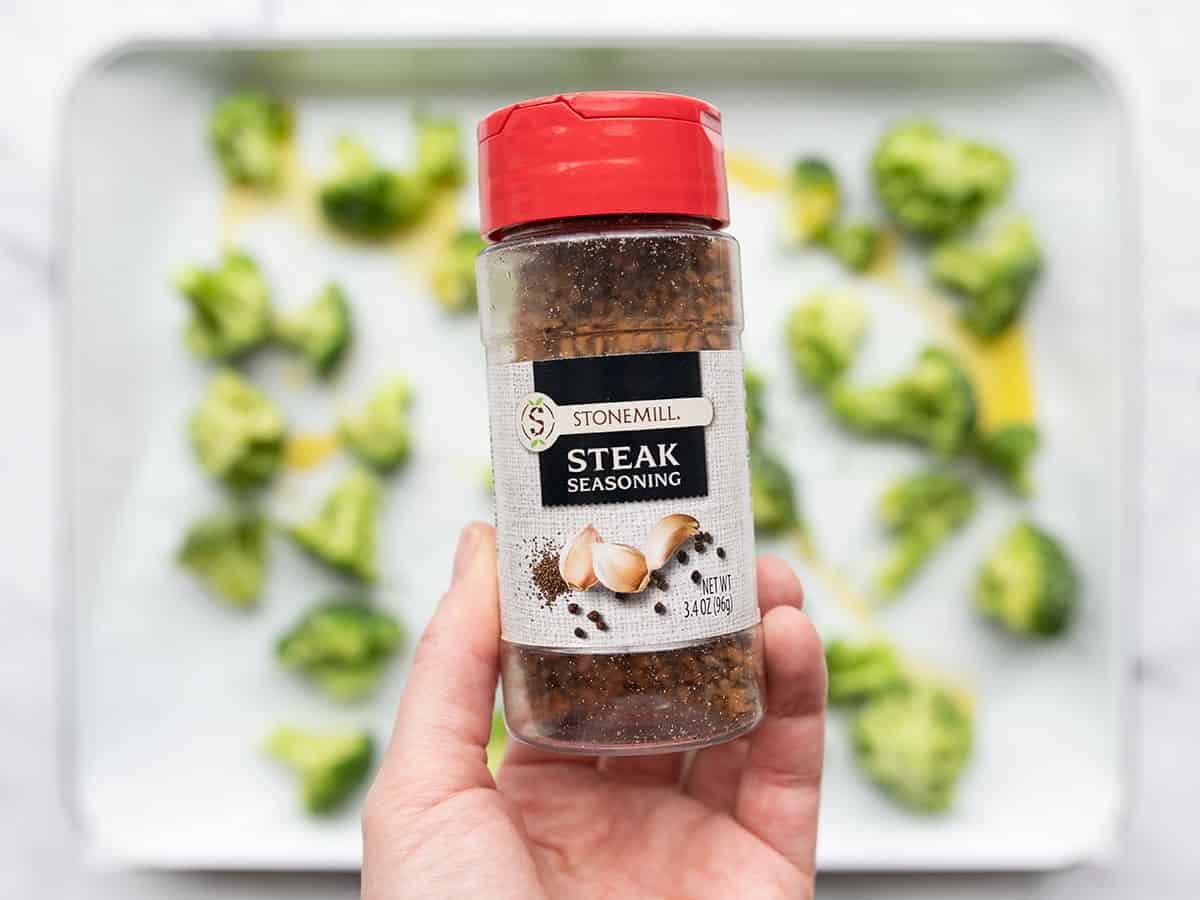 This is the steak seasoning I used. Some brands call it "Montreal Steak Seasoning" but it's basically a really coarse mix of salt, pepper, garlic, and a couple other spices. It's so delish! You can use this seasoning or any other seasoning blend for your roasted broccoli.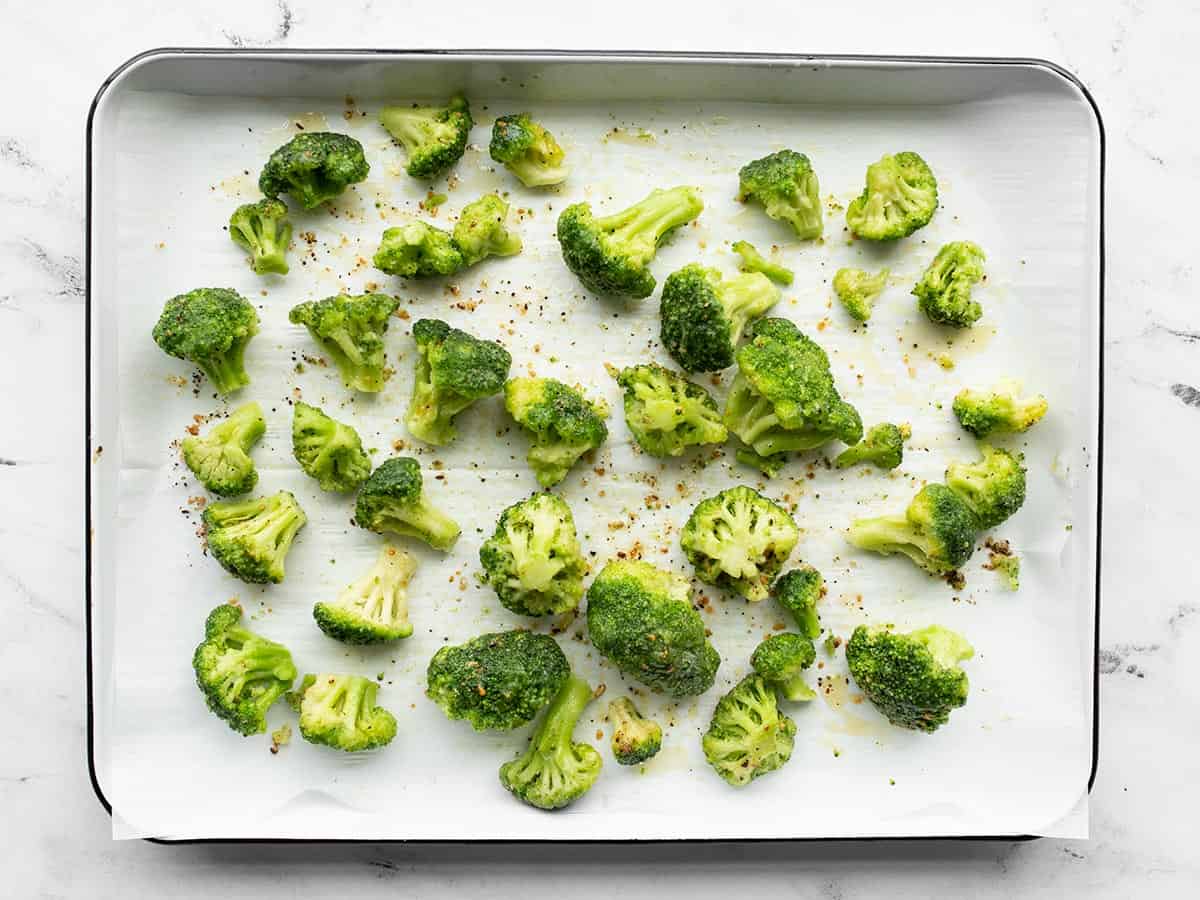 Line a baking sheet with parchment then spread the frozen broccoli florets out over the baking sheet. Drizzle with 2 Tbsp olive oil and 1/2 Tbsp steak seasoning. Toss the broccoli in the oil and spices to distribute them over the surface. It's okay if a lot of it ends up on the parchment instead of the broccoli because it will be stirred later and the seasoning will stick better then (as opposed to now when it's frozen).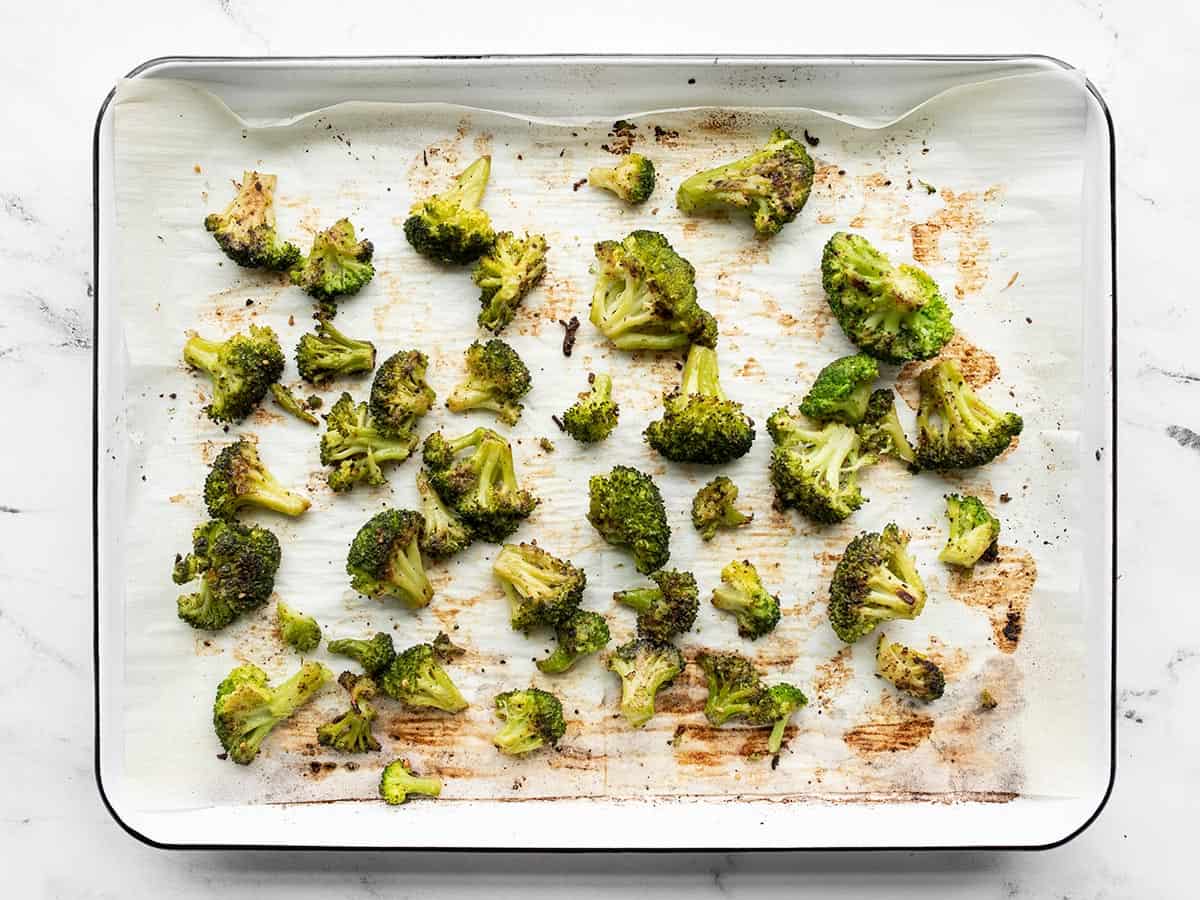 Roast the broccoli in the fully preheated oven for 20 minutes, then take the baking sheet out and give the broccoli a good stir. The spices should stick to the broccoli a little better now. Return the sheet to the oven and roast for another ten minutes, or until the edges are browned to your liking. Serve immediately.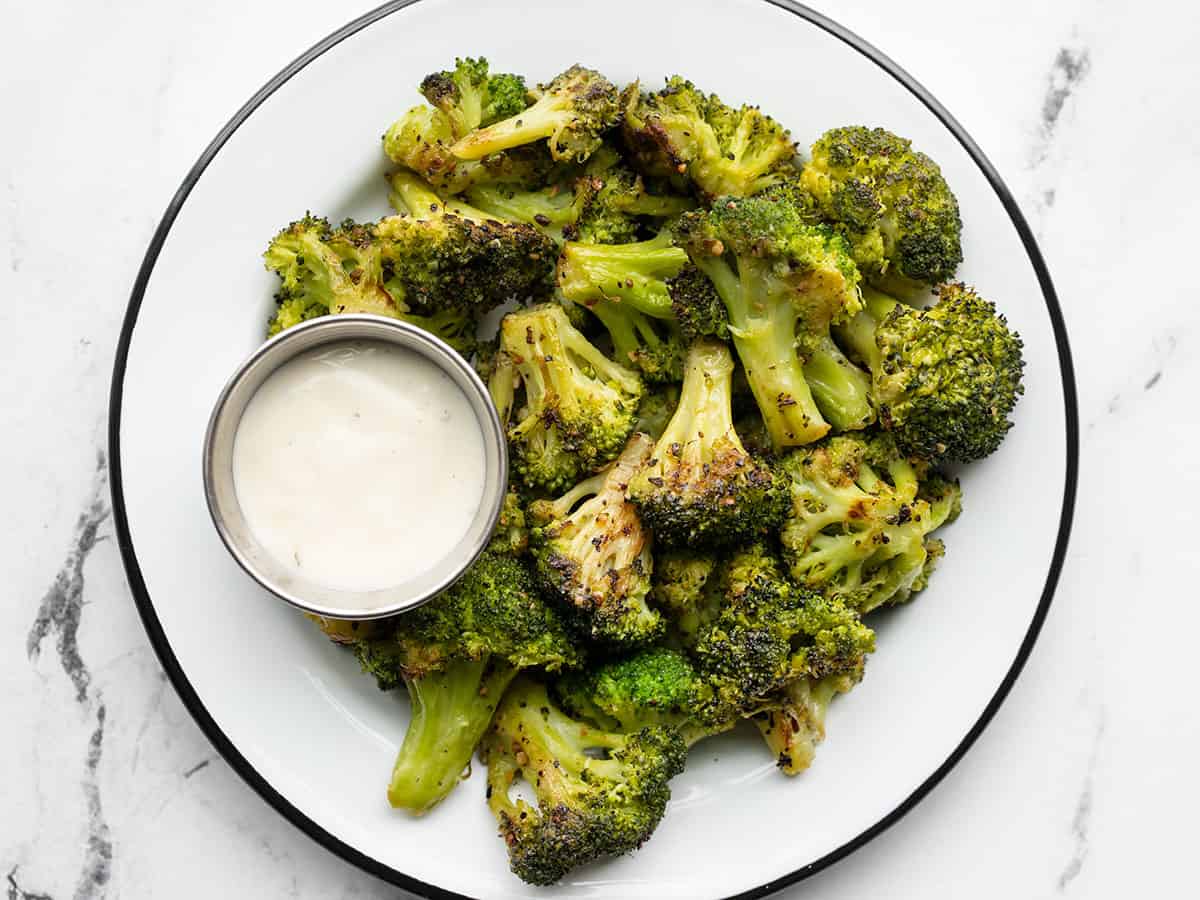 Enjoy as a side dish with your favorite meal, or just on its own with a little sauce for dipping! (pictured with ranch dressing)