Who doesn't love Broccoli Cheese Casserole?? This cozy homemade version doesn't contain any canned "cream of" soup and still comes together super fast and easy. Broccoli cheese casserole is a comfort food classic that is great as a Thanksgiving side, or just a tasty addition to dinner any night of the week. Plus, it's a great way to use up leftover rice from the night before!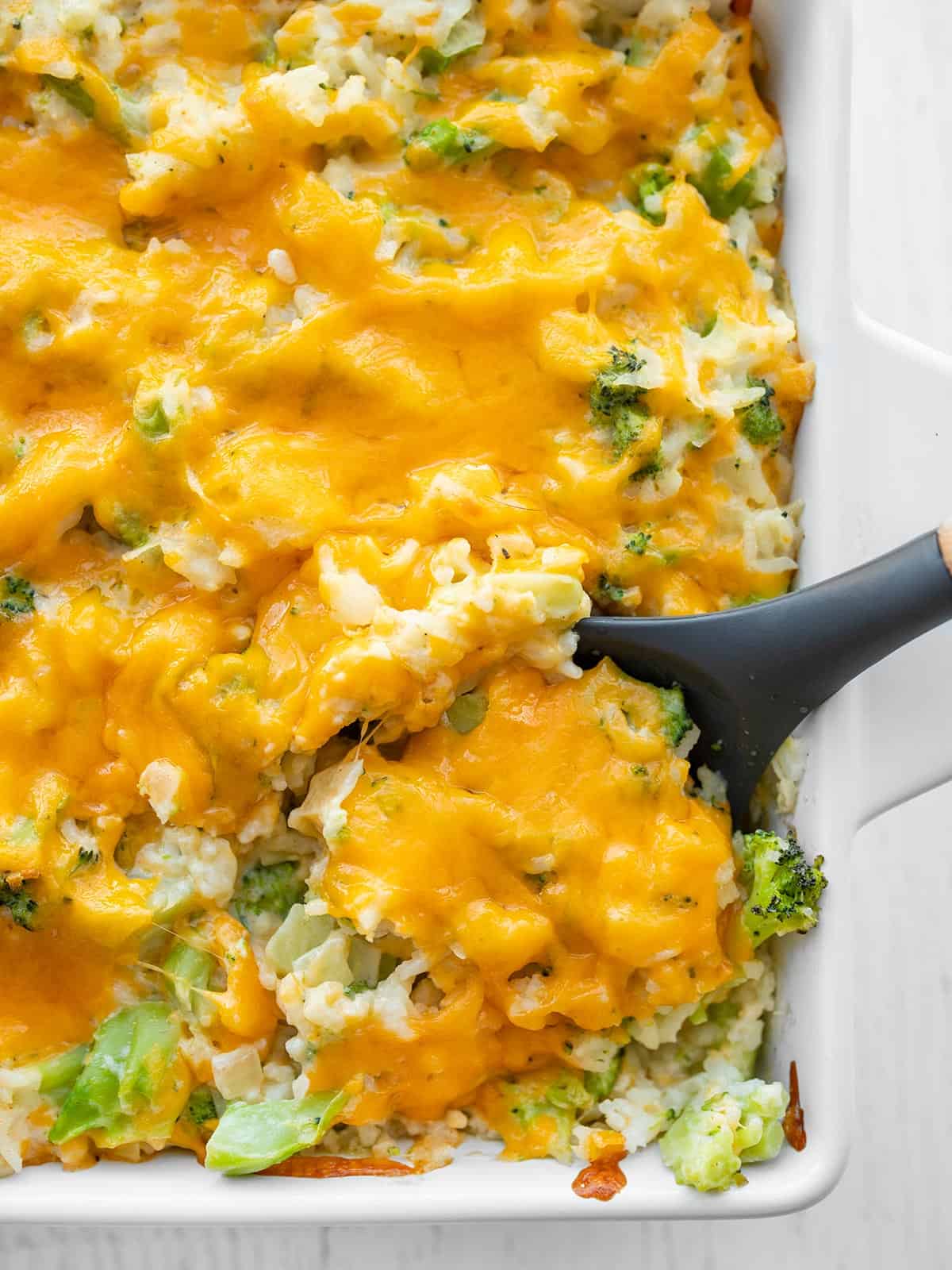 If you didn't grow up on broccoli cheese casserole, you're missing out! this super rich and cream casserole combines tender broccoli with cooked rice, a super cheesy sauce, and plenty of seasoning so that every bite is packed with flavor. But this isn't just any broccoli cheese casserole, we've skipped the condensed canned soup and made our sauce 100% from scratch. But don't worry, I promise it's still easy!
Ingredients for Broccoli Cheese Casserole
Here's what you'll need to make your own homemade broccoli cheese casserole:
Broccoli: We used frozen broccoli florets because it's super convenient. Not only is it already chopped (yay!), but it's also partially cooked, which makes the whole casserole come together so much faster.
Cooked Rice: Like fried rice, pre-cooked and chilled rice works best for this recipe because it absorbs more of the flavor from the sauce and prevents it doesn't get mushy. If you don't have rice on hand that is already cooked, allow time to cook some rice and allow it to cool before making this recipe. To cool your cooked rice faster, spread it out onto a baking sheet and place it in the refrigerator. The large surface area will help it cool quickly.
Cheddar Cheese: This is the "cheese" in the "cheese casserole"! Avoid using mild cheddar as it won't give as much flavor to your casserole. Aim for medium or sharp cheddar instead.
Garlic & Onion: Sautéed fresh garlic and onion give the casserole a deep savory base flavor.
Butter & Flour: Butter and flour combine to create a roux that thickens the cheese sauce.
Milk: Whole milk is the base for the creamy cheese sauce in the casserole. While you can use a lower fat milk, it will definitely affect the flavor and richness of the casserole.
Seasoning: The casserole is seasoned simply with smoked paprika, cayenne pepper, salt, and pepper so the flavor of the broccoli and cheese can take the main stage.
Can I Use Brown Rice?
Yes! I've made this broccoli cheese casserole recipe using both brown and white rice and it's delightful either way. Since you're measuring the rice after it has been cooked, no adjustments need to be made to the recipe below if you plan to use brown rice. Brown rice gives this broccoli casserole a slightly nutty flavor and a little bit more texture.
Can Broccoli Cheese Casserole Be Made Ahead of Time?
Yes, you can assemble this broccoli cheese casserole up to one day ahead of time, keeping it refrigerated until you're ready to cook. Because the casserole will be chilled when going into the oven, you may need to add an extra 20-30 minutes to the cooking time to make sure the casserole is heated through.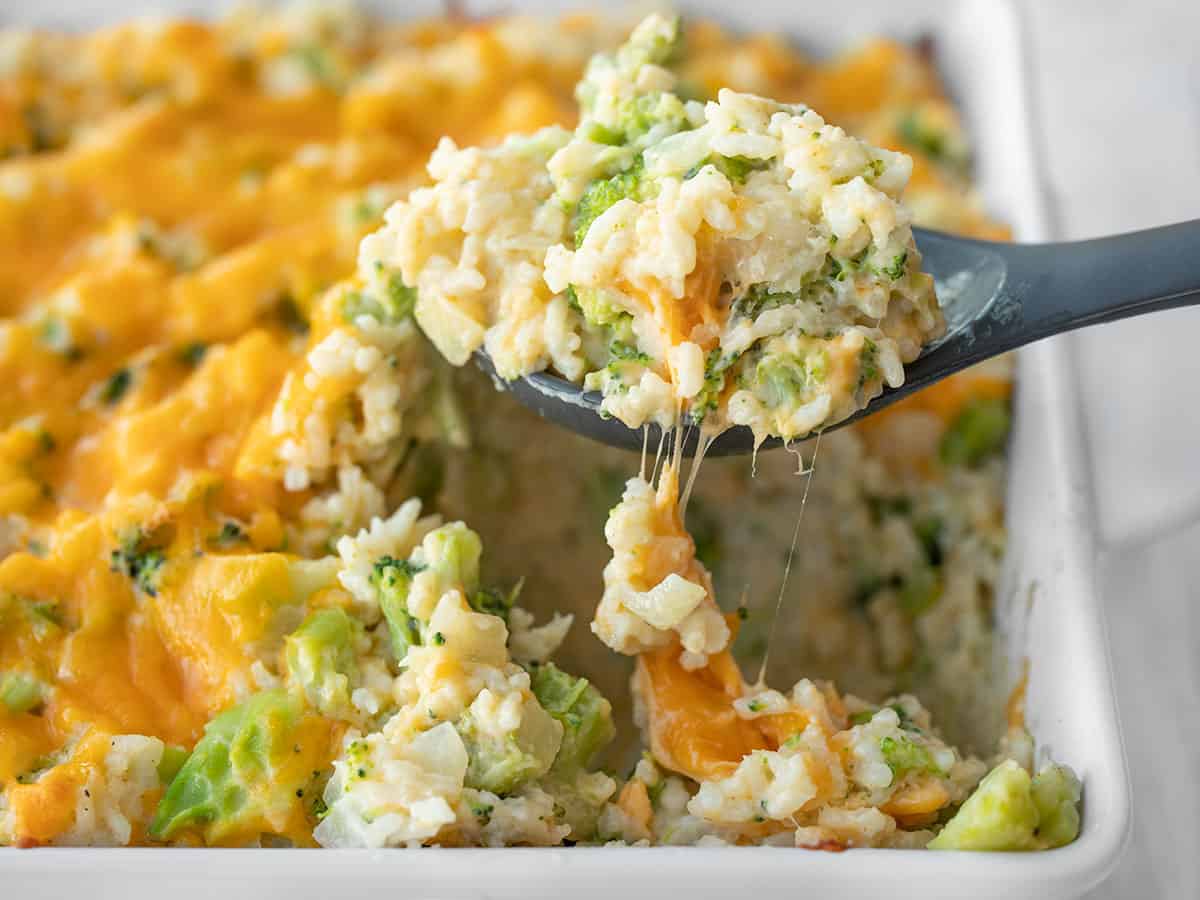 Broccoli Cheese Casserole
This Broccoli Cheese Casserole recipe is a classic side dish made with a creamy homemade cheese sauce, rice, and broccoli florets.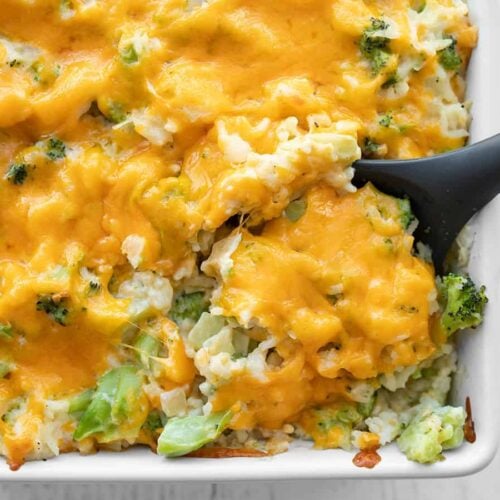 Ingredients
1

lb.

frozen broccoli florets

($1.99)

4

cups

cooked rice (white or brown)

($0.67)

2

cups

shredded cheddar cheese

($1.69)

1

yellow onion

($0.32)

2

cloves

garlic

($0.16)

3

Tbsp

butter

($0.42)

3

Tbsp

all-purpose flour

($0.03)

2

cups

whole milk

($0.75)

1/2

tsp

salt

($0.02)

1/4

tsp

smoked paprika

($0.02)

1/8

tsp

cayenne pepper

($0.01)

1/8

tsp

Freshly cracked black pepper

($0.01)
Instructions
Thaw the frozen broccoli, then chop it into smaller pieces. Add the chopped broccoli to a large bowl along with the cooked rice and about

1.5

cups of the shredded cheese (save the last

½

cup for topping the casserole).

Begin to preheat the oven to 350ºF. Finely dice the onion and mince the garlic.

Add the butter, onion, and garlic to a small saucepot and cook over medium heat until the onions are soft and translucent (2-3 minutes). Add the flour and stir until a paste forms. Continue to stir and cook the paste for about two minutes, or just until it turns a light golden brown.

Whisk the milk into the butter and flour mixture. Continue to whisk the mixture as it heats, allowing it to reach a simmer, at which point it will thicken to the consistency of heavy cream. Remove the sauce from the heat.

Season the sauce with the salt, smoked paprika, cayenne, and pepper. Taste the sauce and add more seasoning if desired. The sauce should be heavily seasoned because it will be spread out over the broccoli and rice, which contain no seasoning of their own.

Pour the sauce over the rice, broccoli, and cheese, and stir until everything is evenly coated in sauce. Spread the casserole mixture evenly into a 9×9 inch casserole dish. Top with the remaining shredded cheddar.

Bake the casserole for about 35 minutes, or until the cheese on top is melted and is slightly browned around the edges. Divide into six portions and serve.
See how we calculate recipe costs here.
---
Nutrition
Serving:
1
Serving
Calories:
438
kcal
Carbohydrates:
44
g
Protein:
17
g
Fat:
22
g
Sodium:
543
mg
Fiber:
3
g
Read our full nutrition disclaimer here.
Looking for a low-carb alternative? Check out my Cheesy Loaded Cauliflower Casserole.
How to Make Broccoli Cheese Casserole – Step by Step Photos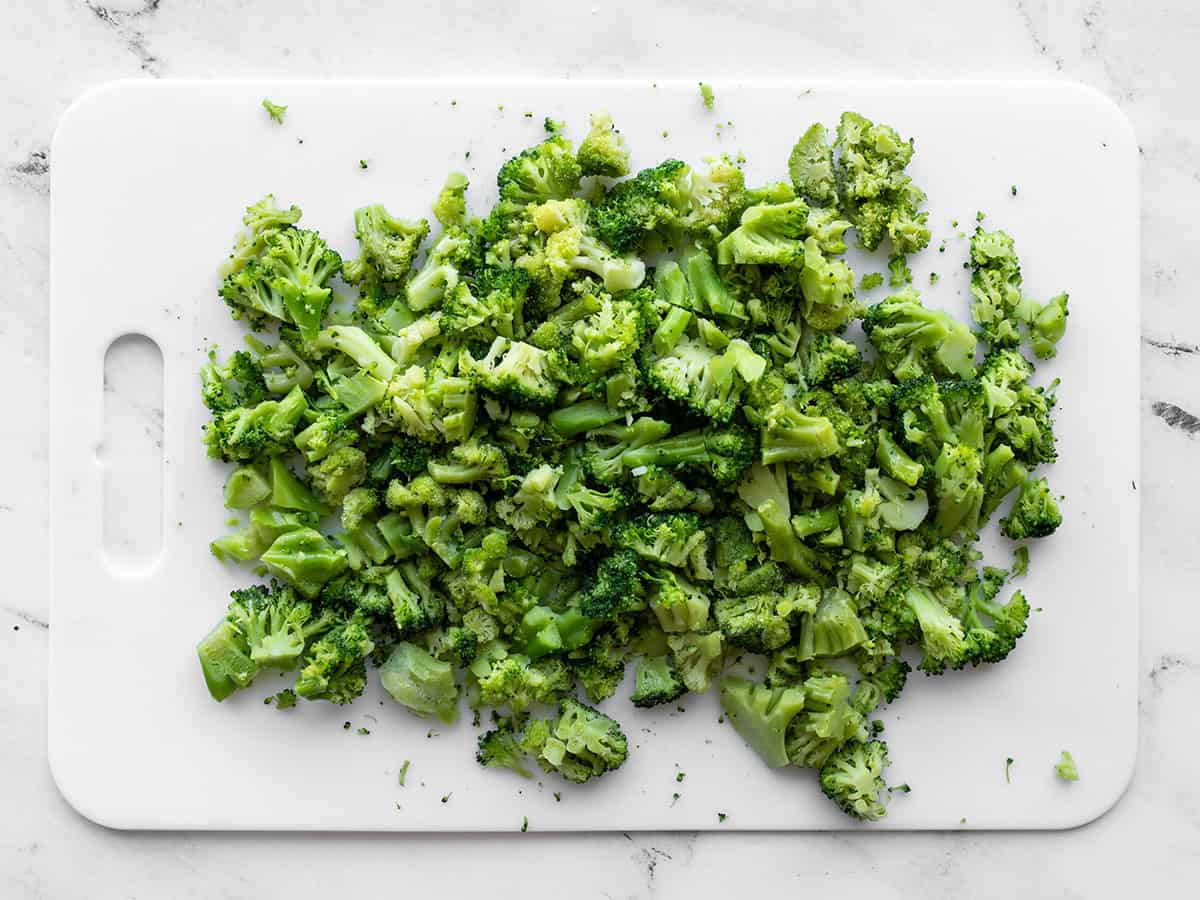 Preheat the oven to 350ºF. Thaw one pound of frozen broccoli florets, then chop them into smaller pieces.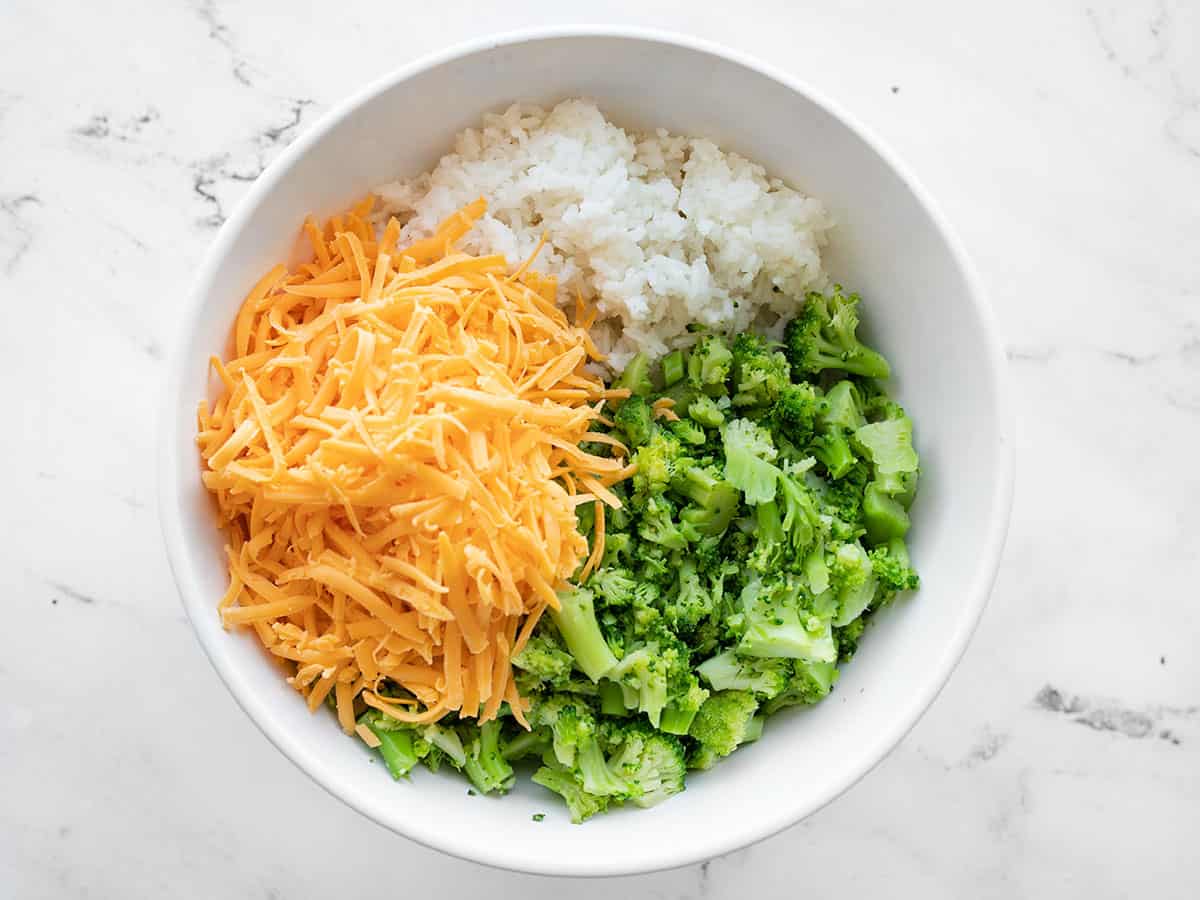 Add the chopped broccoli to a large bowl along with four cups cooked and cooled rice, and 6 oz. (1.5 cups) shredded cheddar cheese. Save the remaining ½ cup cheddar to top the casserole.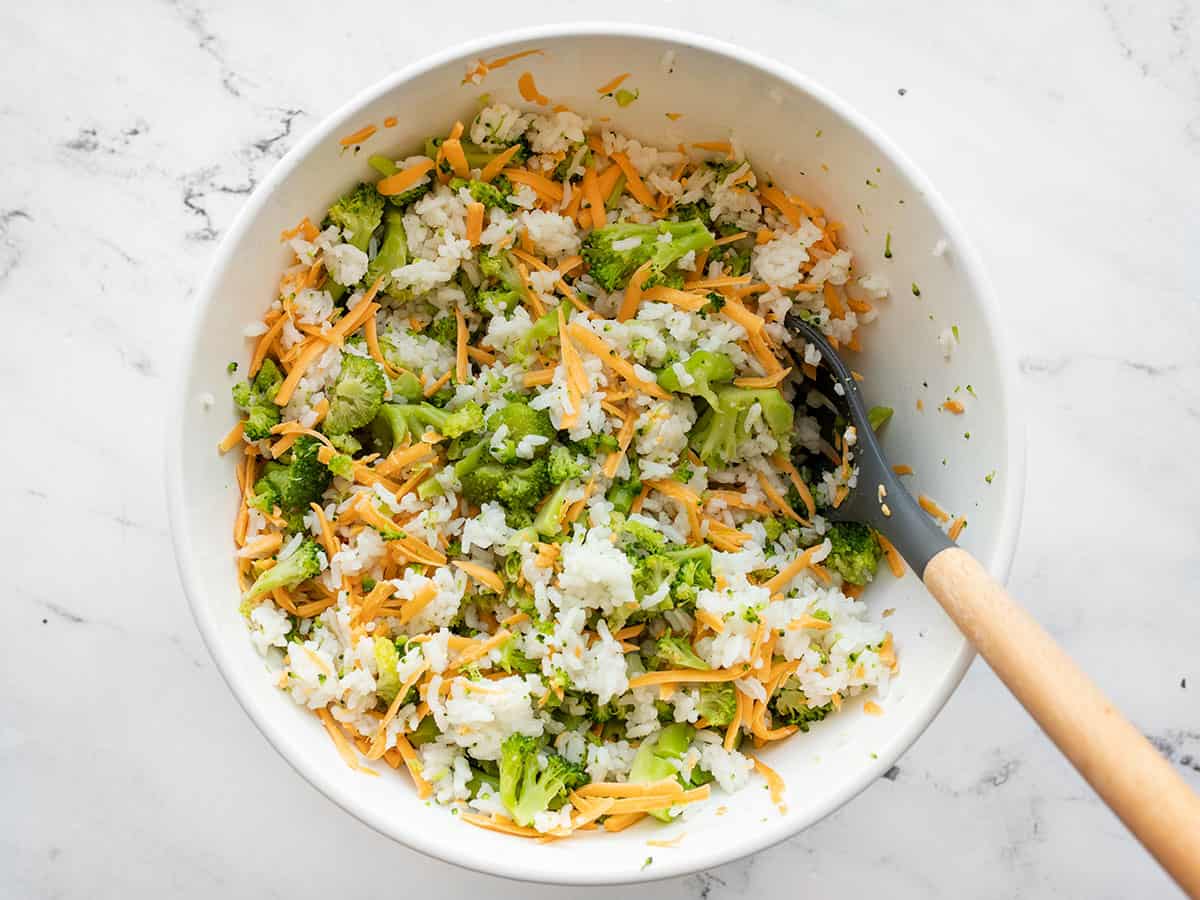 Stir the broccoli, rice, and cheese together until evenly combined, then set them aside.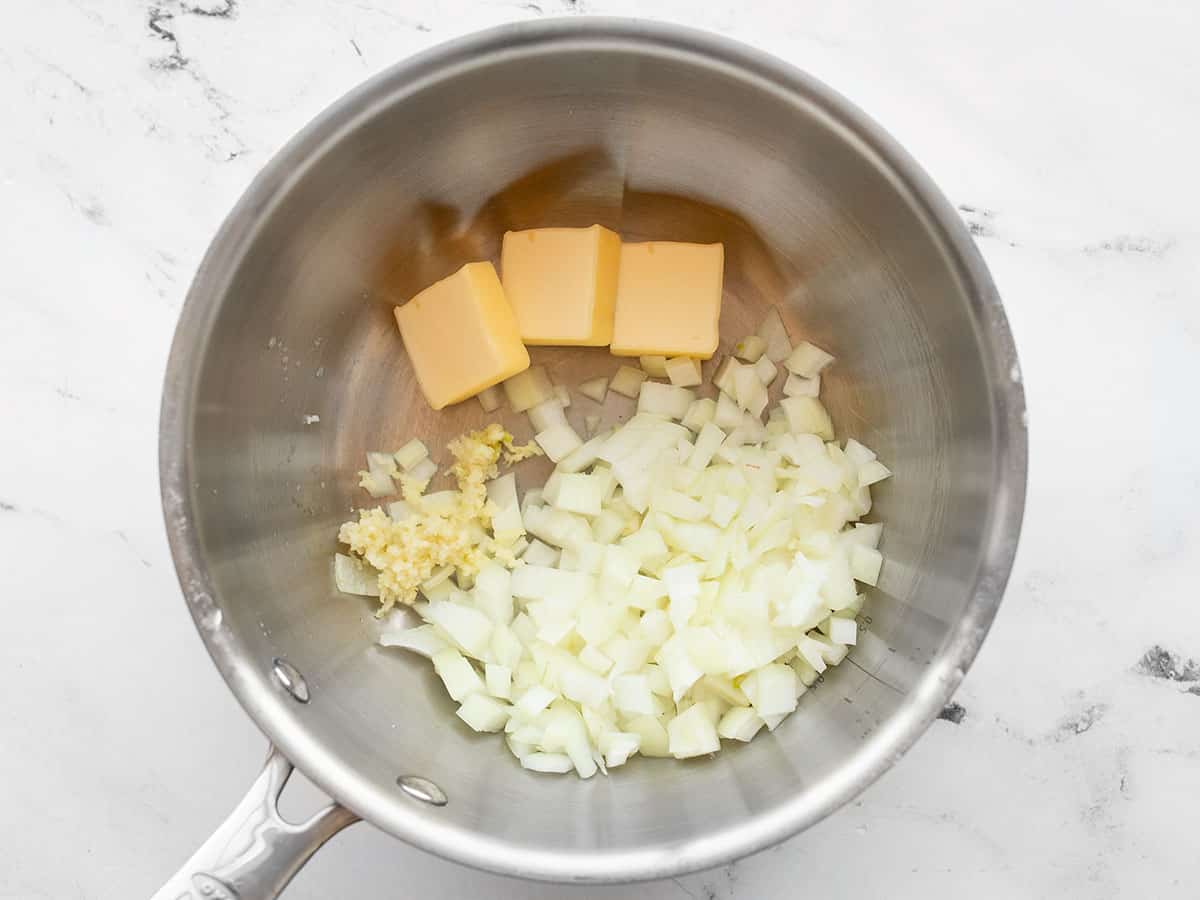 Next, begin the white sauce. Finely dice one yellow onion and mince two cloves of garlic. Add the onion and garlic to a saucepot with 2 Tbsp butter. Sauté the onion and garlic in the butter over medium heat until the onions are soft and translucent.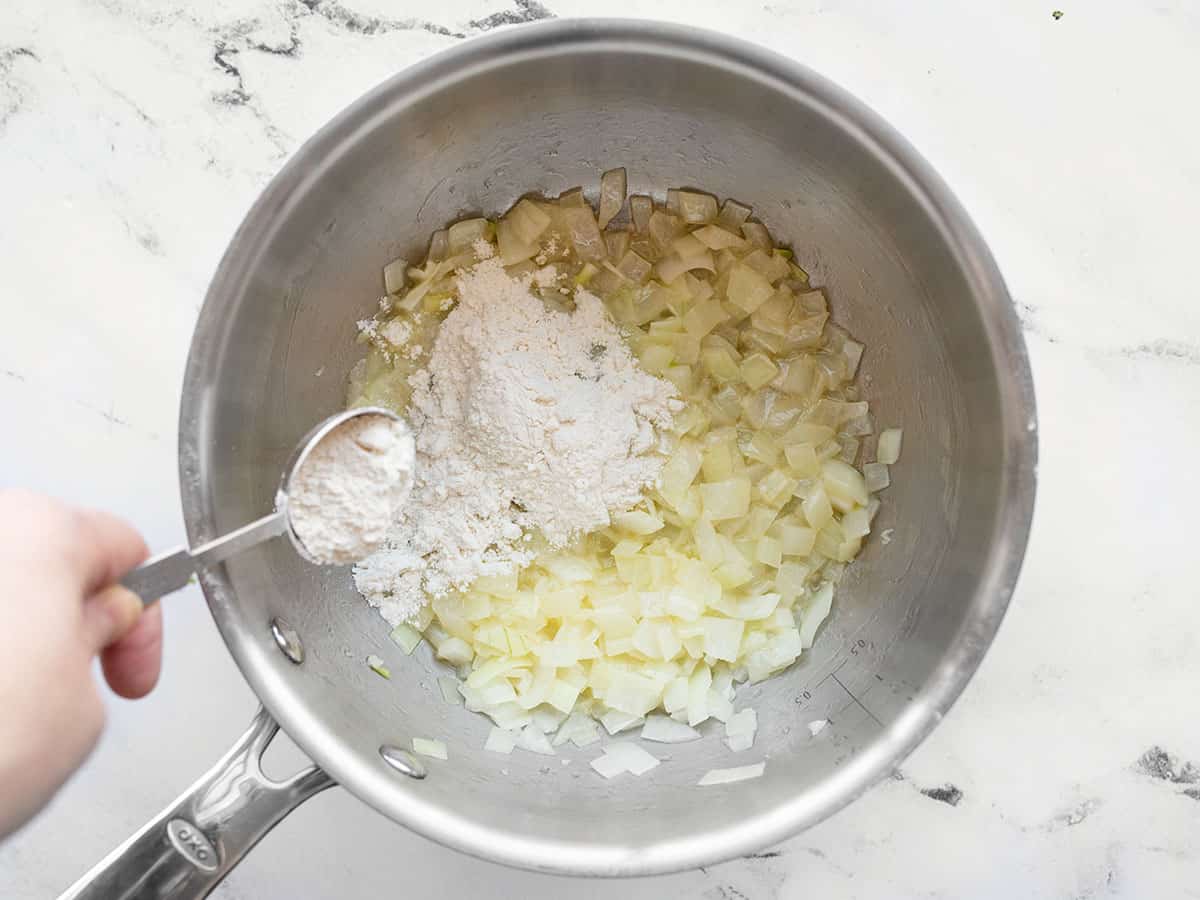 Add 3 Tbsp all-purpose flour to the cooked onions and garlic. Continue to stir and cook for about a minute more. The flour will form a paste with the butter.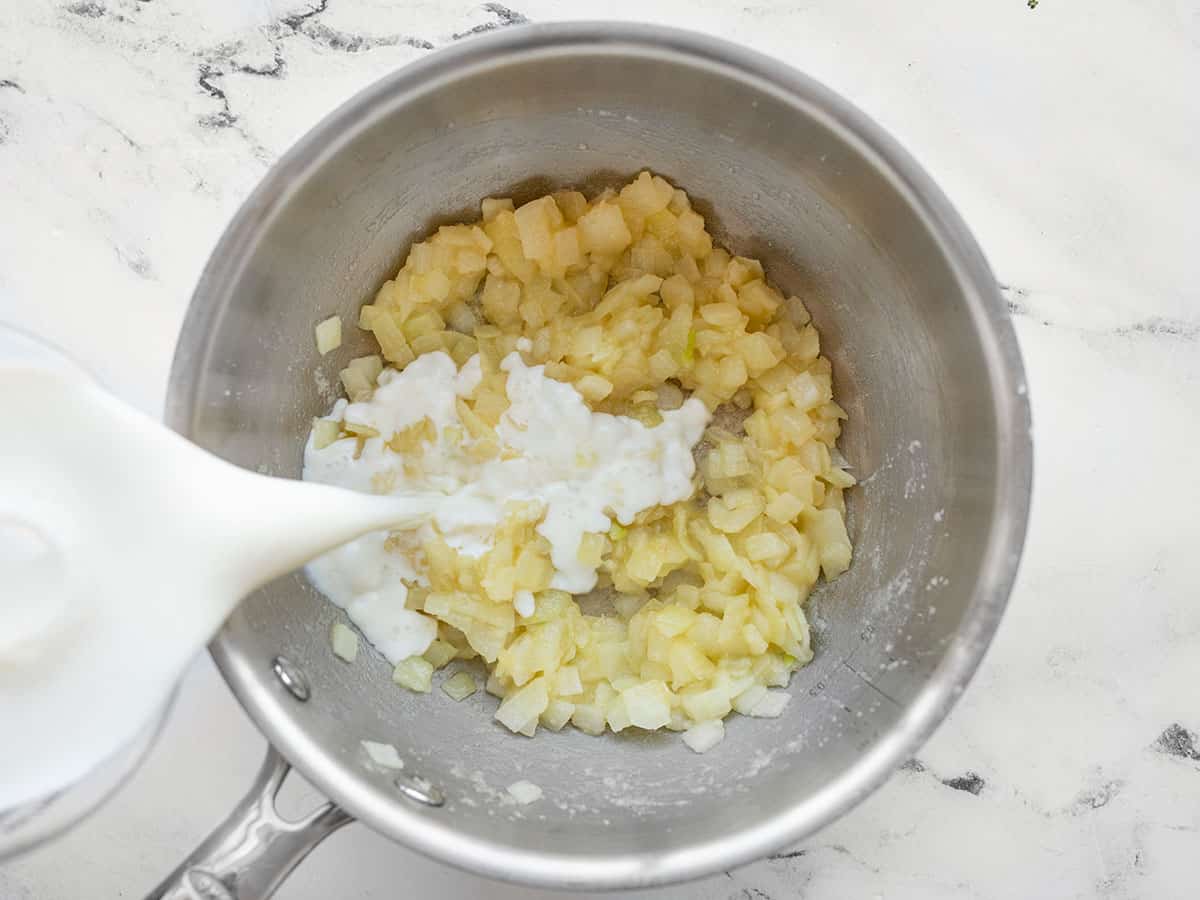 Pour two cups of whole milk into the saucepot and whisk until all the flour is dissolved into the milk. Continue to stir and cook until the milk begins to gently simmer, at which point it will thicken to the consistency of heavy cream.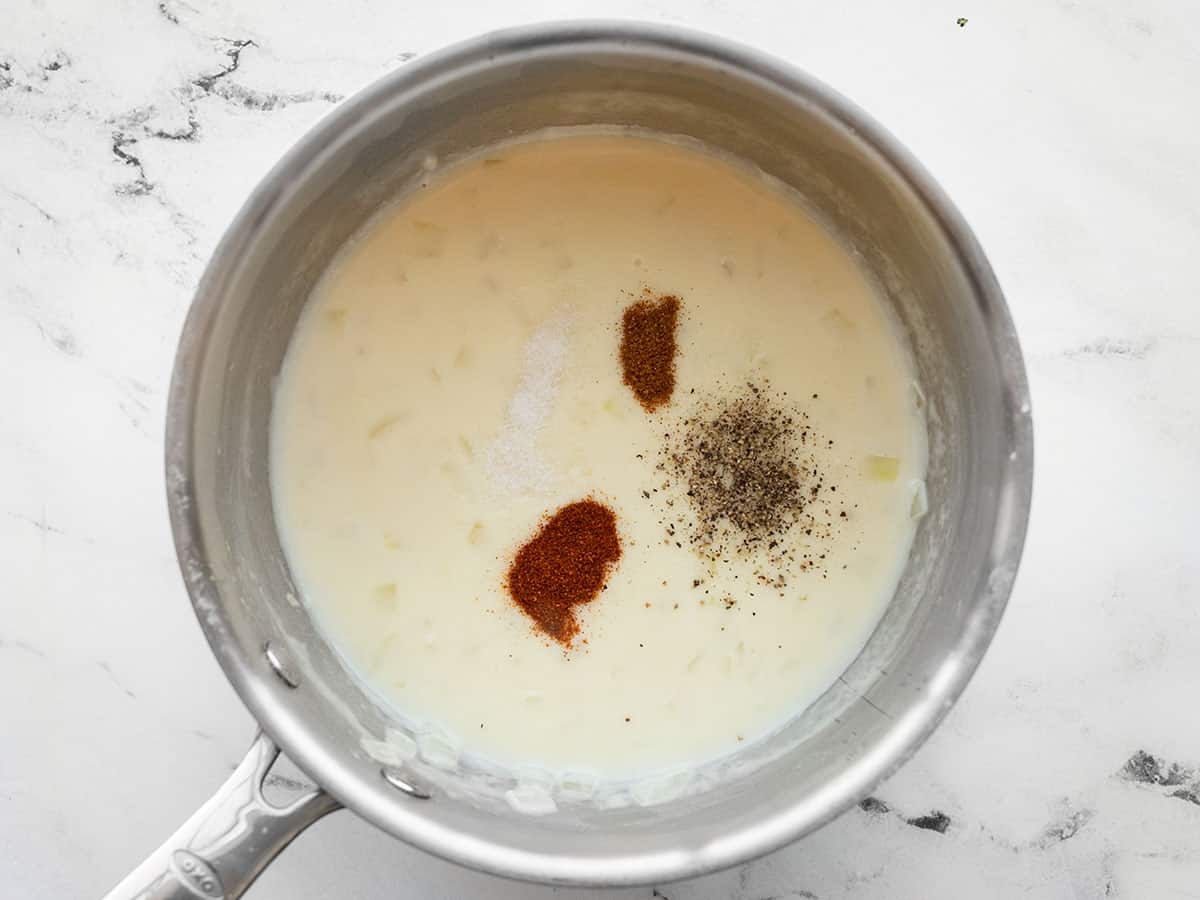 Season the white sauce with ½ tsp salt, ¼ tsp smoked paprika, ⅛ tsp cayenne pepper, and ⅛ tsp black pepper. Give the sauce a taste and adjust the seasoning if you prefer (it should be heavily seasoned).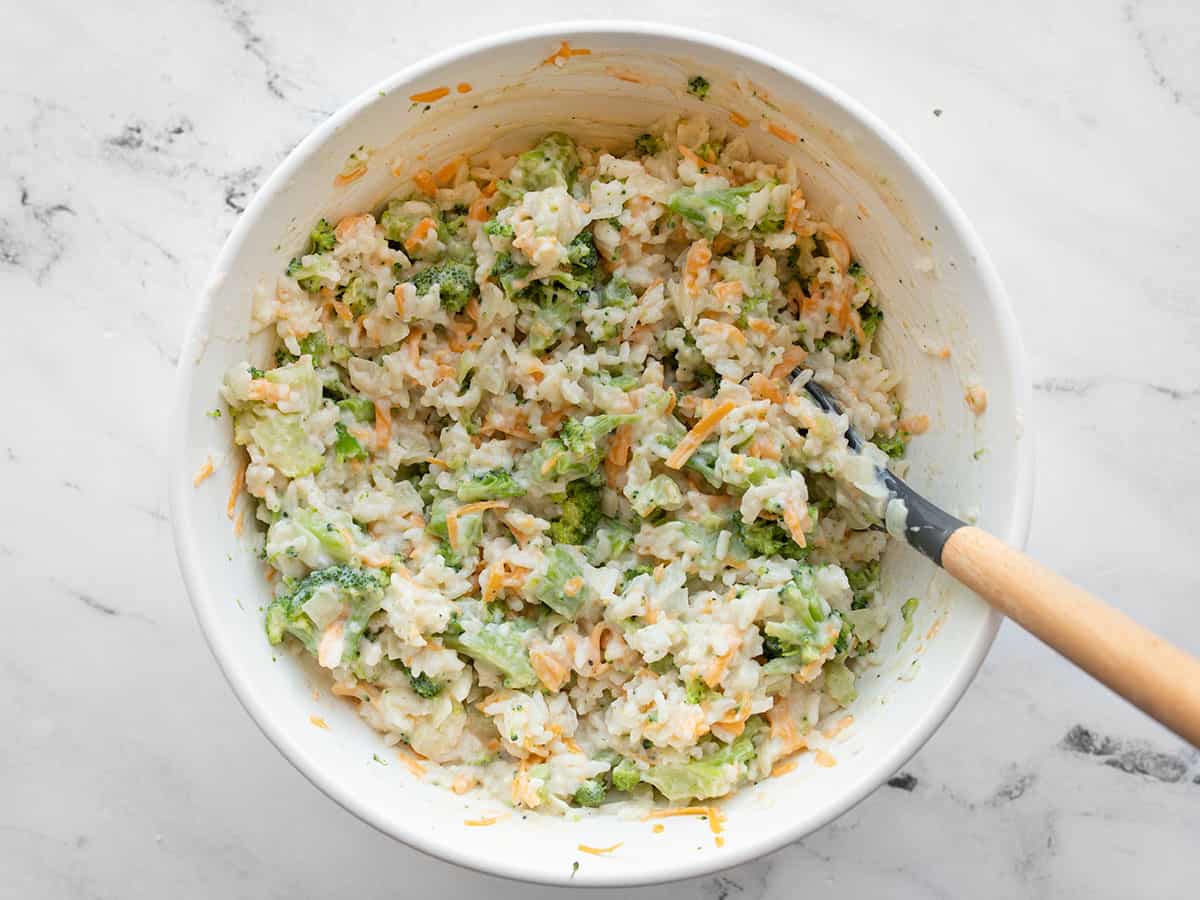 Pour the white sauce into the bowl with the broccoli, rice, and cheddar, then stir to combine.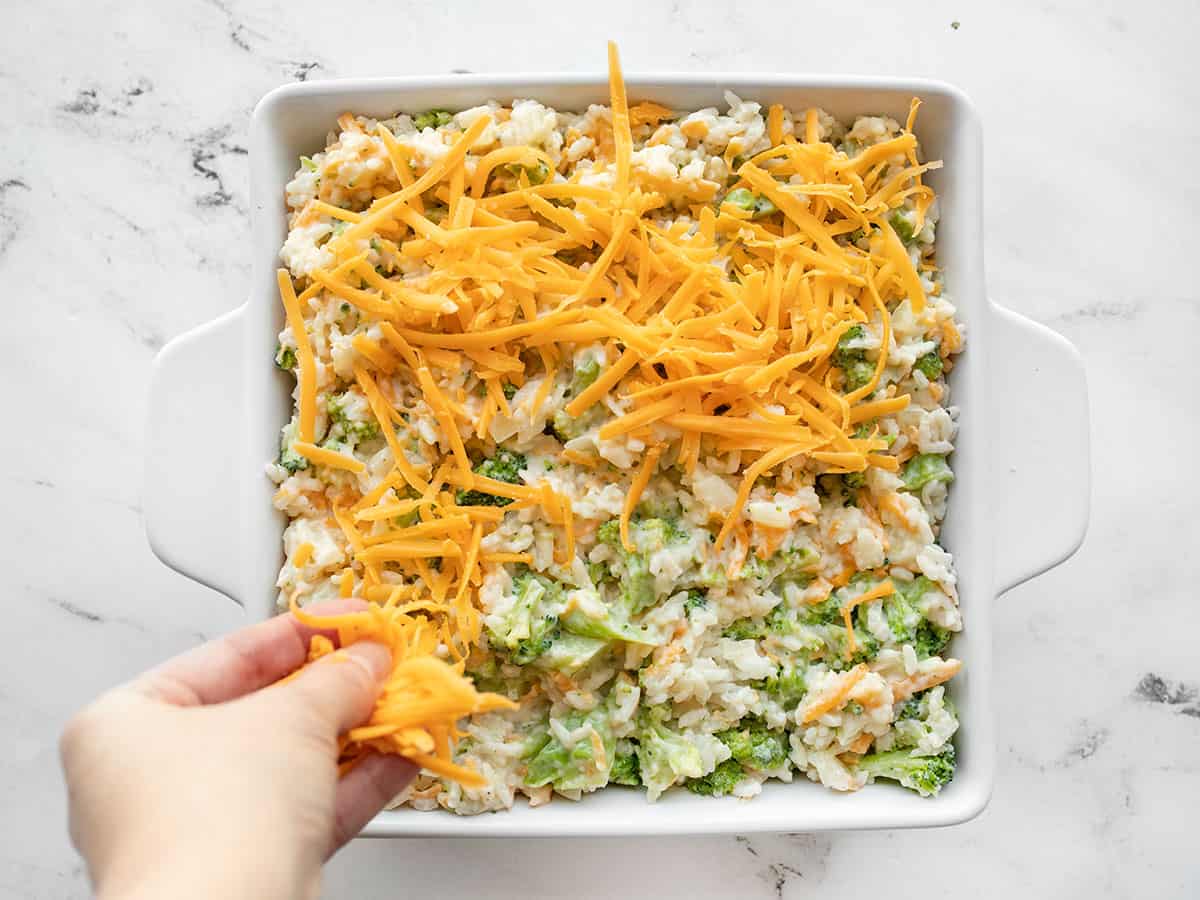 Transfer the broccoli rice mixture to a casserole dish (about 9×9 inches) and then add the remaining shredded cheddar on top.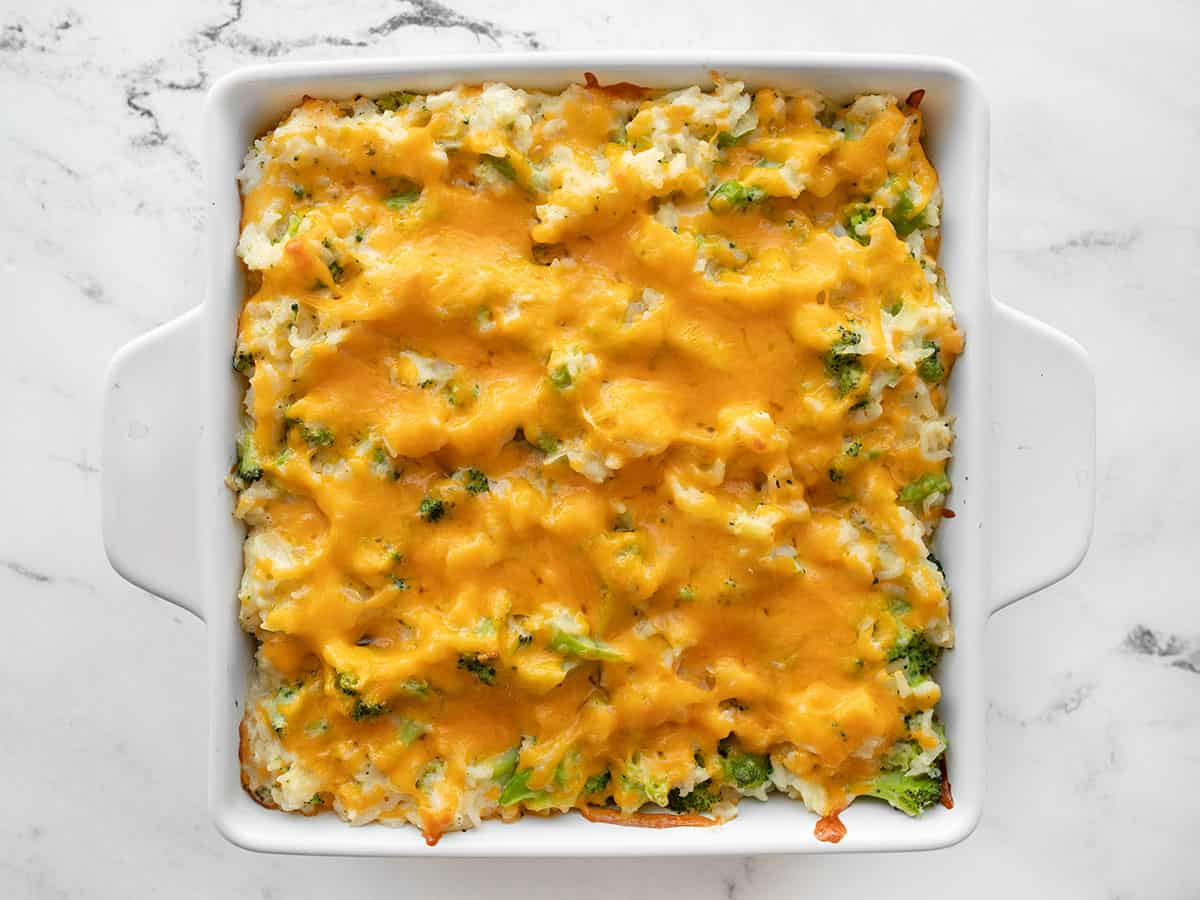 Bake the broccoli cheese casserole for 35 minutes, or until the cheese is melted on top and it's browned around the edges.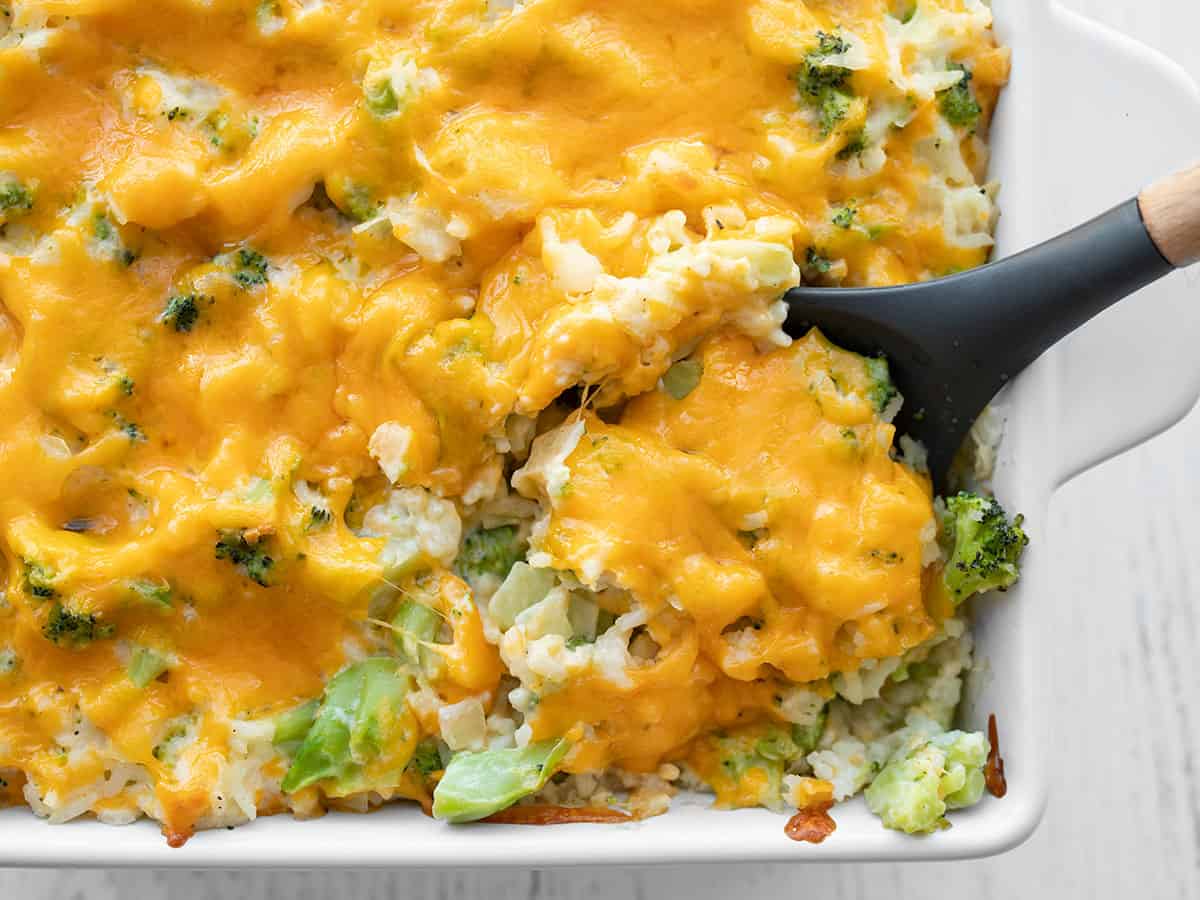 Serve hot and enjoy that cozy comfort!