My love for pizza runs deep. I like pizza in any form. From gourmet to frozen and deep dish to thin & crispy, I love it ALL.
I really enjoy making my own pizza dough, but let's be real – some nights that's just too much work. Enter the tortilla! I love tortillas and use them for everything. I don't remember the last time I bought a loaf of bread, but I always have tortillas in my fridge (I make them myself once in a while too).
With a quick five minute pre-bake, less than five minutes to top the pizzas, and then another brief five minute bake to finish them off, these incredibly delicious, thin & crispy pizzas will be ready to eat in 15 minutes. What more could you ask for? I made my pizzas vegetarian, but you could always use leftover grilled chicken breasts or some rotisserie chicken in place of the black beans. I also thought this would be amazing with some crushed pineapple (very, VERY well drained) and cilantro. So many possibilities! I can tell this is going to be my new favorite thing! Woot!
The other awesome thing about this recipe is that you can keep all of the ingredients in your fridge and just bake up one or two at a time. The ingredients below are enough for 8 pizzas, but make as many as you want!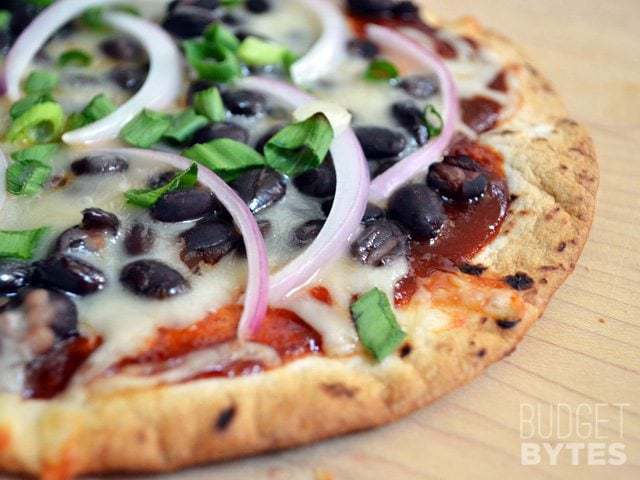 BBQ Black Bean Pizzas
These thin & crispy BBQ Black Bean Pizzas are ready in about 15 minutes and will blow your tastes buds away.
Ingredients
8

fajita size flour tortillas

($1.43)

3/4

cup

BBQ sauce

($0.99)

1

15oz. can

black beans

($0.63*)

2

cups

shredded monterrey jack cheese

($2.39)

3

whole green onions

($0.33)

1

small red onion

($0.44)
Instructions
Preheat the oven to 400 degrees. Place the tortillas on a wire cooking rack and transfer the rack into the oven. Bake for 5 minutes, or until the tortillas have stiffened slightly, but are not yet crisp. If making more than two pizzas at once, you'll need to do this in batches.

While the tortillas are pre-baking, thinly slice the red and green onions. Leave the tortillas on the cooling rack while adding the toppings. Top each pizza with 1-1.5 tablespoons of BBQ sauce, 1/4 cup of black beans (well drained), 1/4 cup shredded cheese, and a light sprinkle of both red and green onions.

Transfer the cooling rack and topped pizzas back into the oven for an additional 5 minutes, or until the edges are golden brown and crispy, and the cheese is melted and bubbly. The tortillas might still be slightly soft after five minutes, but will crisp up after removing them from the oven.
See how we calculate recipe costs here.
---
Notes
*I used black beans that I cooked from dry in my slow cooker.
If you don't have a wire cooling rack, pre-bake the tortillas on a baking sheet and then cook the topped pizzas directly on the oven rack. Use a wide spatula to transfer them in and out of the oven. (See photos below)
Nutrition
Serving:
1
Serving
Calories:
428.66
kcal
Carbohydrates:
50.2
g
Protein:
17.66
g
Fat:
17.1
g
Sodium:
1748.63
mg
Fiber:
8.24
g
Read our full nutrition disclaimer here.
Step by Step Photos
This is all it takes to make some super quick and delicious pizzas! Most of this I already had on hand. The fajita-sized tortillas are bout 6-8 inches in diameter.
Preheat the oven to 400 degrees and then pre-bake the tortillas for about five minutes. This will stiffen them up just enough so that they can be topped and put back in the oven without being all floppy. I pre-baked mine on a baking sheet and the baked the topped pizzas directly on the oven rack. That was a bit tricky, though, and while they were baking I thought about this…
If you have a wire cooling rack, it is perfect for allowing the bottom to crisp up while giving the pizza enough support with the heavy toppings. It will also make them easy to transport in and out of the oven. The wires on the cooling rack are closer together than the wires on the oven rack, which will help prevent the edges from falling through and dripping sauce and cheese onto the floor of the oven.
Anyway, after the tortillas are baked for a few minutes, spread some BBQ sauce on top. You'll want about one to 1.5 tablespoons of BBQ sauce per pizza.
Then sprinkle about 1/4 cup of WELL DRAINED black beans on each pizza. You want to make sure they're not dripping wet because the more moisture there is on top of the pizzas, the heavier they'll be and the less the tortilla will hold up.
Then add about 1/4 cup of shredded cheese to each. One thing I learned back when I made pizzas for a living is that you always need less cheese than you think. Sprinkle it on sparingly, so that you can still see the sauce underneath. Once it melts, it will cover sufficiently. Cheese is usually one of the most expensive pizza toppings, so this is a trick that most commercial pizzarias use.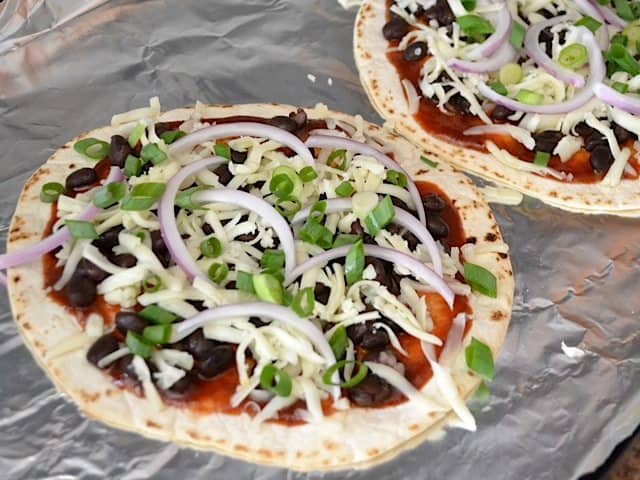 Lastly, add your onions. Now, I baked my pizzas directly on the oven rack so that the bottom would crisp up, but the cooling rack is a much better option. I had to use a wide spatula to transfer the pizzas from the baking sheet into the oven, which was tricky because they were not yet completely crisp.
The wires of the oven rack were kind of far apart and the sides of the pizzas kind of fell down in as they baked. If I had thought of the wire cooling rack before, it would have been much easier. Anyway. Bake for about five minutes more (still 400 degrees), or until the edges are nicely golden brown and the cheese is melted and bubbly.
And then they're freakin' gorgeous and equally as delicious! The tortilla are still a bit flexible when you take them out, but within a minute or so of taking them out of the oven that steam evaporates and they crisp right up.
Proof that it was crispy! No bending or flopping with this tortilla pizza! OMG, it was so delish.
This was a TOTAL WINNER. It's all too easy to eat two of these, so you might want to think ahead and make a side salad :P