Vegetarian Mustard Greens
Let's talk about greens for a minute. Hearty greens, like mustard greens, collard greens, turnip greens, and sure, kale too. These are some of the few vegetables that actually benefit from what would normally be considered over cooking. Simmering these vegetables low and slow makes them become soft, drab green, and honestly pretty ugly. But guess what? They taste soooo good! And while they're usually cooked along with a piece of smoked meat for extra flavor, you can also make a really rocking pot of vegetarian mustard greens.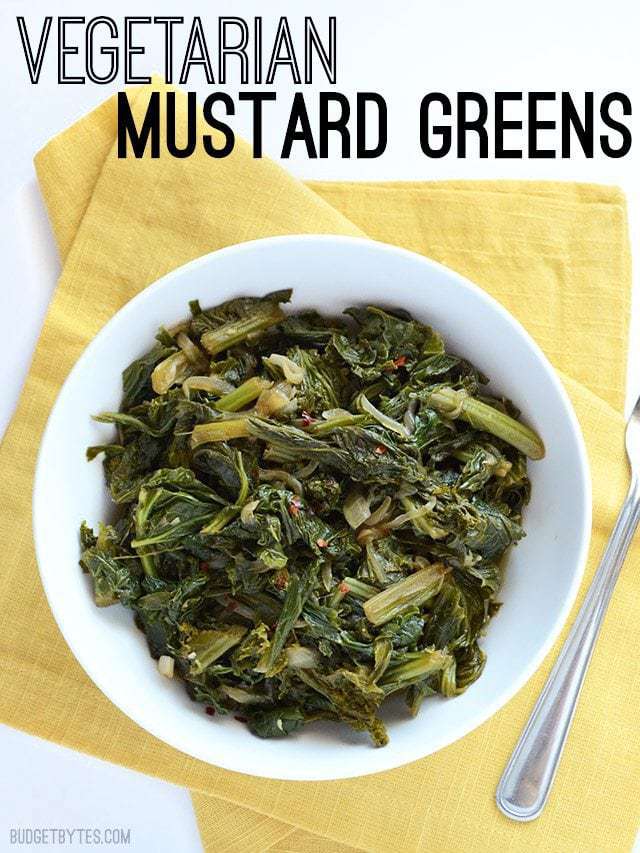 What Do Mustard Greens Taste Like?
Mustard greens are part of a group of greens often referred to as "bitter greens" but as the greens simmer they become super tender, the bitterness mellows, and they take on almost rich flavor. Usually mustard greens, collard greens, and other hearty greens are cooked with some sort of salted pork, but you can still make a deep, smoky, rich pot of greens without the meat. A little bit of sugar is added to the greens to take the bitterness down just a little more, and the end result is a buttery rich and tender green that you'll want to eat by the forkful.
How to Flavor Vegetarian Mustard Greens
To make sure these greens have maximum flavor without using smoked meat, I tossed in a hefty spoonful of smoked paprika for the smoky pork flavor, simmered them in vegetable broth for a extra depth, added a dash of sugar to balance the natural bitterness, and tossed in a pinch of red pepper flakes 'cuz I love that kick! If you're tempted to leave out the sugar, I'm going to have to plead with you not to do so on this one. It really makes a world of difference in the overall flavor.
Are Mustard Greens Good For You?
You might think that because these greens are cooked down for so long that maybe they've lost all their nutrients. On the contrary! Some nutrients, like fiber and minerals don't get "cooked out" and mustard greens are full of a lot of these nutrients like iron, calcium, magnesium, and fiber.
What to Serve with Mustard Greens
I love mustard greens with anything BBQ flavored, so you can try them with BBQ Tofu Sliders, Loaded Mashed Potato Bowls, or BBQ Beef an Beans. I also love adding mustard greens to a big bowl of mac and cheese! Something about the creamy cheese and the greens just goes so well together.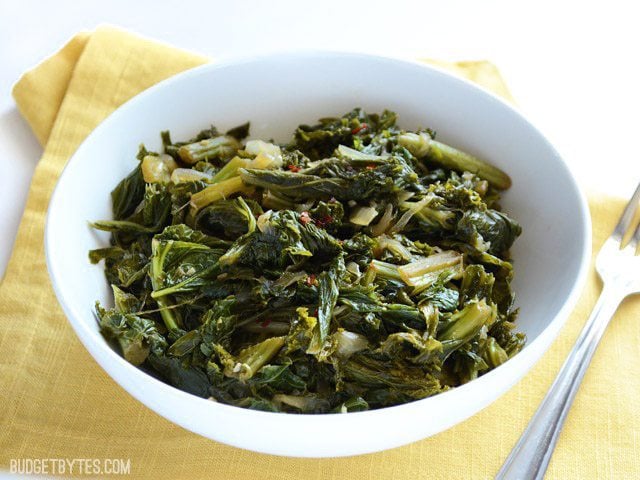 Vegetarian Mustard Greens
Delicious and smoky mustard greens can be made meat free! Simmering in smoked paprika and vegetable broth gives these greens a deep, rich flavor.
Servings: 6
Ingredients
1 Tbsp olive oil ($0.16)
1 yellow onion ($0.37)
2 cloves garlic ($0.16)
2 cups vegetable broth* ($0.26)
1 lb. fresh mustard greens, stemmed and cut ($2.99)
1/2 Tbsp smoked paprika ($0.15)
1/2 Tbsp sugar ($0.02)
Freshly cracked pepper ($0.05)
1 pinch crushed red pepper (optional) ($0.05)
Instructions
If your mustard greens did not come pre-cut and with stems removed, run a sharp knife down the center of each leaf to remove the woody stems. Cut the remaining leaves into 2-inch strips. Rinse the cut leaves well in a colander.

Slice the onion thinly and mince the garlic. Sauté the onion and garlic in a large pot over medium heat with the olive oil until the onions are soft (about 5 minutes). Add the vegetable broth and heat until steaming.

Add the cut mustard greens, a couple handfuls at a time, stirring until wilted and there is room to add more to the pot. Once they're all mostly wilted, add the smoked paprika, sugar, some freshly cracked pepper, and a pinch of red pepper flakes, if desired.

Place a lid on the pot, allow the broth to come to a simmer, then turn down to medium-low. Let the pot simmer for at least 30 minutes, or longer if desired. Taste the greens and adjust the salt, pepper, or sugar if needed (if your broth is low-sodium, you may want to add salt at this time). Serve the greens with a slotted spoon to leave the excess broth behind.
Notes
*I use Better Than Bouillon brand soup base to make my broth
See how we calculate recipe costs here.
---
Nutrition
Serving: 1Serving ・ Calories: 60.73kcal ・ Carbohydrates: 8.6g ・ Protein: 2.38g ・ Fat: 2.73g ・ Sodium: 311.73mg ・ Fiber: 2.22g
Nutritional values are estimates only. See our full nutrition disclaimer here.
---
The equipment section above contains affiliate links to products we use and love. As an Amazon Associate I earn from qualifying purchases.
Love hearty greens? Try Slow Simmered Black Eyed Peas with Greens, West African Peanut Stew, Colcannon, or Garlic Parmesan Kale Pasta.
How to Make Mustard Greens – Step by Step Photos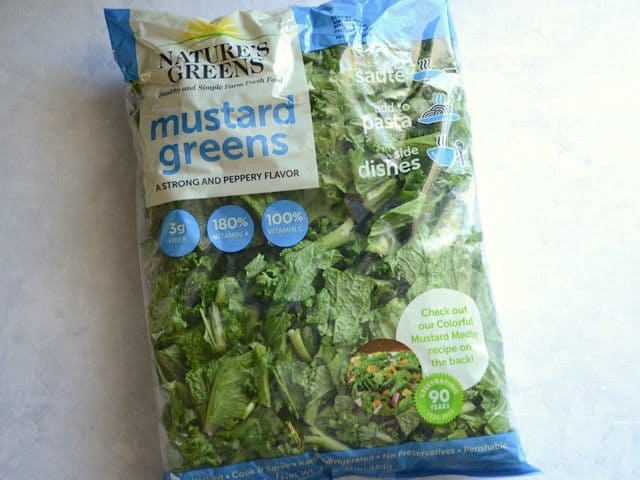 I don't know if this is only available in the south, but these massive bags of pre-cut mustard greens (they also have collard greens and kale) are super cheap and make preparation so easy. If you can find frozen mustard greens you can use those as well, although they are already partially cooked, so you mot likely will not need to simmer for 30 minutes. If you can only find fresh greens, remove the woody stems, then cut the leaves into 2-inch sections. Rinse the greens well in a colander.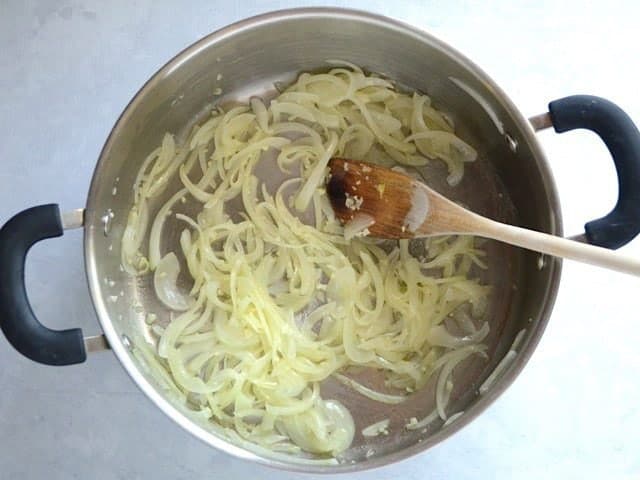 Thinly slice one yellow onion and mince two cloves of garlic. Sauté the onion and garlic in a large pot over medium heat with 1 Tbsp olive oil until the onions are soft and transparent (about five minutes).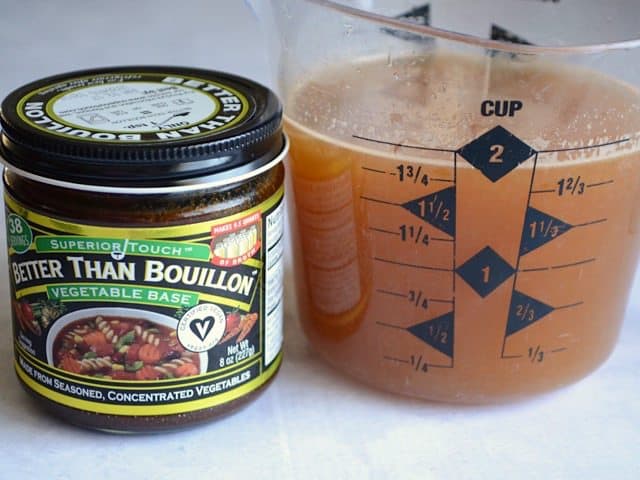 I use Better Than Bouillon soup base to make my broth because it's inexpensive, you can make as much or as little as you need (unlike with cubes), and this little jar lasts just about forever in your fridge.
Add two cups of vegetable broth to the pot and heat it through until steaming.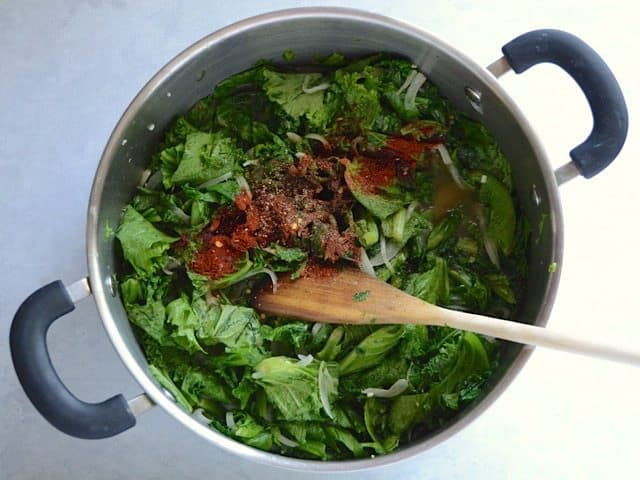 Begin to add the greens to the pot. They probably won't all fit at once, so add about 1/3 of the bag and stir until they wilt, then add more and repeat until it's all in the pot and mostly wilted (like above). Then add 1/2 Tbsp smoked paprika, 1/2 Tbsp sugar, some freshly cracked pepper, and a pinch of red pepper flakes if you like a little heat.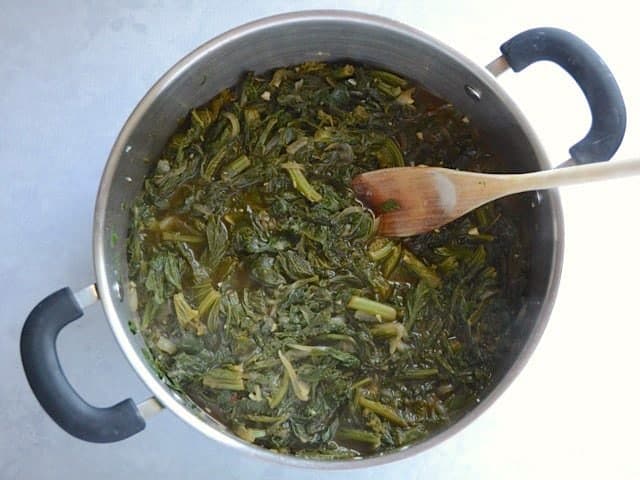 Place a lid on the pot and and let the broth come to a simmer. Once it begins simmering, turn the heat down to medium-low and let it simmer (with the lid in place) for at least 30 minutes. I find that it takes at least 30 minutes to become nice and tender, but you can actually let them go for quite a while. They'll get sweeter and more tender the longer they're cooked. Taste the greens and adjust the salt, pepper, or sugar if desired (using a low sodium broth may warrant adding a little salt at the end).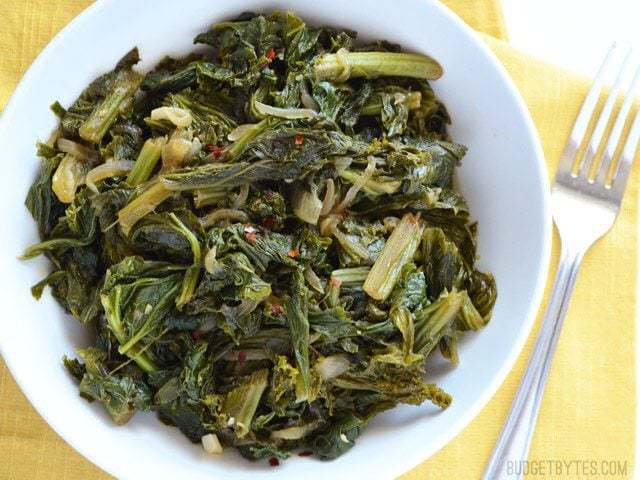 Greens are one of my favorite things to order when going to a "southern" style restaurant because they just let them cook all day and they're absolutely glorious after simmering all day.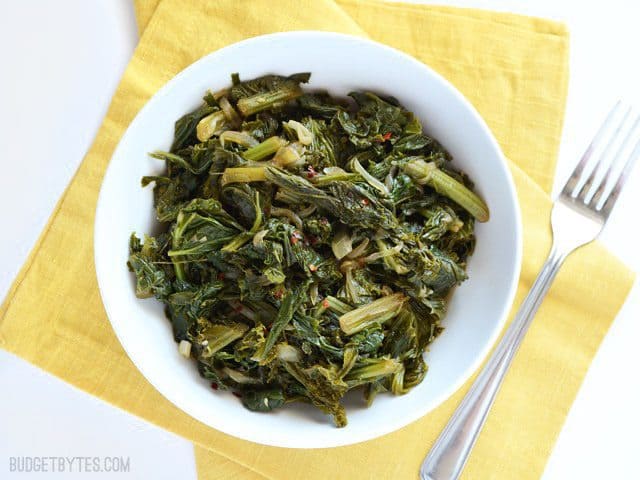 Despite cooking for a long time, they're still high in nutrients like fiber, iron, and calcium. So, get your greens on! :D