I have something really fun (and delicious) for you today!! I'm so excited about this, guys. My friend, Daniel Shumski, released his second book yesterday and it's a gem! The book is called Will It Skillet? (a follow up to his first book, Will It Waffle?, LOL, I love his book titles!) and it contains 53 easy recipes that can be made in a cast iron skillet. Not only is this great for easy weeknight cooking, but if you're an avid camper, this book will probably serve you well. Anyway, he's letting me share one of the recipes from the book with you, so I chose the Mac and Cheese Recipe.
Let me just tell you, THIS is my new favorite mac and cheese. When you don't quite have the time or energy to make a true cheese sauce with a roux, like in our extra cheesy Homemade Mac and Cheese recipe, this one skillet method is a winner! I've made it twice this week and already want more!
This recipe has been reprinted with the permission and generosity of Danial Shumski and Workman Publishing.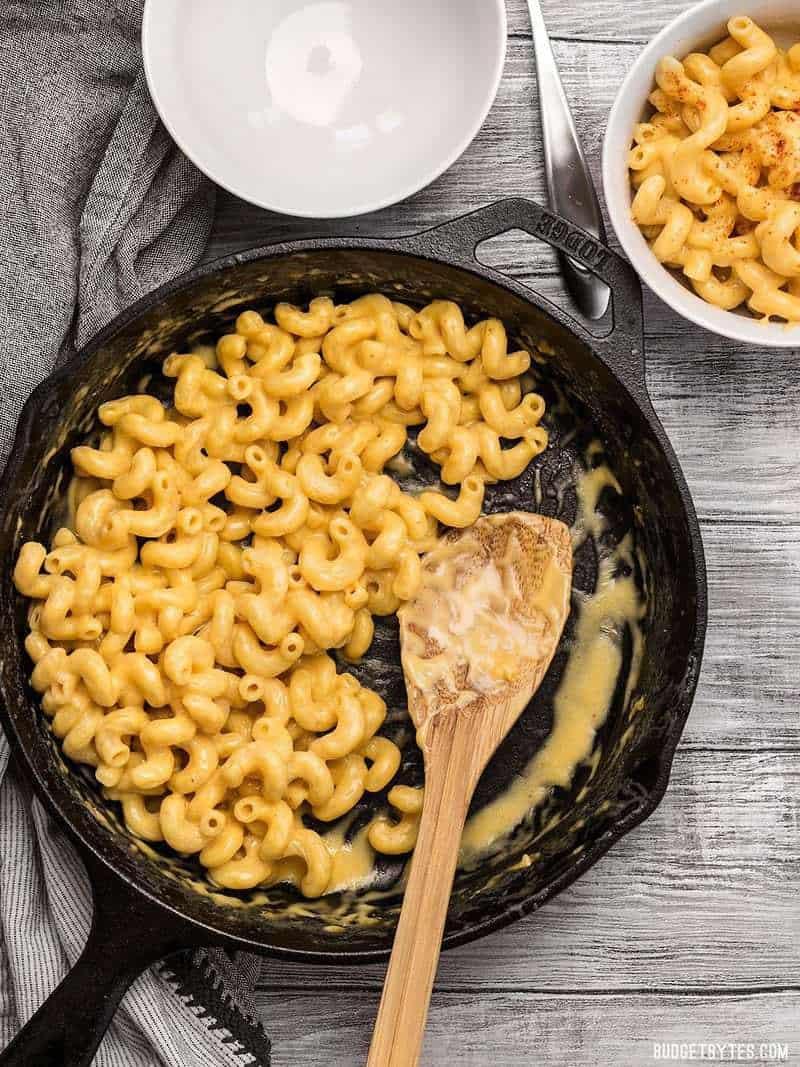 Why This is My New Favorite Mac and Cheese
So what's so special about this mac and cheese? Wellllll let me count the ways.
It doesn't require making a roux or béchamel sauce, so it's super fast, easy, and fool-proof.
It's incredibly silky and rich! And it doesn't get grainy as it cools like other "miracle" or one-pot mac and cheeses. It's just rich cheesy perfection.
Because the cheese sauce doesn't use a butter and flour based roux, you could potentially make this gluten free by using a gluten free pasta. Everyone can be in mac and cheese heaven!!
Seriously, there are only seven ingredients. And that's counting salt.
Just be careful, because like I said, this mac and cheese is just so easy and delicious that it's also very dangerous. I can see myself keeping the very few ingredients needed to make this on hand and just making mac and cheese all the time. Pandora's box has been opened.
P.S. You can absolutely make this in a regular sauce pot. You don't need a cast iron skillet for this recipe. But for reference, I use this 10″ Lodge cast iron skillet.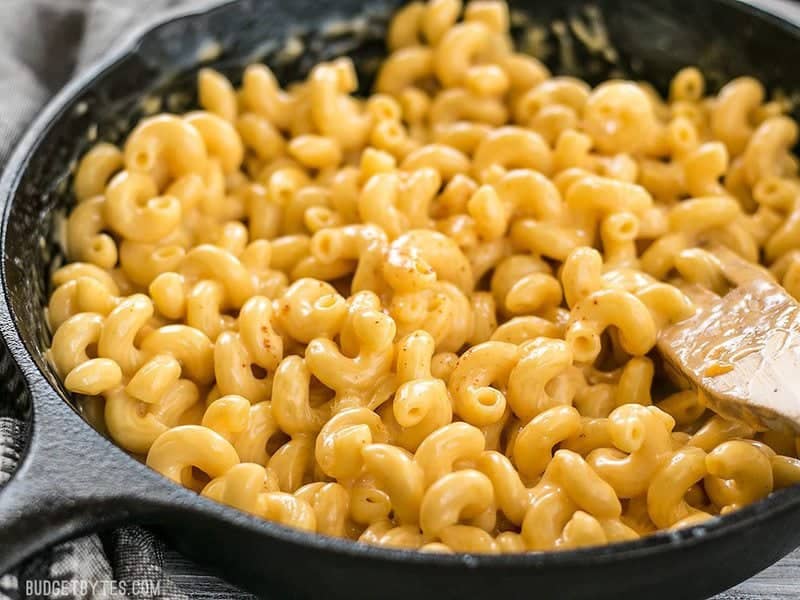 Skillet Mac and Cheese
Recipe reprinted with permission from Workman Publishing.
This incredible roux-less mac and cheese is rich, creamy, and only requires seven ingredients. Perfect for last minute weeknight dinners!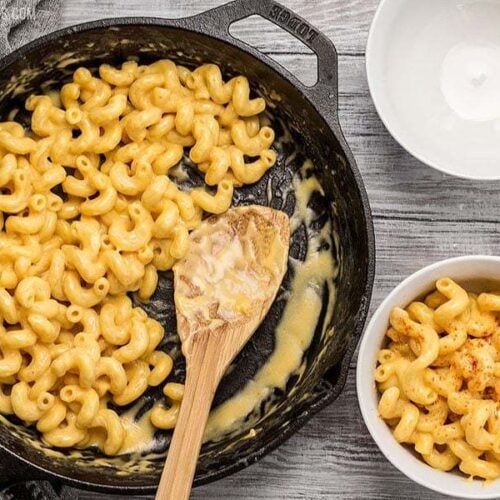 Ingredients
1/2

tsp

salt

($0.02)

2

cups

elbow macaroni*

($0.70)

2

Tbsp

butter

($0.27)

3/4

cup

evaporated milk

($0.55)

1/2

tsp

Dijon mustard

($0.03)

1

pinch

cayenne pepper

($0.02)

1.5

cups

shredded sharp cheddar

($1.00)
Instructions
Fill the skillet two-thirds full of water, add the salt, and bring to a boil over medium-high heat.

Add the macaroni, turn the heat to medium, and cook, stirring occasionally, until just shy of al dente. This should take about 10 minutes, but check the pasta package for recommended cooking times and aim for the lower end if a range is given. (The macaroni will continue to cook a bit in the sauce.) When the macaroni is ready, biting into a piece should reveal a very thin core of uncooked pasta.

Drain the macaroni and return it to the skillet. Turn the heat to low. Add the butter and stir until it melts.

Add the evaporated milk, mustard, and cayenne and stir well to combine. Add the cheese in three batches, stirring frequently as each batch is added and waiting until the cheese has melted before adding the next batch. After about 5 minutes total, the sauce will be smooth and noticeably thicker.

Serve hot. Leftovers can be refrigerated in a covered container for up to 2 days.
See how we calculate recipe costs here.
---
Notes
*I used cavatappi pasta (corkscrews). For most medium pasta shapes, 2 cups is roughly 1/2 lb.
Nutrition
Serving:
1
Serving
Calories:
1017.8
kcal
Carbohydrates:
103.1
g
Protein:
41.35
g
Fat:
47.2
g
Sodium:
1344.75
mg
Fiber:
4.1
g
Read our full nutrition disclaimer here.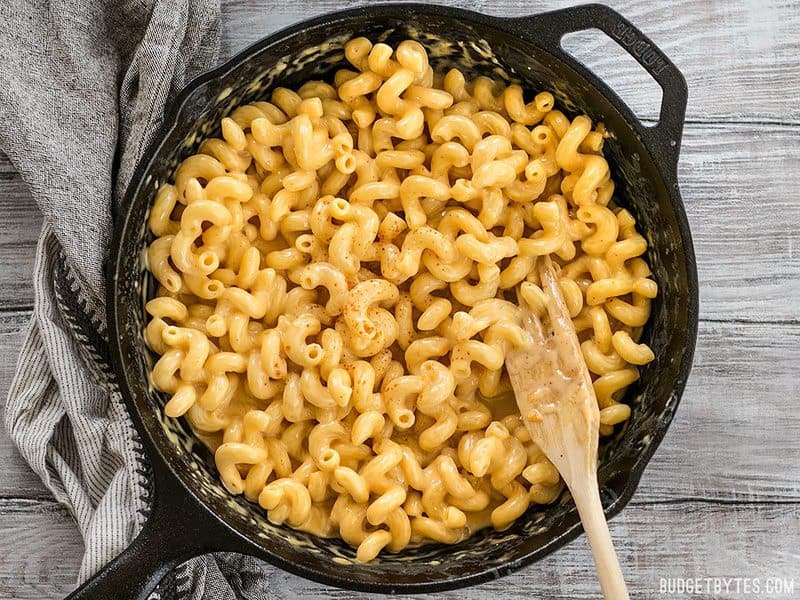 How to Make Skillet Mac and Cheese – Step by Step Photos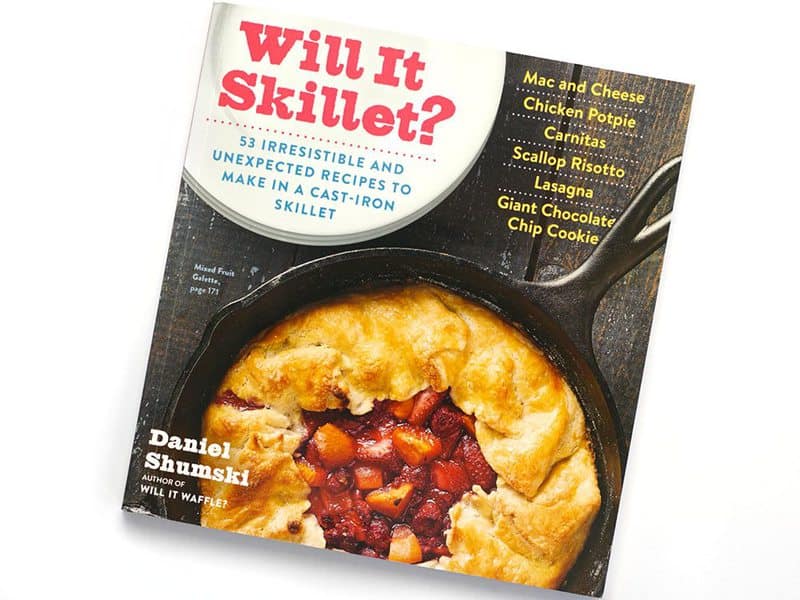 Here is Daniel's book, for reference. Seriously so many yummy things in here!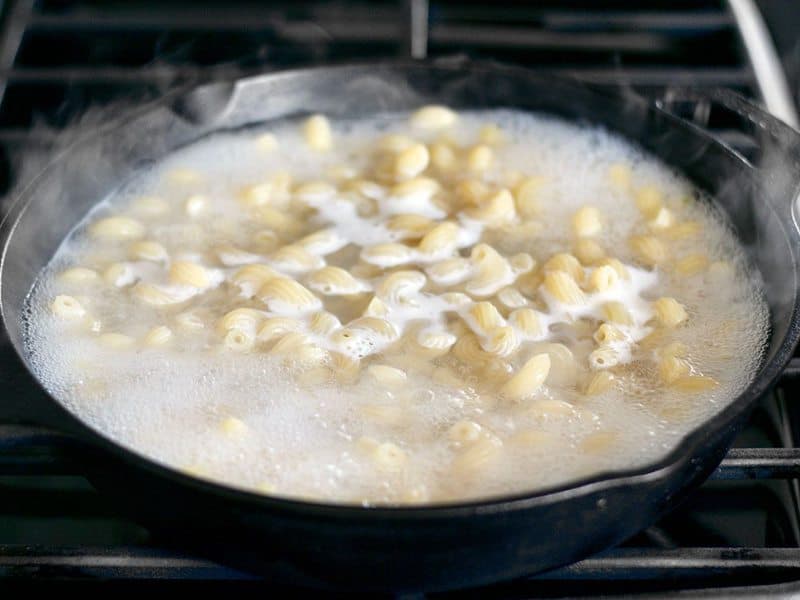 To begin the mac and cheese, fill your skillet about 3/4 full with water and add 1/2 tsp salt. Bring it up to a boil over medium-high heat. Add 2 cups (or about 1/2 lb.) of elbow macaroni or any shape of similar size. Boil the pasta just until it is al dente. Leave it slightly under done because it will continue to cook and soften in the sauce. Make sure to stir it often as it boils if you're using a shallow skillet like this. Once cooked, drain the pasta in a colander.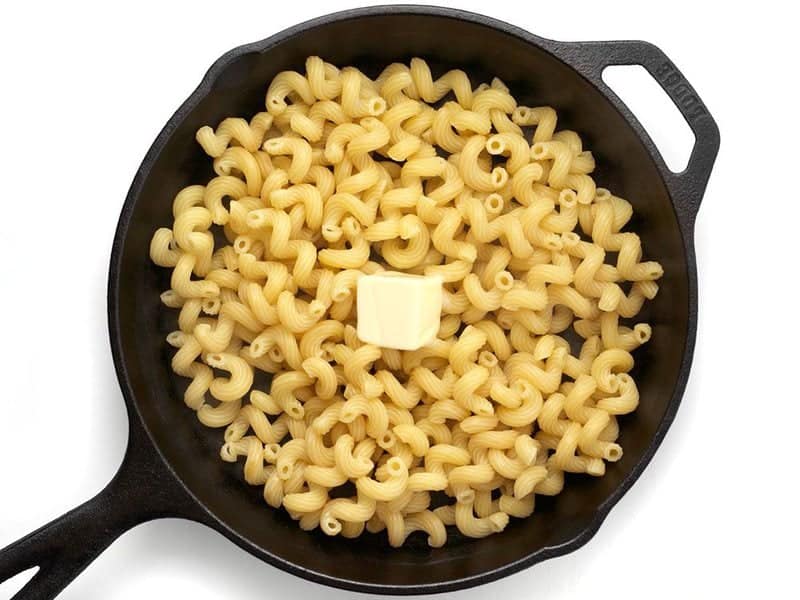 Turn the heat down to LOW and return the cooked and drained pasta to the skillet, along with 2 Tbsp butter. Stir the butter into the pasta until it is completely melted.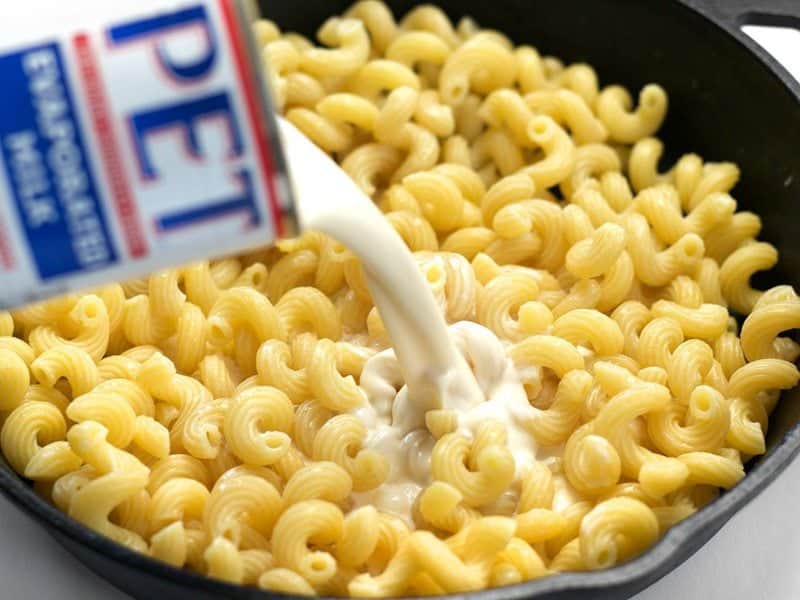 Add 3/4 cup evaporated milk and let it begin to heat through.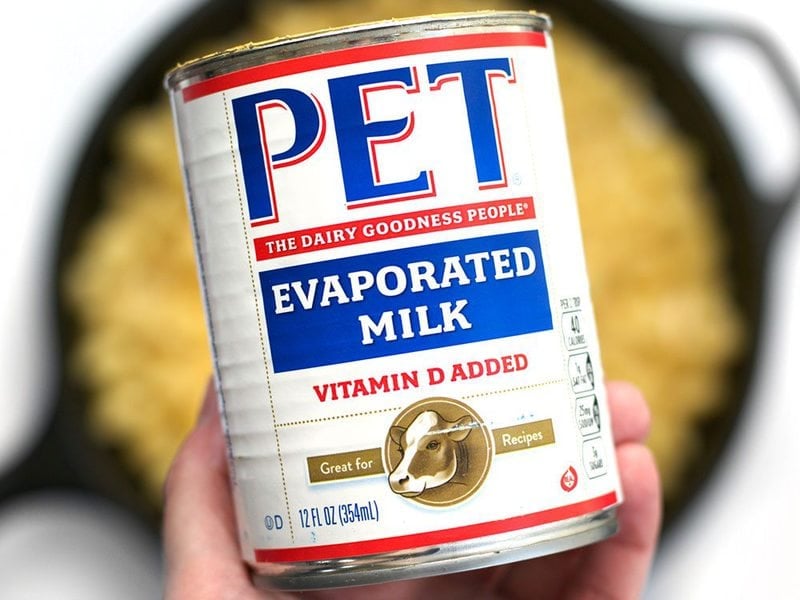 Make sure you buy "evaporated milk" and not "sweetened condensed milk" because they are two very VERY different things. ;) Luckily, the 3/4 cup needed for this recipe was 1/2 of this can, so I saved the other half to make a second batch a couple days later (see? DANGEROUS).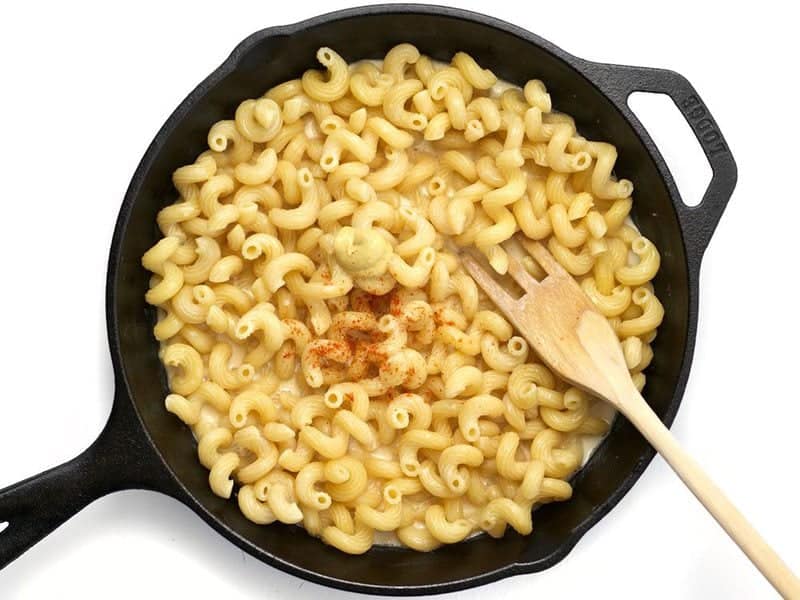 Also add 1/2 tsp Dijon mustard and a pinch of cayenne.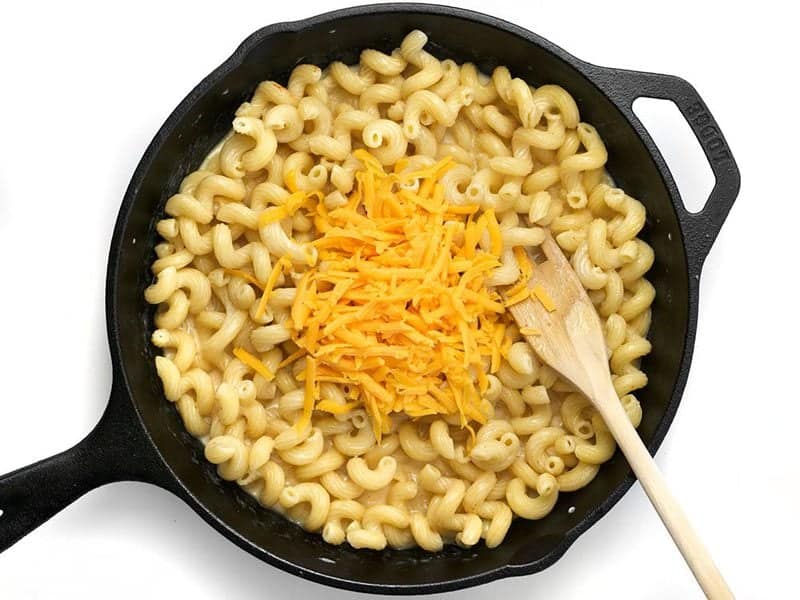 Once the evaporated milk has heated up a bit (this shouldn't take more than a minute or so), begin adding 1.5 cups shredded sharp cheddar, one handful at a time. Make sure the cheese is fully melted in before adding the next handful. I added my cheese in three batches.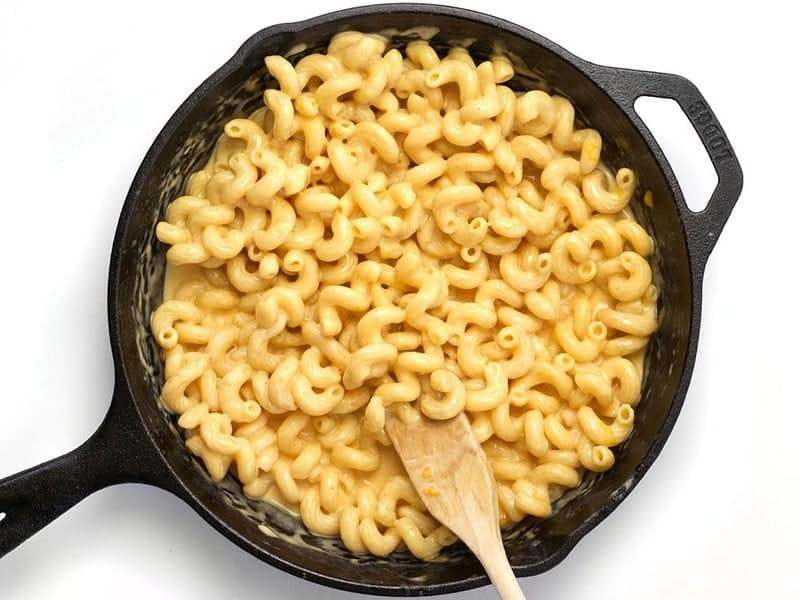 As the cheese melts in the sauce will thicken into the silkiest, cheesiest skillet of goodness you've ever eaten. It's so perfect.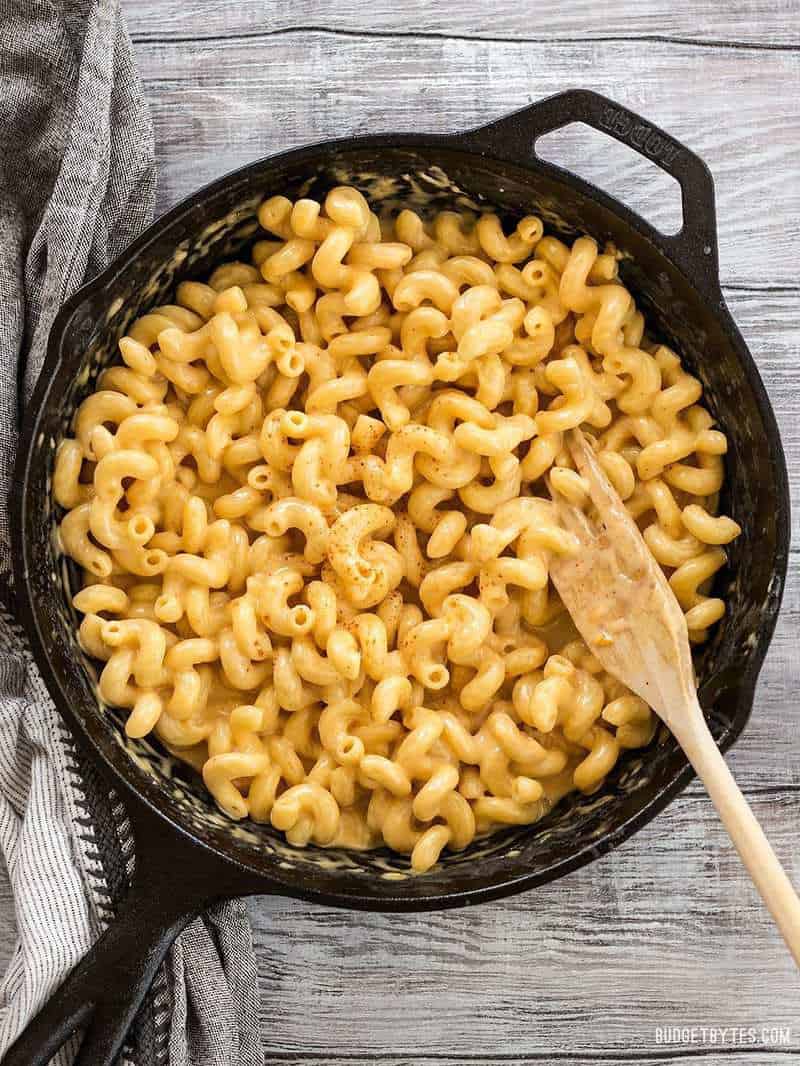 And that's it! You're done! Now just try not to eat it all yourself. ;)