Well friends, the holiday season is upon us. And if you're in the process of planning your Thanksgiving dinner menu, don't forget to make some room for a fresh and colorful Thanksgiving Salad! Yes, I'm sure you'll have lots of traditional sides like mashed potatoes, mac & cheese, and green bean casserole. But it never hurts to balance things out a bit with a simple, flavorful, salad for Thanksgiving. From easy broccoli salads, roasted vegetable salads, and delicious autumn salads with apples, we've got several Thanksgiving salads that we're sure your guests will love!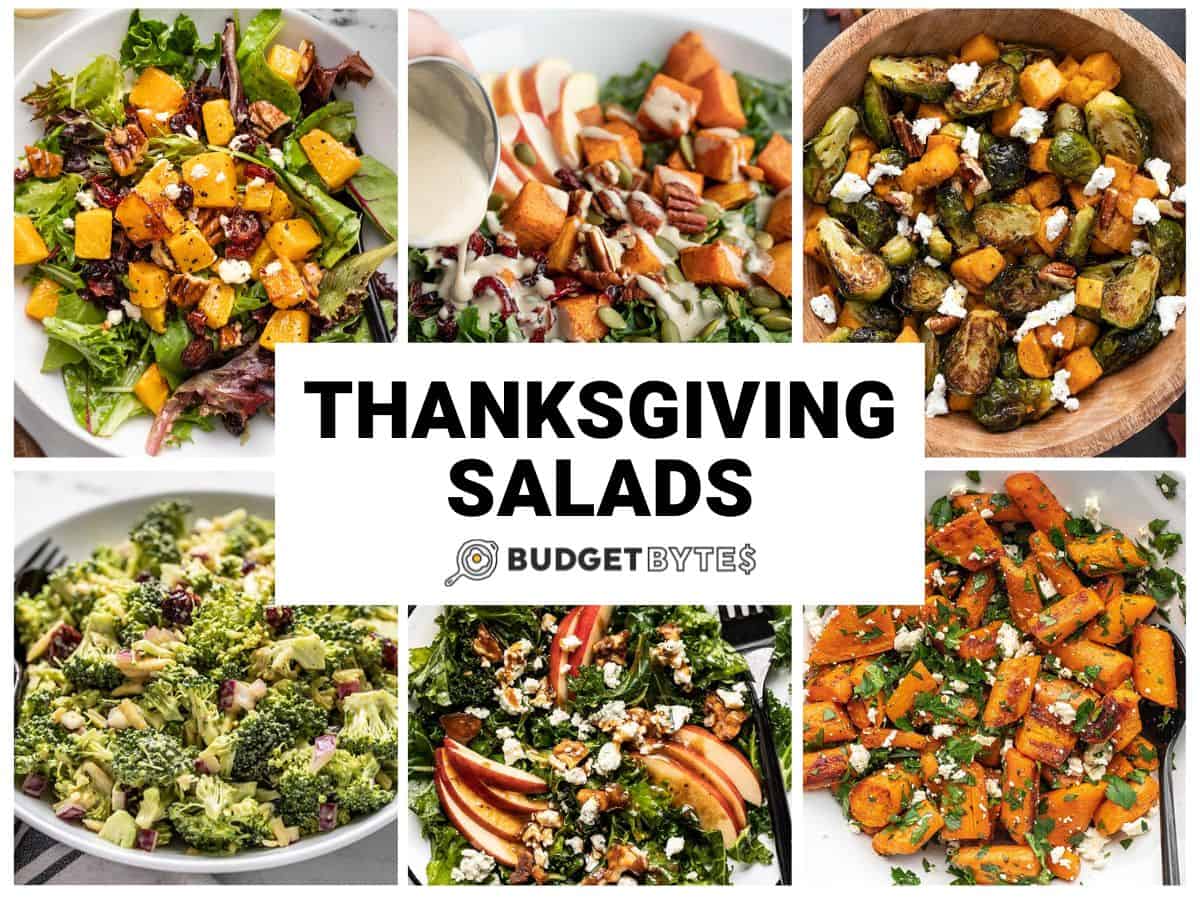 This delicious Butternut Squash Salad is the perfect salad to add to your Thanksgiving table! It features roasted butternut squash, a simple mix of toppings and a homemade maple Dijon vinaigrette dressing. It's colorful, easy to make, and the perfect mix of sweet, savory, nutty, and creamy flavors!
Broccoli Salads are always a great, fresh, side dish to add to Thanksgiving dinners. This Honey Mustard Broccoli Salad only takes minutes to make, is packed with flavor, and it holds up well in the refrigerator!
Take advantage of lots of fall flavors with this Autumn Kale and Sweet Potato Salad! It has incredible flavor and texture combinations including fresh apple and kale, roasted sweet potatoes, and a maple tahini dressing. So good!
Turn those roasted carrots into a salad this Thanksgiving with this Roasted Carrot and Feta Salad. A really simple side dish that only requires six ingredients and the oven does most of the work!
This gorgeous Roasted Brussels Sprouts Salad will steal the show at your family gathering this year! It's a beautiful combination of roasted Brussels Sprouts, sweet potatoes, pecans, goat cheese, and a tangy-sweet maple Dijon dressing!
Prepare to be blown away with this insanely delicious Autumn Kale and Apple Salad! It's made with lots of kale, candied walnuts, and a simple balsamic vinaigrette dressing that everyone will love!
Adding to the list of flavorful apple salads is our crunchy, Apple Dijon Kale Salad. This crisp salad includes fresh apples, walnuts, raisins, and kale.
This quick 20-minute Wilted Spinach Salad is made with bacon, cannellini beans, and a warm vinaigrette that helps slightly wilt the spinach. It's perfect as a side dish for your Thanksgiving meal.
If you're looking to save some time this holiday season, look no further. This Autumn-inspired Warm Brussels Sprouts and Pear Salad is simple, light, and only takes 15 minutes to make!
Classic Southern Style Potato Salad is another popular side salad during the holidays and at family gatherings. This potato salad recipe is creamy, tangy, and has just the right amount of crunch.
One of our favorite simple salad recipes is this Classic Three Bean Salad! It has minimal ingredients, a tangy-sweet dressing, and it's the perfect side dish for any holiday meal.
Macaroni Salad is a classic potluck salad recipe! It's creamy, budget-friendly, and absolutely delicious!
Trust me, after a big heavy meal your family will appreciate this light and airy Jello Salad. But don't let the name fool you, this Jello Salad recipe is actually a classic dessert that's popular during this time of year. It's simple, sweet, and definitely a crowd favorite. ;)
Introducing this light, fresh, and colorful Sweet Crunch Winter Salad! It makes a great side salad for those holiday meal tables.