What better way to end a special holiday dinner, than with a rich, decadent dessert. This week we're sharing our top picks for sweet, luscious, but still easy to make Thanksgiving Desserts! From classic pumpkin pie and apple pie, to an impressive, creamy, no-bake cheesecake, we've got lots of sweet treats that we're sure your guests will absolutely love! Oh, and if you're not in the mood for making a traditional pie crust, don't worry we've got a few mini pie recipes that are no-fuss and easy to serve!😉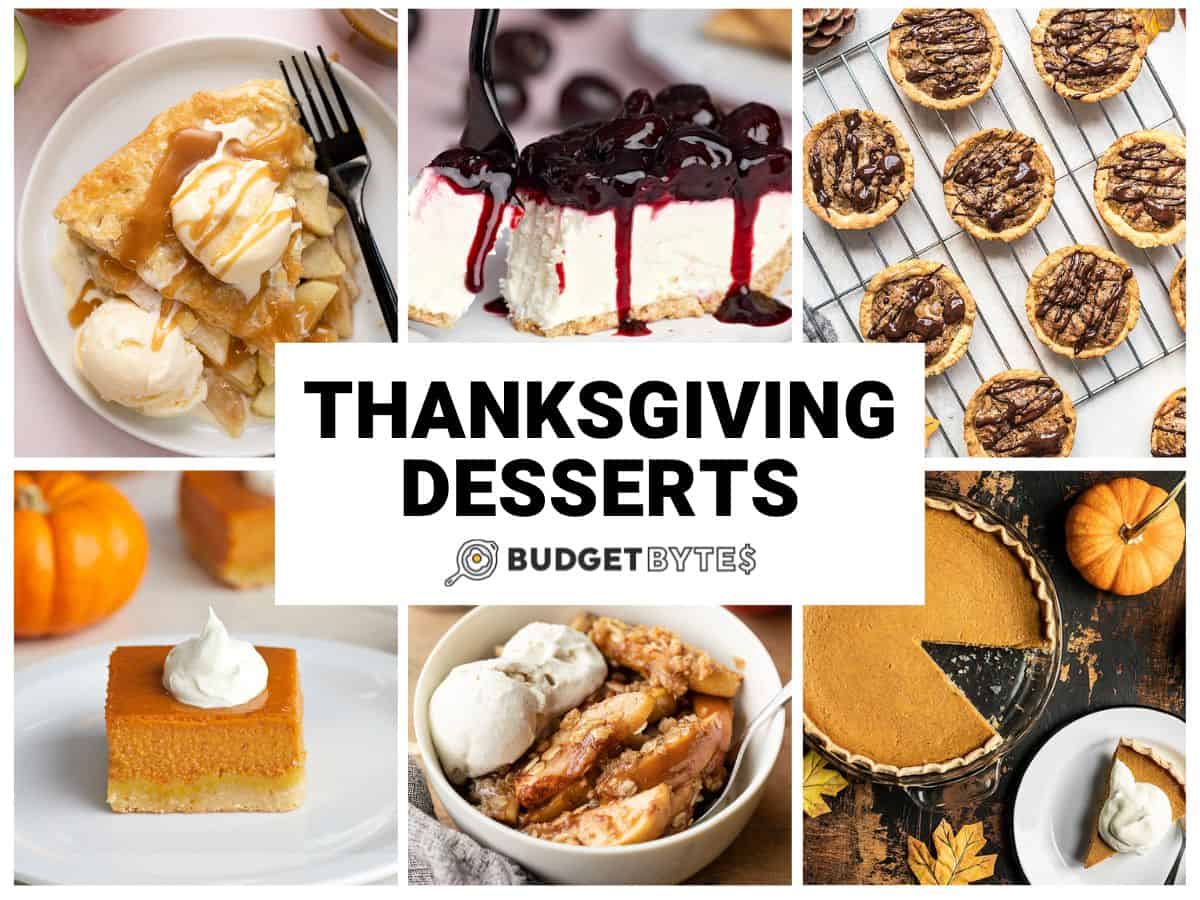 Of course you've got to have at least one pumpkin pie on your dinner table this Thanksgiving, but if making a homemade pie crust is a little too stressful, then make these easy Pumpkin Pie Bars instead! You can cut the bars as little or as big as you want making them perfect for serving on Thanksgiving day!
You'll never go back to store-bought apple pie again after try trying our sweet & delicious Apple Pie recipe. Perfect for holiday parties and fall gatherings!
This Maple Brown Butter Pumpkin Pie is extra special because it's made with nutty brown butter and rich maple syrup. The perfect special touch that will leave all of your guests wondering what secret ingredient you added to make this pie SO good!
Pecan pie is another classic Thanksgiving dessert and these Mini Dark Chocolate Pecan Pies are the perfect pre-portioned size for holiday gatherings. They're also incredibly easy to make, so if you're intimidated by pie baking, this is an excellent place to start.
I love a good fruit crisp dessert. Mainly because they're uncomplicated, uses simple ingredients, and made with fresh seasonal fruit like this Easy Apple Crisp! It includes baked apples that are seasoned with a little sugar and warm spices, and topped with a sweet and buttery crispy oat topping. So good!
Indulge in sweet goodness with this homemade Sweet Potato Pie. An absolute classic Thanksgiving dessert!
This creamy, mouth-watering No-Bake Cheesecake is the perfect Thanksgiving dinner dessert to add to your menu this year! It's made with a lighter texture than traditional baked cheesecake and can be made up to 4 days ahead.
If you're looking for a really easy Thanksgiving dessert, then try these adorable Mini Pumpkin Pies! They're the best option for any party, Thanksgiving gathering, or if you just want to keep a few for yourself stashed in the freezer for later. ;)
This Apple Cinnamon Bread Pudding is sweet, cozy, comforting, and just a whole lot of goodness! The great part is that you can have it for breakfast or dessert! Since we're taking the dessert route, feel free to drizzle a little cream cheese icing or caramel sauce on top!
Jello Salad is a classic holiday potluck dessert that's always fun to share at family gatherings. It's light, simple, sweet, and definitely a crowd favorite! ;)
Say hello to one of the best chocolate cake recipes you'll probably every taste. This Texas Sheet Cake can easily feed a crowd, is surprisingly simple to make, and is great for large family gatherings.
Pumpkin Cheesecake Dip is a super delicious, light, and fluffy dip that only requires eight simple ingredients. You can turn it into a parfait by layering it in a jar with crushed cinnamon graham crackers, or just serve it as a dip with graham crackers, apple slices, or cinnamon pita crisps. So good!!
This Chocolate Depression Cake is rich and chocolatey without using any eggs, milk, or butter. It's surprisingly still moist and delicious and can be made for under $2.50 per recipe. Score!!
It's always a good idea to have more than one pie at Thanksgiving dinner and this Chocolate Cream Pie is the perfect addition. It's luscious, velvety smooth, and topped with sweetened whipped cream. What's not to love?!
I hope you're enjoying our Thanksgiving series featuring our favorite Thanksgiving Salads that are perfect to kick off your holiday meal, and the best Thanksgiving Side Dishes that are a must-have for the big day! Let us know which one of these easy Thanksgiving desserts you'll be making for your holiday meal!😊