Two weeks ago we had a cold spell and I was all like, "I'M READY FOR PUMPKIN!" I bought mini pumpkins to decorate my kitchen, bought some fall-scented candles, and watched pumpkin everything blow up on social media. And now it's time for the first pumpkin recipe of the year! I'm usually a fan of savory pumpkin recipes more so than sweet, but I just happened to have all the ingredients for this Pumpkin Cheesecake Dip on hand, so that's what I whipped up today. Zero regrets, guys. ZERO.
What's in Pumpkin Cheesecake Dip
This super delicious, light, and fluffy dip is so easy to make and only calls for eight simple ingredients. Here's what you'll need to make this pumpkin dip:
Heavy Whipping Cream: This is the base for this light and fluffy luscious dessert. While you can use store-bought whipped cream, you can not substitute with milk, or any other lower fat dairy product.
Vanilla Extract: A splash of vanilla gives the whipped cream a richer, cozier flavor.
Sugar: We've got to sweeten up the whipped cream and pumpkin! I don't like my dip too-too sweet, so we only used about ¼ cup total for the entire recipe.
Cream Cheese: Cream cheese gives this dip a cheesecake-like flavor, and helps the texture of the dip hold up to refrigeration (no deflating!).
Pumpkin Purée: Tons of pumpkin flavor and gorgeous orange color, not to mention fiber and other nutrients.
Spices: A little bit of cinnamon, cloves, and nutmeg give this dip a warm, fall-like vibe. You can substitute with ¾ tsp pumpkin pie spice if you don't have the individual spices on hand.
How to Serve Pumpkin Cheesecake Dip
This super light and fluffy Pumpkin Cheesecake Dip can be eaten several different ways. You can use it as a dip for graham crackers, apple slices, or, cinnamon pita crisps. You can make it into a parfait by layering it in a jar with crushed cinnamon graham crackers, or you can just say, "to hell with it" and serve it with a spoon and a side of Netflix. While the first two options make the prettiest presentation, the last option is probably my favorite.
Pumpkin Cheesecake Dip
This Pumpkin Cheesecake Dip is a light and fluffy no-bake dessert packed with fall flavor. Perfect for parties, holidays, or just dessert!
Ingredients
1

cup

heavy whipping cream

($0.84)

1/2

tsp

vanilla extract

($0.84)

4

Tbs

sugar, divided

($0.04)

4

oz.

cream cheese, room temperature

($0.60)

1

cup

pumpkin purée (solid pack pumpkin)

($0.57)

1/2

tsp

cinnamon

($0.05)

1/8

tsp

ground cloves

($0.02)

1/8

tsp

ground nutmeg

($0.02)
Instructions
Add the heavy cream to a glass or metal mixing bowl and whip with a stand mixer, hand mixer, or a whisk until it begins to thicken and the beaters begin to leave a trail in the cream. At that point add the vanilla extract and

2

Tbsp of the sugar. Continue to whisk until stiff peaks form.

In a separate bowl, beat together the cream cheese, pumpkin purée, cinnamon, ground cloves, ground nutmeg, and the remaining

2

Tbsp sugar until smooth. Make sure no lumps of cream cheese remain in the mixture.

Transfer a large scoop of the whipped cream to the bowl with the pumpkin mixture and fold the two together to help lighten up the pumpkin mixture.

Transfer about 1/3 of the pumpkin mixture back to the bowl with the whipped cream and gently fold them together. Once incorporated, repeat with the second 1/3 of the mixture, and then again once more with the final third of the pumpkin mixture. Make sure to fold gently and do not vigorously stir to prevent the whipped cream from losing its volume.

Once the mixtures are fully incorporated and smooth, the dip is ready to serve. Or, chill until ready to eat.
See how we calculate recipe costs here.
---
Nutrition
Serving:
1
Serving
Calories:
371
kcal
Carbohydrates:
20
g
Protein:
4
g
Fat:
31
g
Sodium:
109
mg
Fiber:
2
g
Read our full nutrition disclaimer here.
How to Make Pumpkin Cheesecake Dip – Step by Step Photos
Begin by whipping 1 cup heavy whipping cream, 2 Tbsp sugar, and 1 tsp vanilla extract until stiff peaks form. I like to wait until the cream starts to thicken a bit before adding the sugar and vanilla. If you've never whipped cream before, "stiff peaks" means that when you lift the beaters out of the cream, the little peaks that are left in the bowl stand upright and do not slump over. Be careful not to overbeat the cream, though, because it can begin to break down and separate.
In a separate bowl, combine 4 oz. room temperature cream cheese, 1 cup pumpkin purée, 2 Tbsp sugar, 1/2 tsp cinnamon, 1/8 tsp ground cloves, and 1/8 tsp ground nutmeg.
Beat the cream cheese, pumpkin, sugar, and spices together until they are smooth and no lumps of cream cheese remain (this is why it's important to use room-temperature cream cheese).
Take a hefty scoop of the whipped cream and add that to the pumpkin mixture. Fold them together to give the pumpkin mixture some lightness.
Now take 1/3 of that lightened pumpkin mixture and fold it into the bowl with the rest of the whipped cream. Make sure not to stir vigorously or you risk deflating your whipped cream. Just fold gently and watch the pretty swirls of orange and white.
Repeat that two more times until all of the pumpkin mixture has been folded into the whipped cream. And that's it! The Pumpkin Cheesecake Dip is ready to eat!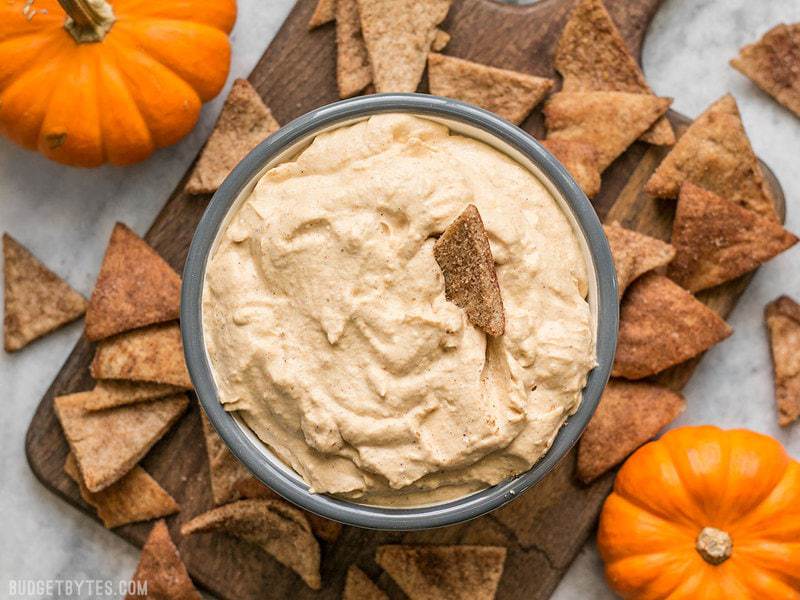 And while this pumpkin dip really is good with these Cinnamon Pita Crisps, just give me a spoon already. It was REALLY hard to not just eat it all right away, but I think I like it even more after chilling a bit!