It's hot outside, y'all. Too hot to turn on the oven and make my AC work overtime. So, today I let my slow cooker do all the work and it made me this wonderfully delicious Chicken Ropa Vieja.
I had Chicken Ropa Vieja for the first time at a restaurant recently and loved how it was both extremely flavorful and very uncomplicated. This delicious dish is basically just chicken stewed down with tomatoes, peppers, onions, and spices until everything is tender and flavorful. Almost like chicken fajita stew. How can that NOT be good? Once I realized it would be an excellent candidate for the slow cooker, I knew I had to make some of my own.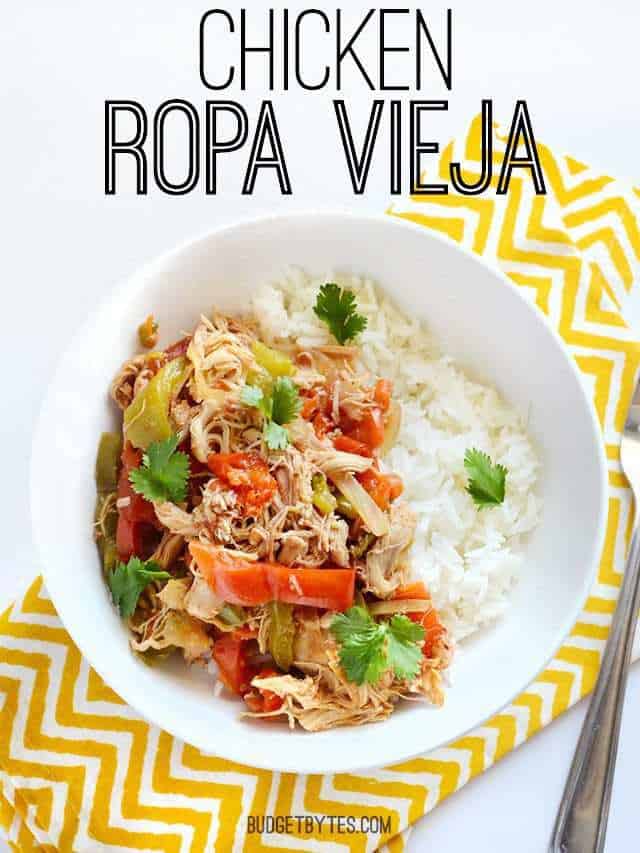 What is Ropa Vieja?
Wait, let me start with what it isn't. Ropa Vieja is not traditionally made with chicken. It's a Cuban braised beef dish that translates to "old clothes" because everything is just kind of thrown together like a pile of old clothes and braised until tender and flavorful. But since I loved the flavors and cooking method so much, I wanted to see if I could apply it to chicken, and that's how we got to this Chicken Ropa Vieja, or chicken "in the style of" ropa vieja.
If you want to try a traditional ropa vieja recipe and learn more about the roots of this awesome dish, check out these authentic recipes:
How to Serve Chicken Ropa Vieja
I served my Chicken Ropa Vieja over rice, but you could also use it to fill a taco or burrito. OR, if you're doing the low-carb thang, just eat it in a bowl on its own! A little dollop of sour cream would be awesome on top, too. (I added a little cilantro to liven up the photos, but the dish has plenty of flavor on its own.)
What Kind of Chicken Should I Use?
I used boneless, skinless chicken thighs because that was the best price at the store yesterday. You can easily sub boneless skinless chicken breasts with no further modifications to the recipe. If you have bone-in chicken, that will also work. Just be sure to remove the skin first (if any) and remove the bones after cooking.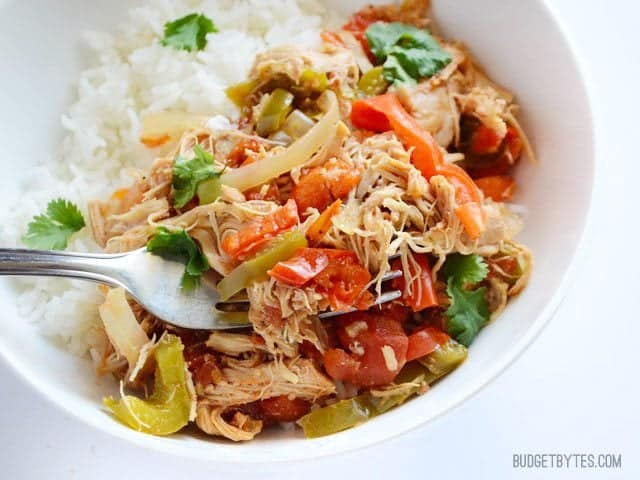 Slow Cooker Chicken Ropa Vieja
Chicken slowly stewed with tomatoes, peppers, onions, and spices makes this Slow Cooker Chicken Ropa Vieja a versatile favorite.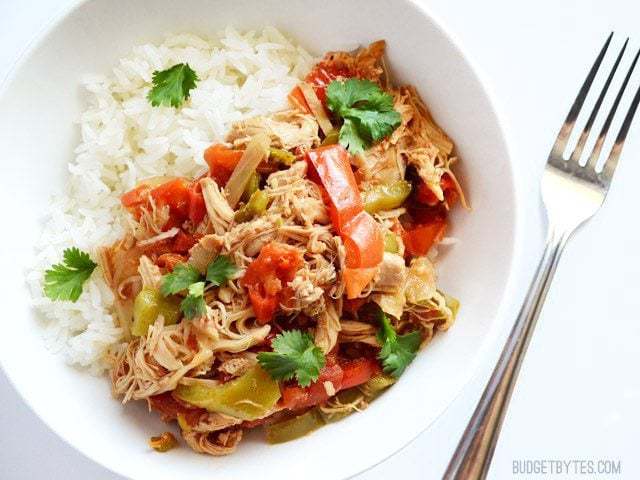 Ingredients
1.5

to 2 lb.s chicken pieces (boneless skinless)

($3.41)

4

cloves

garlic

($0.32)

1/2

Tbsp

oregano

($0.15)

1

tsp

cumin

($0.10)

1/8

tsp

red pepper flakes

($0.02)

Freshly cracked black pepper

($0.05)

1

medium yellow onion

($0.37)

1

medium green bell pepper

($0.69)

1

medium red bell pepper

($1.79)

1 15 oz.

can

diced tomatoes

($0.75)

3

Tbsp

tomato paste

($0.22)

Salt to taste (1/2 to 1 tsp)

($0.02)
Instructions
Trim the chicken pieces of excess fat, if desired. Place the chicken pieces in the bottom of the slow cooker (4qt. or larger). Mince the garlic and add it to the slow cooker. Sprinkle the oregano, cumin, red pepper flakes, and some freshly cracked pepper over the chicken.

Slice the onion, green bell pepper, and red bell pepper into strips. Place the onion and bell peppers on top of the chicken in the slow cooker. Add the can of diced tomatoes (with juices) and tomato paste to the slow cooker. The tomato paste can be added in dollops and will be stirred in after cooking.

Place the lid on the slow cooker and cook on high for four hours. After four hours, remove the lid and use tongs to stir the contents. Break the chicken into shreds as you stir the slow cooker. If the juices in the slow cooker are too thin, allow the pot to continue simmering on high without the lid for about 15 minutes to reduce the liquid. Taste and season with salt as needed (I added 1/2 tsp).

Serve the ropa in a bowl, over rice, or in a warm tortilla.
See how we calculate recipe costs here.
---
---
Equipment
Nutrition
Serving:
1
Serving
Calories:
222.62
kcal
Carbohydrates:
8.98
g
Protein:
35.52
g
Fat:
4.3
g
Sodium:
589.85
mg
Fiber:
3
g
Read our full nutrition disclaimer here.
How to Make Chicken Ropa Vieja – Step by Step Photos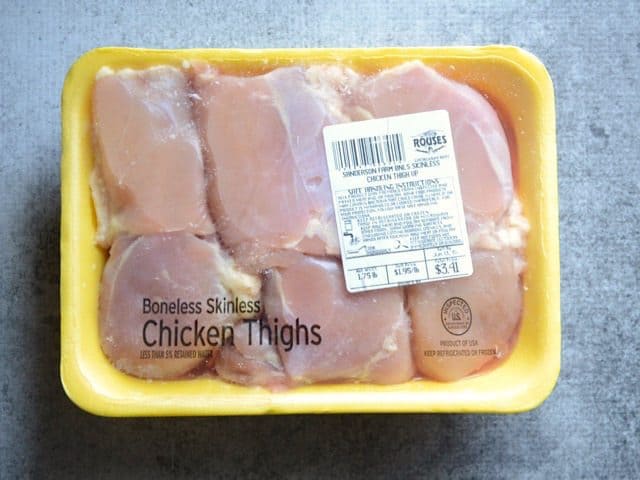 I used boneless, skinless chicken thighs for this recipe simply because that was the best price at the time. I used one pack, which was 1.75 lbs, but you could use anywhere from 1.5 to 2 lbs without any further modification. Or, if you want to cut the meat in half and replace it with some black beans, that would work as well. Boneless, skinless chicken breast can also be used.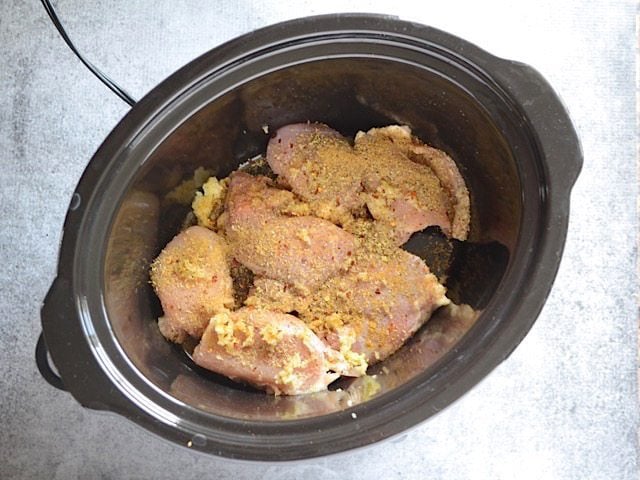 Trim the fat from the chicken if you want (honestly, I don't bother), then place the chicken in the bottom of a slow cooker (it should probably be 4 quarts or larger). Add four cloves of garlic (minced), 1/2 Tbsp oregano, 1 tsp cumin, 1/8 tsp red pepper flakes, and some freshly cracked pepper (10-15 cranks of a mill).
You'll also need a yellow onion, red bell pepper, and green bell pepper. Cut each one into strips.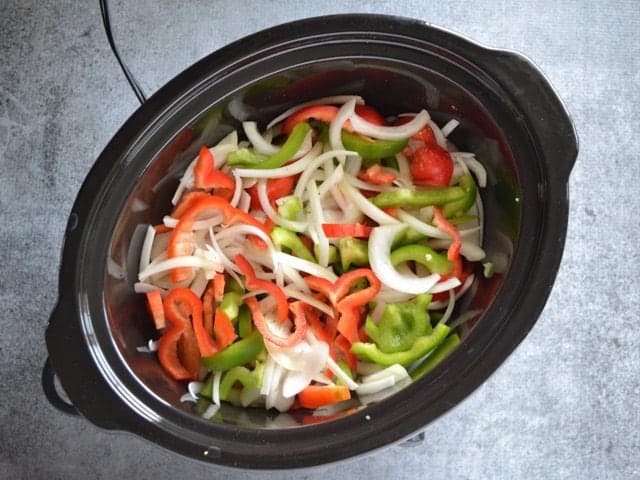 Place the peppers and onion on top of the chicken in the slow cooker.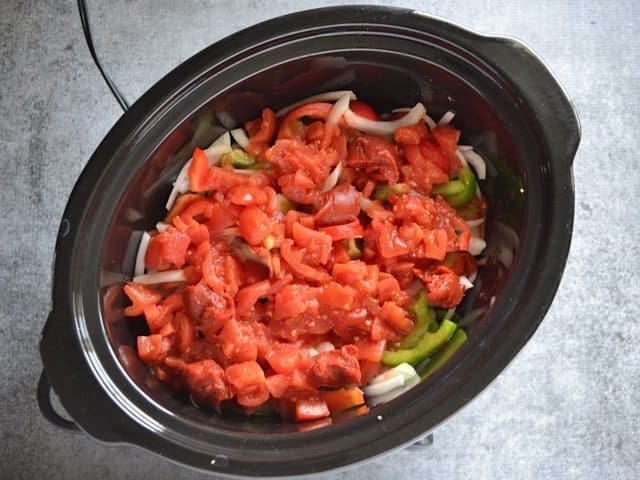 Add one 15oz. can of diced tomatoes (with the juices) and 3 Tbsp tomato paste. You can just plop the tomato paste on top because it will get stirred in later. Place the lid on the slow cooker and cook on high for four hours.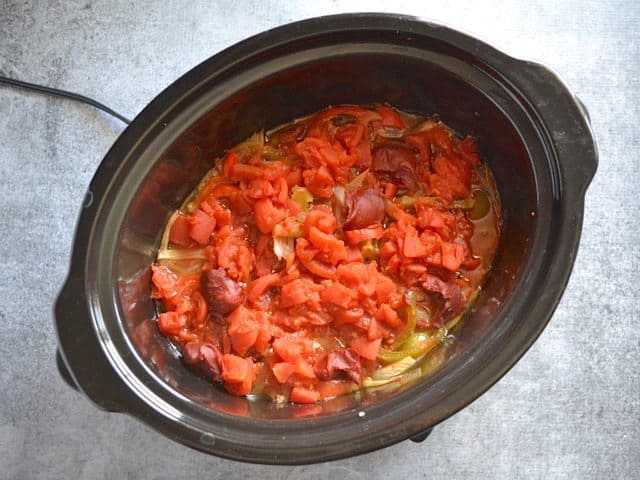 After four hours the chicken and vegetables will let off quite a bit of liquid that the chicken then stews in. YUM. You can see that the tomato paste is still in clumps on top, but you may notice its darker color. The natural sugars in the tomato paste have caramelized a bit and given it a deeper flavor.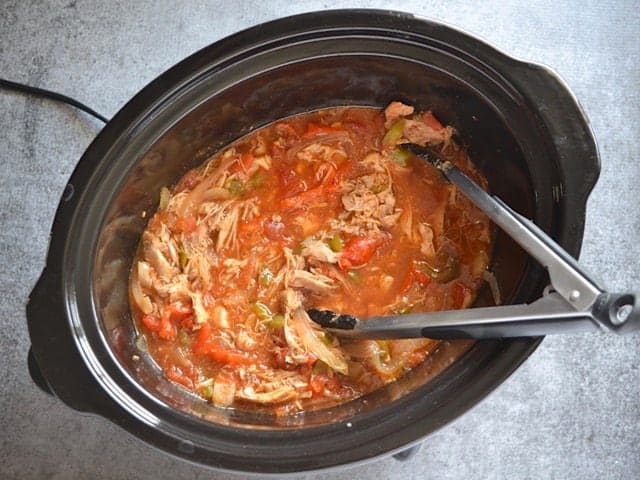 Use tongs or another utensil to stir the chicken ropa vieja. Shred the chicken as you stir. It should be so tender that it just falls apart when its touched. The mixture will be a tad soupy, but if you want a thicker sauce you can let it simmer without a lid for 15 minutes or so longer. Taste the dish and season with salt to your liking. I added about 1/2 tsp.
TIP: Adding salt at the end helps it be more pronounced, thereby allowing you to use less. If it was added before cooking, the saltiness would be much more subdued and you'd probably need to add more.
There are several ways to serve this chicken ropa vieja. It can be spooned over rice to soak up that extra yumminess, or it can be stuffed into a warm tortilla like a taco or burrito. It's so good, though, that I wouldn't mind eating it straight out of the bowl! A little sour cream would also be awesome.