So, my appetite has been pretty wonky lately and all I've wanted to eat is burritos. I love a good burrito. I mean I LOVE them… and it's all to easy to waltz right down to the nearest burrito joint and pay $6-$8 for a super fancy burrito… and then another couple bucks for some chips and salsa… and then, you might as well get a margarita while you're there… and so the story goes. Before you know it, you're out $20 for one meal and you've just eaten way, way too much. Not good.
So, this weekend I decided to stock my freezer with some freezer burritos. Except this time, I wanted some shredded beef in there. So, Friday night I filled my slow cooker with some pinto beans and turned them into (not) refried beans the next morning. Then, the next night I tossed a big beef roast into the slow cooker with some spices and the next morning I had some incredible shredded taco beef for the burritos!
This taco seasoned shredded beef is seriously easy and you can put it on tacos, burritos, nachos, or just eat it bowl style like the taco chicken bowls that we all love so much! Who can resist slow cooked meat seasoned with taco spices? Not me, not me.
Shredded Taco Beef
Shredded Taco Beef
Use your slow cooker to make this tender shredded taco beef that is perfect for burritos, tacos, and more.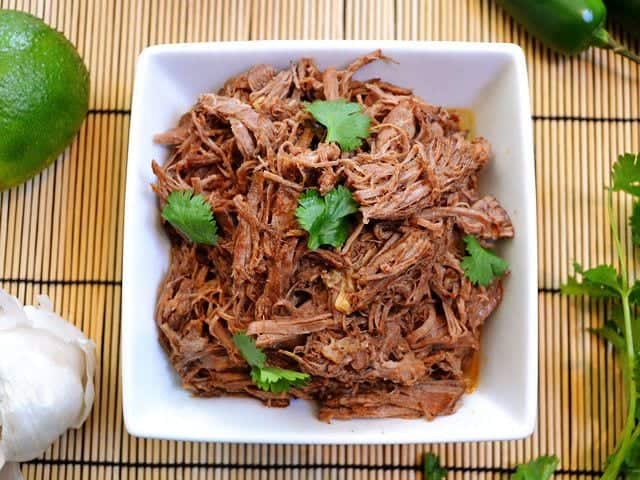 Ingredients
3

lbs.

boneless beef shoulder roast

($11.60)

2

Tbsp

chili powder

($0.30)

1

Tbsp

cumin

($0.15)

1

tsp

oregano

($0.05)

1/4

tsp

crushed red pepper

($0.03)

1/2

tsp

salt

($0.05)

4-5

cloves

garlic

($0.30)
Instructions
Combine the dry spices in a small bowl (chili powder, cumin, oregano, red pepper flakes, salt). Peel the cloves of garlic.

Cut the beef roast into large chunks (2-3 inches square). Place the beef and spice mix in a large, gallon-sized zip top bag and shake to coat the meat in spices. Either move on to the next step or refrigerate the bag of seasoned meat until you're ready to cook (up to one day).

Place the seasoned meat in the slow cooker in a single layer across the bottom. Add just enough water to come up to the top of the meat (about 1.5-2 cups). Secure the lid, turn the heat on to low, and cook for 8 hours.

After 8 hours of cooking, carefully remove the lid of the slow cooker. Use two forks to shred the meat – it should be tender enough to just fall apart. Taste the mixture and adjust the salt and other seasonings to your liking. Remove the meat from the liquid with tongs and serve immediately.
See how we calculate recipe costs here.
---
Nutrition
Serving:
1
Serving
Calories:
148.65
kcal
Carbohydrates:
1.56
g
Protein:
24.52
g
Fat:
5.22
g
Sodium:
220.86
mg
Fiber:
0.62
g
Read our full nutrition disclaimer here.
Step By Step Photos

This is the beef roast that I used. There are many different cuts out there, but stick to the ones labeled "roast." These cuts are good for cooking slowly at low temperatures. If the bone is still intact or it looks like there is a lot of fat, you'll get less meat in the end,so keep that in mind when comparing prices.

First, mix your spices. I tried to make them all visible in this little bowl, but you can't see them all. I used chili powder, cumin, oregano, crushed red pepper, and salt.

Cut the beef into chunks so that it will lay in the bottom of the slow cooker in one layer. If the chunks sit on top of each other, you'll have to add more water to cover the meat and it will be too watery. Also peel the garlic.

Place the beef, garlic, and spices in a large zip top bag and shake it up until the beef is completely coated. You can either cook the beef right away, or store this in the fridge until you're ready to cook. For instance, you can season the meat the night before and then just dump it into the slow cooker in the morning before work. Then, the meat will be ready for dinner when you get home.

Place the meat in the bottom of the slow cooker and try to get it in one single layer. Add just enough water to cover it. If you want more flavor you can use a can of diced tomatoes in place of the water.

Secure the lid on your slow cooker, turn the heat on to low and let it cook for 8 hours. After 8 hours of simmering away, it will look like this.

Use two forks to gently pull the meat apart. It should be very tender and easily shredable. (Yes, I know shredable is not a word.)

Use tongs to get the yummy shredded beef out of the flavorful broth. Pile it straight onto your tacos, burritos, or nachos!

And you're ready to assemble a big, bad burrito! (I still want that margarita)
For an even easier version (for those of you without a well stocked spice cabinet), you can just add a couple packets of taco seasoning to the slow cooker in place of the homemade spice mix. …but that will cost you a couple extra bucks.