What-what? The September Challenge is over already? It's so funny how quickly I went from completely dreading beginning the challenge to, "Hey! I'm going to keep doing this!" But I guess that's why it's important to challenge yourself once in a while. More often than not, you'll be surprised at what you're capable of.
So, week four was an interesting one. I started waking up at 4:30 AM (don't ask) and I finally got back into the swing of my workouts. My appetite immediately doubled. Longer days + exercise = a LOT more calories burned. I went from averaging about $3.50/day to $6.50/day. This once again highlights just how much a person's size, metabolism, and appetite can affect their food budget. Many of you have noticed how little I eat sometimes. Yes, I've trained myself to eat only when I'm actually hungry, but I'm also a relatively small person and unless exercising, I just don't use up that many calories. So, if I had been able to maintain my workout schedule throughout the month, this whole challenge may very well have ended up veeeeerrrrrry differently!
I also fell off the wagon towards the end of the week. *sigh* I'm human. A pizza obsessed human. (read or scroll to the end to see my sins.)
Groceries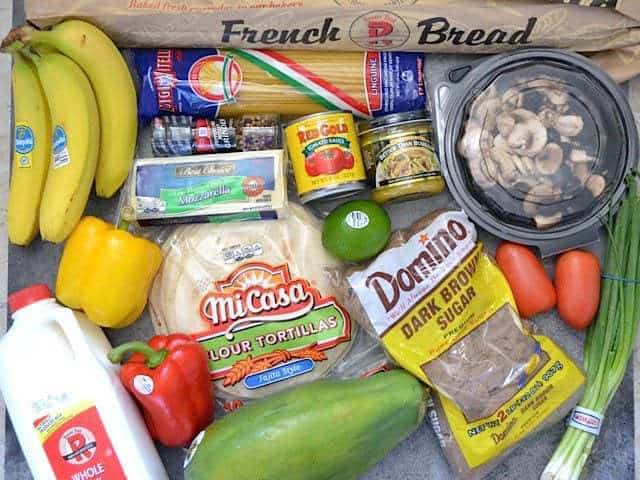 This week a chunk of my grocery budget went towards pantry staples, like brown sugar, Better Than Bouillon, peppercorns/grinder, and milk. I utilized the salad bar to get just a handful of mushrooms and olives for my pizza (but was accidentally charged the fancy olive bar price of $8.99/lb. ouch!), and picked up a few other produce items. I opted for bananas again because I was beginning to enjoy them more and I made the split second decision to get a papaya, which was $1.49 per pound.
When shopping for my weekly fruit I rely heavily on price per pound. A lot of produce at my local grocery store is in the $2-$4/lb. price range, so when I see something under $2 per pound I try to go with that. My other options were pears, which I am not really a fan of, or kiwi fruit, which wasn't priced per pound but were 2/$1. I love kiwi, but couldn't see myself eating one every day, and they weren't very big. It would have been a struggle to make myself eat the pears, so I went with the papaya. It was extremely delicious, but unfortunately it was mostly seeds and didn't hold up in the fridge as well as my melon the previous week. Sometimes you have to take chances! (For reference, frozen fruit was over $3 for a 12-16oz bag.)
I still had quite a few leftovers in my pantry and freezer that I was able to utilize this week. I found some frozen chicken thighs and I had some unused carrots and cilantro left over from last week. Those leftovers that carry from week to week really make a big difference in your weekly budget and the variety of things you're able to make with it.
What I Made
Here's what I cooked this week: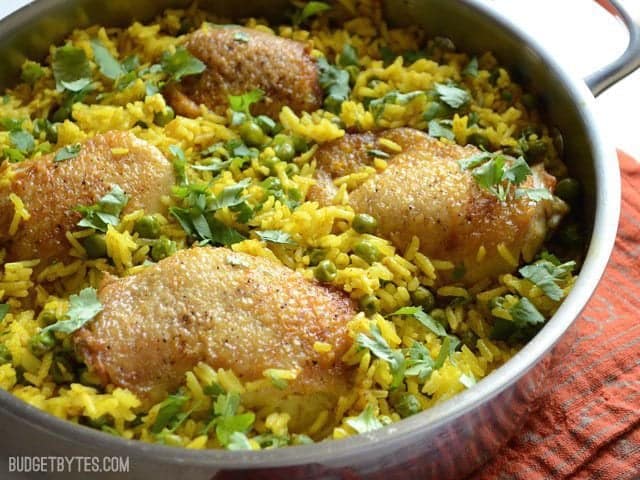 Yellow Rice Chicken Skillet: $6.04 recipe / $1.51 serving I'm OBSESSED with Yellow Jasmine Rice, so I cooked some chicken thighs and frozen peas right in the rice to make it a complete meal. It only made four servings, but that's okay, because I was able to alternate between this and these pizzas…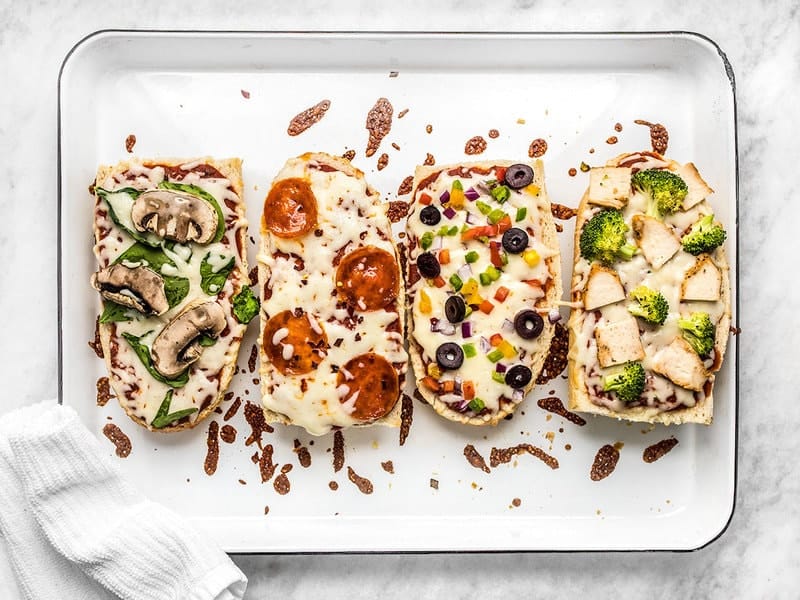 Loaded French Bread Pizzas: $8.98 recipe / $1.50 each I thought I could make it through the challenge without pizza, but why should I when I can just make it affordable? Right?? These French Bread Pizzas were such a treat! Plus, I was able to freeze half to make sure they stayed edible through the final week and two days of the challenge.
And here is that beautiful papaya. I loved the flavor of the papaya, especially because it wasn't overly sweet like a lot of fruit. Unfortunately, when I opened it up there were a lot more seeds and a lot less flesh than I expected, making the $1.49/lb. not as good of a deal as expected.
To prepare the papaya, I just scooped out the seeds with a spoon, then used a melon baller to get the flesh out of the skin. The papaya was fairly ripe to begin with, so it only lasted about four days, but I ate almost all of it. So, out of a $3.77 papaya, I only got about four (very delicious) servings at $0.94 each. *sigh*
To mix things up and add variety, I ate a couple servings of dishes from previous weeks that were stashed in the freezer. I ate the final portion of Chili Rubbed Pulled Pork (just slapped into a tortilla), another serving of Bowties and Broccoli, Mexican Lentil Stew, and one lonely serving of Garden Vegetable Lasagna Roll Ups from before the challenge started. Keeping your freezer stocked with leftovers saves the day! :D
What I Ate
9-22 Total $3.47
(I finally ate that last orange from week two. …and had an evening snack of a small spoonful of PB.)
9-23 Total $4.01
1 cup coffee $0.16
1/2 cup milk $0.16
1/2 cup oats $0.13
2 Tbsp peanut butter $0.24
1 Tbsp brown sugar $0.04
1 serving Papaya $0.94
(Yep, I ate the peanut noodle salad TWICE because I enjoyed it so much. Ha!)
9-24 Total $6.07
(Yeah, so can you tell this is the day that I started working out again? I ate pizza for breakfast and was burning food so fast that I started rummaging through my cabinets for a "treat". I found chocolate chips. Heh.)
9-25 Total $5.55
(Another workout day. #hongry)
9-26 Total $4.60
1 cup coffee $0.16
1/2 cup milk $0.16
1/2 cup oats $0.13
2 Tbsp peanut butter $0.24
1 Tbsp brown sugar $0.04
1 banana $0.26
1 serving papaya $0.94
1 Loaded French Bread Pizza $1.50
1 chai (gifted from a friend) $0.00
9-27 Total $3.55
1 cup coffee $0.16
1/4 cup milk $0.08
1/2 cup oats $0.13
2 Tbsp peanut butter $0.24
1 banana $0.26
1 serving Yellow Rice Chicken Skillet $1.51
(I tried my oatmeal without brown sugar today… Eh, not nearly as good. :P )
9-28 Total $6.40
1 cup coffee $0.16
1/4 cup milk $0.08
2 small tortillas $0.20
2 large eggs $0.64
dash of sriracha $0.02
1 serving Garden Lasagna Roll Ups $1.95
1 slice Costco pizza $2.18
Okay, so this is the day that I fell off the wagon. I went to Costco for the first time EVER. It was exciting. There were things. Many, many things. Between my workout that morning and walking miles and miles up and down the Costco aisles, I was pretty hungry by the end of the adventure. I had heard for ages about how awesome and cheap Costco's pizza was, so I broke down and tried it. When would I get another chance to do so?? (Really lame excuse, I know) Well, I wasn't that impressed, but I sure did sleep good that night. #cheeeeeese
9-29 Total $3.49
(Despite this being a workout day, that HUGE piece of pizza late the night before kept me pretty full throughout the day.)
9-30 Total $3.93
Final day! Yay! I was REALLY craving fruit by this time, but I knew that the challenge was just a challenge and in the morning it would be over and I could go eat whatever I pleased (a fruit smoothie with frozen fruit that's been in my freezer taunting me this whole time).
Weekly Intake Total (plus two days): $41.07 (average $4.56/day)
Weekly Grocery Total: $31.08
Leftovers
I had very little leftovers this week, thanks to the extra two days of the challenge. I did have one serving of the Yellow Rice Chicken Skillet that I had stashed that in the freezer mid week when it looked like I might not get to it on time. That's what I usually do, wait a few days to see how fast I'm eating through stuff, then transfer some to the freezer based on how much I think I'll eat in the next day or two.
Reflection
I'm glad it's over, but I'm excited to keep going. Huh-what? Let me explain. I'm glad it's over so that I can get back to my normal social activities without feeling like I need to decline or people trying to buy me food because they know I'm doing some weird challenge thing. I want to continue the challenge because I appreciate how organized it made me be and how much time and effort that organization saved me. I also realized that my diet was probably more balanced and had more variety during the challenge compared to when I just eat mindlessly. I was forced to plan when and where I'd get my fruit and vegetables and that resulted in me getting more of them.
So, I will continue planning out my weekly menus and trying to execute them on about $30 per week. I won't be recording what I eat every single day because, well, that's just a pain in the butt. Ha! But I will post weekly summaries showing my receipts and what I made with what I bought, how I used leftovers, etc. I think that information is helpful and I learned a lot too. :)
Overall this year's challenge was fun and a lot less stressful than last year. I think the main difference was A) I wasn't trying to pretend to live someone else's life and B) I had time to calculate my consumption on a daily basis, which resulted on daily intake averages closer to $4. Last year I was too busy to calculate it daily, which resulted in daily intakes closer to $2.50/day. I was starving, but too afraid of going over $4.50 to eat more. It was just a bad situation and caused a lot of stress. It's amazing what a difference $1.50/day can make.
Monthly Intake Total: 115.94
Monthly Grocery Total: $115.53
Can you believe how close they are?? This is an excellent demonstration of how pricing out exact quantities of ingredients is a fairly good representation of recipe costs, considering the fact that you usually use a mix of pantry items and purchased ingredients. If I had to purchase every single ingredient new, it would be quite different, but I'd also probably change my menus to require fewer new ingredients every week. It's a slow build up to achieving a stocked pantry, but once you're there it's easy to maintain.
Conclusion
I am inspired and motivated by my experiences in September and I hope you were too. If you haven't yet, set a challenge for yourself. It doesn't have to be $4.50/day, but set a daily and monthly goal, and track your expenses. You'll be surprised at what you discover and hopefully learn ways to reduce spending and waste in the process. Cheers!