Slow cooked shredded meat is one of my all-time favorite things. I was craving beef this week, so I decided to make a new version of shredded beef that could be used in burritos, tacos, "burrito bowls" and other similar dishes (I can never seem to get enough of Southwest flavors). My main goal for this new version? Create a rich, thick sauce out of the cooking juices.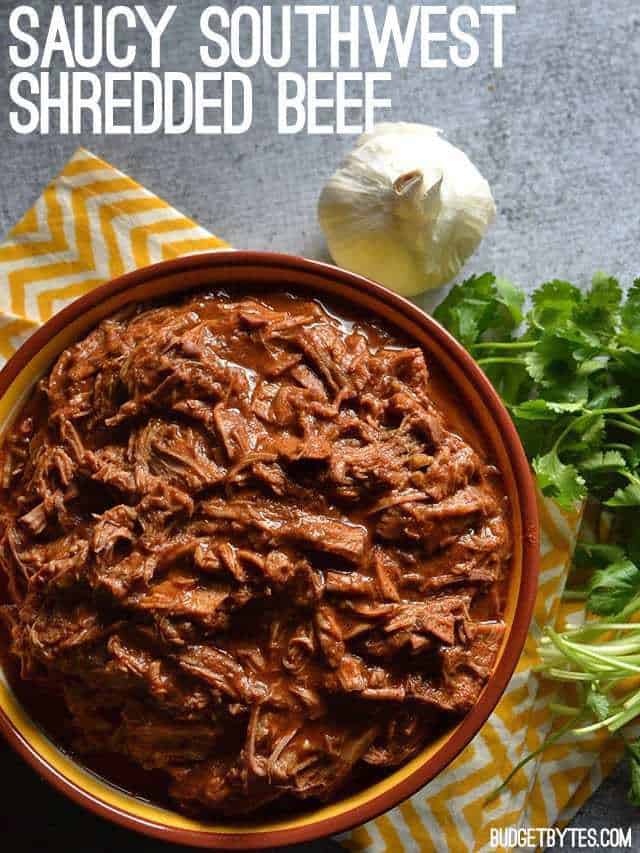 Most of the time when I cook meat in the slow cooker there are a lot of leftover juices that end up going to waste. Sure, I could always make some sort of broth or soup out of the leftover juices, but the truth is I never get around to it. This time I added less liquid before cooking (anticipating the beef giving off a lot of liquid of its own) and combined it with cornstarch, tomato paste, and a bunch of delicious spices so it would form its own thick cooking sauce.
The result? Total success. I got about 4 cups of shredded beef and sauce from a 3 lb. roast, most of which I plan to freeze for later use. Beef is super expensive, so I plan on using only about 1/3 cup of meat per serving and bulking it out with things like rice, beans, and other vegetables. Because cooking on a budget shouldn't mean cutting out certain foods, but learning to portion them responsibly.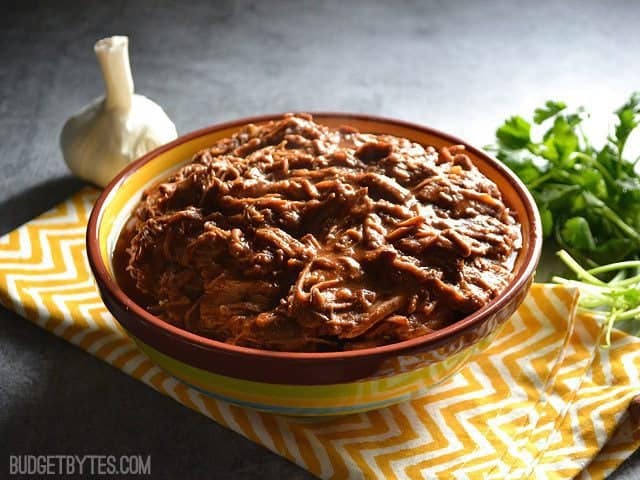 Southwest Shredded Beef
Use your slow cooker to slowly tenderize beef with a flavorful mixture of herbs, spices, tomato, and broth. Perfect for tacos, burritos, and more.
Ingredients
3

oz

tomato paste (1/2 6 oz. can)

($0.26)

2

cloves

garlic, minced

($0.16)

1

Tbsp

chili powder*

($0.30)

2

tsp

cumin

($0.20)

1

tsp

oregano

($0.10)

1/4

tsp

cayenne pepper

($0.02)

1/2

Tbsp

brown sugar

($0.02)

1

Tbsp

cornstarch

($0.04)

1

cup

beef broth

($0.15)

3

lb

boneless beef rump or shoulder roast

($13.94)

1/2

tsp

salt (optional)

($0.03)
Instructions
In a medium bowl, whisk together the tomato paste, garlic, chili powder, cumin, oregano, cayenne pepper, brown sugar, cornstarch, and beef broth.

Remove any large pieces of fat from the beef roast, then cut the meat into 2-inch chunks. Place the beef in the slow cooker, then pour the sauce over the meat. Put the lid on the slow cooker, turn the heat onto high, and let cook for 4-5 hours (or 8 hours on low).

After cooking for four hours on high, use tongs to stir and shred the meat in the sauce (if the meat is not yet tender, let it cook longer. It can go longer than four hours, if needed, and will only get more tender the longer it cooks). Keep the heat set on high as you shred the meat to continue to cook down and thicken the sauce. Taste the meat and sauce and add salt if needed. Serve hot over a bed of rice, in tacos, or stuffed into a burrito.
See how we calculate recipe costs here.
---
Notes
*The chili powder listed is a mild blend of chiles and other spices sold in the U.S. It is usually used to season the dish called "chili" and should not be confused for spicy chile powder (ground red chiles, like cayenne pepper).
Nutrition
Serving:
1
Serving
Calories:
157.21
kcal
Carbohydrates:
3.51
g
Protein:
24.89
g
Fat:
5.13
g
Sodium:
272.88
mg
Fiber:
0.65
g
Read our full nutrition disclaimer here.
How to Make Southwest Shredded Beef – Step by Step Photos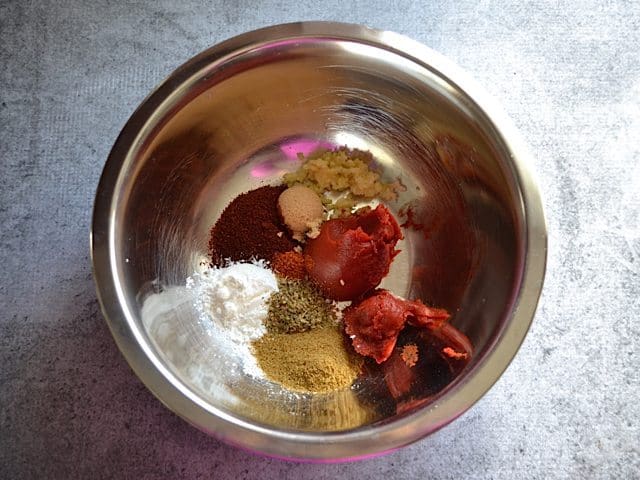 When I first set out to make this recipe, my plan was to just pour a jar of taco sauce over the meat. Then I thought, why not make my own taco sauce? So I mixed a few ingredients together to make something sort of similar (it's not far from my favorite enchilada sauce, either). Start with 2 cloves of garlic (minced), 3oz. tomato paste (half of a 6oz. can), 1 Tbsp chili powder, 2 tsp cumin, 1 tsp oregano, 1/4 tsp cayenne pepper, 1/2 Tbsp brown sugar, and 1 Tbsp cornstarch. The cornstarch is really important for helping the sauce thicken up.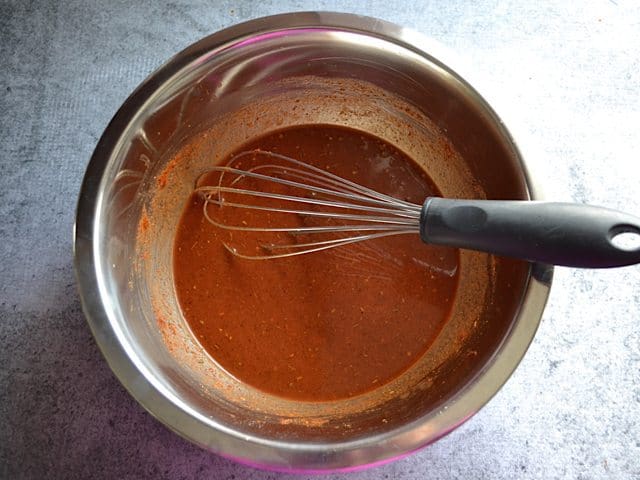 Add one cup of beef broth and whisk until smooth.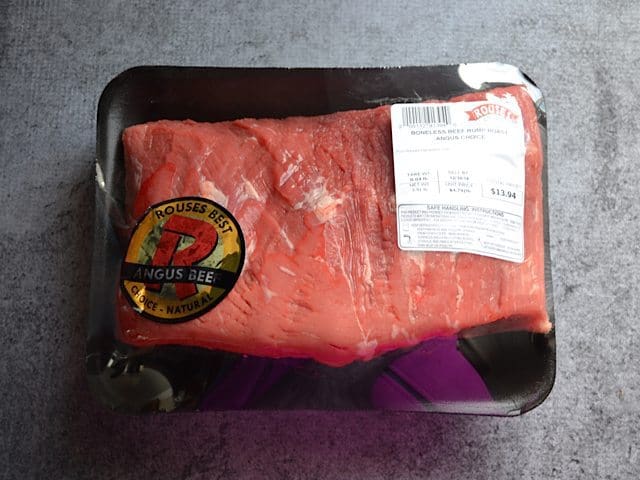 I bought a 3lb. boneless rump roast because it had the lowest price per pound for beef roasts at the store that day. A shoulder roast, with more fat marbling, would make for a more tender meat, but it was actually more expensive and then there would also be more fat floating around in the sauce at the end (that can always be removed after chilling the beef because it will harden when cold).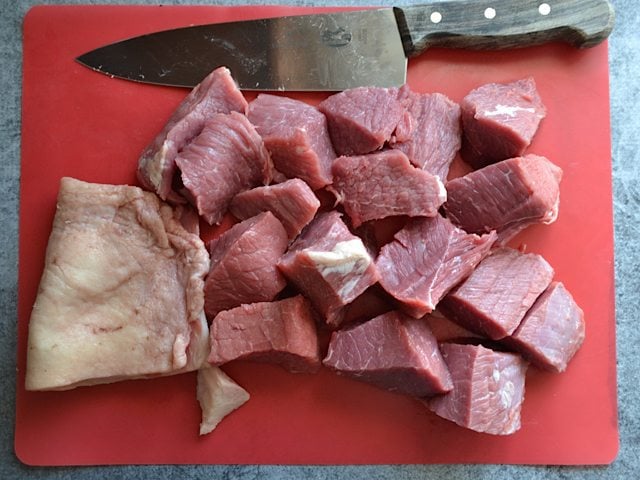 Normally I leave the fat on when cooking meat in the slow cooker because I end up removing the meat from the juices anyway (so the fat gets left behind), but since I'm leaving the meat IN this time, I removed the thick layer of fat from the back of the roast. Cut the meat into large cubes (about 2 inches each).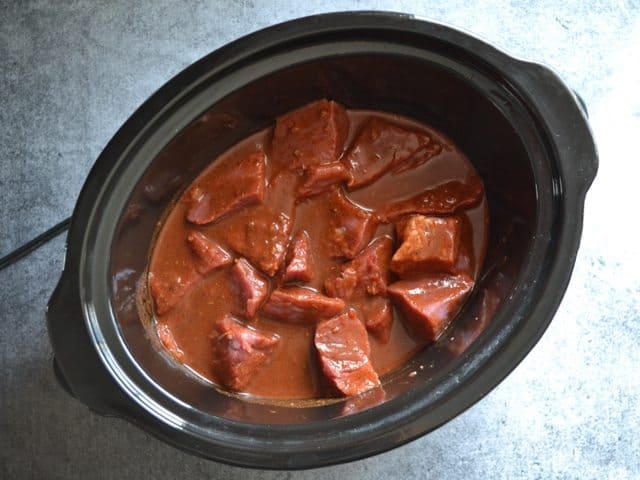 Place the beef chunks in the slow cooker and pour the sauce over top. The sauce will not completely cover the meat and that's okay. My slow cooker is somewhere in the neighborhood of 6 quarts and it was not half way full, so you could probably easily do this with a smaller cooker.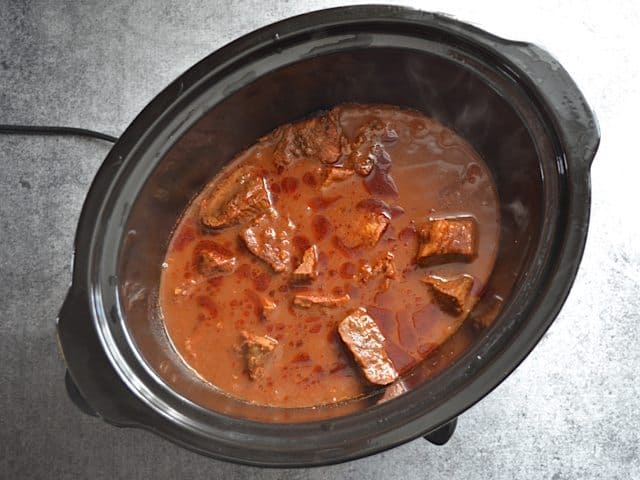 Put the lid on the slow cooker, turn the heat onto high, and let it go for a minimum of four hours (or 8 hours on low). After that time, take some tongs and try to shred the beef. It should easily fall apart. If not, let it cook for another hour or so. The longer you let it cook, the more tender it will become.
By simply pinching the chunks of beef with the tongs, the meat easily shreds. I like to leave the heat on while I do this so that the sauce continues to evaporate and reduce. Taste the beef and sauce and decide if you want to add salt. This will likely depend on the type of beef broth used. I use Better Than Bouillon to make my broth, which tends to be on the salty side, but I still added about 1/2 tsp of salt at the end. Salt will always give your flavor more punch and salting at the end has more impact with less salt.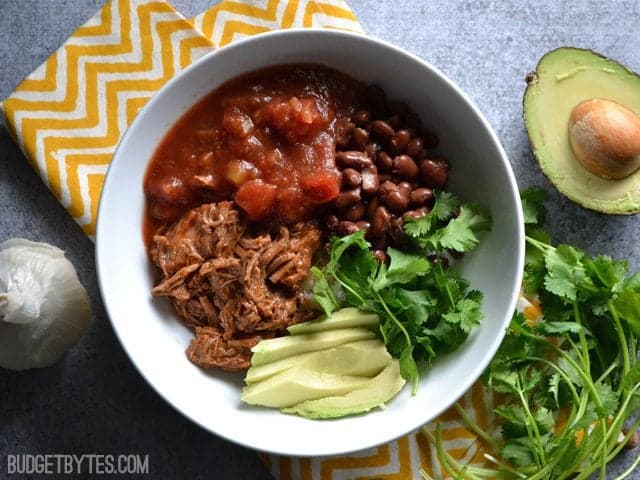 I used my shredded beef to make some "burrito bowls". There is a bed of rice under all those delicious toppings to fill out the bowl and keep the cost down. I also added black beans, salsa, cilantro, and avocado. Cheese, sour cream, corn, jalapeños, or even shredded lettuce would also be good. The trick with using expensive meat, like beef, is to use a small amount and bulk it out with other, less expensive ingredients.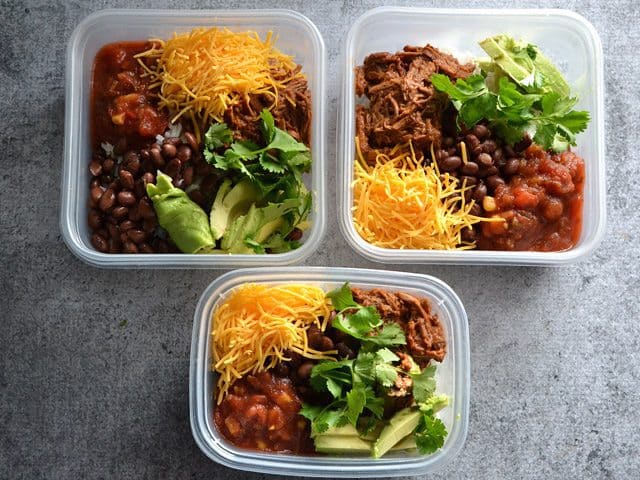 I made a few portions to take with me to work this weekend (and decided to add some cheddar!) and will freeze the rest of the meat for later. Always completely chill the meat in the refrigerator before portioning and freezing. I'll be freezing the meat in quart sized freezer bags, probably 1 or 1.5 cups per bag for easy thawing.