I love quick fixes because I am busy and if something takes me more than 15-30 minutes to prepare, chances are I'm not going to do it, especially if it's not my day off. So this Pesto Chickpea Salad was the perfect answer to lunch this week. It only takes about 10 minutes to make, it's so creamy and delicious, and you can eat it a number of ways. Everything about this chickpea salad is my style!
Originally posted 12-5-2012, updated 6-3-2021.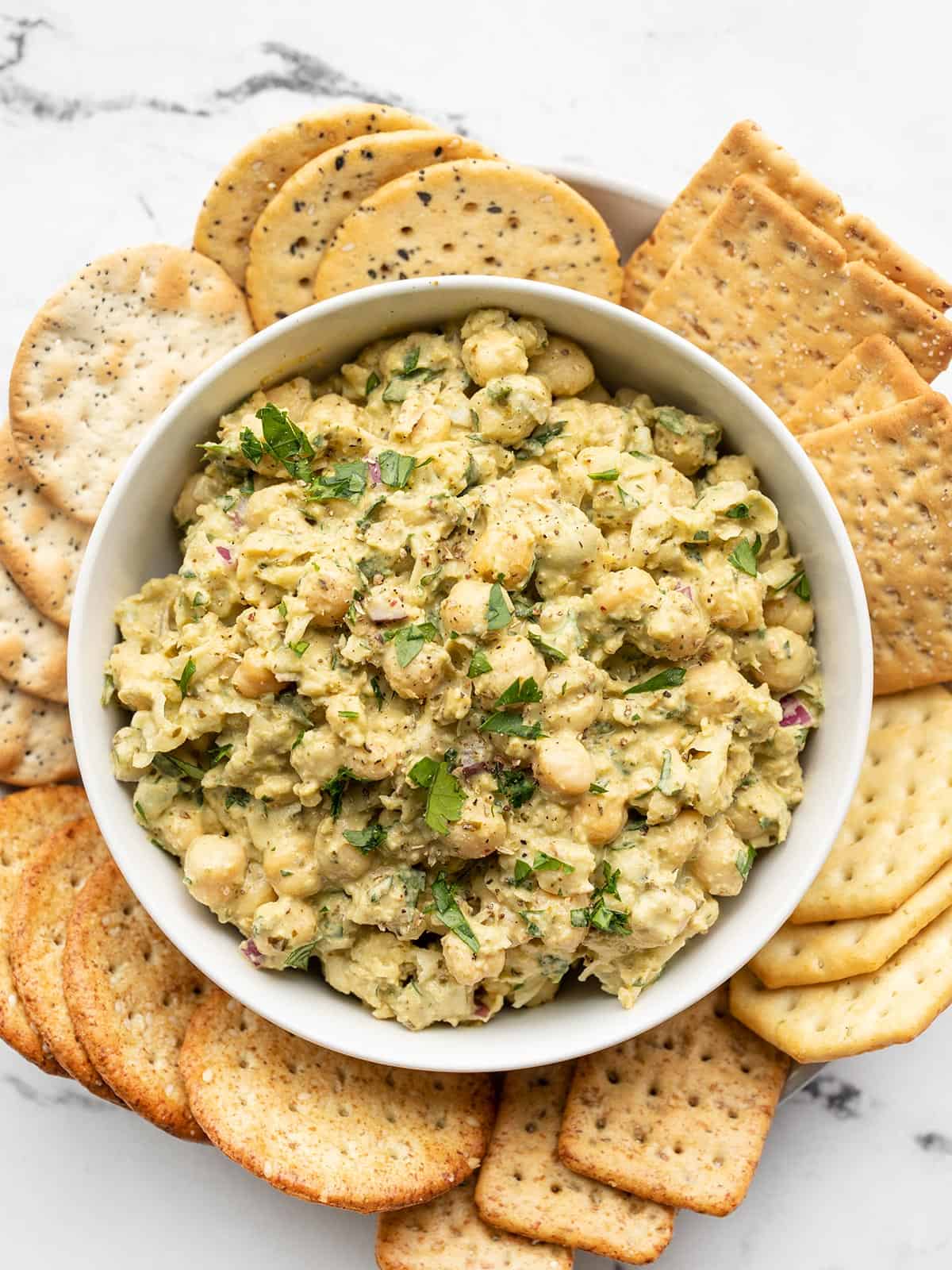 How to Serve Pesto Chickpea Salad
This super simple chickpea salad can be enjoyed several ways. You can serve it as an appetizer with crackers for dipping, like in the photo above, it can be a side dish with dinner, or you can use it as a filling for a sandwich (toasted whole grain bread, a hearty bun, or in a wrap). …Or, if you're like me, you'll find yourself just digging into the bowl with a fork. ;)
What Kind of Pesto is Best?
There are a lot of different types of pesto on the market, offering a little something for everyone. If you're looking for the most budget-friendly, ALDI makes a super affordable basil pesto that I use in a lot of recipes. Today I happened to be shopping at a different store, so I went with Filippo Berio Classic Pesto, which was still pretty affordable and it had a really incredible flavor. Barilla also makes a very affordable pesto. And since pesto is the main flavor in this recipe, you definitely want to go with a pesto that you know you like.
How Long Does the Salad Keep?
This Pesto Chickpea Salad will stay good in the refrigerator for about four days, making it great for meal prep!
Soak Your Onions for a Softer Flavor
If you're sensitive to red onions, here's a trick that will make life so much more enjoyable. Soak your sliced onions in cold water for about five minutes before adding them to your recipe. The water pulls out that super sharp flavor, leaving a nice mild hint of red onion that will flavor your dish without hurting your stomach. :)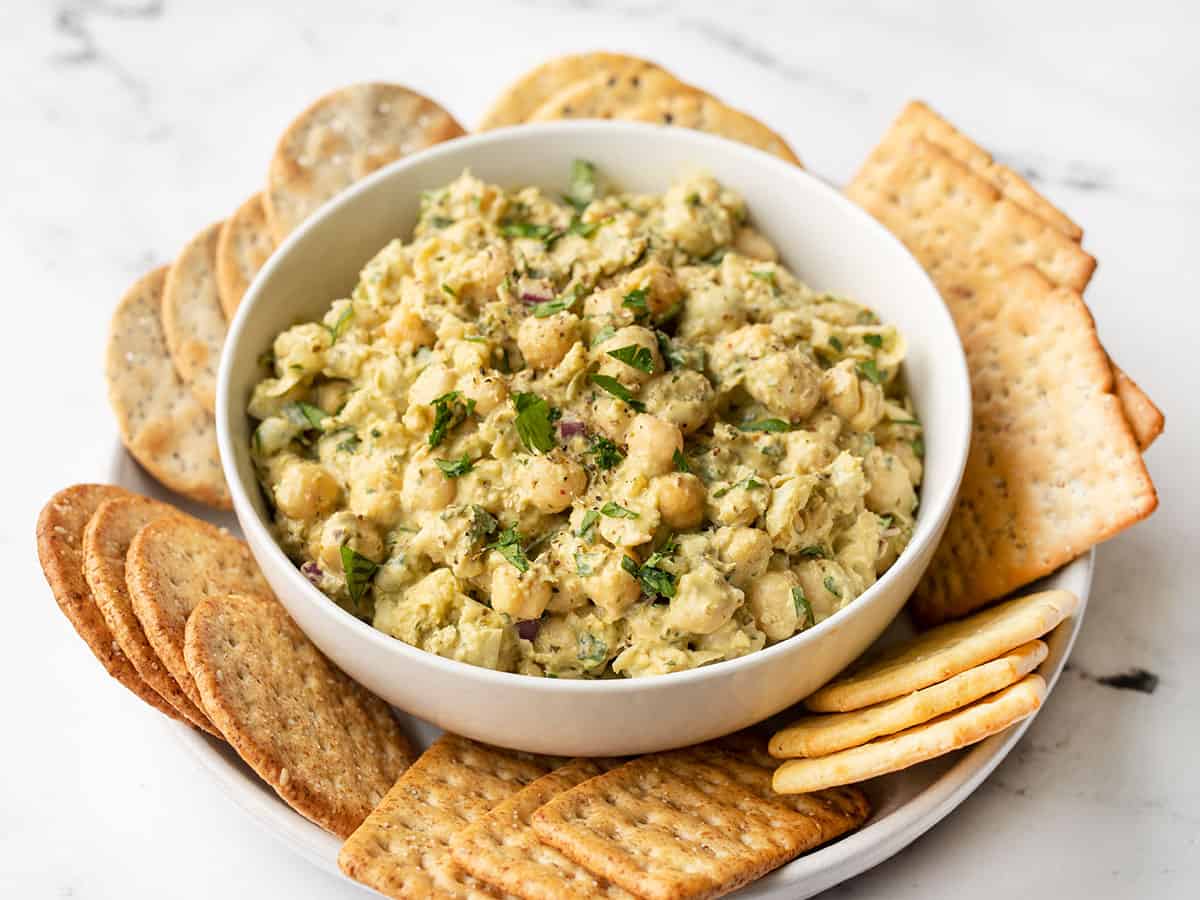 Pesto Chickpea Salad
This creamy and tangy Pesto Chickpea Salad is a quick and easy lunch. Enjoy with crackers, on a sandwich, or on top of a bed of greens.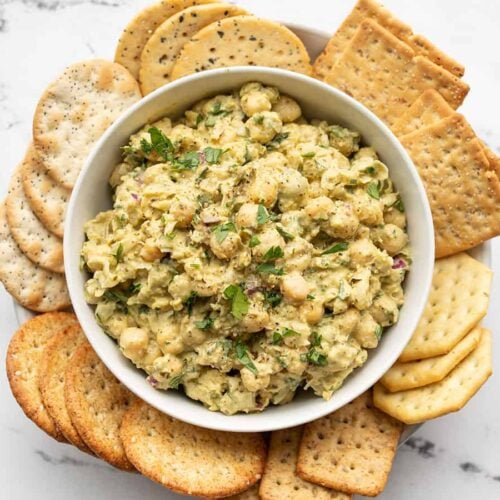 Ingredients
1/4

cup

mayonnaise

($0.40)

1/4

cup

basil pesto

($1.30)

1

Tbsp

lemon juice

($0.06)

1/8

tsp

freshly cracked pepper

($0.01)

2

15oz. cans

chickpeas

($1.10)

1/4

cup

red onion

($0.10)

1/4

cup

fresh parsley

($0.17)
Instructions
Stir together the mayonnaise, pesto, lemon juice, and pepper in a bowl.

Rinse and drain the chickpeas. Roughly chop the parsley. Finely dice the red onions (soak the red onions in cold water for 5 minutes for a milder onion flavor). Add the chickpeas, parsley, and onion to a large bowl.

Pour the dressing over the chickpeas, parsley, and onion. Stir to combine. Serve as is or slightly mash the chickpeas for a thicker consistency. Serve immediately or refrigerate until ready to eat.
See how we calculate recipe costs here.
---
Nutrition
Serving:
1
Serving
Calories:
363
kcal
Carbohydrates:
37
g
Protein:
12
g
Fat:
19
g
Sodium:
245
mg
Fiber:
10
g
Read our full nutrition disclaimer here.
Love chickpea salads? Check out my Scallion Herb Chickpea Salad, Curry Chickpea Salad, or Sriracha Chickpea Salad Wraps!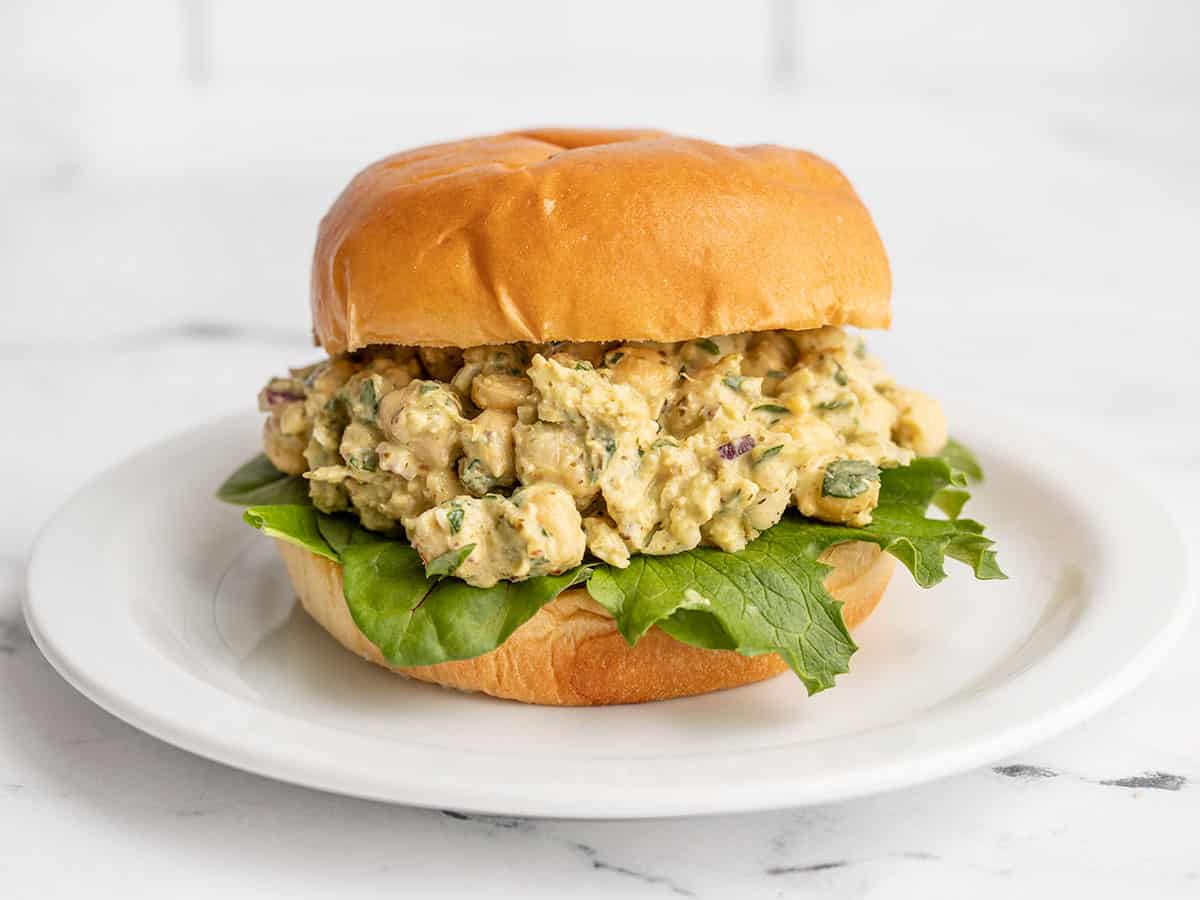 How to Make Pesto Chickpea Salad – Step By Step Photos

Start by making the creamy pesto dressing. In a bowl, stir together ¼ cup mayonnaise, ¼ cup basil pesto, 1 Tbsp lemon juice, and ⅛ tsp freshly cracked pepper.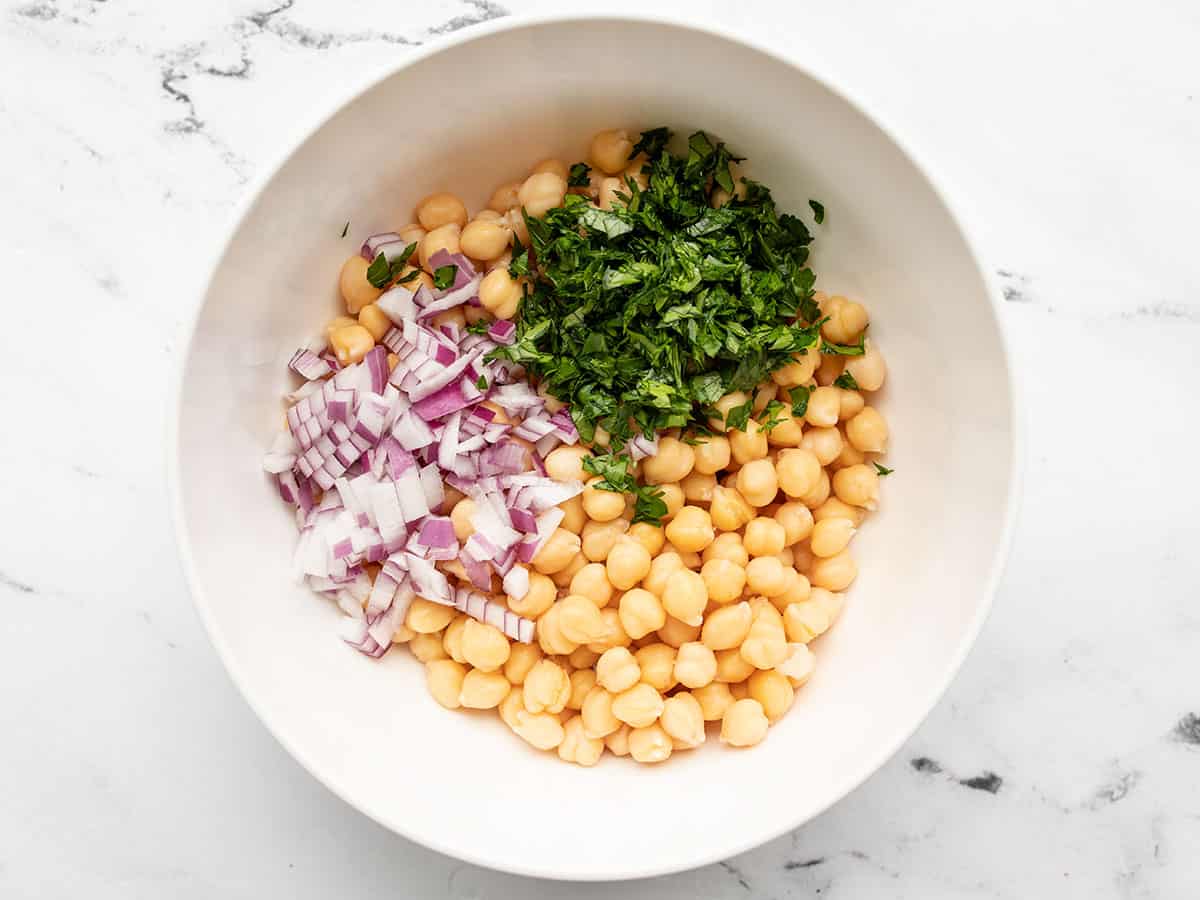 Rinse and drain two 15oz. cans of chickpeas, then place them in a bowl. Roughly chop about 1/4 cup fresh parsley. Finely dice about ¼ cup red onion (soak for 5 minutes in cold water if you want a milder onion flavor).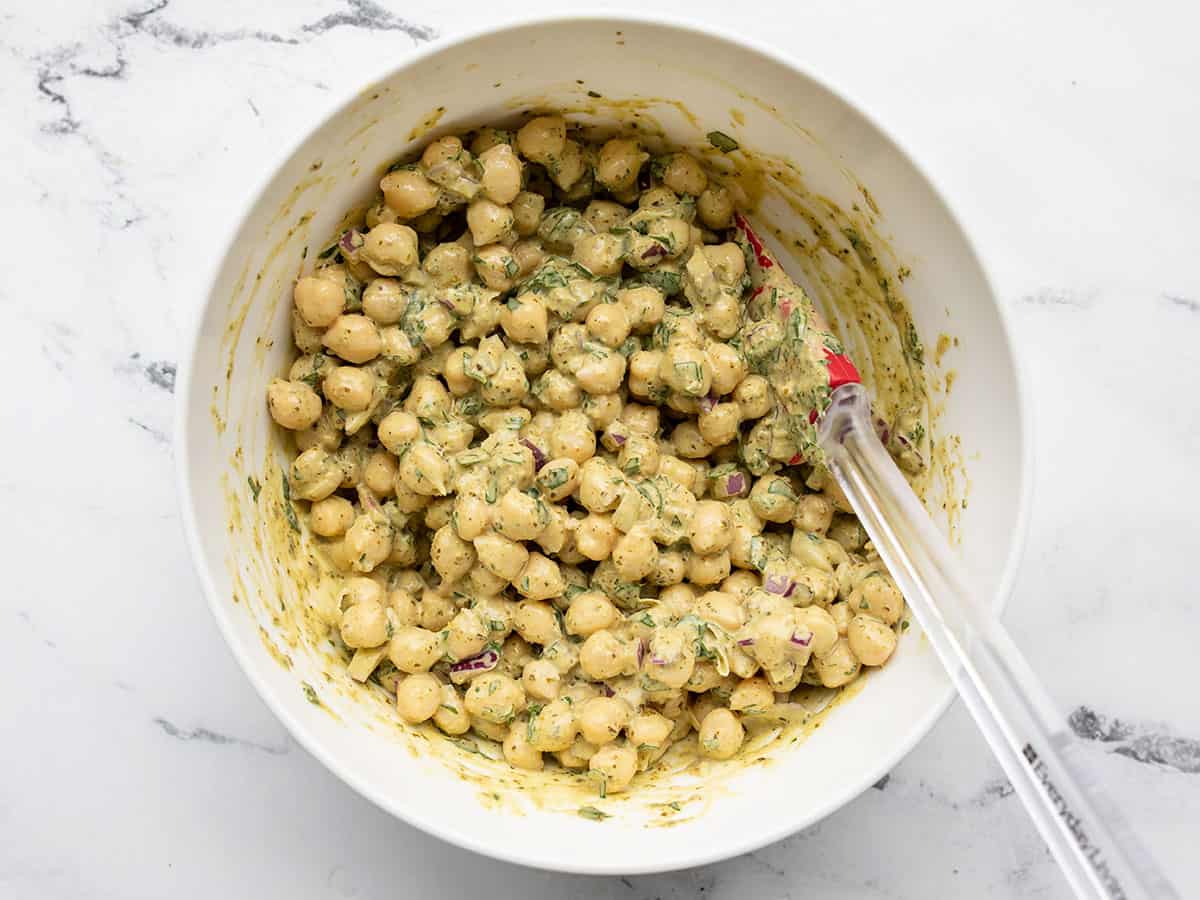 Add the dressing and stir to combine. You can either serve the salad just like this, or…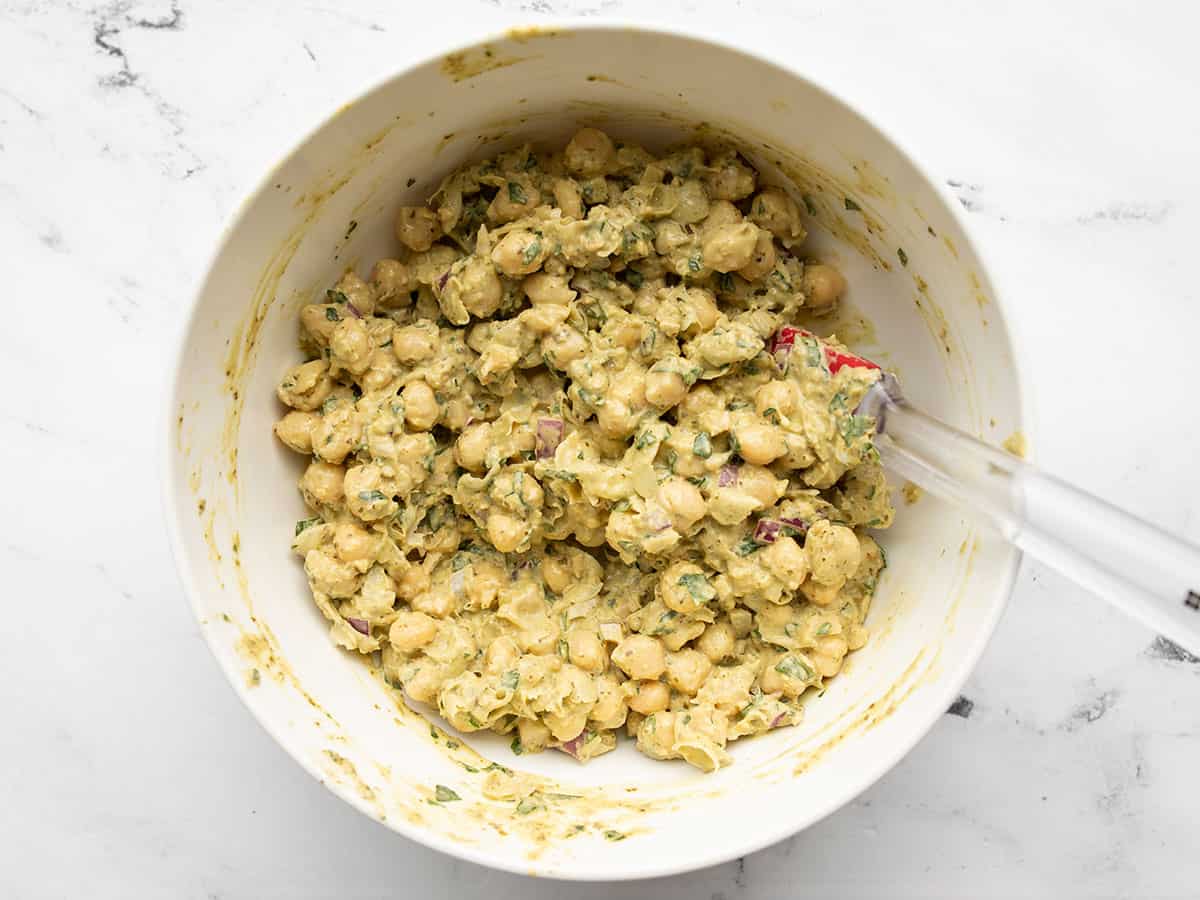 Or you can slightly mash the chickpeas in the bowl to make it hold together a little more like a potato salad. You can use a potato masher to do this, or just mash some of the beans with a fork against the side of the bowl.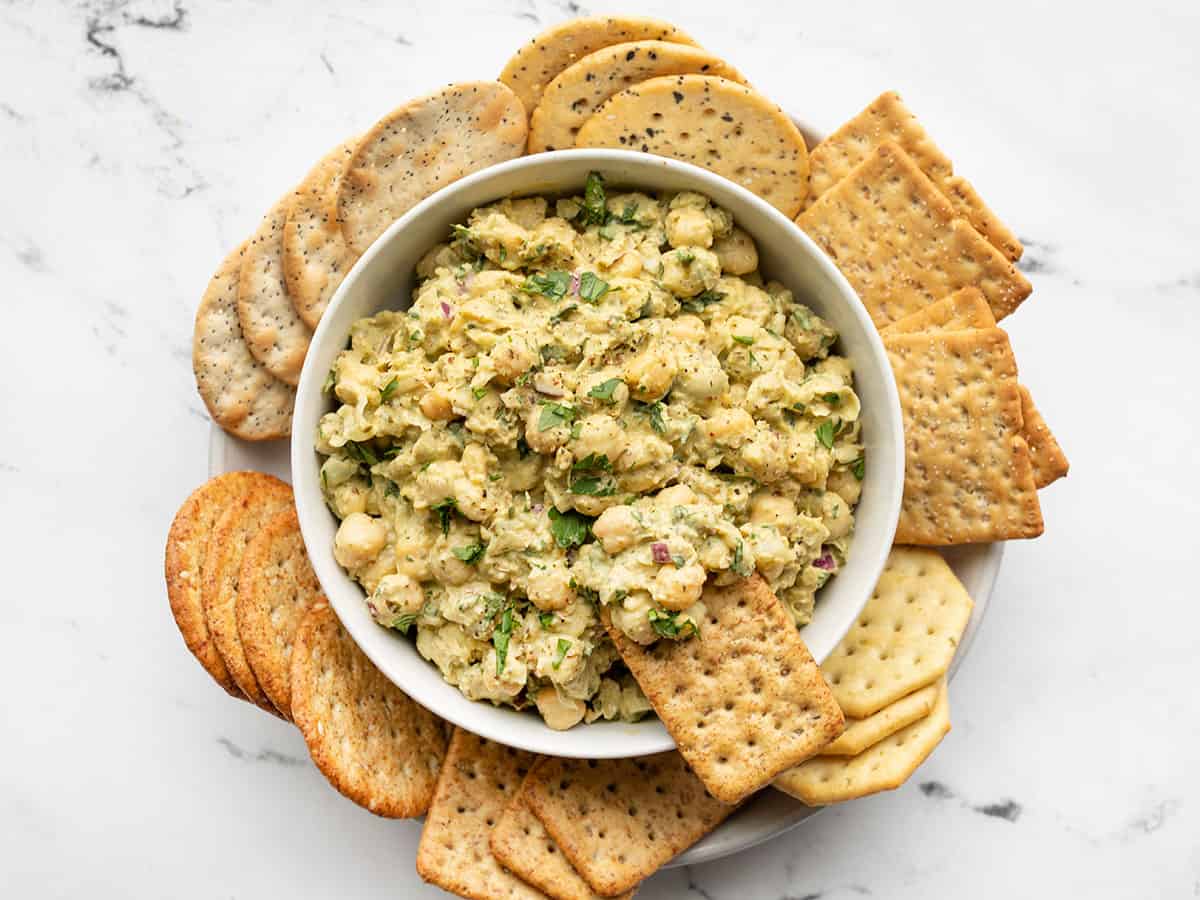 Serve immediately or refrigerate until ready to eat!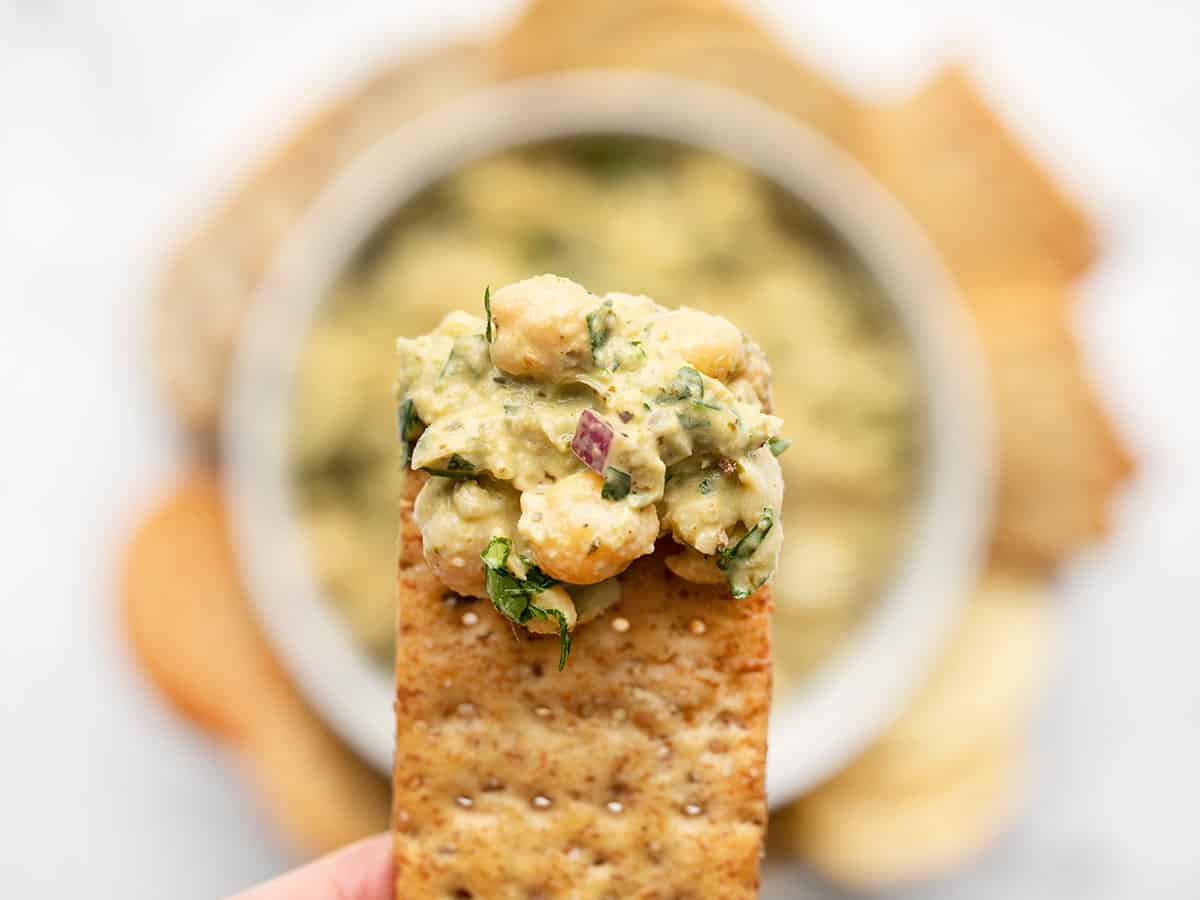 So much flavor, so little effort. ;)