Y'all know I love chickpeas. They're easy to prepare, versatile, cheap, and full of fiber and other goodies! Chickpea salads have become one of my favorite easy preparations for chickpeas, especially now that it's mid-summer and a million degrees out. Today I made a light and tangy Curry Chickpea Salad, that you can eat as a wrap, stuffed into a pita, or piled on top of a fresh green salad. It only takes a few minutes to prepare and makes a super tasty lunch!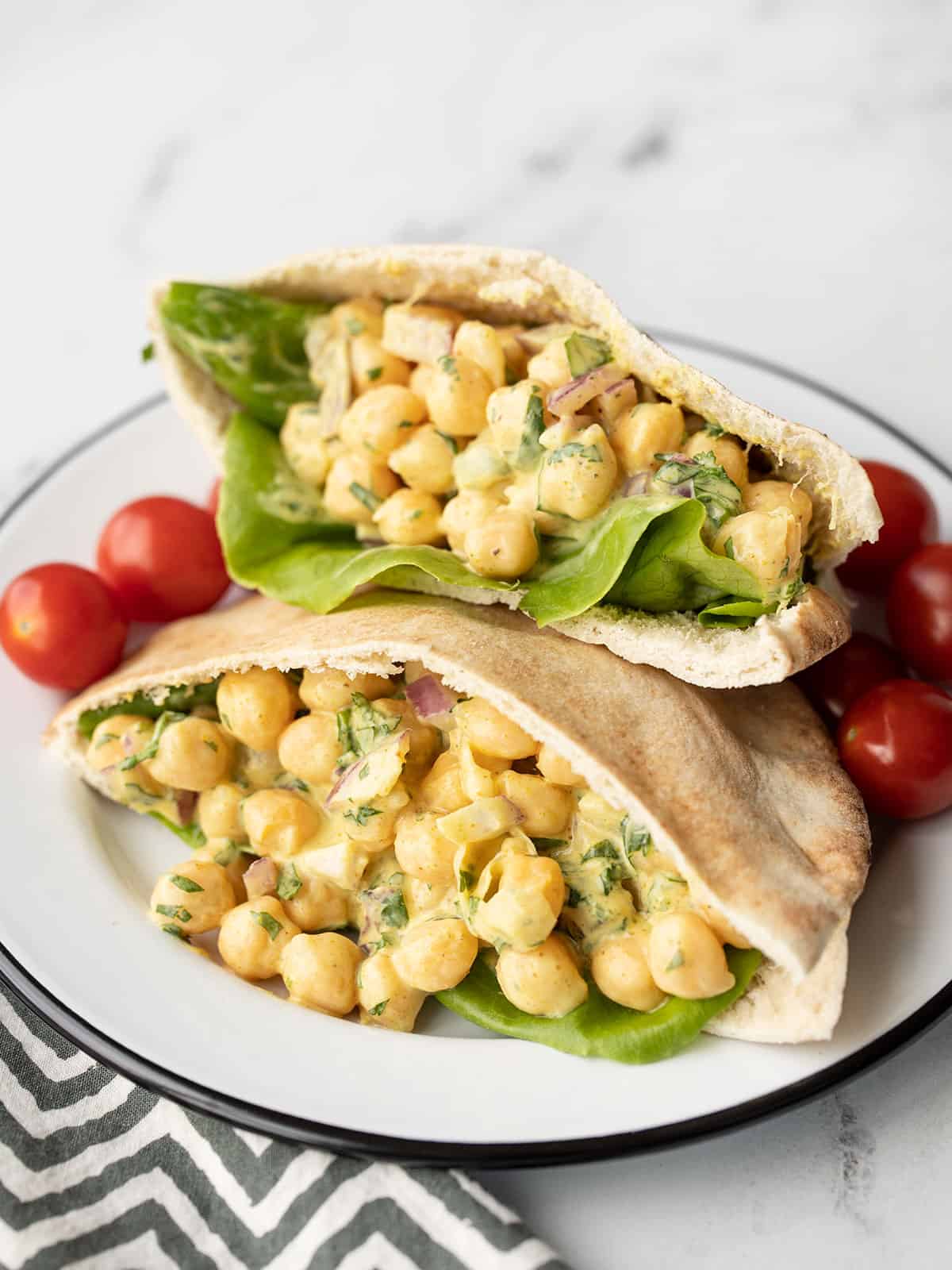 What Kind of Curry Powder Should I Use?
There are so many different types of curry powder out there and they all have a unique flavor. I haven't yet met a curry powder that I don't like, so I can't suggest one over another, but I've tried a few different brands such as Sharwoods, 365, Spice Islands, and Simply Organic. If you want to try making your own curry powder at home, here is a great recipe for curry powder from Hari Ghotra, along with a ton of great info about curry powder, its origins, and ways it can be used.
How to Serve Curry Chickpea Salad
As I mentioned in the intro, there are a few different ways to eat this Curry Chickpea Salad. I stuffed it into a pita with some lettuce for the photos here, but I've also wrapped it up in a tortilla to make a wrap sandwich. You can also scoop it on top of a green salad, or smash up the chickpeas and dip into it with crackers or vegetables.
I didn't smash the chickpeas this time, but I often do to create a different texture in the salad. It really just depends on what texture you prefer or how you plan to serve it.
What Else Can I Add?
Chickpea salads are fun because you can add all sorts of other ingredients to make it fancy, if you have them. I think a grated carrot or diced red bell pepper would add a nice texture and the sweetness would work well with the curry flavor. Finely diced celery would also add a nice crunch, as would some slivered almonds. A few raisins would add a fun pop of sweetness. And lastly, if you can't do red onion, sliced green onion would be a nice mild option to use in their place.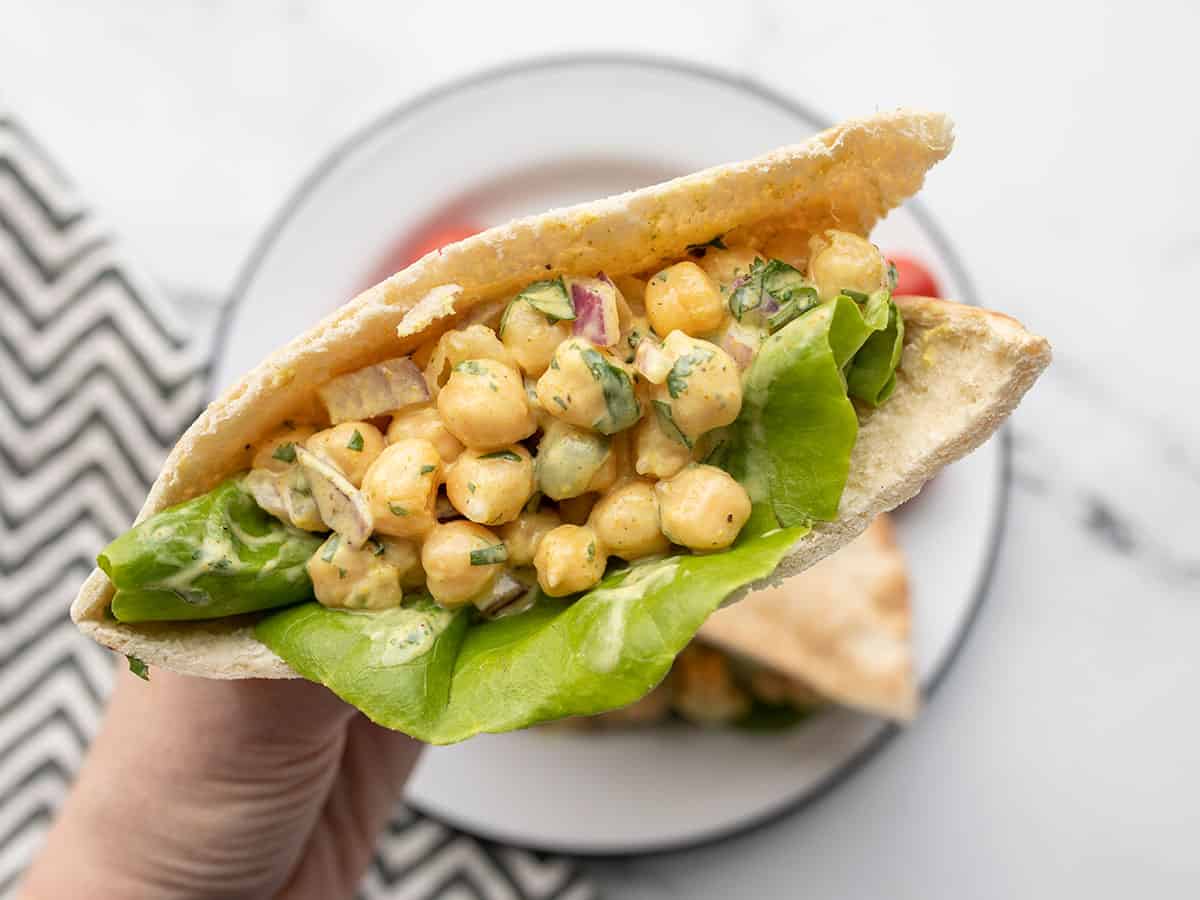 Curry Chickpea Salad
This Curry Chickpea Salad is a fast and easy no-cook lunch that's perfect for summer. Light, fresh, filling, tangy, and flavorful!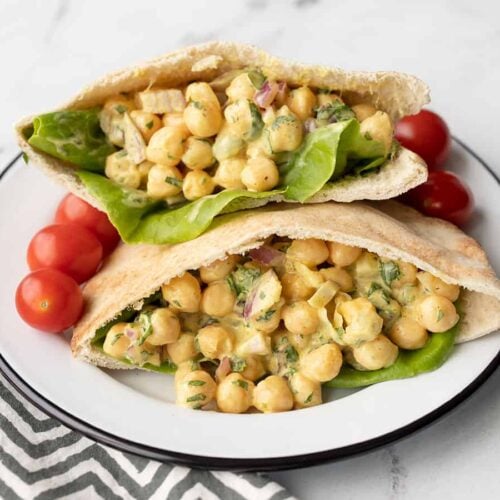 Ingredients
1/3

cup

plain yogurt*

($0.35)

1/2

tsp

Dijon mustard

($0.03)

1

tsp

honey

($0.06)

1.5

tsp

curry powder

($0.15)

1/8

tsp

salt

($0.01)

1

15oz. can

chickpeas

($0.55)

1/4

cup

chopped cilantro

($0.17)

1/4

cup

finely chopped red onion

($0.07)
Instructions
Prepare the dressing first. Stir together the yogurt, Dijon, honey, curry powder, and salt. Set the dressing aside.

Rinse and drain the canned chickpeas. Chop the cilantro and finely chop the red onion. If you'd like to soften the flavor of the red onion, first slice it and then let the slices soak in cold water for about five minutes. Drain the onion, then finely chop.

Combine the chickpeas, chopped cilantro, chopped red onion, and the prepared dressing in a bowl. Stir to combine. If you prefer, you can slightly mash the chickpeas to create a different texture. Taste and adjust the salt or other ingredients to your liking. Serve cold.
See how we calculate recipe costs here.
---
---
Notes
*You can use either regular-style yogurt or Greek yogurt, keeping in mind that Greek yogurt will create a very thick dressing.
Nutrition
Calories:
249
kcal
Carbohydrates:
38
g
Protein:
13
g
Fat:
6
g
Sodium:
811
mg
Fiber:
11
g
Read our full nutrition disclaimer here.
Love chickpea salads? Try my Scallion Herb Chickpea Salad, Pesto Chickpea Salad, or Sriracha Chickpea Salad Wraps.
How to Make Curry Chickpea Salad – Step by Step Photos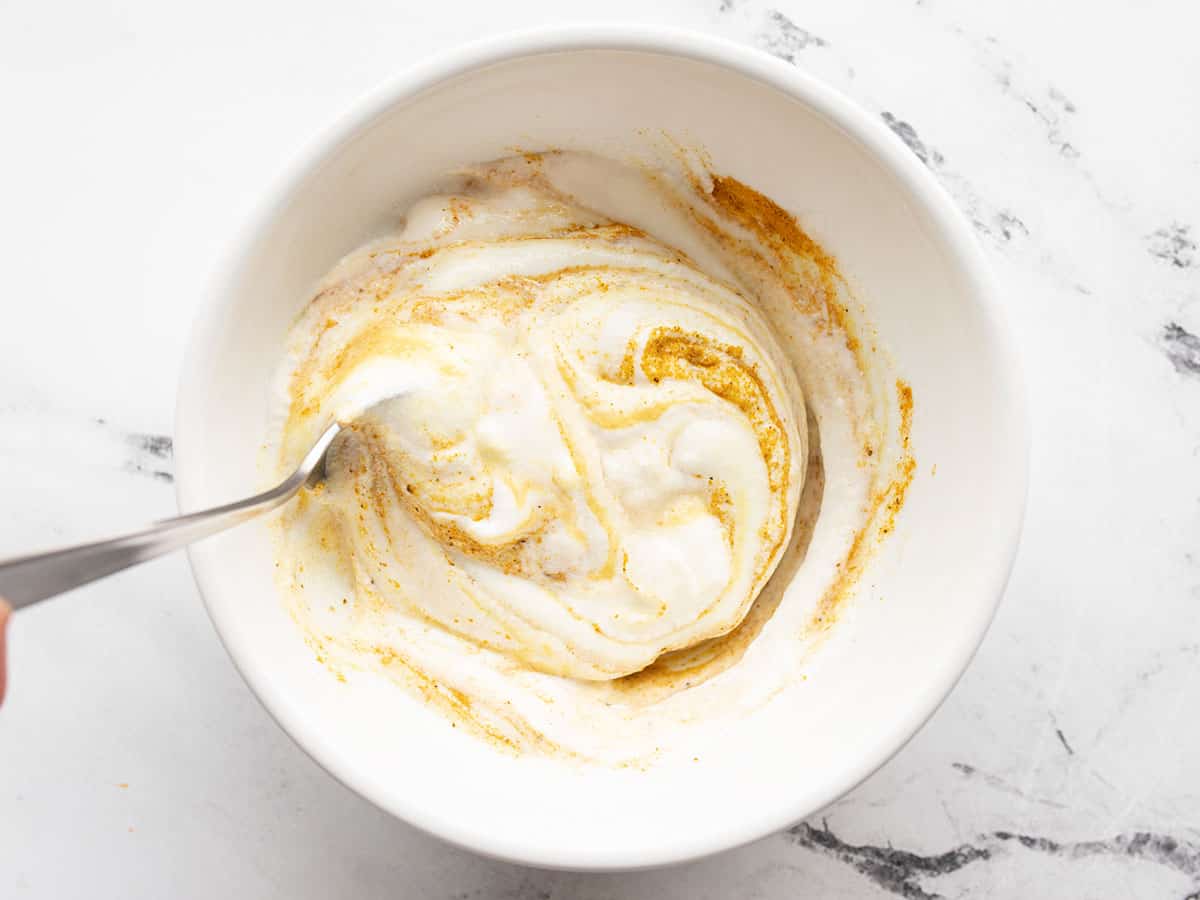 First, make the yogurt curry dressing. Stir together ⅓ cup plain yogurt, ½ tsp Dijon mustard, 1 tsp honey, 1.5 tsp curry powder, and ⅛ tsp salt. You can use regular-style or Greek-style yogurt, keeping in mind that Greek yogurt will make a very thick dressing.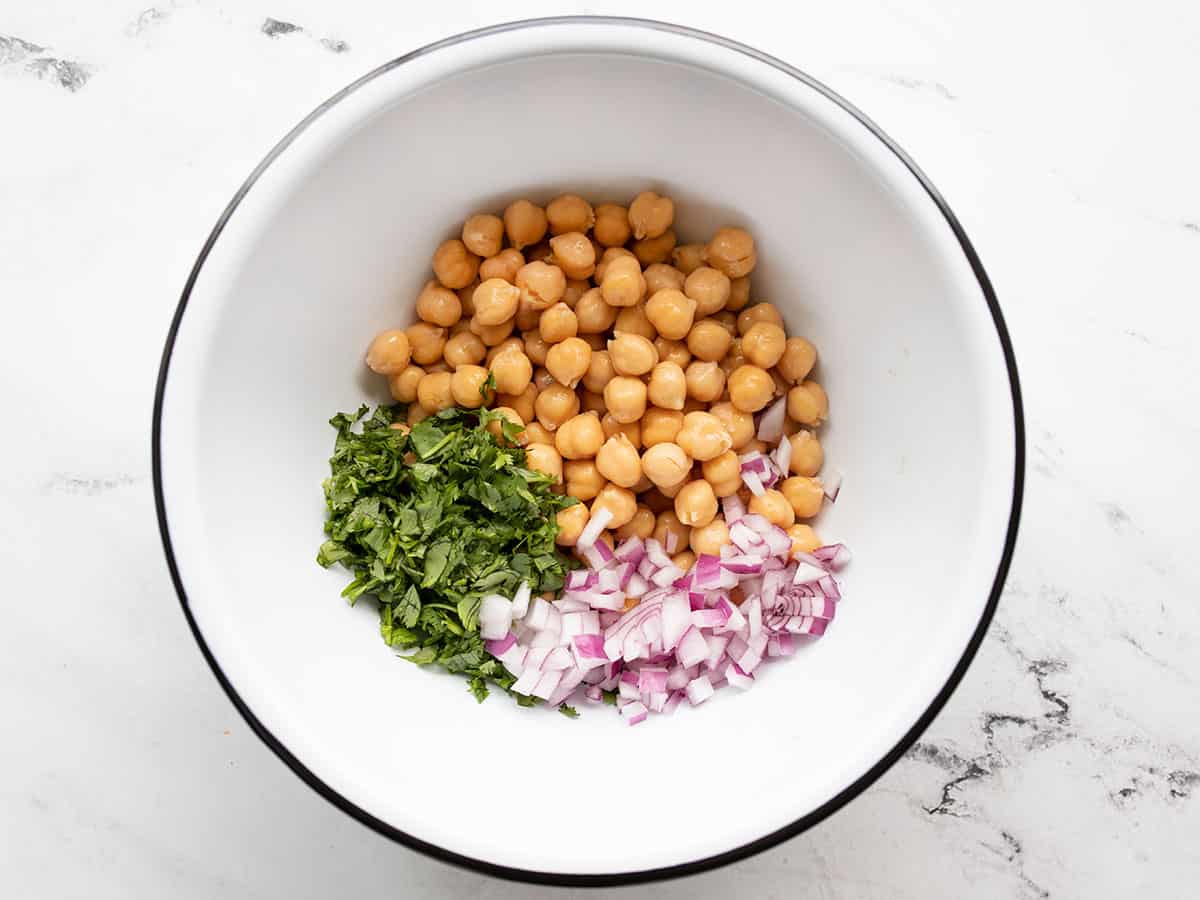 Rinse and drain one 15oz. can of chickpeas. Finely dice ¼ cup red onion and chop about ¼ cup cilantro. If you want the onions to have a softer flavor, you can slice them first and soak in cold water for about 5 minutes before finely chopping.
Pour the prepared dressing over the ingredients in the bowl.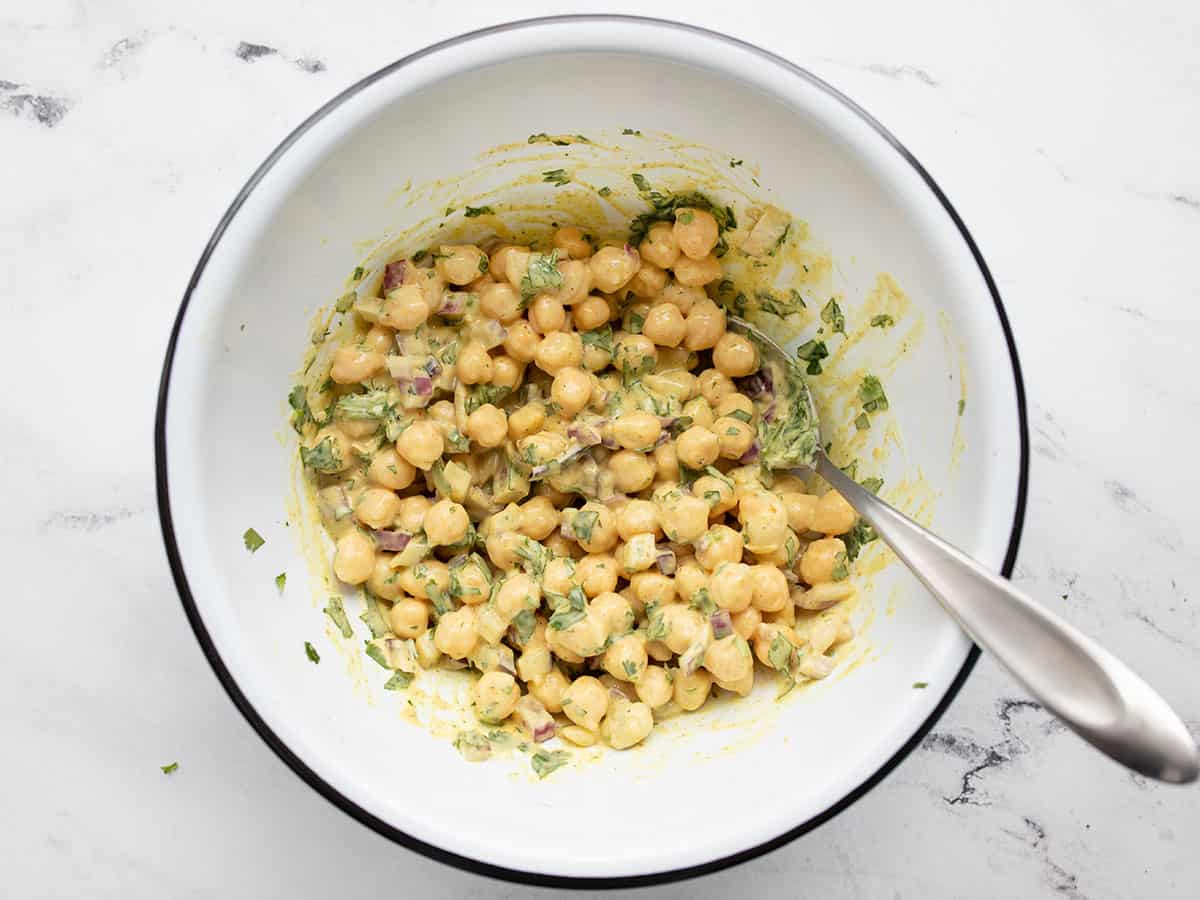 Stir until everything is combined, give it a taste, and then adjust the salt or other ingredients to your liking. At this point, you can either leave the chickpeas whole or smash them up a bit. It's up to you!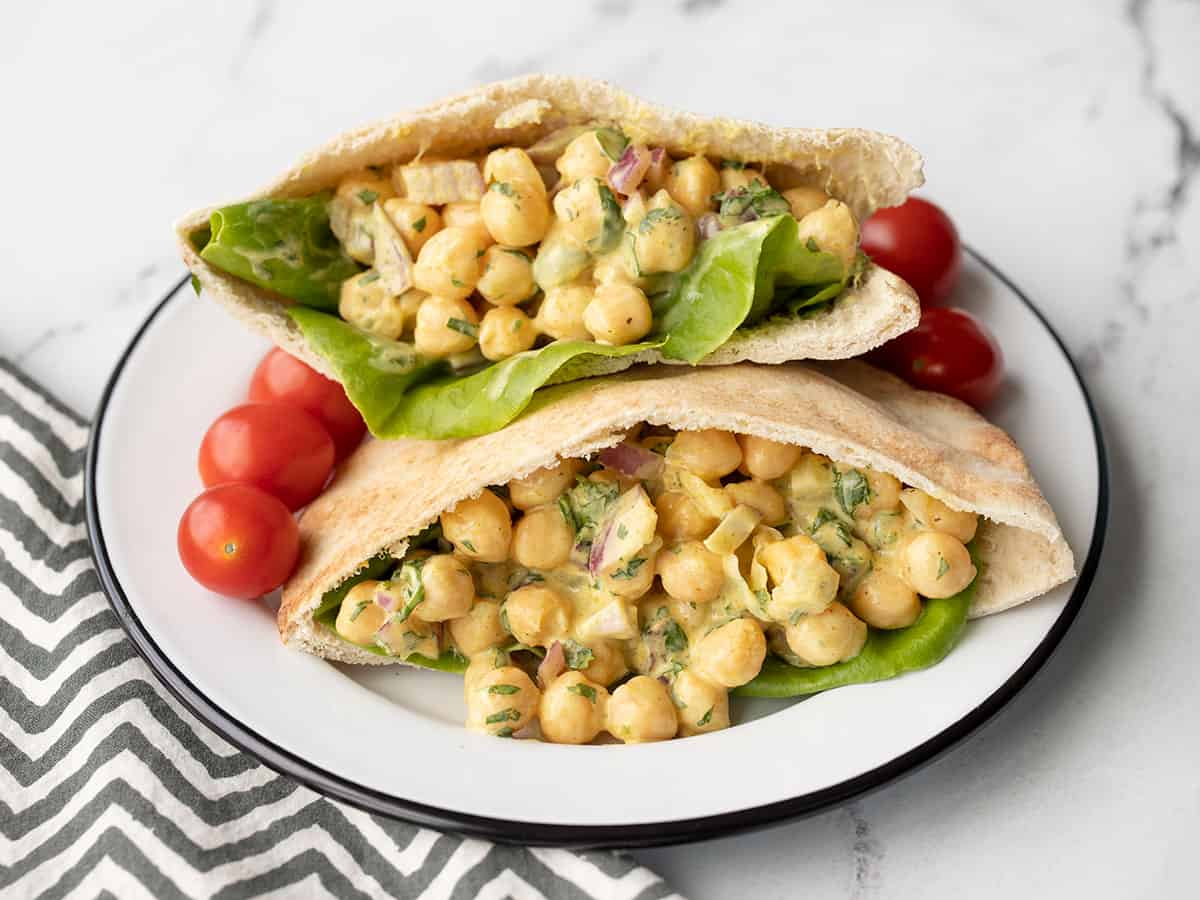 Today I left my chickpeas whole, but if I were going to serve them with crackers for scooping I'd probably mash them up a bit so the chickpeas don't roll off the crackers. :) Enjoy your quick, cold, no-cook lunch!