Okay, I don't really know what this recipe is but I do know that it was inspired by a recipe for butter chicken (which may not have been all that authentic to begin with), and then I changed it up to fit my preferences and ingredients that I had on hand. The result? Absolutely, freaking delicious. This "Not" Butter Chicken is spicy, tangy, and super aromatic. This is one of those dishes that makes me look forward to eating my lunch every day… even though I've eaten the same thing for the past three days. Plus, the leftovers are every bit as delicious as day one!
What is Garam Masala?
Garam masala is a warm blend of spices used in Indian cuisine. It's a major flavor component for this recipe and can't be skipped. In regular grocery stores it can be pricy, so search out ethnic grocery stores where you'll get twice as much for a fraction of the price. Or, if you want to try making your own blend of fresh spices at home, make sure to check out this recipe for Garam Masala from Swasthi's Recipes, where you'll also find out a lot more cool info about this awesome blend of spices and how it's used.
Tips for Buying Chicken on a Budget
Boneless, skinless breasts can cost you an arm and a leg if you don't buy them right. First, shop sales. Second, ALWAYS buy value packs. I buy my chicken breasts in a 5 lb. pack and it costs at least $1 less per pound that way. As soon as I get home from the store, I divide the pack up into bags of two breasts each (that's usually what I use per recipe) and freeze. It only takes about 5-10 minutes and I save at least $5. I actually intended to use chicken thighs for this recipe but buying the breasts in the value pack was less expensive per pound than chicken thighs. Imagine that.
Can I Use Chicken Thighs?
Yes, you can absolutely use boneless, skinless chicken thighs for this recipe. Chicken thighs are not only less expensive, but because they're dark meat they tend to stay nice and tender.
Try These Authentic Butter Chicken Recipes
Since the recipe below is only inspired by Butter Chicken, here are a few authentic butter chicken recipes for you to try. It's also fun to learn about the culture and history behind this flavorful dish from these creators:
(Not) Butter Chicken
This is a lighter version of butter chicken is full of warm spicy flavor with just a touch of butter for richness.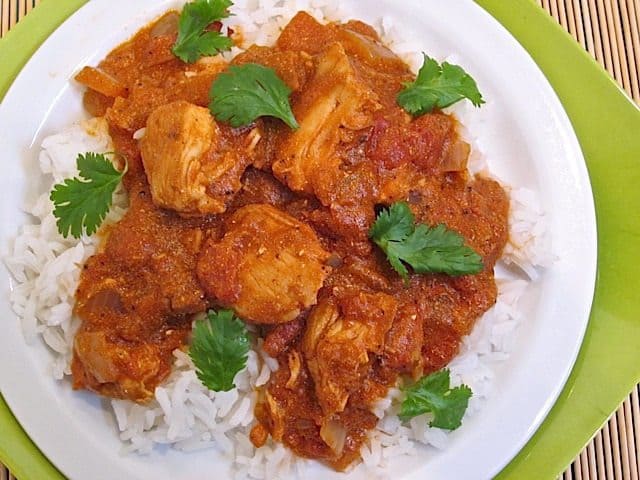 Ingredients
1.25

lbs.

2 lg chicken breasts

($2.48)

3

Tbsp

butter

($0.22)

3

cloves

garlic

($0.21)

1

med onion

($0.38)

1

inch

fresh ginger

($0.14)

1

Tbsp

garam masala

($0.20)

1/4

tsp

cayenne pepper

($0.05)

1 15 oz.

can

tomato sauce

($0.75)

1 15 oz.

can

diced tomatoes

($0.88)

1/2

cup

plain yogurt

($0.25)

1 1/2

cups

jasmine or basmati rice

($0.66)

2 1/4

cups

water

($0.00)
Instructions
Trim the fat from the chicken breasts and cut them into small chunks. Set chicken aside. Dice the onion and mince the garlic and ginger.

In a large pot, melt the butter over medium/high heat. When the butter is nice and hot (careful not to burn it) add the chicken chunks and brown them on all sides. Remove the chicken from the pot and set aside. It's okay if it isn't cooked through because it will simmer in the sauce later.

Reduce the heat to medium and add the onions, garlic and ginger. Saute the mix for 2-3 minutes or until they begin to soften. Add the garam masala and cayenne pepper. Continue to cook and stir for 2 minutes more.

Add the tomato sauce and diced tomatoes. Stir until everything is evenly combined. Add the chicken back in, place a lid on top and reduce the heat to medium-low. Allow the mixture to simmer for one hour or until the chicken is tender and cooked through.

While the pot is simmering, begin to cook the rice. Combine 1.5 cups of rice and 2.25 cups of water in a medium pot. Place a lid on top and heat over a high flame until boiling. Once it comes to a full boil, immediately reduce the heat to low and let simmer for 20 minutes. After 20 minutes, turn the heat off and keep the lid in place until ready to serve.

After the chicken and tomato mixture has simmered, break the chicken into smaller pieces if desired (the chicken should be soft and easily broken apart). Stir in the plain yogurt. Serve the chicken mixture over a bed of rice. Garnish with cilantro if desired.
See how we calculate recipe costs here.
---
Nutrition
Serving:
1
Serving
Calories:
392.32
kcal
Carbohydrates:
48.15
g
Protein:
27.18
g
Fat:
9.95
g
Sodium:
527.28
mg
Fiber:
2.78
g
Read our full nutrition disclaimer here.
How to Make (Not) Butter Chicken – Step By Step Photos

Cut your chicken into small pieces. You can use thigh meat or breasts… whatever you like or whatever is least expensive.

It's a good idea to have your onion, garlic, and ginger chopped and minced before you begin. The recipe comes together quickly in the beginning (then simmers for a long time).

Melt the butter in a large pot over medium high heat.

When the butter is nice and hot, add the chicken and brown it on all sides. Remove it from the pot after browning. It's okay if it's not cooked through, it will simmer in the sauce later and cook completely.

After removing the chicken, add the onion, garlic and ginger to the butter in the pot. Cook them for 2-3 minutes or until they begin to soften. Then add the garam masala and cayenne pepper. Continue to stir and cook the mixture for 1-2 minutes more. The spices will become fragrant.

Next, add the tomato sauce and diced tomatoes.

Add the chicken back into the pot.

Place a lid on top, reduce the heat and let it simmer for about an hour so that the chicken gets cooked through and becomes nice and tender.

Get the rice going while the stew is simmering. It is really vital to the dish to use some sort of aromatic rice. I used jasmine rice because I was able to buy this large, 5 lb. bag for a really good price. Check the ethnic aisle at your local grocery store, they often stock bulk sized bags of jasmine rice near the other Asian ingredients.

Combine the rice in a medium pot with 1.5 parts water (1.5 cups rice / 2.25 cups water). Bring it to a boil with a lid on then immediately reduce the heat to low. Let it simmer on low for 20 minutes then turn the heat off. Let it sit with the lid in place until you are ready to serve. Fluff with a fork just before serving.

Once the chicken/tomato mixture has simmered for quite a while, the chicken should be very tender. I broke mine up into smaller pieces. Finally, stir in the yogurt. My final product didn't need any adjusting with spices, salt or pepper but taste yours for good measure.

Serve over rice or with some naan to soak up the stew.