Do you remember when the internet had a collective "Aha!" moment over smoothie packs? Maybe not if you're not looking at food online 24/7 like me, but believe me when I say the world changed a little bit when people figured out that it was a lot easier to pre-make individual baggies of their smoothie fixings instead of pulling out each separate ingredient every time they wanted to whip up a nutritious drink. Sometimes the simplest ideas are the most easily overlooked, which is why I'm sharing my Make Ahead Seeded Oats with you today.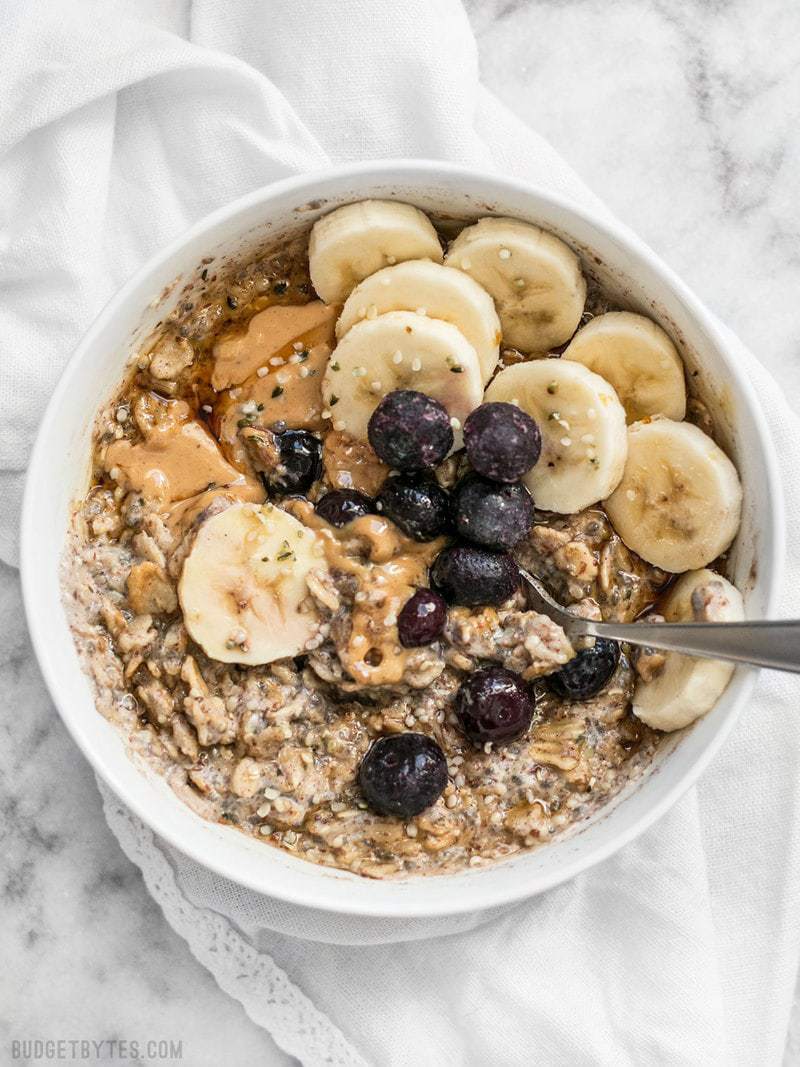 It's the same concept as smoothie packs, but with oatmeal. Instead of pulling out ten different ingredients to make an epic bowl of oats every morning, take five minutes to pre-pack a week's worth of oats with your dry add-ins so that each morning you can simply dump them a bowl, add liquid, and microwave until hot. I love adding a bazillion things into my oats, so this definitely saves me time and makes me resist the urge to just eat toast.
The best part? You can eat your Make Ahead Seeded Oats hot or cold and I'll give instructions for both below. You can eat them as plain or dressed up as you'd like and I'll give ideas for fun add-ins that I enjoy.
This is a "concept" post rather than a recipe, so I'm not doing a price breakdown. My bowl of oats changes every morning based on whatever I have in my pantry or fridge that needs to be used up, but the basic outline is below. I'd love to hear what your favorite oat add-ins are, so leave your own special mix in the comments at the bottom of the post!
Dry Mix Options:
Oats: rolled, old fashioned, or quick
Seeds: flax, hemp, chia, sunflower
Spices: cinnamon, nutmeg, ginger, cloves (just a pinch!), salt
Nuts: almonds, walnuts, pecans, unsweetened shredded coconut, peanut butter powder
Dried Fruit
Sweeteners: sugar, brown sugar, stevia, turbinado
Add After Cooking:
Fresh or frozen fruit
Liquid sweeteners like honey, maple syrup, or agave
Fats like coconut oil, butter, peanut butter, or almond butter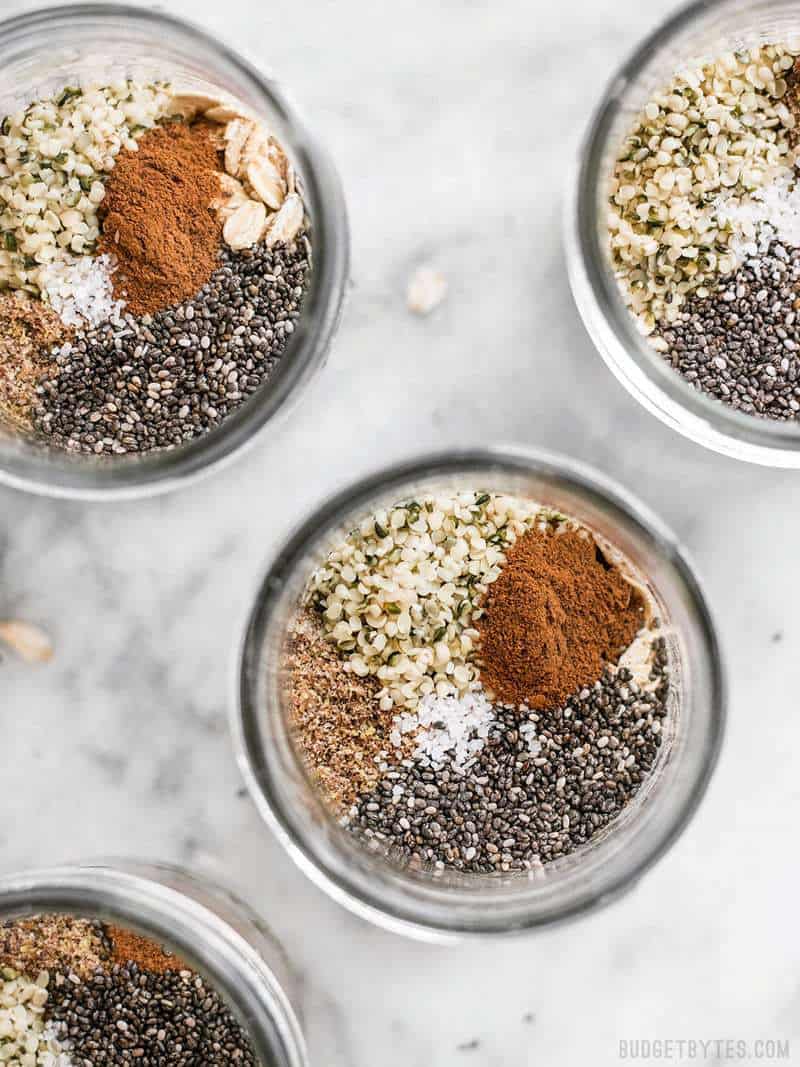 Make Ahead Seeded Oats
Preparing individual oat packs with seeds, seasoning, and other add-ins, like these Make Ahead Seeded Oats, makes having a healthy breakfast fast and easy.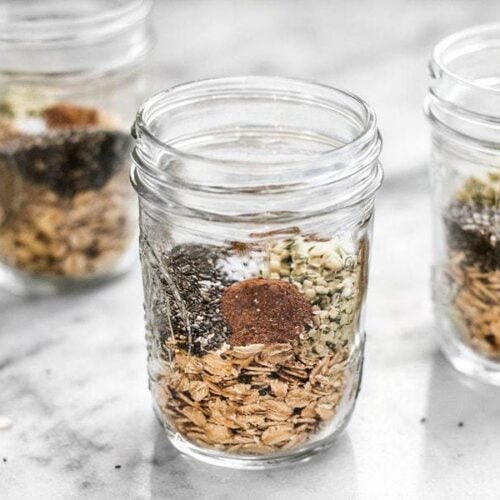 Ingredients
1.33

cup

rolled oats

4

Tbsp

ground flaxseed

4

Tbsp

hulled hemp seeds

2

Tbsp

chia seeds

1

tsp

cinnamon

pinch

salt*

2.67

cup

water, milk, or non-dairy milk

sweetener of choice

Optional fresh add-ins: fresh fruit, nuts, peanut butter, jam, maple syrup
Instructions
Divide dry ingredients between four containers (zip-top bags, reusable plastic containers, or glass containers with lids). About 1/3 cup oats, 1 Tbsp flaxseed, 1 Tbsp hemp seeds, 1/2 Tbsp chia seeds, 1/4 tsp cinnamon, and a pinch of salt for each. If you are using a dry sweetener, like sugar, brown sugar, or stevia, you can add them to the dry mix. Store in a cool dry place indefinitely.

To prepare the oats hot, add 2/3 cup water, milk, or non-dairy milk and stir to combine. Microwave on high for one minute, stir, then microwave in 30 second intervals until thickened. Let the seeded oats sit at room temperature for about 2 minutes to thicken further. Add in any extra items (fresh fruit, peanut butter, syrup, etc.) just before serving.

To prepare cold oats, add 2/3 cup water, milk, or non-dairy milk, stir to combine, then refrigerate for 8 hours or up to 3-4 days. Stir in any fresh add-ins just before serving.
See how we calculate recipe costs here.
---
Notes
Adding a pinch of salt to oatmeal is a game changer. It really punches up the flavors and makes the oats seem very rich.
Nutrition
Serving:
1
Serving
Calories:
318.63
kcal
Carbohydrates:
31.23
g
Protein:
14.18
g
Fat:
16.6
g
Sodium:
202.55
mg
Fiber:
29.58
g
Read our full nutrition disclaimer here.
How to Make Seeded Oats – Step by Step Photos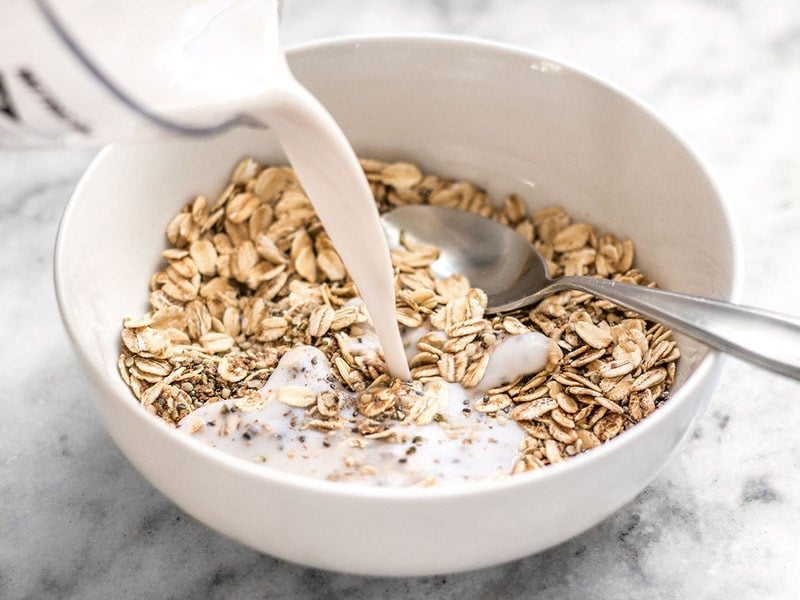 I like to use a 2:1 liquid to oats ratio, even with the absorbent nature of the chia and flaxseeds. So, when I use 1/3 cup rolled oats in my oatmeal packs, I add 2/3 cup liquid (water, milk, or non-dairy milk) before cooking or before overnight cold-soaking.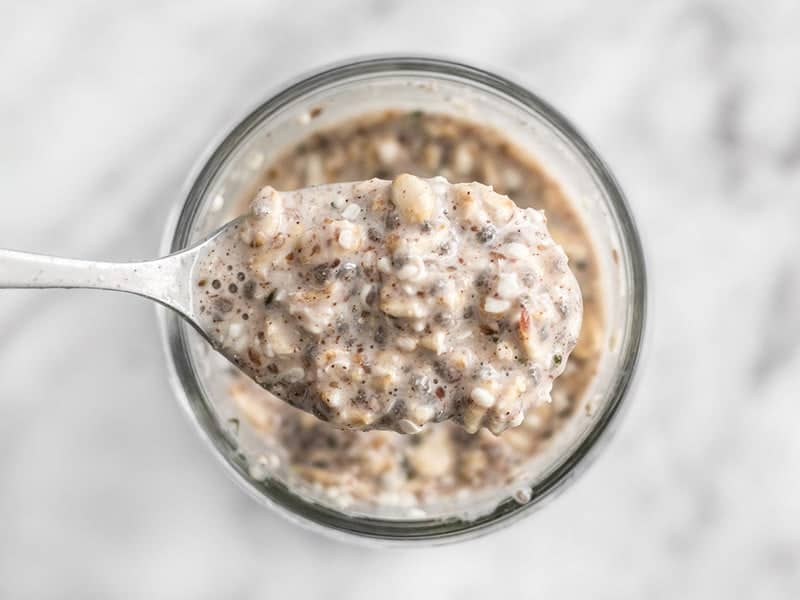 I like to store my Make Ahead Seeded Oats in jars because they're reusable, microwaveable, and I can just add my almond milk straight to the jar for soaking overnight if I decided I want a cold breakfast. (The photo above is the cold-soaked Make Ahead Seeded Oats)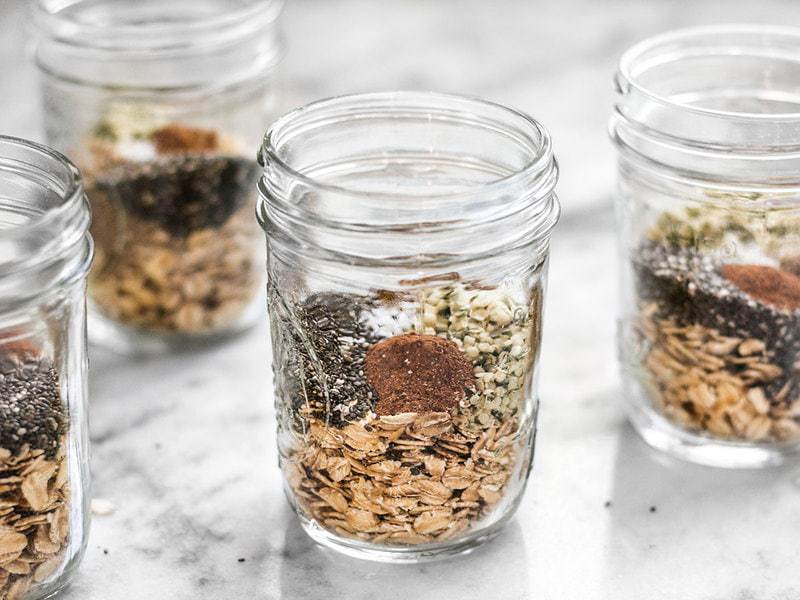 You can also pack your oats in snack-sized zip top bags, or reusable plastic containers.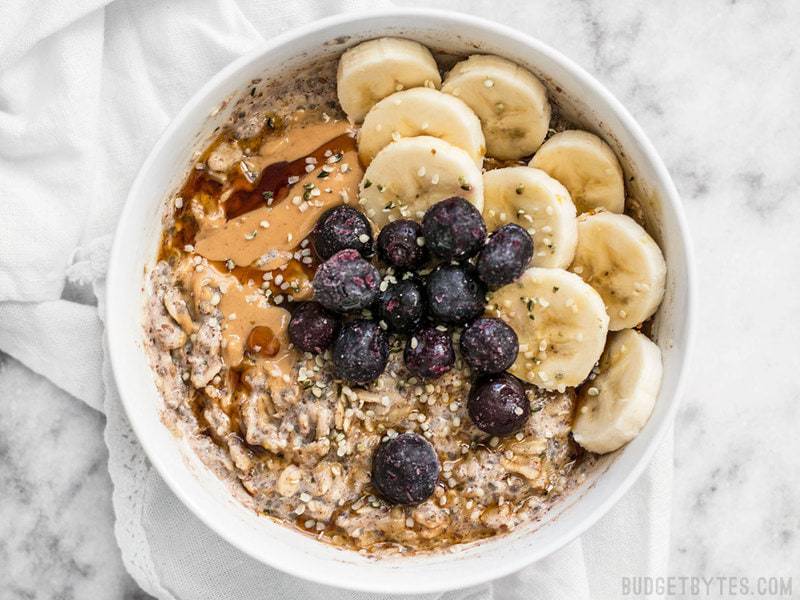 There are two things that really take a bowl of oats to the next level: a pinch of salt, and some sort of fat, whether it be coconut oil, peanut butter, or regular butter. PB is my favorite du jour, but coconut oil is my second fav.
What is your favorite oatmeal add-in? Let us know in the comments below!