Roasted Vegetable Couscous
I'm still trying to take full advantage of the fresh summer veggies before they're gone. This Roasted Vegetable Couscous is the perfect side dish for the transitional season, when the markets are still full of fresh beautiful produce, but it's not so hot that you don't want to turn on your oven. This simple side dish is easy to prepare, but boasts complex and vibrant flavors.
That being said, if it is still too hot to roast your vegetables in the oven, you can make this dish just as easily by grilling the vegetables outside on your grill. Either way, you'll get that wonderfully sweet caramelized smoky flavor on the edges of the vegetables that contrast so well with the savory couscous.
Originally posted 8-29-11, updated 9-10-18.
Couscous with Roasted Vegetables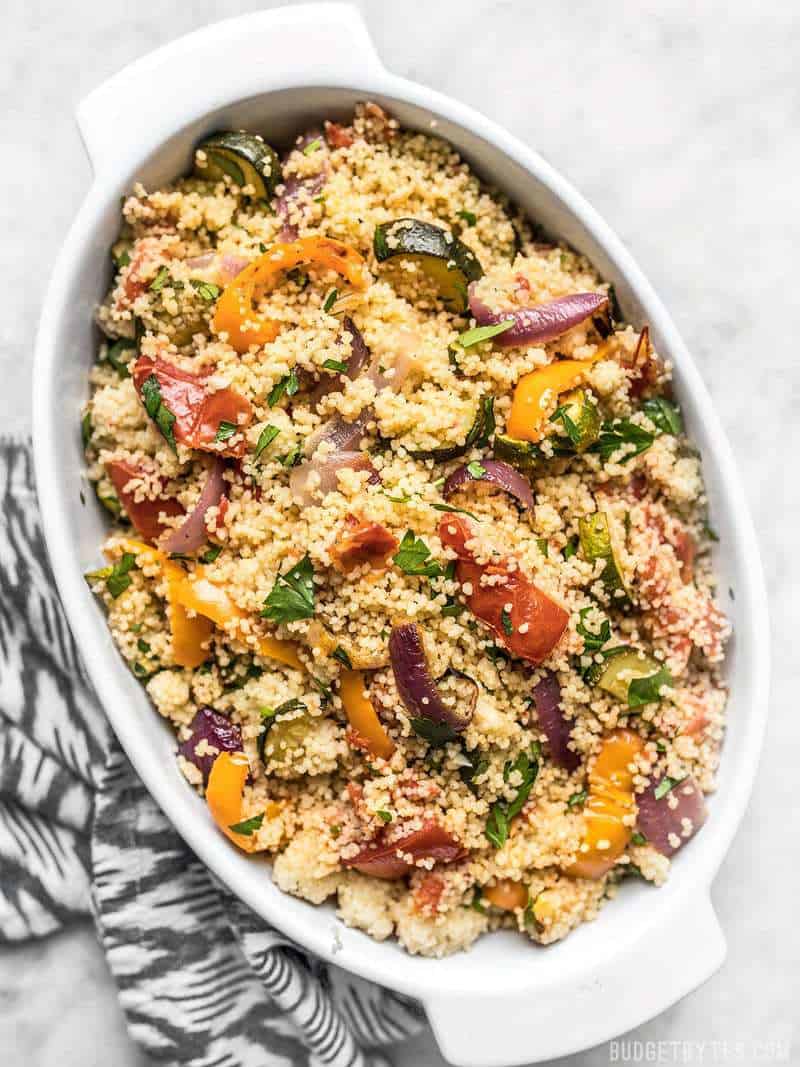 What is Couscous?
If you're unfamiliar with couscous, it's kind of like small granules of pasta. Technically couscous is not a pasta because it's not made from a dough, but from rolling small bits of crushed durum wheat semolina in flour until it forms the tiny granules. Because the small granules are so tiny, it produces a wonderfully light and fluffy mixture once cooked. It's perfect for mixing with vegetables, herbs, fruit, meat, or even nuts.
How do you Cook Couscous?
Cooking Couscous is extremely easy. Simply pour the couscous into boiling water (1 part couscous to 1.5 parts water), place a lid on top, turn the heat off, and let it sit undisturbed for ten minutes. The couscous will quickly absorb the hot water. After ten minutes fluff, then serve! You can flavor couscous by cooking it in flavored liquids, like the vegetable broth I used here. Larger varieties of couscous, like Israeli couscous, or varieties made with whole wheat semolina, may have slightly different cooking instructions.
Can I Use Different Vegetables?
Yes! You can use pretty much any vegetable that you have available to you, but I like to make sure I have at least three colors for maximum visual appeal. Some other vegetables that are wonderful in this mix are: eggplant, yellow squash, mushrooms, or broccoli. If using hard vegetables, like root vegetables, you may need to cut them slightly smaller to make sure they soften.
What to Serve with Roasted Vegetable Couscous
This simple recipe makes a really great side dish to any meat, like Herb Roasted Pork Tenderloin, Garlic Butter Baked Chicken Thighs, Chicken Piccata, or Oven Baked Fish with Tomatoes. To make this part of a vegetarian meal, serve it along side Marinated Portobello Mushroom Burgers, a Scallion Herb Chickpea Salad sandwich, or just top a bowl of the roasted vegetable couscous with a big dollop of hummus and serve with a side of pita!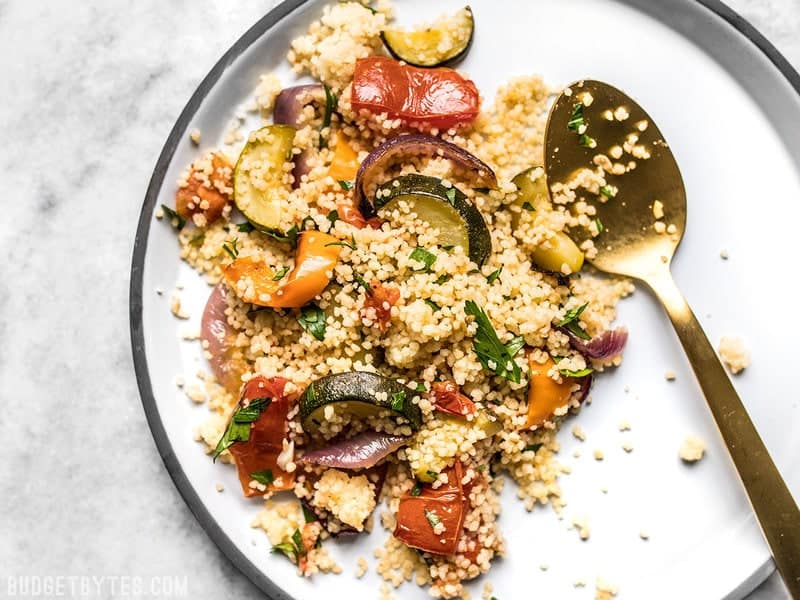 Roasted Vegetable Couscous
Roasted Vegetable Couscous is an easy side dish with complex flavor, with sweet roasted vegetables mixed with savory, fluffy couscous.
Servings: 8 about 1 cup each
Ingredients
4 Roma tomatoes ($1.69)
2 zucchini ($1.23)
1 bell pepper ($1.00)
1 red onion ($0.69)
4 cloves garlic ($0.24)
2 Tbsp olive oil ($0.32)
2 pinches salt and pepper ($0.05)
2 cups couscous ($1.97)
3 cups vegetable broth ($0.39)
1/4 bunch parsley ($0.24)
Instructions
Preheat the oven to 400ºF. Wash and chop the tomatoes, zucchini, bell pepper, and red onion into 1 to 1.5-inch pieces. Peel four cloves of garlic but leave them whole.

Toss the chopped vegetables and garlic with 2 Tbsp of olive oil. Spread them out on a baking sheet so they are in a single layer. Sprinkle a couple pinches of salt and pepper over the vegetables

Place the vegetables in the oven and roast at 400ºF for about 45 minutes, stirring twice throughout, until the vegetables are wilted and browned on the edges.

While the vegetables are roasting, cook the couscous. Add the vegetable broth to a sauce pot, place a lid on top, and bring to a boil over high heat. Once boiling, add the couscous, turn off the heat, and cover the pot with the lid once again. Let the couscous sit, undisturbed, for ten minutes. Then, fluff with a fork.

After the vegetables are finished roasting, collect the four garlic cloves, and chop them well. They will be quite soft. Also roughly chop the fresh parsley.

Combine the couscous, roasted vegetables (including garlic), and parsley in a bowl, and stir to combine. Season with more salt and pepper if desired. Serve warm or cold!
See how we calculate recipe costs here.
---
Nutrition
Serving: 1Cup ・ Calories: 225.15kcal ・ Carbohydrates: 40.69g ・ Protein: 6.9g ・ Fat: 3.98g ・ Sodium: 460.91mg ・ Fiber: 3.75g
Nutritional values are estimates only. See our full nutrition disclaimer here.
---
The equipment section above contains affiliate links to products we use and love. As an Amazon Associate I earn from qualifying purchases.
Scroll down for the step by step photos!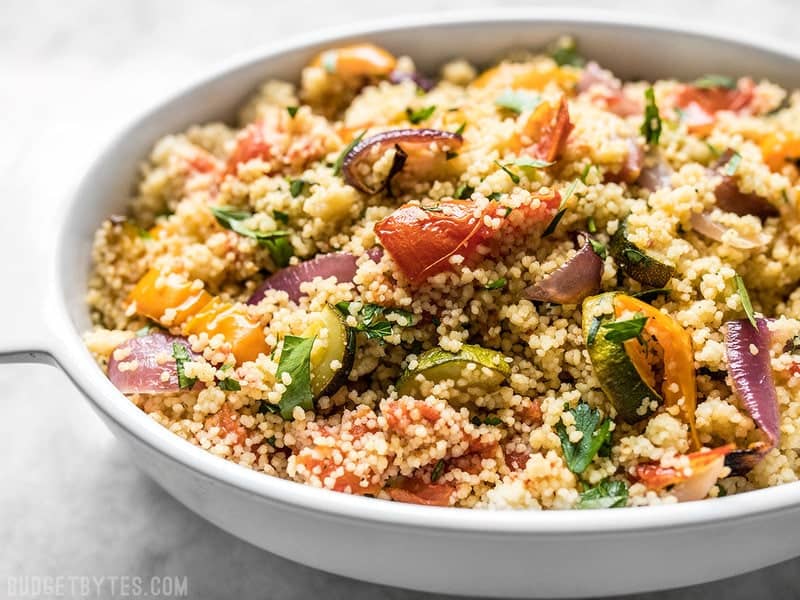 How to Make Roasted Vegetable Couscous – Step By Step Photos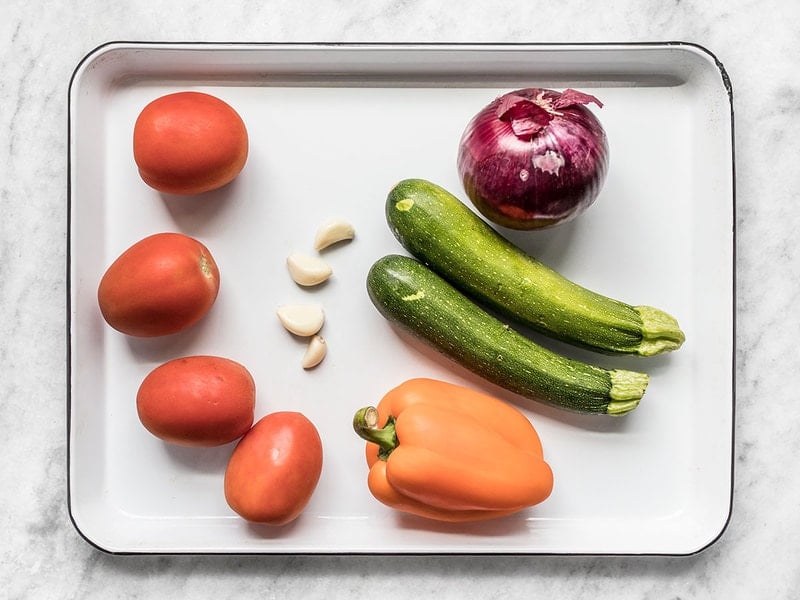 These are the vegetables that I used for my couscous today, but you can be flexible with the vegetables in this dish. Use whatever you have on hand or whatever is available at a good price! Preheat the oven to 400ºF.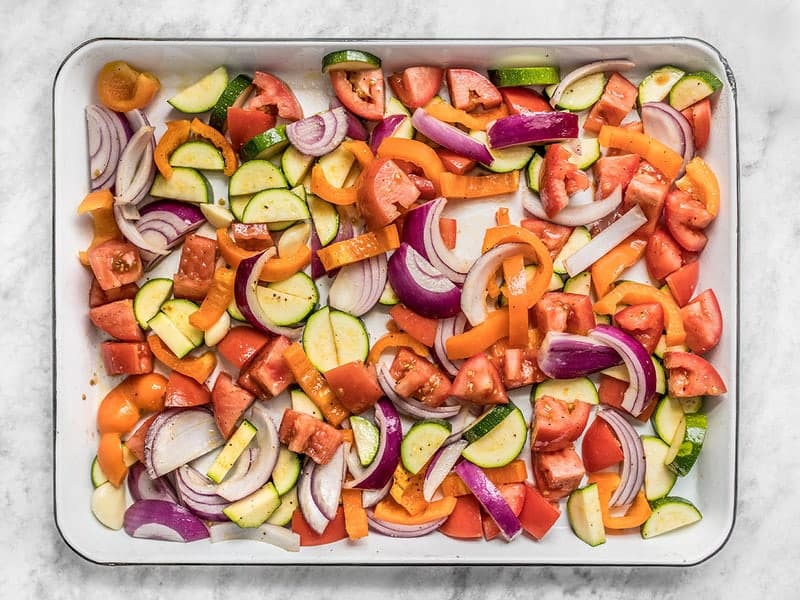 Chop the vegetables into 1 to 1.5-inch pieces. Peel the garlic, but you can leave it whole so it roasts and becomes nice and sweet. Place the vegetables (and garlic) on a large baking sheet, drizzle 2 Tbsp olive oil over top, and add a couple pinches of salt and some freshly cracked pepper. Toss until the vegetables are well coated in oil.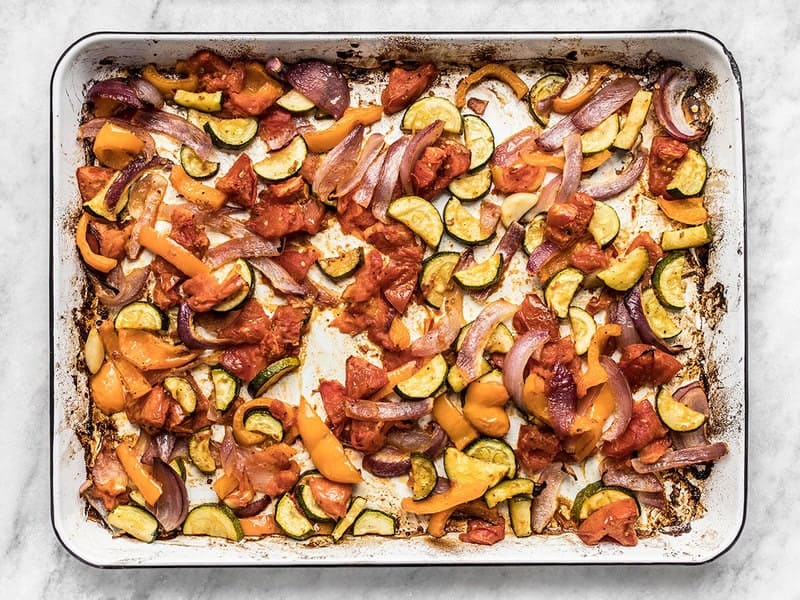 Roast the vegetables in the preheated oven for about 45 minutes, stirring a couple of times throughout, or until they are wilted and browned on the edges. Pick out the whole cloves of garlic and mince them.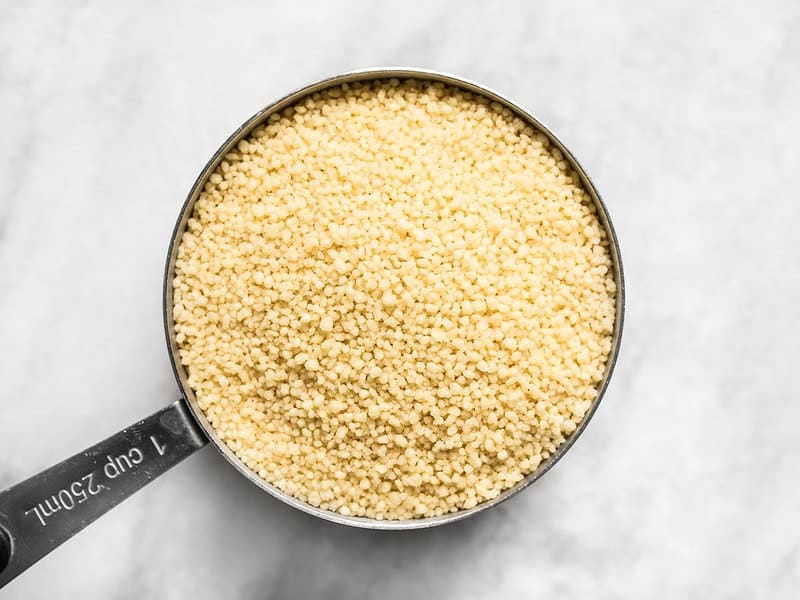 While the vegetables are roasting, cook the couscous. This is what couscous looks like uncooked. Very small, irregular granules. You can usually find this in bulk bins, or sometimes near the pasta or boxed pasta and rice pilaf mixes (although boxed versions are always much more expensive than bulk varieties).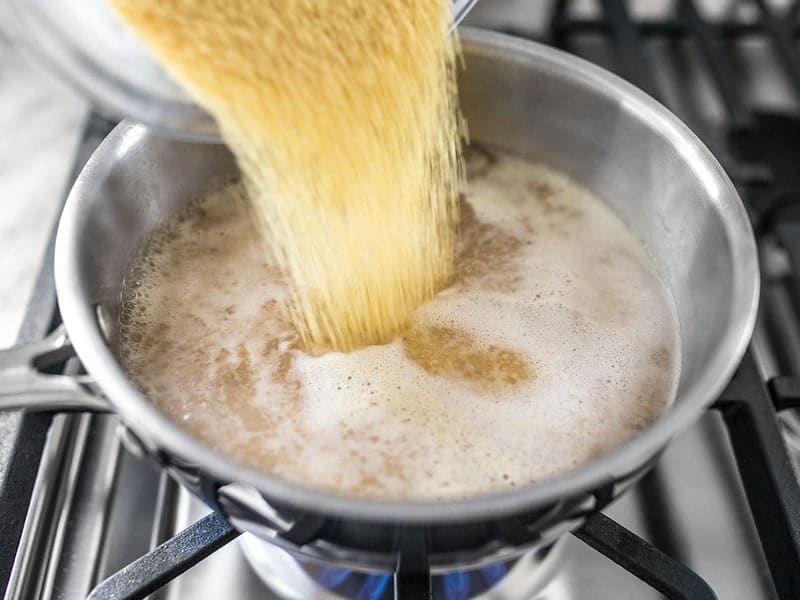 Bring 3 cups vegetable broth to a boil over high heat. Once boiling, pour in the couscous, turn the heat off, replace the lid, and let the couscous sit undisturbed for 10 minutes. The couscous will absorb the hot water as it sits.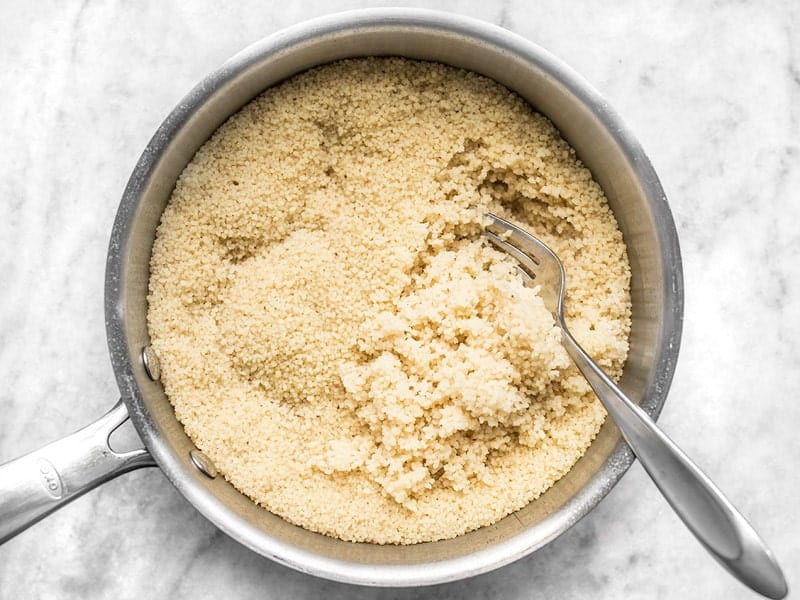 Once the couscous has absorbed all the broth, fluff it with a fork.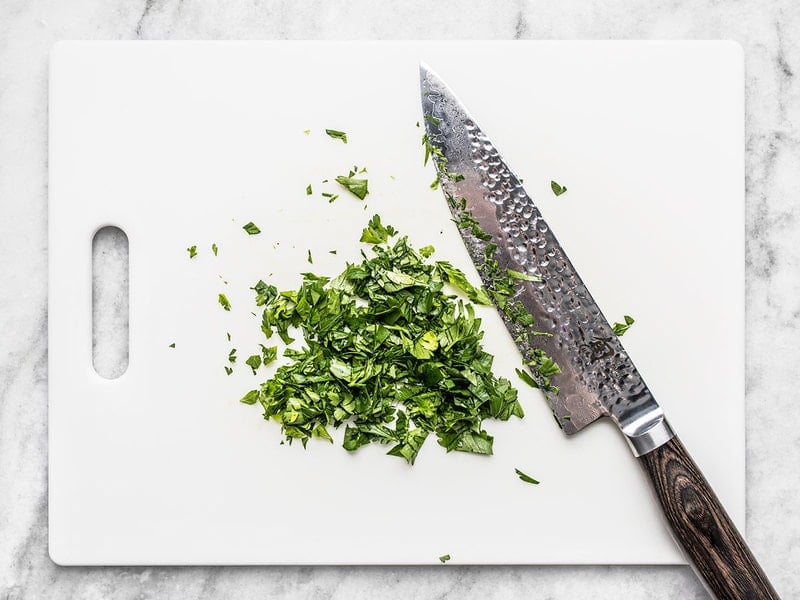 Chop about 1/4 bunch fresh parsley.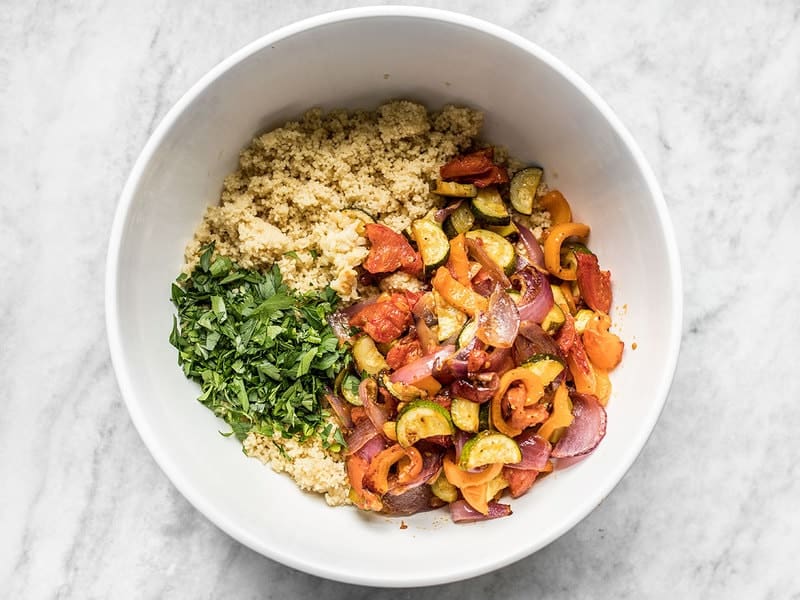 Once the vegetables are roasted, couscous is fluffed, and parsley is chopped, combine them all in a large bowl.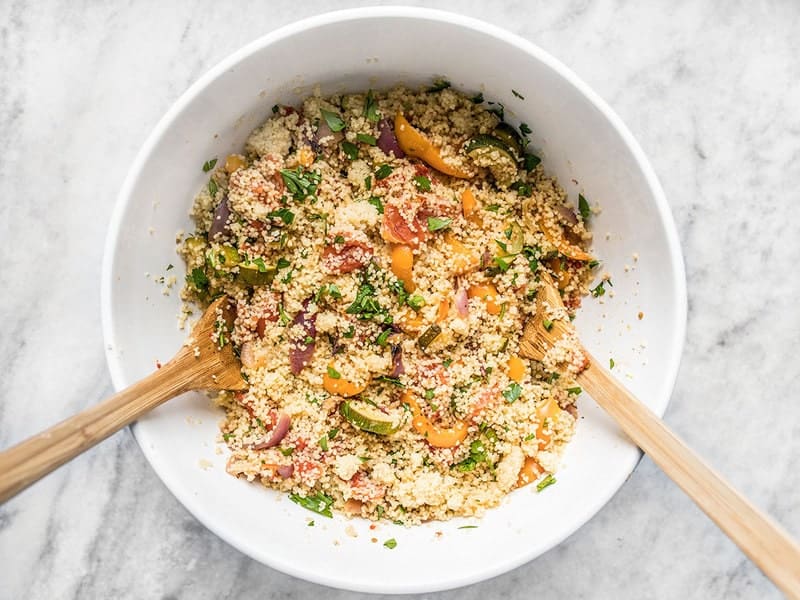 Toss everything together, give it a taste, and add salt if needed (this will depend on the salt content of the broth you used. I did not add any extra salt.)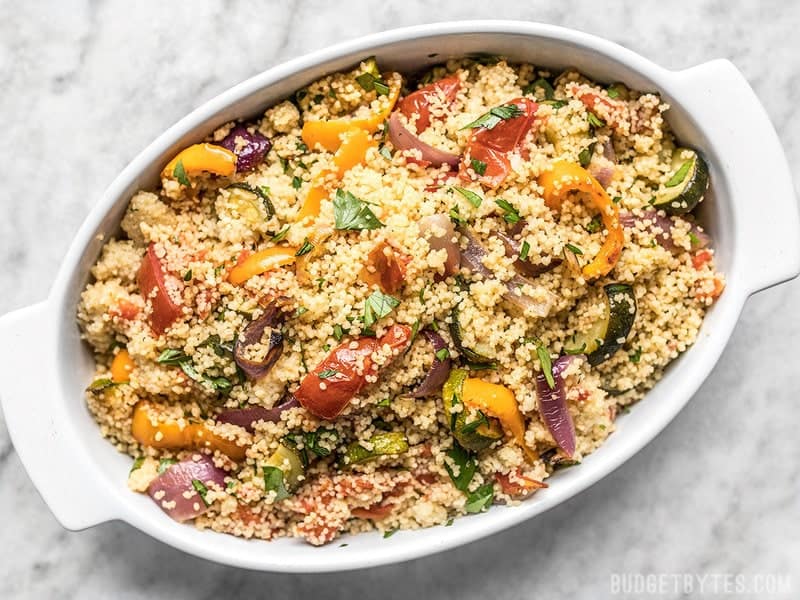 Talk about a PRETTY side dish! This Roasted Vegetable Couscous is as delicious as it is beautiful. :)