You guys. This Lemon Dill Tahini Dressing is not fooling around! This tangy, dilly dressing is a variation of my plain Lemon Tahini Dressing from my Roasted Cauliflower Salad, which I already loved with all my heart and soul. Well, I added a few more herbs in there and I CAN. NOT. STOP. I ate the whole first batch of this dressing just slurping it off the spoon and dipping whatever I could find in my kitchen to act as a vehicle. It's that good.
I'm posting the Lemon Dill Tahini Dressing on its own today, because it deserves the attention, and I have a couple recipes in the pipeline over the coming days that put this magic elixir to use. Plus I'll list a few great ways to use it below.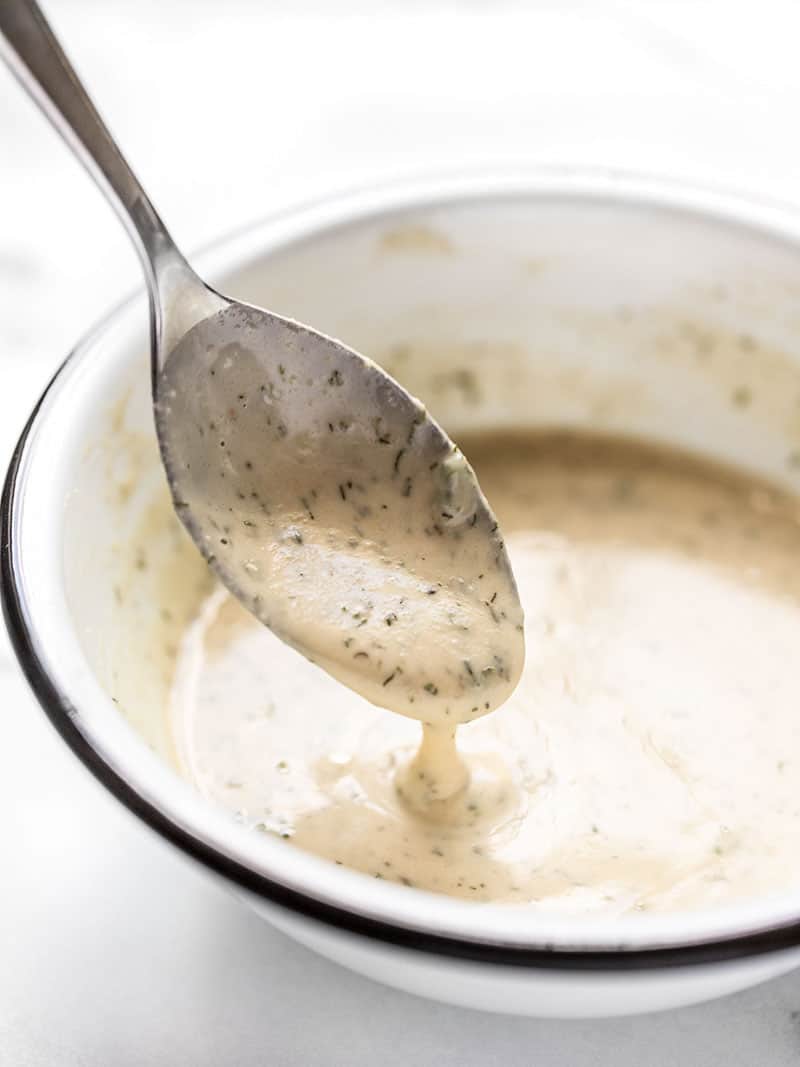 What is Tahini?
If you're unfamiliar with this amazing ingredient, it's basically just a sesame seed paste. Sesame seeds that have been puréed until they are a smooth sauce or loose paste texture. Just like natural peanut butter, but made with sesame seeds instead of peanuts. Luckily, this once hard to find ingredient is popping up in more and more grocery stores in the U.S.
Tahini can be found in the grocery store near the other nut and seed butters, or near middle-eastern ingredients (scroll down to the Step by Step Photos section to see the tahini I use). You'll want to refrigerate your tahini after opening, but it lasts just about forever in the refrigerator. It is slightly more expensive than most ingredients I use, but it's so worth it. Tahini is the key ingredient (IMHO) for authentic tasting hummus, but can also be used for salad dressing, or even baked goods like cookies and muffins.
Punch Up Your Lemon Dill Tahini Dressing
I posted the "easy" version of this recipe below because in my day to day life I just like to keep things simple. That means I used bottled lemon juice and dried herbs and spices. If you want to really punch this dressing up for a special occasion or you're just really into details, here are my suggestions:
Use fresh squeezed lemon juice and add a pinch or two of the lemon's zest
Use one small clove of garlic (minced) in place of the garlic powder
Use fresh dill and fresh parsley, about 1 loosely packed teaspoon of each (finely chopped)
How to Serve Lemon Dill Tahini Dressing
This amazing dressing is good poured over any fresh or roasted vegetable. It also makes a great dip (although slightly less thick) for crudités. The dressing does get thicker when refrigerated, so that's an option if using it as a dip.
I'd also pour this over a bowl of sliced cucumbers as a dairy-free version of the popular creamy dill cucumber salad. I also plan to use this dressing to make a mayo-free potato salad later this week.
It's great over fish, like salmon or tuna, either freshly cooked, or in a mayo-free tuna salad like my Tuna and White Bean Salad. I would also drizzle this dressing over a grilled chicken breast in a heart beat.
Lemon Dill Tahini Dressing
Pour this tangy Lemon Dill Tahini Dressing over roasted vegetables, grilled salmon or chicken, potato salad, or your favorite green salad.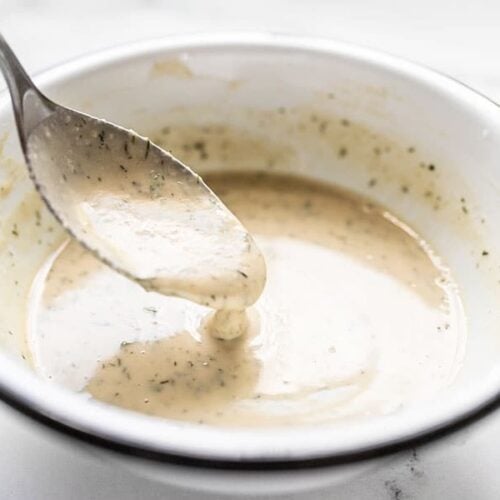 Ingredients
1/4

tsp

garlic powder

($0.02)

1/4

tsp

onion powder

($0.02)

1/2

tsp

dried dill

($0.05)

1/2

tsp

dried parsley

($0.05)

1/4

tsp

salt

($0.02)

freshly cracked pepper

($0.03)

1/4

cup

tahini

($0.75)

1/4

cup

warm water

($0.00)

3

Tbsp

lemon juice

($0.09)
Instructions
Combine all of the ingredients in a bowl and stir or whisk until smooth. Serve immediately or refrigerate for up to five days. The dressing will thicken at colder temperatures.
See how we calculate recipe costs here.
---
Nutrition
Serving:
2
Tbsp
Calories:
62.87
kcal
Carbohydrates:
2.45
g
Protein:
2.42
g
Fat:
5.02
g
Sodium:
139.5
mg
Fiber:
1.4
g
Read our full nutrition disclaimer here.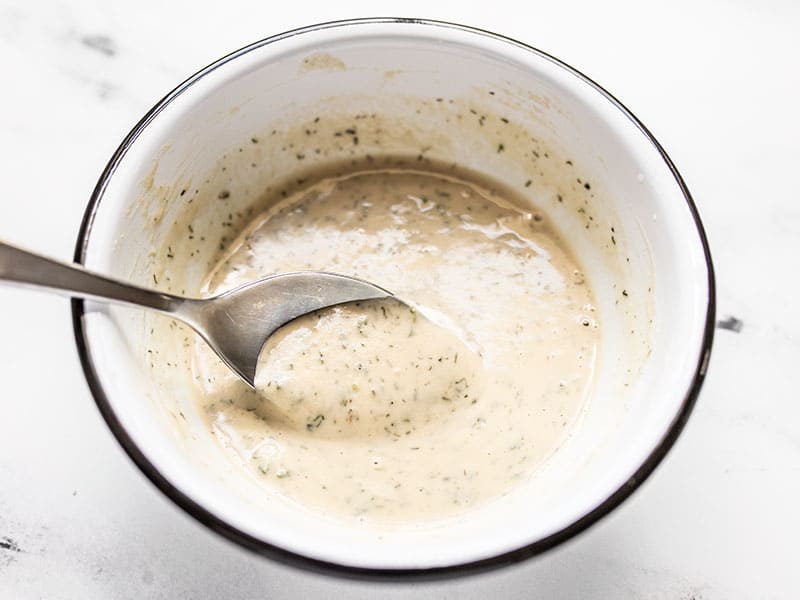 How to Make Tahini Dill Dressing – Step by Step Photos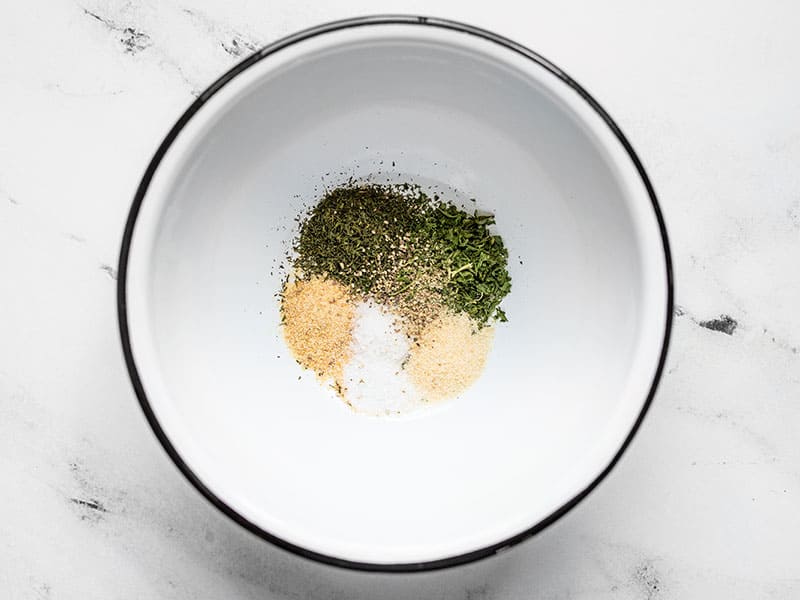 Add 1/4 tsp garlic powder, 1/4 tsp onion powder, 1/4 tsp salt, 1/2 tsp dried dill, 1/2 tsp dried parsley, and some freshly cracked pepper (about 10 cranks of a pepper mill) to a bowl.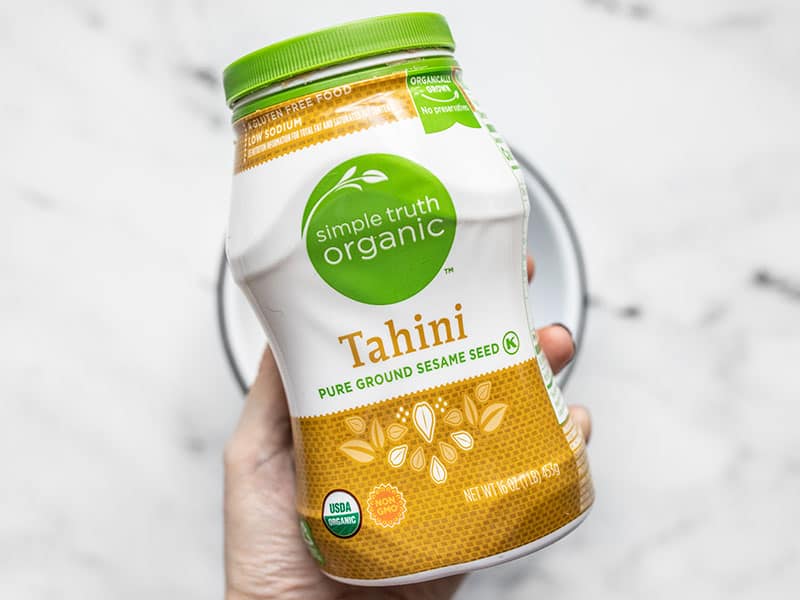 This is the tahini I've been using lately. It's the store brand for Kroger brand stores. Whole Foods also makes a store brand that is a great price, as does Trader Joes. Just like natural peanut butter, you'll want to give your tahini a good stir the first time you open it.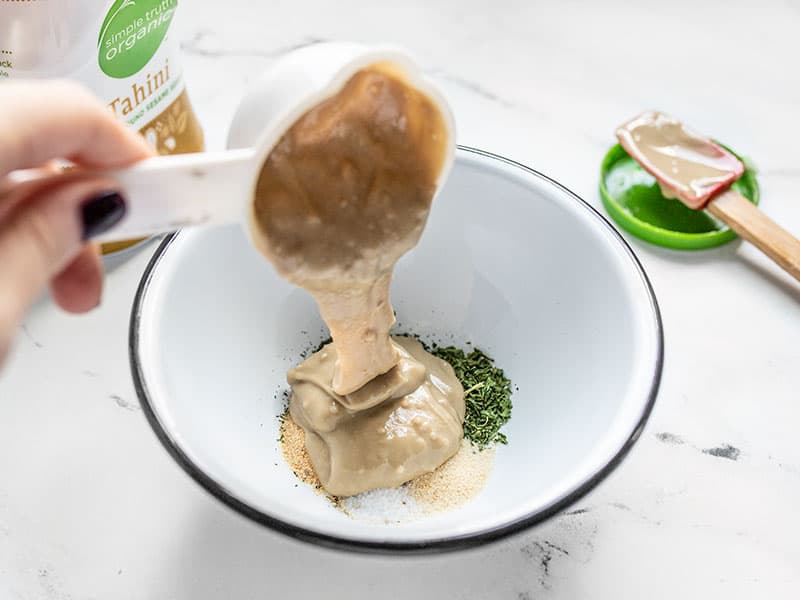 Add 1/4 cup tahini to the bowl with the herbs, along with 1/4 cup warm water, and 3 Tbsp lemon juice.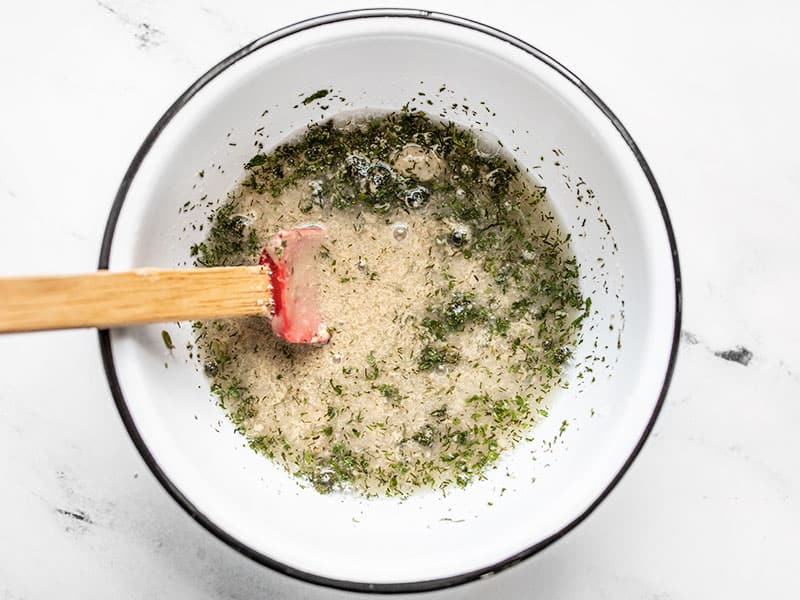 Stir the ingredients together. At first it will look kind of clumpy or like it's curdled, but that's just because tahini has a lot of oil and it is trying to stay separate from the water. Just keep stirring.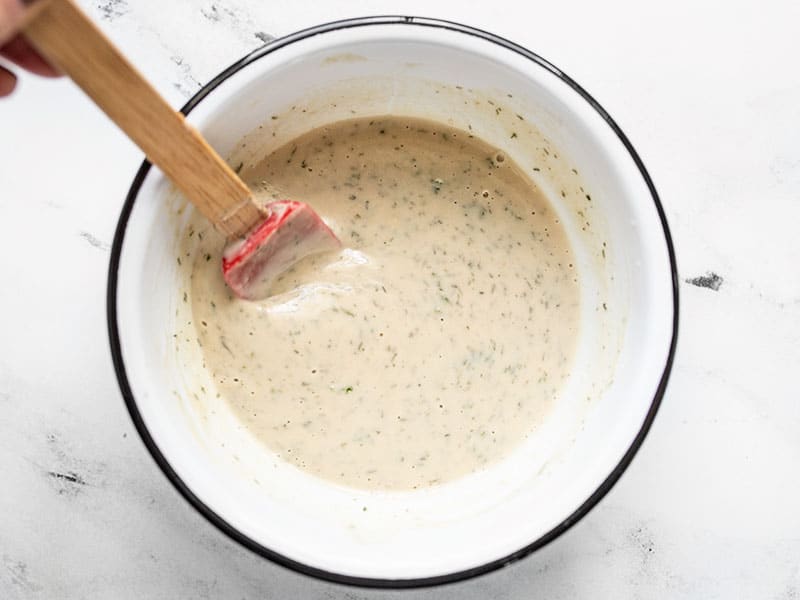 If you just keep stirring it will come together into a smooth dressing after a few seconds. Cold water will make this take longer, so make sure the water you use is a little warm.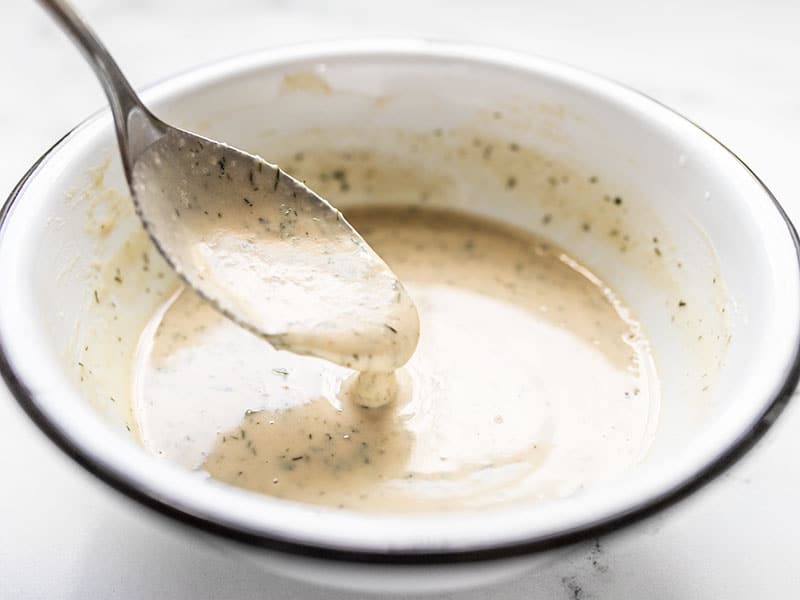 The Lemon Dill Tahini Dressing is a little on the runny side when warm, but thickens up quite a bit when refrigerated. Serve the dressing immediately, or refrigerate it for up to five days. But it probably won't last that long because it's too delicious. I had to consciously stop myself from just drinking it off the spoon!