Indian Spiced Oats w/ Coconut Milk
I've been off the steel-cut oats bandwagon for a while because I've been addicted to my little breakfast egg quesadillas (I'll post that soon because they're too good to keep to myself). But, this week I got a hankering for the almighty oats. I didn't realize how I missed their chewy goodness until now! Anyway, this little Indian pilaf inspired oat mixture turned out FANTASTIC. The spices, sweet raisins, crunchy almonds and super creamy coconut milk balance each other perfectly. This breakfast will make you feel like the Maharaja while only costing you $0.70!
Indian Spiced Oats with Coconut Milk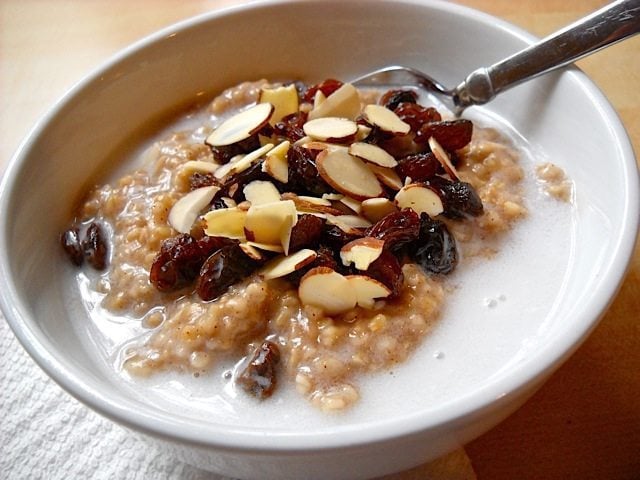 Indian Spiced Oats w/ Coconut Milk
Indian spiced oats with coconut milk is an easy way to make delicious, vegan oats that are creamy and full of flavor!
Servings: 4
Ingredients
1 cup steel cut oats ($0.70)
1/2 tsp salt ($0.05)
1 tsp cinnamon ($0.10)
1/2 tsp ground ginger ($0.05)
1/4 tsp ground cloves ($0.05)
1/2 tsp vanilla extract ($0.15)
1/4 cup brown sugar ($0.12)
1/2 cup raisins ($0.31)
1/4 cup sliced almonds ($0.56)
1 cup light coconut milk ($0.71)
Instructions
In a medium pot bring 4 cups of water and 1/2 tsp of salt to a boil. Once it reaches a rolling boil, add 1 cup of steel-cut oats. Reduce the heat to medium/low and let simmer for about 30 minutes or until the mixture is to your desired thickness.

As the mixture simmers, add the cinnamon, ginger, cloves, vanilla extract and brown sugar.

Once the oats are finished cooking, divide it up into four servings and top each with 2 Tbsp of raisins, 1 Tbsp of sliced almonds and 1/4 cup of coconut milk. Dig in!
See how we calculate recipe costs here.
---
Nutrition
Serving: 1Serving ・ Calories: 280.48kcal ・ Carbohydrates: 45.3g ・ Protein: 5.16g ・ Fat: 10.05g ・ Sodium: 302.9mg ・ Fiber: 4.13g
Nutritional values are estimates only. See our full nutrition disclaimer here.
---
The equipment section above contains affiliate links to products we use and love. As an Amazon Associate I earn from qualifying purchases.
NOTE: As with all of my oats, I divide them into resealable containers and keep them in the refrigerator. Then, in the morning, all I have to do is grab one and microwave it for a minute or so and I have a super hearty breakfast ready to go!
Originally I intended to put cardamom in the spice mix but later realized that I didn't have any. You can try this out with just about any combination of Indian spices and I'm sure it would be fantastic. I even thought about putting a chai tea bag in the water as it came to a boil before adding the oats. I'm not sure what kind of flavor that would add but it sounds like it could work!