So, I actually made this Hot and Sour Soup last week, but got so busy with Thanksgiving madness that I didn't have a chance to post it until today. But that's okay, I figure you might need this recipe now, when you're stuffed to the brim and maybe looking for something a little on the lighter side.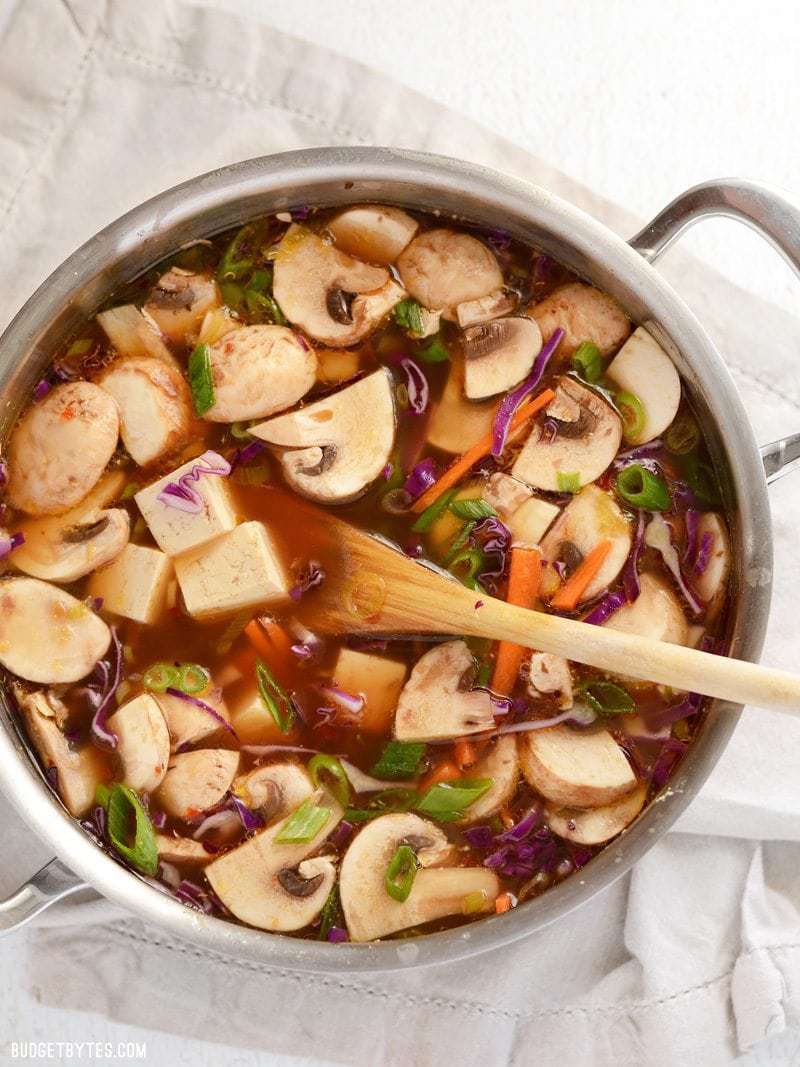 What is Hot and Sour Soup?
You may recognize hot and sour soup from your neighborhood Chinese take out menu. It's a really flavorful soup with a tangy broth that isn't too heavy or thick. I added some cubed tofu to the broth to give my soup a little more substance, then ladled it all over a bowl full of colorful vegetables. This is one of those awesome dishes that is not only really delicious, but you feel awesome about eating it because you just know it's full of all sorts of "good for you" things. I love that.
What Makes Hot and Sour Soup Sour?
The sourness of the hot and sour soup comes from vinegar. The sour flavor helps keep this soup light, even though hot soup usually sits heavy on the stomach. It's also a nice contrast to the spicy red chile sauce.
Serving Options
There are two options for serving this soup. Ladle the hot broth over the vegetables and let them slightly wilt from the heat, or stir the vegetables right into the pot of hot broth and let them cook until tender. The first option (ladling broth over vegetables) makes the best presentation, but if you're not into slightly crisp, only lightly blanched vegetables, you might not like this option as much.
Cooking the vegetables in the broth makes them softer, but you will lose some of the vibrant color. And, as I found, while the soup sits in your fridge, the pretty purple from the cabbage bleeds out into the broth and then up into the tofu. It's really kind of funny looking to see violet tofu cubes in your soup, but I promise the flavor is not compromised. :)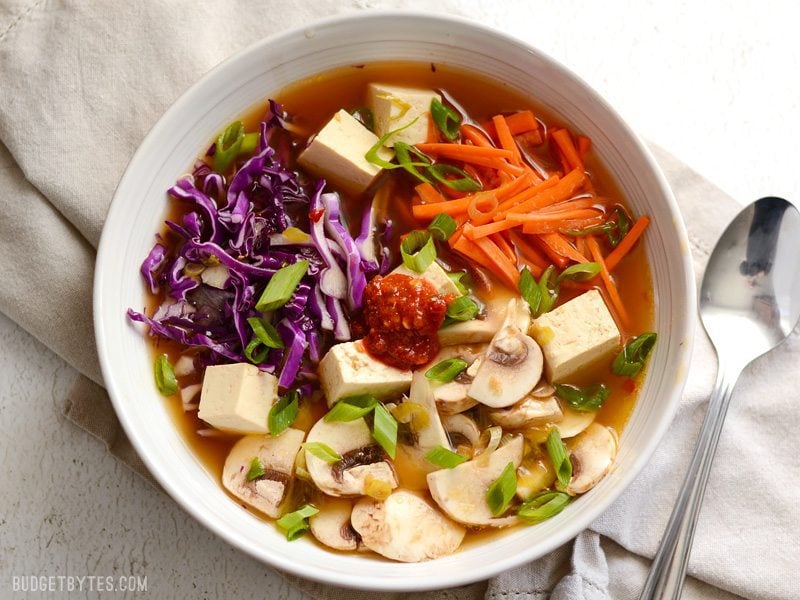 Easy Hot and Sour Soup with Vegetables and Tofu
This easy hot and sour soup is light on the stomach, but big on flavor! The spicy and tangy broth is full of colorful vegetables and tender cubes of tofu.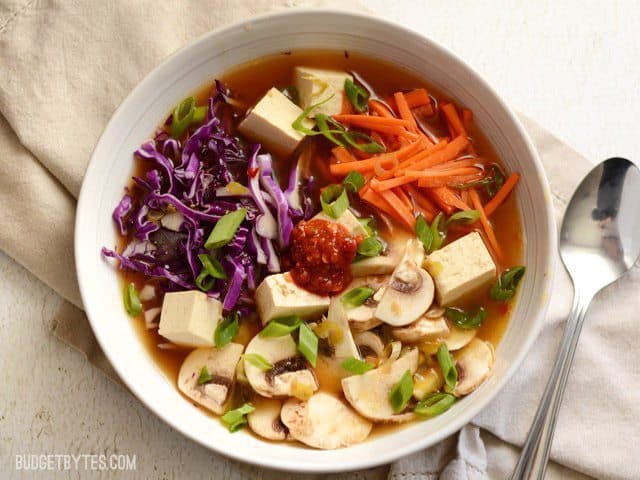 Ingredients
1

Tbsp

canola oil

($0.04)

1

Tbsp

grated fresh ginger

($0.11)

4

green onions

($0.50)

1/4

red cabbage

($0.50)

3

carrots

( $0.26)

8

oz.

button mushrooms

($1.99)

6

cups

vegetable broth

($0.75)

1/2

Tbsp

soy sauce (or more to taste)

($0.05)

1.5-2

Tbsp

rice vinegar

( $0.19)

1

Tbsp

chili garlic sauce or sambal olek

( $0.34)

14

oz.

block extra firm tofu

($1.99)
Instructions
Thinly slice the cabbage, mushrooms, and the green onions (both the green and white ends of the onions). Peel the carrots, then either slice them thinly, use a vegetable peeler to slice them into ribbons, or cut them into thin sticks (julienne).

Add the canola oil, grated ginger, and the sliced white ends of the green onion to a large pot. Sauté the ginger and onion over medium heat until soft (1-2 minutes). Add the vegetable broth to the pot, along with the soy sauce, vinegar, and chili garlic sauce. The amount of soy sauce, vinegar, and chili garlic sauce needed may be subjective and will depend on how much salt your vegetable broth contains. Start with a smaller amount of each, then add more to your taste. The final broth should be tangy and spicy. Heat the broth until piping hot.

Drain the tofu, then cut it into small cubes (small enough to fit on a spoon). Add the tofu to the hot broth, and allow it to heat through ( a few minutes).

Either add the sliced vegetables to the soup pot and cook until softened, or divide the vegetables into individual bowls for serving, then spoon the hot broth over top. Sprinkle the sliced green portion of the green onions over each bow. More chili garlic sauce can also be added to each bowl if desired.
See how we calculate recipe costs here.
---
Nutrition
Serving:
1
Serving
Calories:
131.5
kcal
Carbohydrates:
13.05
g
Protein:
9.12
g
Fat:
5.72
g
Sodium:
1068
mg
Fiber:
3.28
g
Read our full nutrition disclaimer here.
Scroll down to see the step by step photos!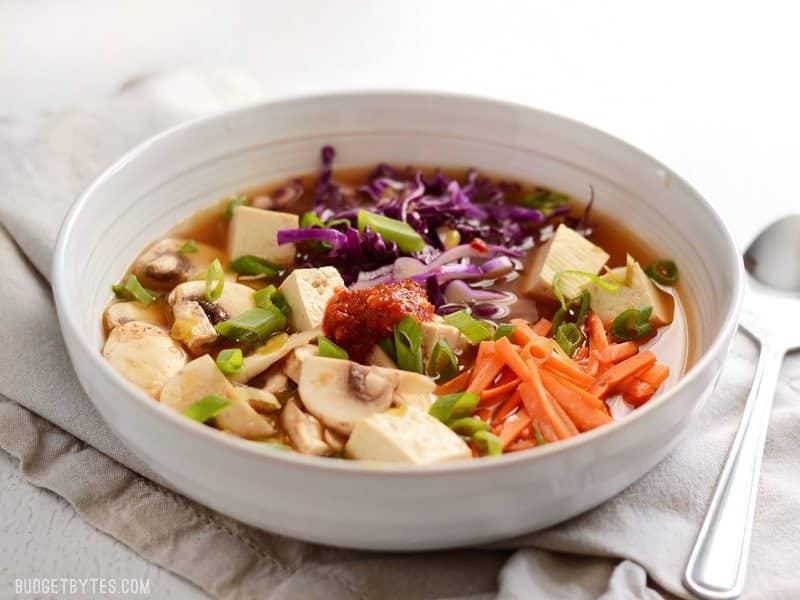 How to Make Hot and Sour Soup – Step by Step Photos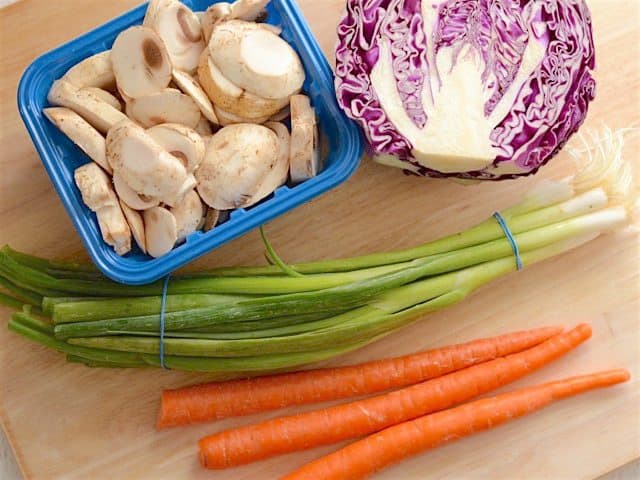 Begin by prepping all of the vegetables. I used 1/4 head red cabbage (STILL trying to use up that cabbage weeks later!), an 8oz. container of button mushrooms, about 4 green onions, and a few carrots.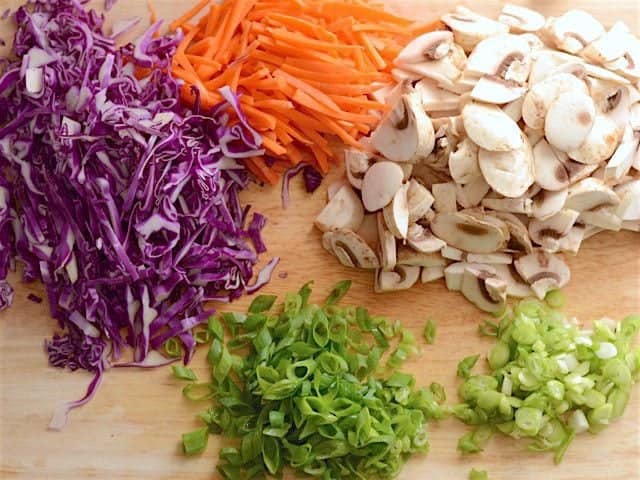 Thinly slice the cabbage, mushrooms, and green onions (you'll be using both the green and white ends of the green onions at different points, so keep them separated). You can either cut the carrots into very thin sticks (julienne), or use a vegetable peeler to make thin ribbons (or hey, use a spiralizer!).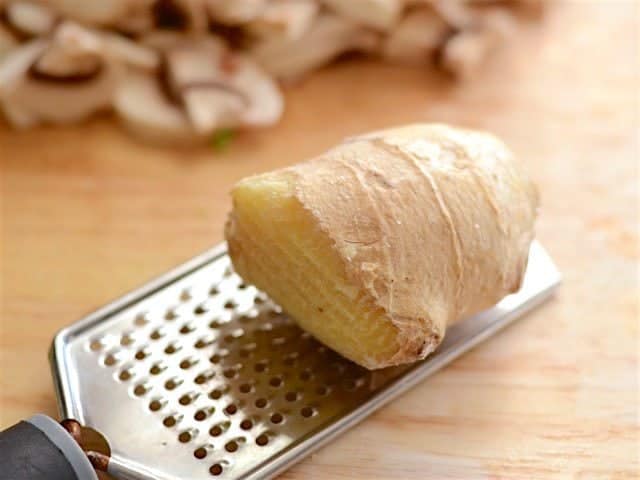 Grate about 1 Tbsp of fresh ginger, as well. I keep this little knob of ginger in my freezer and it really does make it SO much easier to grate. No stringy stuff clogging up the grater! :D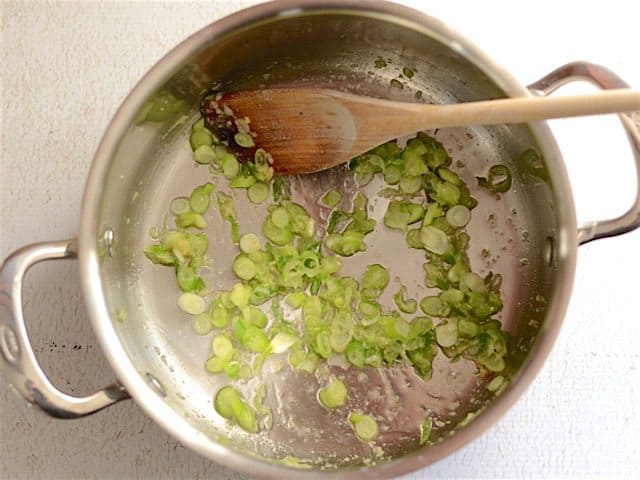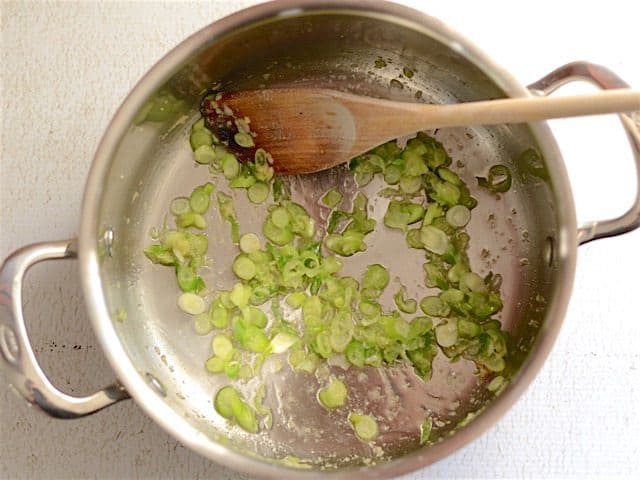 Add the white portion of the sliced green onions and the grated ginger to a large soup pot along with 1 Tbsp canola oil. Sauté the onion and ginger over medium heat until soft (about one or two minutes).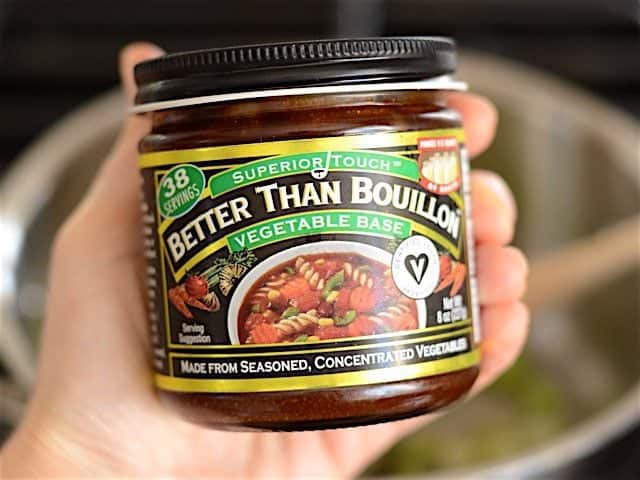 Add six cups of vegetable broth. I use Better Than Bouillon concentrate to make my broth. 1 tsp BTB + 1 cup water = 1 cup broth.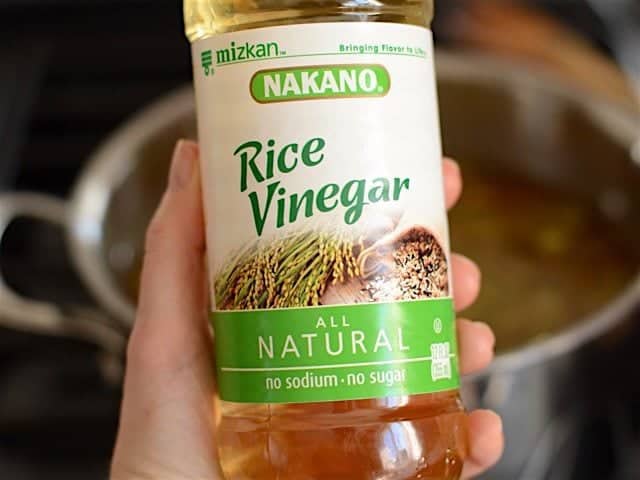 To the broth you'll want to add about 1/2 Tbsp soy sauce (depending on how salty your broth already is), and 1.5 to 2 Tbsp of rice vinegar. Rice vinegar has a very mild flavor, but still has that nice tangy-sour effect. I like mine pretty sour, so I added 2 Tbsp of vinegar, but if you're unsure, start with a smaller amount and add more until you get the broth where you like it.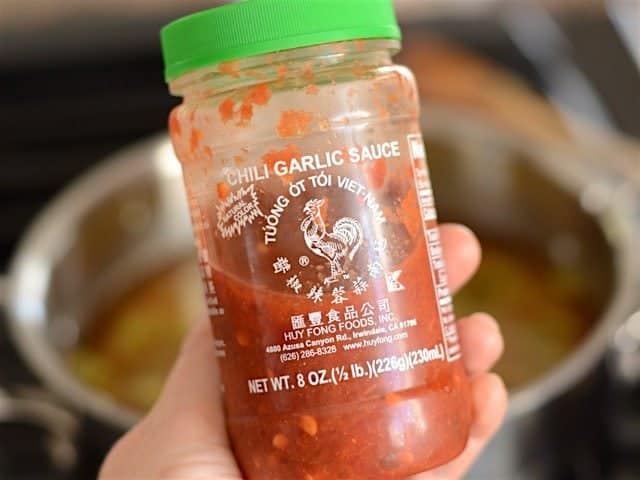 For the hot component of the "hot and sour" broth, I used 1 Tbsp chili garlic sauce. You could also use sambal olek or even sriracha. If you don't want your soup spicy at all, just leave it out.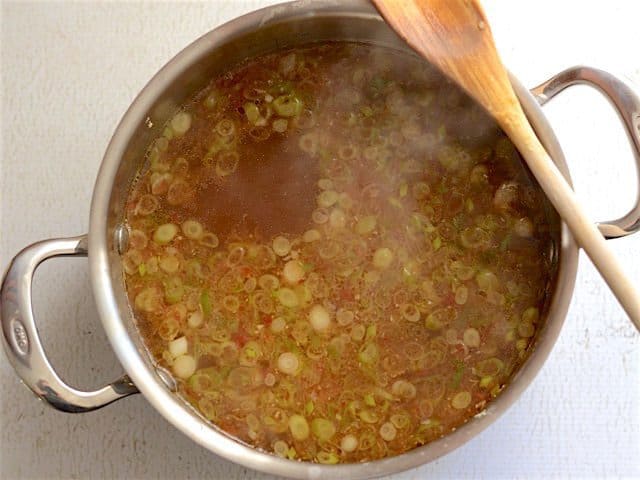 Once you have the broth hot and sour to your liking, let it heat through until it's piping hot.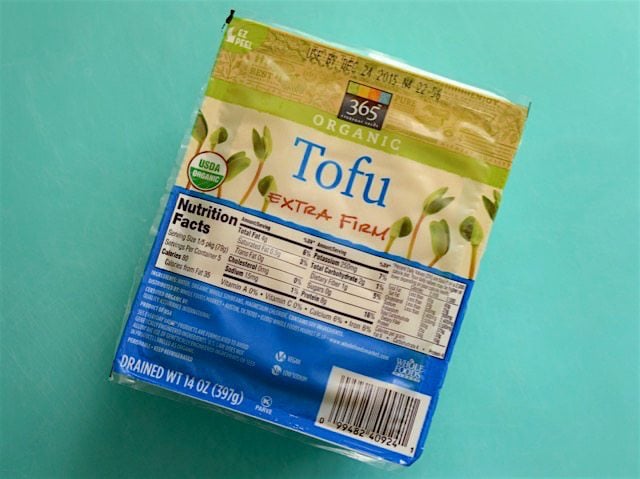 Take one 14oz. block of extra firm tofu and drain the liquid from the package.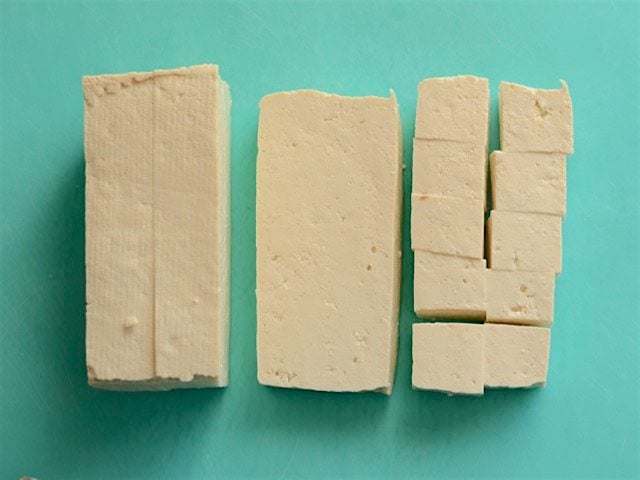 Cut the tofu into small cubes. You want the cubes small enough to fit on a soup spoon. I ended up making the rest of my cubes a bit smaller than the cubes shown above.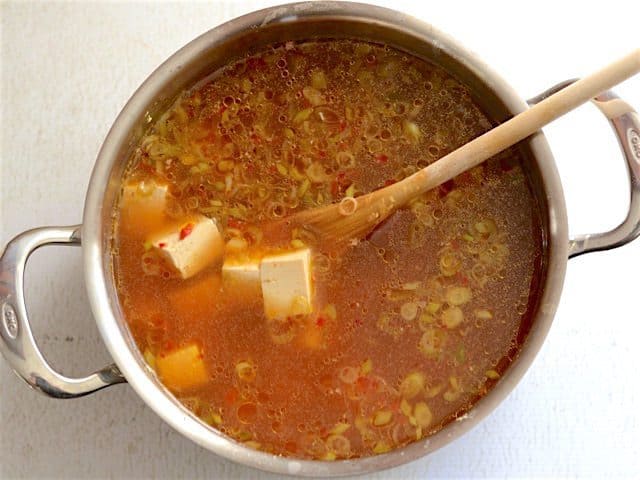 Finally, add the tofu cubes to the hot broth and let them warm through. They'll absorb some of that super flavorful broth and get nice and tasty. At this point, you can add all of your sliced vegetables to the pot and let them get nice and tender, or…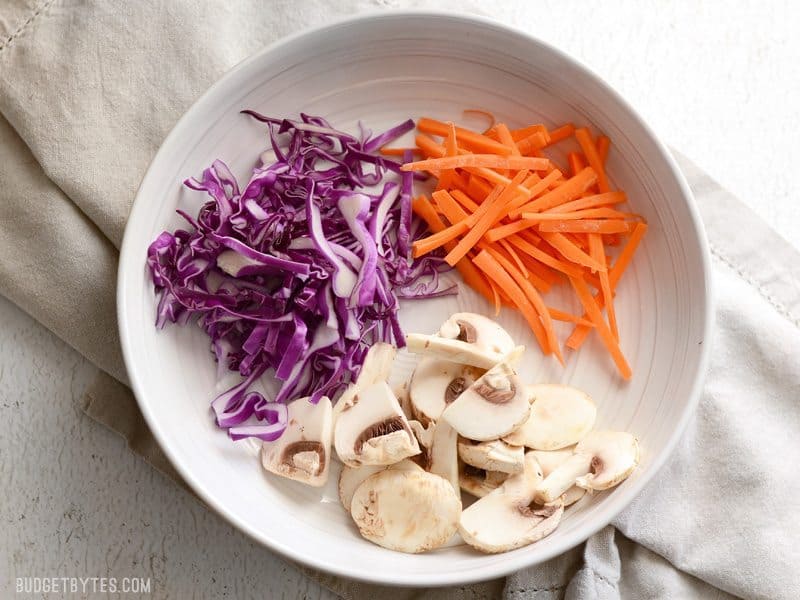 Divide the sliced vegetables into individual bowls, and…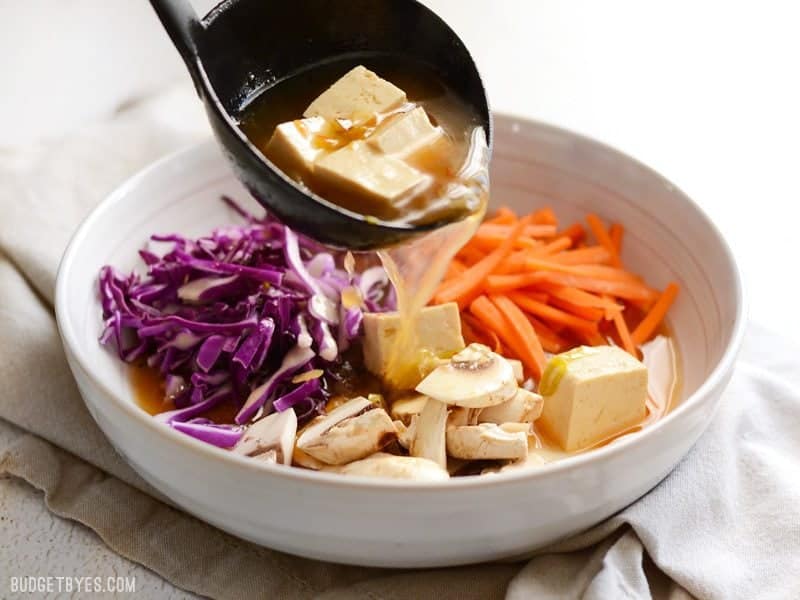 Pour the hot broth right over the thinly sliced vegetables. The hot broth will soften the vegetables just a bit, leaving you with a very fresh and tasty soup.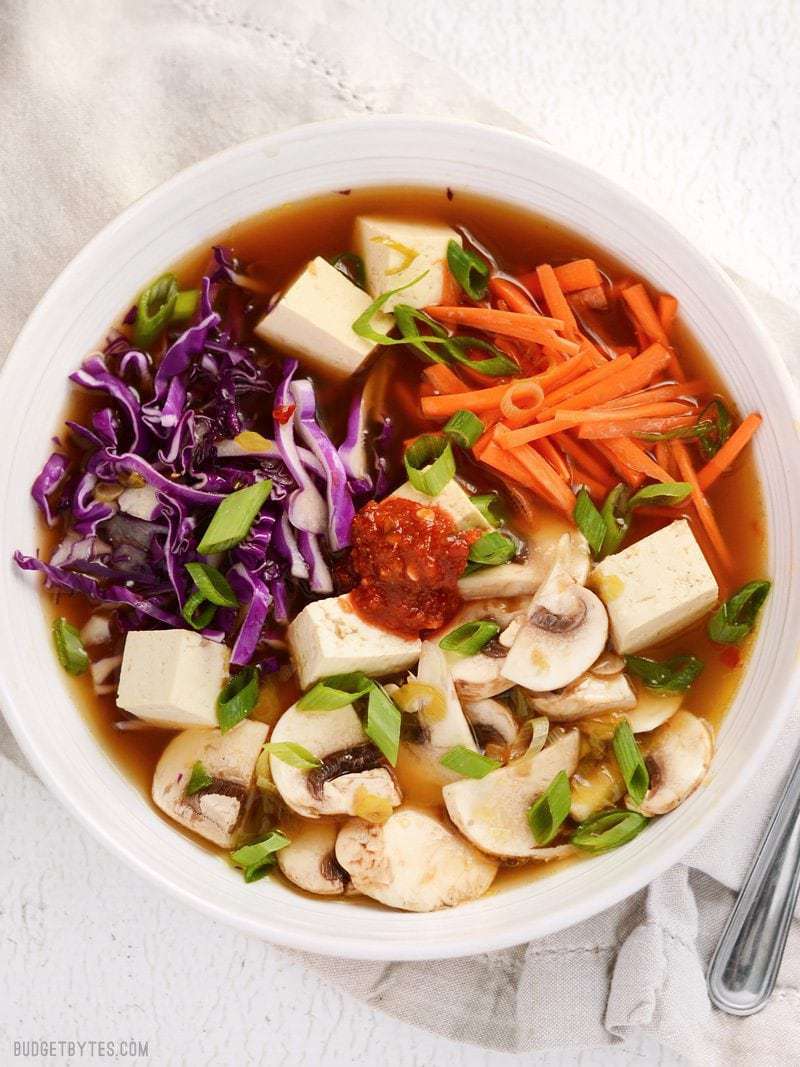 Sprinkle a few of the sliced green onions over top and add more chili garlic sauce if you like it super hot!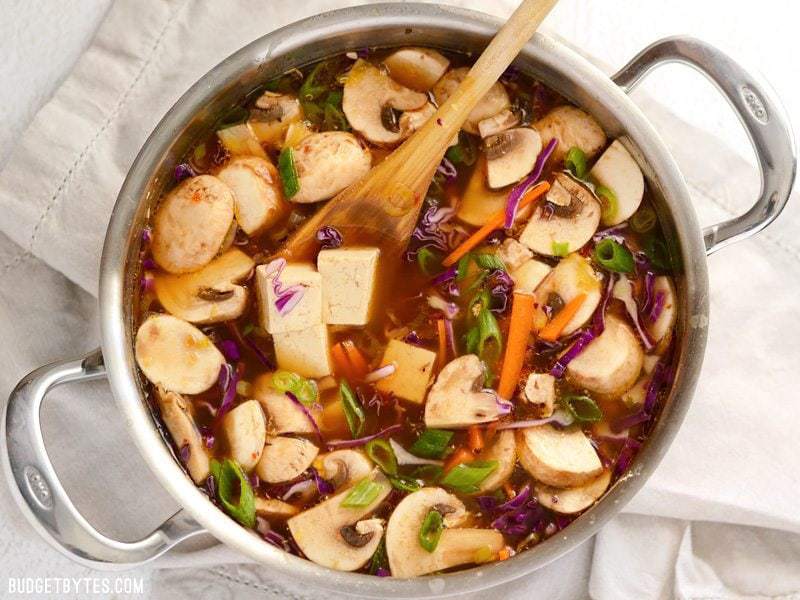 Or, just add all the vegetable to the pot and let them cook a little. Cooked red cabbage does lose it's nice vibrant color, so just keep in mind that it won't be quite as pretty this way (but still just as delicious!).
If you find you have more sliced vegetables than you can use in the soup, switch it up one night and make them into a quick stir fry! Or, add them into your Dragon Noodles. :)