I was so excited, so drawn in, so salivating when I saw this recipe for falafel from Living The Pie Life a few weeks ago. The only problem was that I didn't have a food processor. But somewhere in the back of my mind, a little voice was telling me, "you WILL get a food processor for Christmas… just be patient, Beth." Sure enough, my parents bought me this food processor as an early Christmas and graduation present. I've been using it non-stop ever since.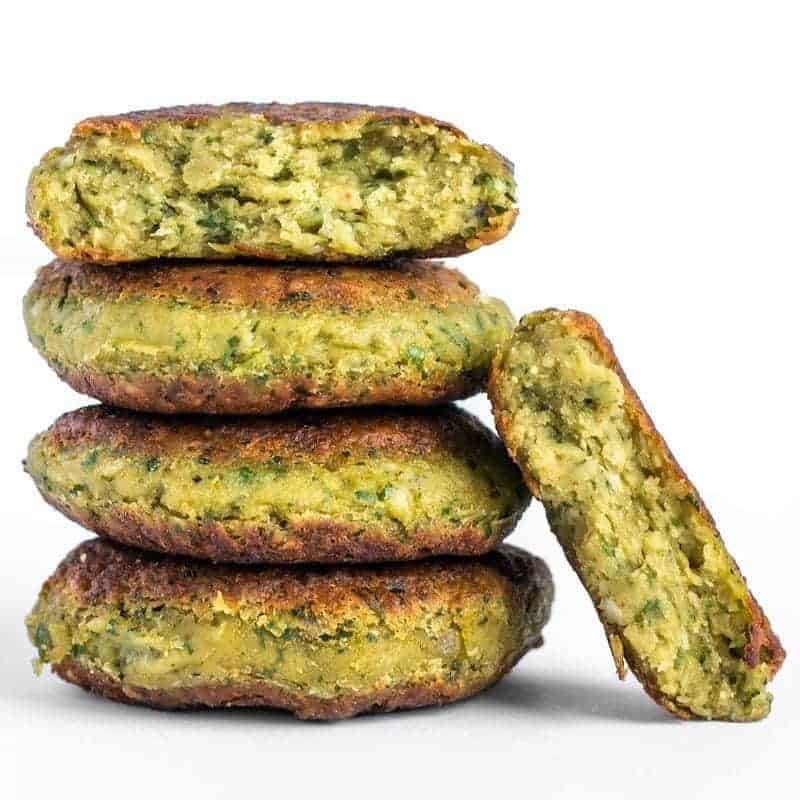 What is Falafel?
If you've never had falafel before, they are a little patty made of mashed beans (fava or sometimes garbanzo) along with tons of fresh herbs and spices. Traditionally they are fried which gives them a wonderfully crispy exterior with a soft warm center. I have an irrational fear of deep-frying, so I shallow-fried my falafel in a skillet. My version of this tasty treat is definitely not authentic, but if you'd like to try your hand at making authentic falafel or read more about the culture and history behind them, check out these recipes:
Can I Bake Them?
I always get questions about whether you can bake falafel and I really wouldn't suggest it. You won't get that nice brown crispy exterior like you do with frying and they will probably get quite dry. If anything, use just a small amount of oil in a non-stick skillet to at least brown them up some.
Are They Freezer-Friendly?
I froze most of my falafel uncooked and will probably shallow fry the rest of them. Leftover cooked falafel are also great as an addition to salads or to make sandwiches with, so cooking them all at once isn't a terrible idea.
See this recipe used in my weekly meal prep.

Easy Homemade Falafel
A popular Middle-Eastern street food, falafel pack beans, fresh herbs, and spices into a flavorful patty. Enjoy as an appetizer, on a salad, or stuffed into a pita.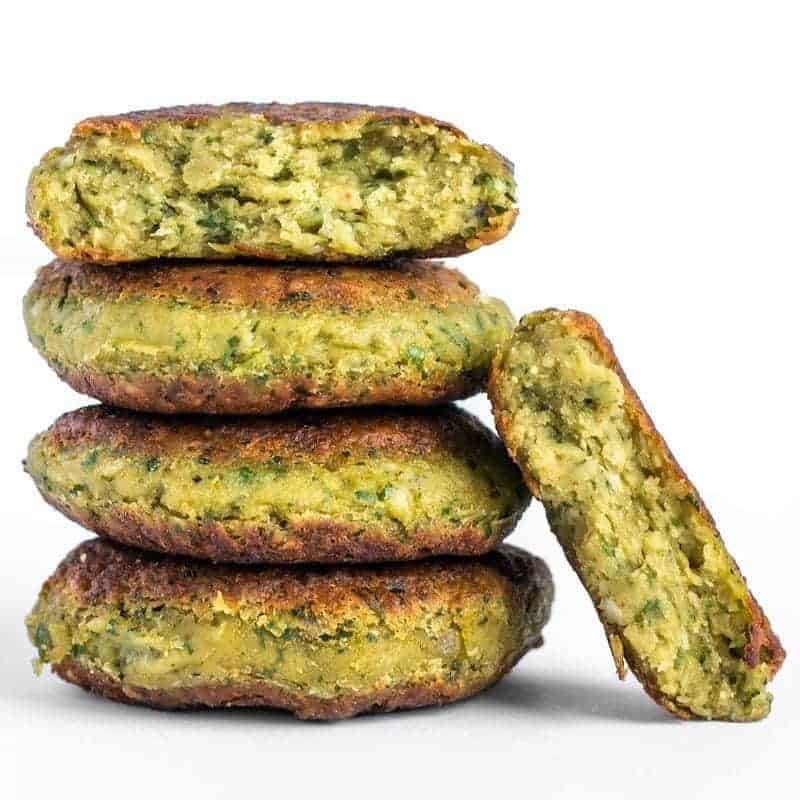 Ingredients
2

15oz. cans

chickpeas

($1.58)

1/4

red onion

($0.25)

1

handfull

fresh parsley (about 1/4 bunch)

($0.25)

1

handfull

fresh cilantro (about 1/4 bunch)

($0.25)

4

cloves

garlic

($0.32)

1

tsp

salt

($0.05)

1/2

tsp

cayenne pepper

($0.05)

1

tsp

ground cumin

($0.10)

1

tsp

baking powder

($0.03)

1/2

cup

flour*

($0.07)

1/4

cup

neutral cooking oil for frying

($0.16)
Instructions
Rinse and drain the chickpeas in a colander. Add the chickpeas to a food processor along with the red onion, parsley, cilantro, salt, cayenne, garlic and cumin (all ingredients except baking powder and flour). Process the mixture until it forms a chunky paste. A little texture to the mixture is usually desirable. You may need to scrape down the sides of the bowl occasionally to make sure the mixture is an even texture.

Place the mixture into a bowl and stir in the baking powder. Begin adding flour, 2 Tbsp at a time, until the mixture becomes cohesive enough to form into patties. Chickpea or garbanzo bean flour gives the best flavor and texture, but all-purpose can be used in it's place. Refrigerate the mixture for at least 1 hour to allow the flavors to blend.

Using a small measuring cup or scoop (about 1/8th cup or 2 Tbsp), form the falafel dough into small patties. If freezing the patties for later, place them on a parchment lined baking sheet so they can freeze without sticking together. The patties can be transferred to an air-tight container or freezer bag for long-term storage once they have frozen through.

To cook the fresh or frozen patties, heat oil in a skillet (or pot if deep frying) until very hot and shimmering, but not smoking. Cook the patties on each side until deep golden brown and crispy.
See how we calculate recipe costs here.
---
Notes
*chickpea flour will give the best flavor and texture, but all-purpose flour can be used in its place.
Nutrition
Serving:
2
falafel
Calories:
110
kcal
Carbohydrates:
8
g
Protein:
1
g
Fat:
8
g
Sodium:
395
mg
Fiber:
1
g
Read our full nutrition disclaimer here.
How to Make Falafel – Step By Step Photos

Rinse and drain two 15oz. cans of chickpeas (or about 3 cups if cooked from dry) in a colander. Add the chickpeas to a food processor along with a large handful of parsley, a large handful of cilantro, 1/4 of a red onion, 4 cloves garlic, 1 tsp cumin, 1/2 tsp cayenne, and 1 tsp salt.

Pulse the mixture until you have a chunky paste. Chunks add great texture but too many will keep the mixture from holding it's shape in a patty. Transfer the mixture to a bowl.

Stir 1 tsp baking powder into the chickpea mixture. Then begin adding flour, 2 Tbsp at a time, until the paste is dry enough to form patties and not stick to your hands. Cover the bowl and refrigerate for at least one hour to let the flavors blend.
Scoop the falafel into about 2 Tbsp portions and shape into small patties. If you'd like to freeze your falafel, place them on a baking sheet lined with parchment, then place them in the freezer. Once frozen solid you can transfer them to a freezer bag for long term storage.

I got 15 falafel with a 2 Tbsp scoop. I cooked some immediately and froze the rest.

To cook the falafel, add enough oil to a skillet to completely cover the surface (one of my favorite pans). Heat over medium until the oil is hot and shimmering. Add the falafel and cook on each side until brown and crispy. Let them drain on paper towel to absorb the excess oil.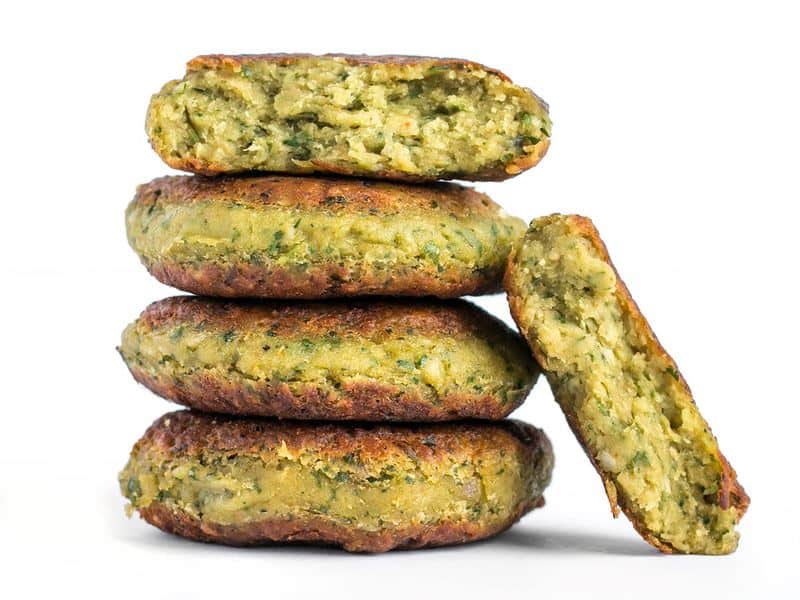 And that's it! If you're a garlic lover, you're going to LOOOVE these homemade falafel!
This post may contain affiliate links which won't change your price but will share some commission.