In case you missed it last week, I'm starting a new "Sunday Meal Prep" series where I pair old recipes together and show how to prep them ahead for a few days worth of meals. I asked last week what you'd like to see and a couple of the most common answers were vegetarian/vegan and cold lunches. This week I'm hitting two of those topics with my Falafel and Hummus Box.
This box idea started with my want to make my Homemade Falafel recipe again. This super simple recipes is so insanely flavorful and easy, and it had been way too long since I'd had them. I added some Homemade Hummus, because that's also really easy, and a side of my Super Fresh Cucumber Salad. I included a few wedges of pita for each box to fill it out and to make sure I had something to scoop up every drop of that hummus! Scroll down to grab tips on how to pack this box so to keep all the ingredients at their best! (And yes, I do eat this box cold, including the falafel.)
To make this box vegan, simply skip the feta cheese in the Super Fresh Salad.
For more information about meal prepping, how it works, and why I do it, check out Meal Prep 101: A Beginner's Guide to Prepping and Portioning Meals, or check out my entire Budget-Friendly Meal Prep Archive.
Falafel and Hummus Box Meal Prep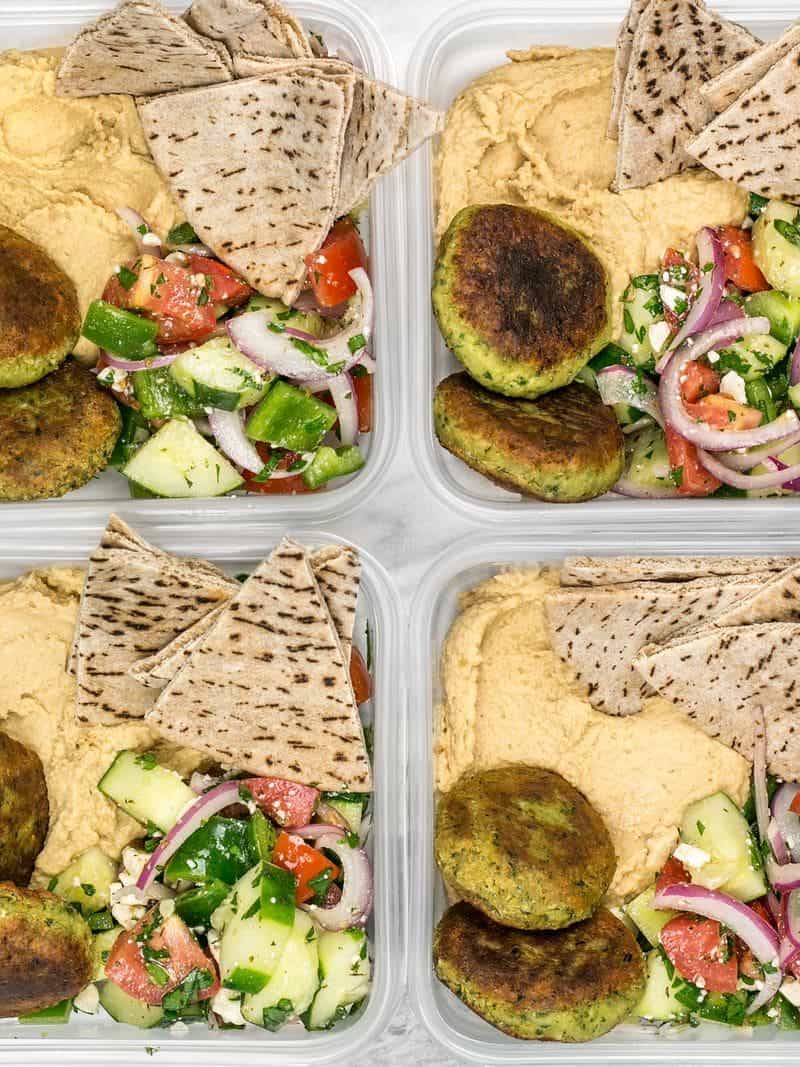 THIS WEEK'S MEAL PREP INCLUDES:
8 Homemade Falafel $1.72
1 batch Homemade Hummus $2.24
1/2 recipe Super Fresh Salad $3.65
2 whole wheat pita (1/2 pita per box) $0.86
Total Cost: $8.47
Cost Per Box: $2.12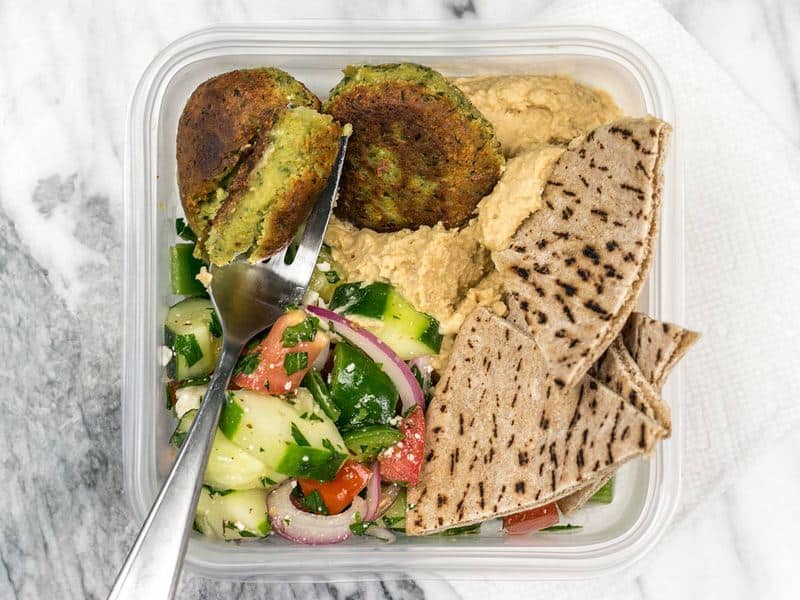 Tips:
I added everything into one box for the photos, but IRL I'd wrap the pita separately in a small sandwich bag, or at least lay a piece of parchment over the rest of the contents and place the pita on top to separate it from the wet stuff.
I'm a "a little bit of everything on one forkful" type of person, so it doesn't bother me to have all these items crammed into one box. If touching food bothers you, consider investing in divided meal prep containers, like these. There are also divided meal prep containers made out of glass, like these.
The original recipe for the Super Fresh Salad is quite large, so if you don't want left overs I suggest cutting the recipe in half to make just enough for the four boxes.
The recipe for Falafel makes more than eight pieces as well, but those can be frozen for cooking later.
You'll likely have some leftover red onion after making these two recipes, so I suggest making a quick batch of Pickled Red Onions! They're the best!
I think the only other leftover ingredient you should have would be some cilantro. If you wanted, you could actually do a jalapeño cilantro flavored hummus to use up some of that cilantro.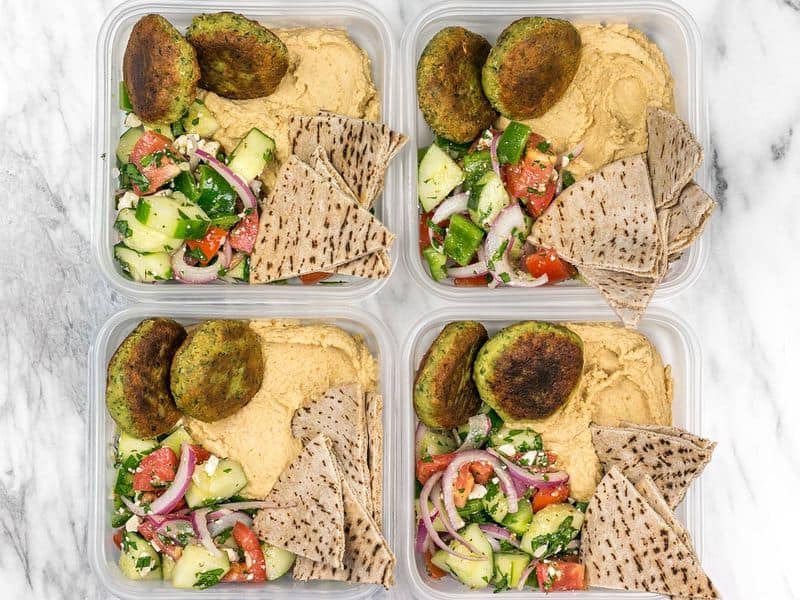 This post may contain affiliate links which won't change your price but will share some commission.