As usual I let the leftover ingredients in my fridge and pantry dictate what my next recipes would be. I had some leftover corn tortillas from my Green Chile Migas, an extra can of black beans in my pantry, and some leftover cream cheese. What does that spell? CREAMY BLACK BEAN TAQUITOS! Yay! I paired the taquitos with some bright and tangy Cilantro Lime Rice and a side of salsa for dipping. Actually, now that I'm thinking about it, I have leftover queso fresco too, so I might go back and crumble some of that over the rice! It pays to "sweep the kitchen" once a week. ;)
I know the first question I'll get in the comments is, "How do you reheat the taquitos and keep them crispy??" and the answer is that you don't. They don't stay crispy and I'm okay with that. I reheat them in the microwave and they're still yummy. With meal prep you have to be okay with the fact that your reheated food is not going to be exactly the same as when it was freshly cooked. Instead of focusing on the fact that it's not the same, I focus on the fact that it still tastes great and I'm still really thankful to have an awesome, delicious, and inexpensive home cooked meal. My taquitos may not be crispy, but they're delicious and my whole lunch was about $2 instead of $10. And that really adds up over time.
If you're not a fan of cilantro, my Easy Taco Rice is a great substitute!
For more information about meal prepping, how it works, and why I do it, check out Meal Prep 101: A Beginner's Guide to Prepping and Portioning Meals, or check out my entire Budget-Friendly Meal Prep Archive.
Creamy Black Bean Taquito Meal Prep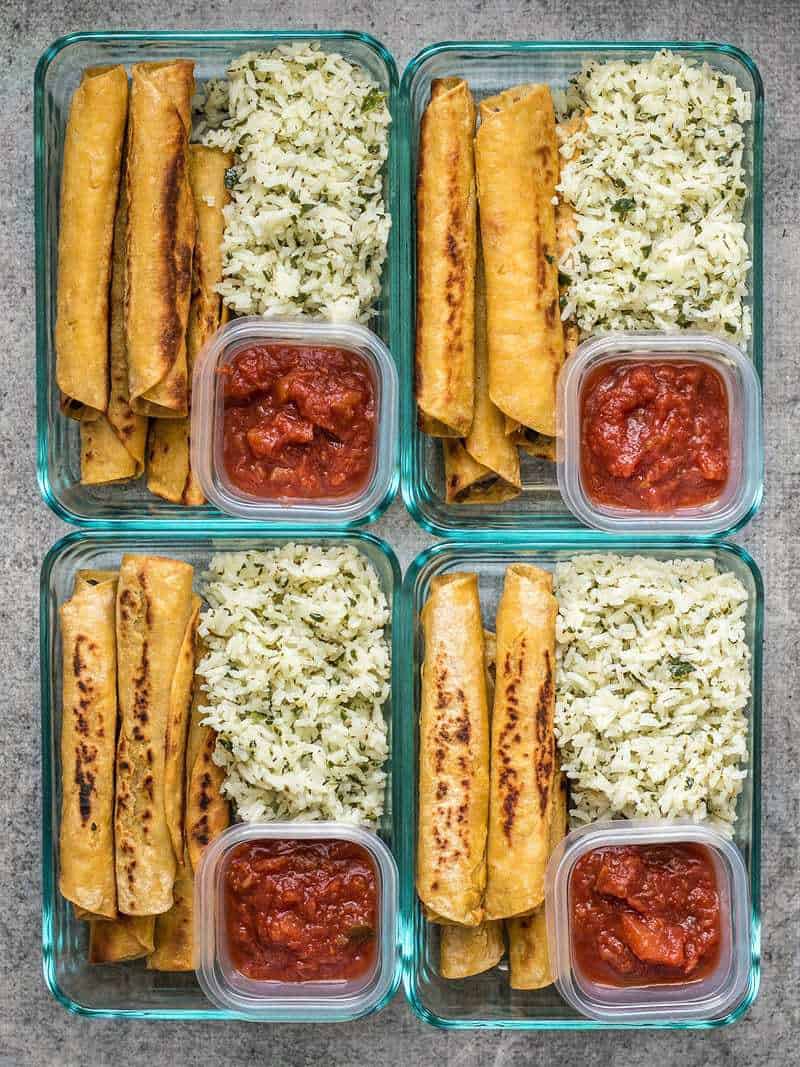 This Meal Prep Includes:
1 batch Creamy Black Bean Taquitos: (16 total): $4.83
4 cups Cilantro Lime Rice: $1.32
1 cup salsa (1/4 cup per meal): $0.92
Total Cost: $7.08
Cost per Meal: $1.77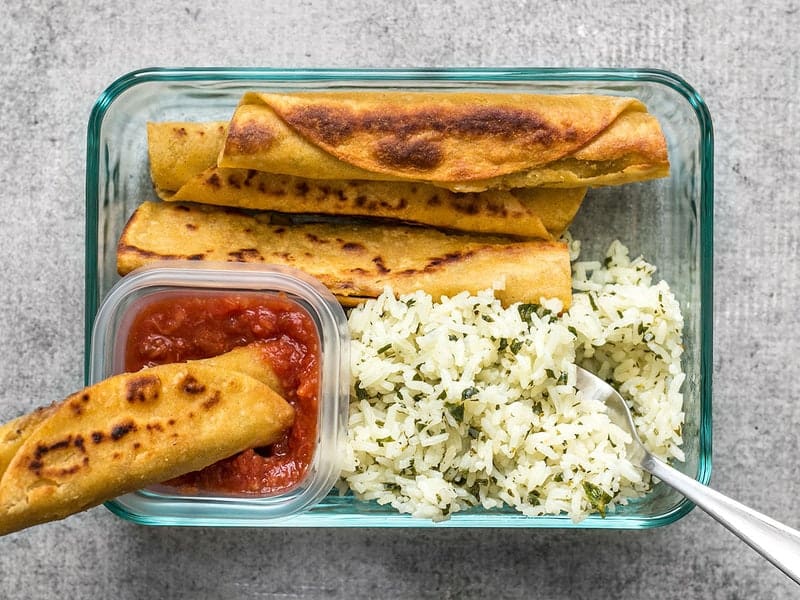 Notes:
The original recipe for the Cilantro Lime Rice makes six cups, but I didn't want to have leftovers, so I cut the batch down to make about 4 cups. To do that I used 1.5 cups rice and 2.25 cups broth. I reduced the lime juice and cilantro accordingly as well (estimated).
I didn't actually store the meals with the salsa container inside the larger glass container. The small square Ziploc containers that I used for the salsa (photo below) were too tall to properly close the lid on the glass containers, but I put them in there for the photo so that everything could be pictured together.
Another great optional side for this meal would be Warm Corn and Avocado Salad!
Want to make your own salsa for dipping? Check out my Fire Roasted Salsa.
And if you missed it above, Easy Taco Rice is a great sub for the Cilantro Lime Rice if you're a soap-cilantro person. ;)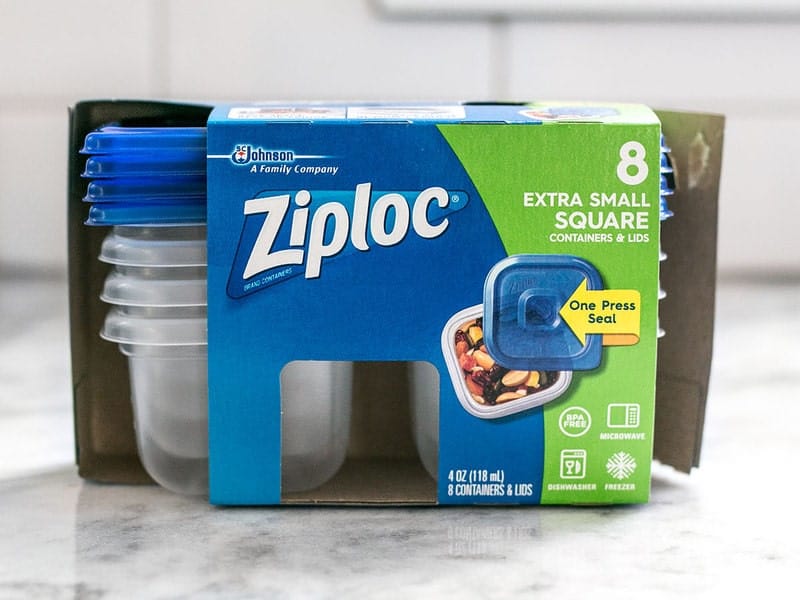 These are the little square Ziploc containers that I used for the salsa. They come 8 to a pack, which is great because I've lost at least four of my last set. LOL. I got these at Target.
The wide, shallow, one compartment glass containers pictured above are made by Pyrex and purchased from Amazon (upon suggestion from many readers). So far they're great!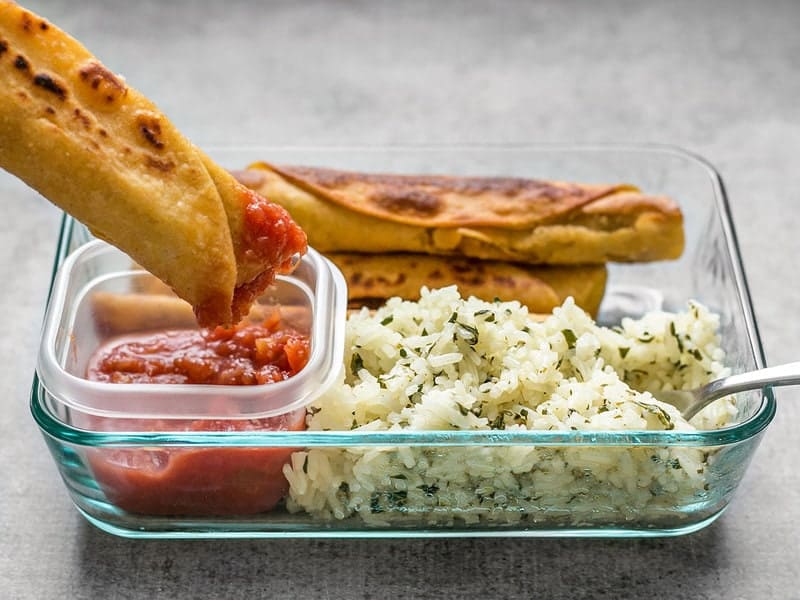 And that's it for this week! Enjoy your lunches!
This post may contain affiliate links which won't change your price but will share some commission. As an Amazon Associate I earn from qualifying purchases.