After almost five years (!!) of experimenting with food through Budget Bytes, ginger has become one of my all time favorite ingredients. It was completely new to me when I started the blog, but once I learned how to use it I fell in love. If you're unfamiliar with ginger, I hope this post will inspire you to give it a shot. It's freaking fantastic.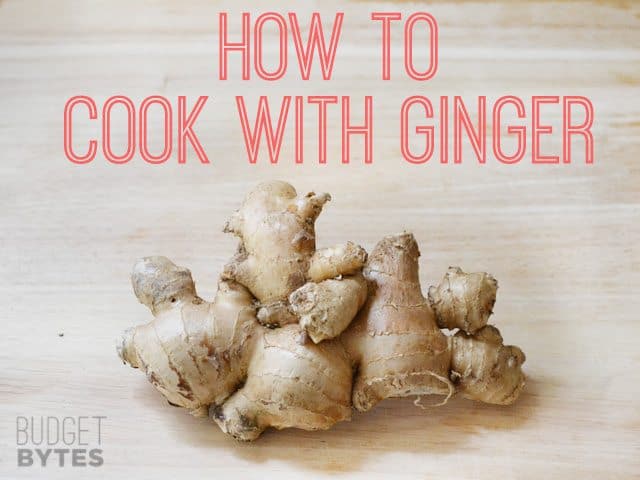 Ginger has a unique flavor. It has kind of a spicy bite, but some how it still works equally well with both sweet and savory dishes. It's great in cookies, smoothies, stir fries, curries, and even meatloaf. Yes, meatloaf. Here are a few of my favorite ginger containing recipes to give you an idea of just how versatile this root is…
Sweet Ginger Recipes
Savory Ginger Recipes
And that's just a few… type the word "ginger" into my search box up in the top right of the page and you'll see just how often I use ginger. It's pretty easy to use, no more difficult than garlic, in fact. If you've avoided it in the past because you just weren't sure how to handle it, scroll on. I've got you covered.
How to Cook with Ginger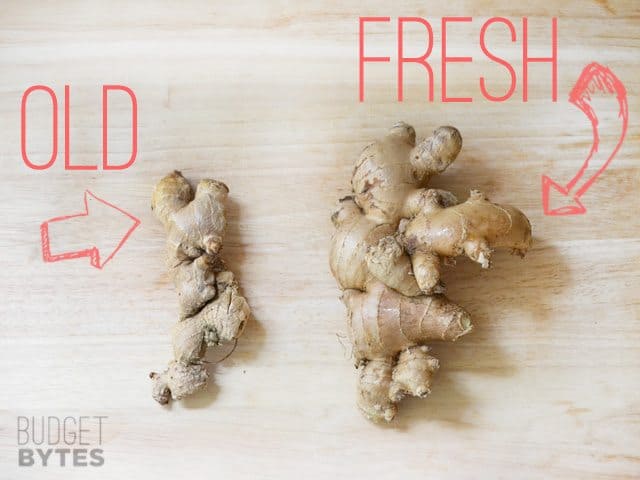 When you're looking at the ginger in the grocery store, make sure to look for a plump, firm root with smooth skin (like the one on the right). It should never look dry, shriveled, soft, or rubbery (like that sad guy on the left).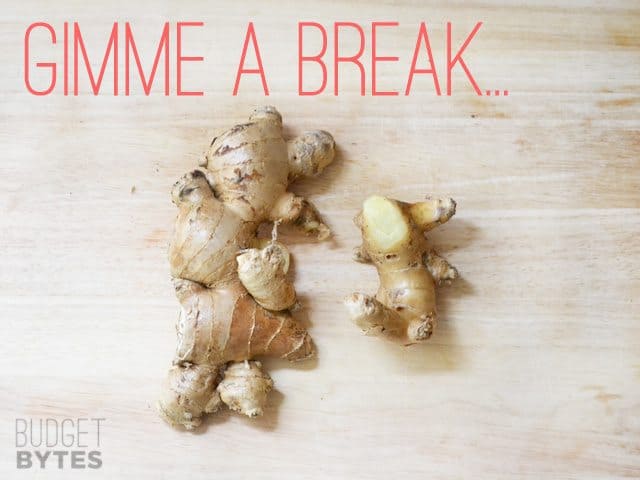 Most recipes call for just one or two inches of fresh ginger, but the roots at the store will be large and with many appendages. It's perfectly okay to break off a small nub from the large root—like bananas. You can break off the amount you need and leave the rest. There is no pressure to buy the whole thing. Now, if you did want to buy the whole thing, you can break off what you need at the moment and keep the rest in you freezer. Personally, I just break off a small amount at the store each time. It's usually priced per pound, so a small nub is very inexpensive.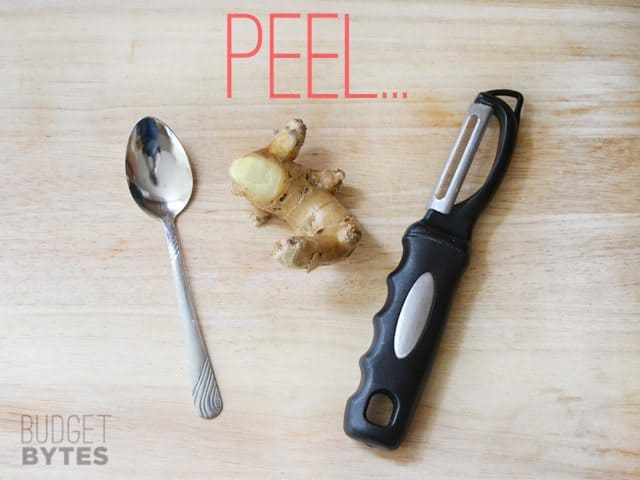 Next you'll probably want to peel the ginger. I say "probably" because I always do, but one time I was watching an Indian cooking show and the host said she never peels her ginger and that she actually liked the flavor. You don't say! Well, if you decide against peeling, make sure to wash it well. Ginger grows underground, in dirt and stuff. You can scrape the paper-thin skin off with the side of a spoon, or use a vegetable peeler. Whichever you prefer.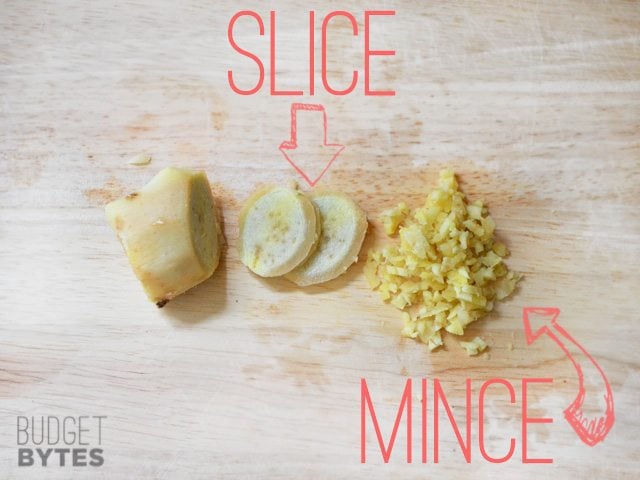 Once you have the ginger peeled (or not peeled) there are a few things you can do with it. You can slice it into thin medallions, or go a little further and mince those medallions into tiny pieces. The medallions are nice for infusing liquids because they're easily removed (like in the chai concentrate). Mincing is nice because you get a lot of flavor without huge pieces. Ginger actually has a really nice texture and I enjoy eating larger pieces of it in my food, but it's not for everyone.
NOTE: see how the ginger slices look kind of blue or grey? That means the ginger is getting old. Fresh ginger has a really nice light yellow hue.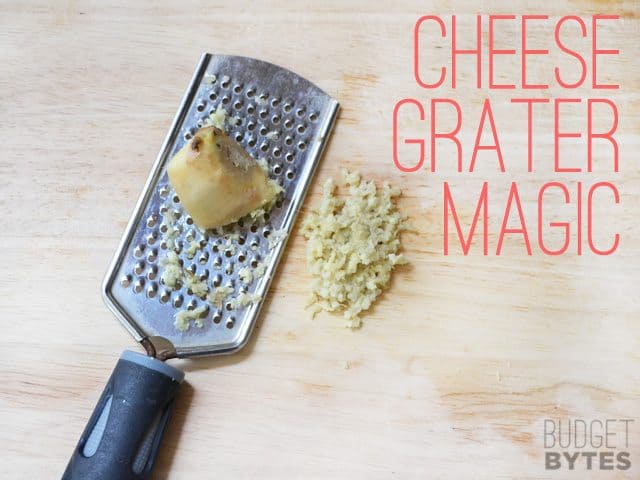 If you want really small pieces, you can grab a small holed cheese grater and grate the ginger into a super fine texture. I usually end up doing this just because it's much quicker than using a knife to mince the ginger. Sometimes, when the ginger is really fresh, it will drip juice as you grate, so make sure to do this over your pot or skillet so none of the flavor is lost!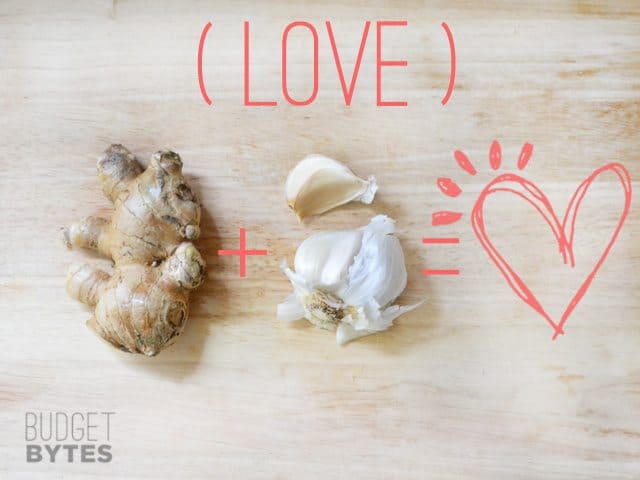 And just one more note… Garlic and ginger together is one of the most magical flavor combinations in the entire world. Trust me. Try it. Soon. This combination is the start to many great curries and stir fries. The smell as they sauté in a skillet is absolute heaven. Ahhh my mouth is watering just thinking about it!
So, what are you waiting for? Go get you some GINGER!
And for those of you who are already ginger lovers: What are you favorite ways to use ginger? Your favorite ginger tips and tricks? Share the knowledge :D