Meatloaf isn't pretty. Let's just get that out on the table. It's so ugly, in fact, that I couldn't stop giggling while taking these pictures. All I could think about were those silly post cards with retro pictures of jello molds and other hideous foods from the 1950s. But you know what? After one bite you forget allll about what it looks like. Even the smell is enough to change your mind. This loaf is insane (in a good way).
If you're not into loaves of meat, I found that this mix makes a pretty excellent Thai turkey burger as well. To taste test the seasoning I had to cook a small dollop in a skillet and it turned into a little mini turkey burger. Quite delicious. Pop one of those onto a Hawaiian roll and you're golden. Or, you can do it in meatball form.
I covered my mouth-wateringly delicious (yet ugly) meatloaf with a spicy Sriracha glaze. If you don't like spicy, you can use a jar of sweet chili sauce (not spicy as the name may imply) or even a sweet and sour sauce. But, you know, I had to have my sriracha!
Oh, and this makes a pretty big loaf. It can easily be halved if needed.
Thai Turkey Meatloaf
thai turkey meatloaf
This unique Thai Turkey Meatloaf is flavored with ginger and garlic and smothered with a sweet and spicy Sriracha glaze.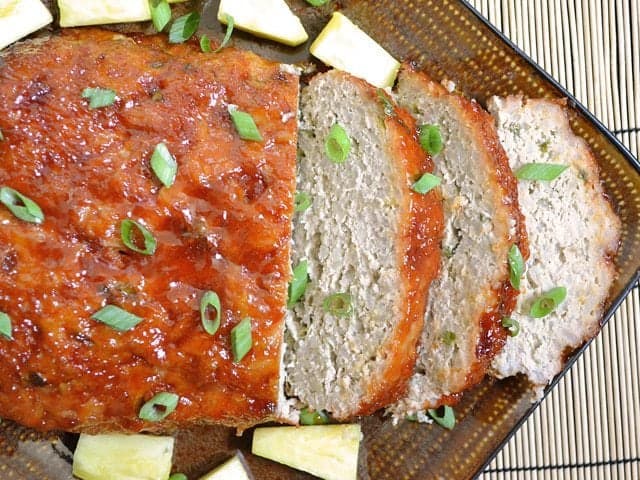 Ingredients
LOAF
2

lbs

ground turkey

($5.36)

4

cloves

garlic

($0.32)

3-4

whole green onions

($0.38)

2

inches

fresh ginger

($0.30)

3

Tbsp

soy sauce

($0.18)

1

tsp

toasted sesame oil

($0.19)

2

large eggs

($0.46)

1.5

cups

cooked jasmine rice

($0.26)
GLAZE
1/2

cup

brown sugar

($0.12)

2

Tbsp

ketchup

($0.05)

2

Tbsp

sriracha sauce

($0.17)

1

Tbsp

rice vinegar

($0.04)
Instructions
Place the ground turkey in a large bowl. Slice the green onions and mince the garlic. Add the onion and garlic to the bowl along with the soy sauce and sesame oil. Peel the ginger and grate it directly into the bowl using a fine cheese grater. Mix everything together well.

Add the eggs and cooked jasmine rice (white rice will work in a pinch). Mix everything together thoroughly. Line a baking sheet with foil and spray with non-stick spray. Place the meat mixture onto the baking sheet and shape it into a loaf.

Preheat the oven to 375 degrees. Once preheated, place the loaf inside and bake for 30 minutes. While the loaf is baking, mix together the sriracha glaze. In a small bowl stir together the brown sugar, ketchup, sriracha, and rice vinegar.

After it has baked 30 minutes, remove the loaf from the oven and spoon half of the sriracha glaze over top. Bake for an additional 30 minutes. Spoon the remaining glaze over top and bake for a final 15 minutes. A meat thermometer placed in the center of the loaf should read 160 degrees Fahrenheit.

Allow the loaf to rest for ten minutes before slicing.
See how we calculate recipe costs here.
---
Nutrition
Serving:
1
Serving
Calories:
361.56
kcal
Carbohydrates:
26.41
g
Protein:
33.88
g
Fat:
13.66
g
Sodium:
1016.39
mg
Fiber:
0.66
g
Read our full nutrition disclaimer here.
Step By Step Photos

This is the ground turkey that I used. It is 85% lean, 15% fat. The store did have a leaner ground turkey but it was about a dollar more per pound and I figured the fat would help keep the loaf moist. If you prefer the leaner turkey, it should also work just fine.

Place the ground turkey in a bowl and add the sliced green onions, minced garlic, peeled and grated ginger, soy sauce, and sesame oil. Mix it all up very well.

Next add two eggs and the cooked jasmine rice. White or brown rice will work in a pinch if you don't have jasmine rice, but just know that jasmine rice does add some flavor. Mix everything up really well again.

And this is your final Thai turkey mix. You can make it into burgers or meatballs at this point if you don't want a loaf. It's pretty wet and sticky, so if you're making burgers, make sure to use some oil or non-stick spray.

If you're going the meatloaf route, cover a baking sheet with foil and then spray with non-stick spray. Shape the mixture into a loaf. I prefer to bake meatloaf on a baking sheet rather than a loaf pan because it allows extra moisture to drain away. Loaf pans hold it all in and they often get soupy on the bottom.

Bake the loaf in a 375 degree oven for 30 minutes. This is what it looks like so far. Not so pretty, but you can see how some of that moisture is draining away.

While the loaf is baking during that first 30 minutes, mix up the sriracha glaze. Stir together the brown sugar, ketchup, sriracha, and rice vinegar.

Spoon about half of the glaze over the meat loaf and spread it all over the sides. Bake for an additional 30 minutes.

After a full 60 minutes of baking, my meatloaf had already exceeded the safety mark of 160 degrees internal temperature. I still had some glaze left so I spooned it over top and baked it for 15 more minutes.

And then it had a nice thick, sticky sriracha glaze! …smells SO good. The meatloaf should lift easily from the baking sheet. The glaze that dripped onto the baking sheet was burned, but none of the meatloaf or glaze on the meatloaf were even close to being burned.

I garnished with a few more sliced green onions and I just happened to have some fresh pineapple that I cut up that morning.

Make sure to allow the meatloaf to rest for at least ten minutes before slicing. This allows the steam pressure to reduce, which keeps the moisture in the loaf instead of driving it out.