I was really really excited when I saw this post over on Judicial Peach the other day. Homemade chai is something that I've been wanting to make for quite some time. Never did I expect it to be so easy and so delicious. The final drink tasted every bit as good as what you'll spend $4 on at a coffee shop and it is completely customizable (want less sugar? soy milk? orgainic?)
I did make one huge mistake in thinking that I had some cardamom in my cabinet. Turns out I didn't and the grocery store near me did not have cardamom pods either so I had to make it without. Now, cardamom is kind of the signature spice in chai but I have to say, the drink was still freaking delicious without it. The recipe and prices below do not include the missing cardamom.
Chai Concentrate
The cost of making this concentrate can be quite variable. The spices tend to be a little on the expensive side so you have to shop smart. I found a little bag of cinnamon sticks (photo below) in the hispanic foods section for only $1.50. You'll pay three times that much if you buy it in a jar from the spice section. Cloves are pretty pricey too but luckily you don't need many.
Tea can also vary quite a bit in price. Chai usually is made with black tea but I happened to have some Stash Black and Green Earl Grey so I used that. The floral aroma from the bergamot in the earl grey added a really nice touch. I bought the box of organic Stash tea at Target for $2.29 (18 bags). Tea can be 10x that expensive so shop around.


Chai Concentrate
Make your own chai concentrate at home with fresh herbs and spices for more flavor than you've ever experienced!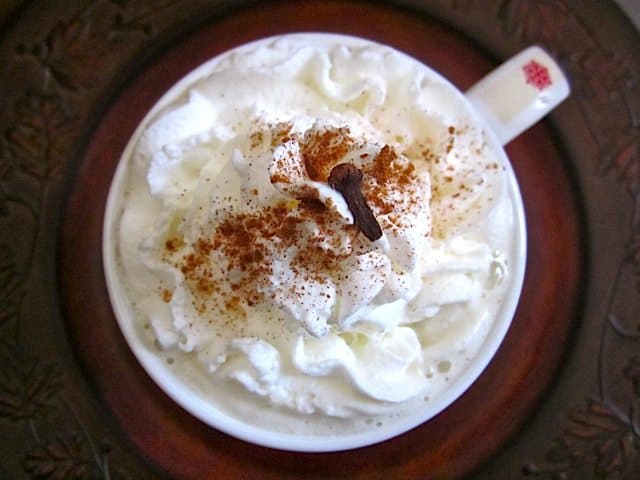 Ingredients
Instructions
Place four cups of water in a medium pot. Add the cinnamon sticks, tea bags, whole cloves and ginger (peel and slice the fresh ginger).

Bring the pot up to a boil, place a lid on top, reduce the heat and simmer for five minutes to make sure it is brewed strong.

Remove the pot from the heat and carefully strain out the tea bags and spices (Place a colander over a bowl and pour it in). Using whole spices not only adds more flavor but makes straining them out much much easier.

While the spiced tea is still hot, stir in the sugar and vanilla. Store the chai concentrate in the refrigerator until you are ready to use.

To make a drink, combine one part chai concentrate with one part milk. Heat and serve!
See how we calculate recipe costs here.
---
---
Notes
To use cardamom pods, slighty crush 4-5 and add to the pot with the rest of the spices
Nutrition
Serving:
1
Serving
Calories:
117.63
kcal
Carbohydrates:
31.18
g
Protein:
0.43
g
Fat:
0.3
g
Sodium:
3.33
mg
Fiber:
4.45
g
Read our full nutrition disclaimer here.
Step By Step Photos

This is the tea I used, it is very very delicious for a "bag" tea (I usually prefer loose leaf). Using a flavored tea may muddy up the chai flavor so go for plain black tea if you're unsure. Luckily, the earl grey blended really well with the spices.

These are the cinnamon sticks I found for a really low price. If your local grocer doesn't have them for a decent price, try checking ethnic markets.

My itty-bitty jar of cloves. I didn't have time to shop around for this one but luckily, the recipe doesn't call for a lot.

If you've never seen a whole clove, this is what they look like!

Peel and slice one inch of fresh ginger.

Throw it all in a pot with 4 cups of water (sugar and vanilla is added later).

Bring the pot up to a boil, place a lid on top, reduce the heat to low and let simmer for 5 minutes.

Strain out the spices and tea bags.

While it's still hot, stir in the sugar and vanilla.

To make a drink, combine one part chai concentrate with one part milk (I did 8 oz. of each). Heat and serve!

Add a little whipped cream if you feel like something extra special.
This drink is seriously so good that I WILL be making it all winter long!