Happy Saturday, everyone! I hope your weekend is off to a good start. I wanted to take a few moments to share a salad I made this week with some of the leftovers in my kitchen. It all started with the double batch of Simple Sesame Dressing that I made for my Roasted Broccoli Salad earlier this week. Despite being fairly inexpensive, I didn't want that dressing to go to waste. So, I paired it with a can of mandarin oranges that have been in my pantry FOR-EV-ER, one of the avocados I picked up on a post-cinco-de-mayo sale, and part of the rotisserie chicken that I'd been nibbling on all week. The flavors and textures came together beautifully in this sweet-salty-creamy-and-crunchy Chicken and Mandarin Salad.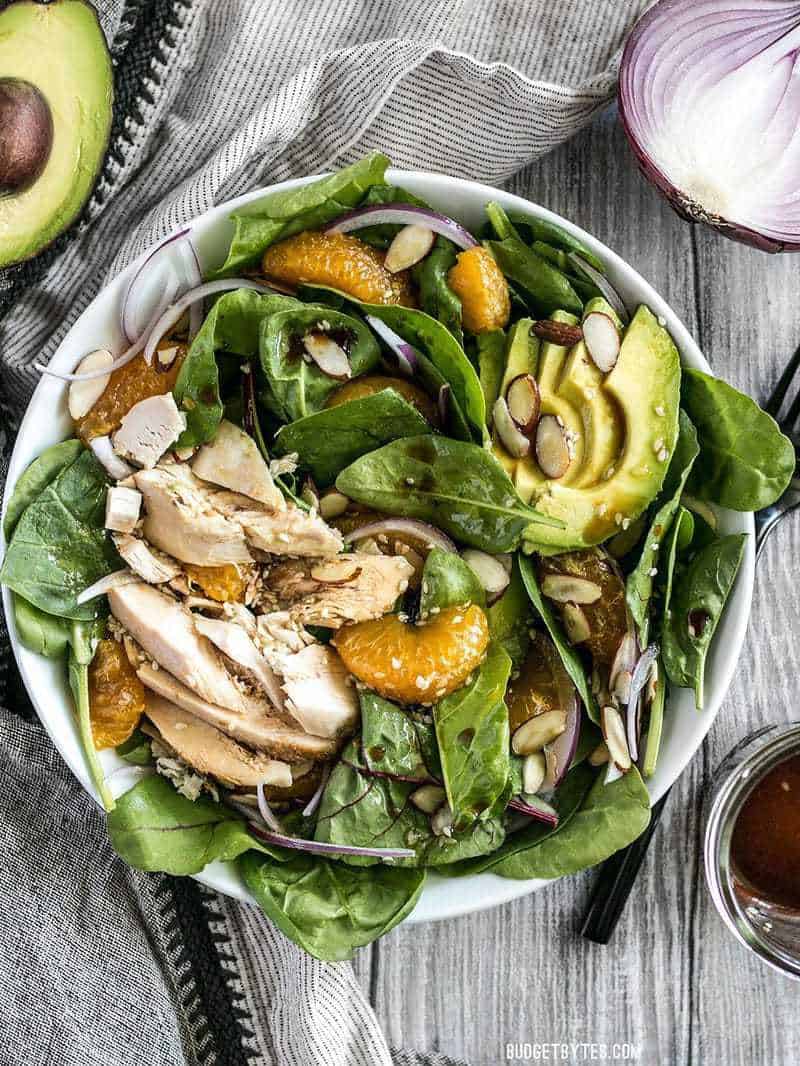 Alternative Ingredients
I'm sure not everyone will have the same leftovers that I had, so I want to offer a few alternate ingredients that I think would work well. Instead of tender baby greens you can use finely shredded cabbage, or even bagged coleslaw mix. Not a fan of canned mandarin oranges? Try a diced mango instead. No sliced almonds? Try some chow mein or broken up ramen noodles for crunch instead.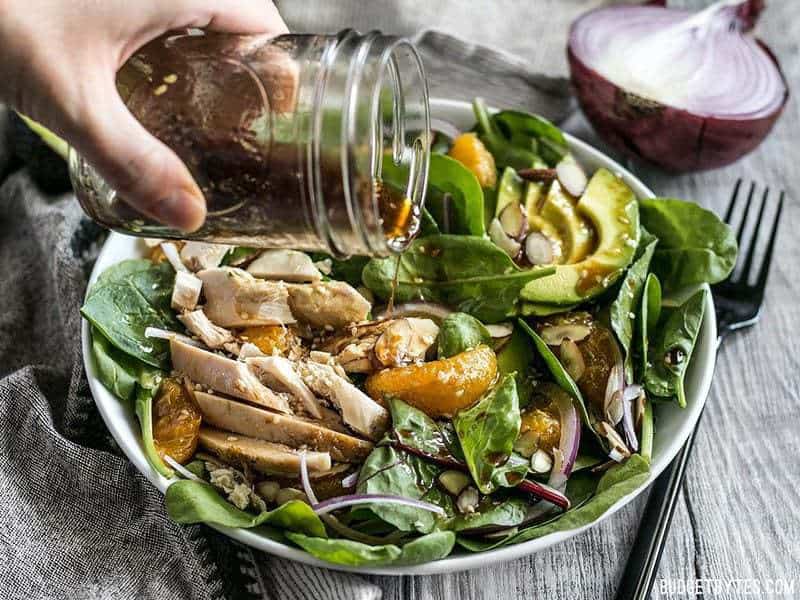 Chicken and Mandarin Salad with Simple Sesame Dressing
This meal-worthy Chicken and Mandarin Salad boasts sweet mandarin oranges, creamy avocado, crunchy almonds, and homemade sesame dressing.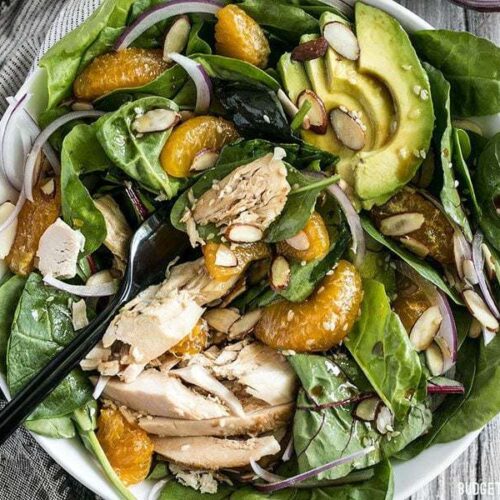 Ingredients
SIMPLE SESAME DRESSING
2

Tbsp

light or neutral oil*

($0.08)

1

Tbsp

rice vinegar

($0.12)

4

tsp

soy sauce

($0.13)

1

tsp

toasted sesame oil

($0.11)

1

Tbsp

brown sugar

($0.02)

1

tsp

grated fresh ginger

($0.04)

1/2

Tbsp

sesame seeds

($0.04)
SALAD
6

cups

salad greens**

($1.25)

11oz

can

mandarin oranges

($0.77)

1

rotisserie chicken breast

($1.50)

1/4

cup

sliced almonds

($0.50)

1/4

small red onion

($0.14)

1/2

avocado

($0.50)
Instructions
Prepare the dressing first, so the flavors have a few minutes to blend. In a small bowl or jar, whisk together the oil, vinegar, soy sauce, toasted sesame oil, brown sugar, ginger, and sesame seeds. Set the dressing aside.

Slice the red onion very thinly and soak the slices for a few minutes in ice water to take the edge off. Drain the can of mandarin oranges. Slice the avocado and chop the chicken breast.

To assemble the salads, place about 3 cups of salad greens in each bowl or plate. Top with mandarin orange segments, chopped chicken, sliced avocado, and a few slices of the soaked red onion. Give the dressing one last whisk and then drizzle it over the salads. The dressing is potent, so start with a small amount and add more as needed.
See how we calculate recipe costs here.
---
Notes
*Use a light flavored or neutral oil, like canola, grapeseed, or an untoasted sesame oil.
**This salad works with a variety of salad greens, or even very thinly sliced cabbage.
Nutrition
Serving:
1
Serving
Calories:
581.55
kcal
Carbohydrates:
30.9
g
Protein:
31.35
g
Fat:
40.35
g
Sodium:
918.65
mg
Fiber:
10.95
g
Read our full nutrition disclaimer here.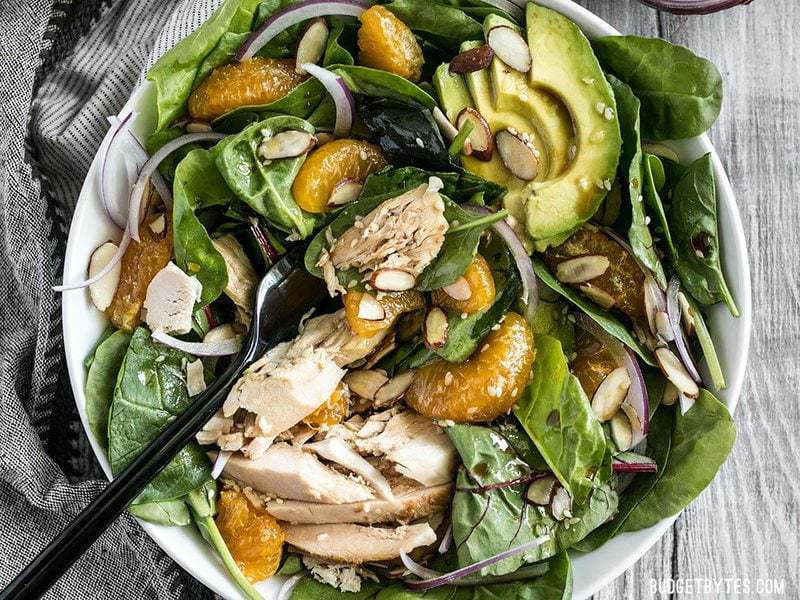 How to Make Chicken and Mandarin Salad – Step by Step Photos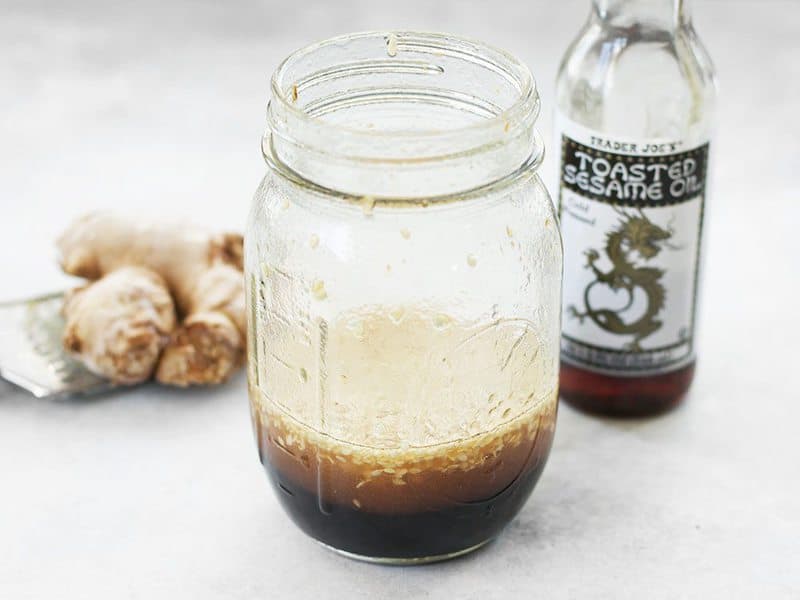 Make the dressing first, so the flavors have a few minutes to blend (this is a double batch pictured). In a small jar or bowl, whisk together 2 Tbsp light or neutral oil, 1 Tbsp rice vinegar, 4 tsp soy sauce, 1 tsp toasted sesame oil, 1 Tbsp brown sugar, 1 tsp fresh grated ginger, and 1/2 Tbsp sesame seeds.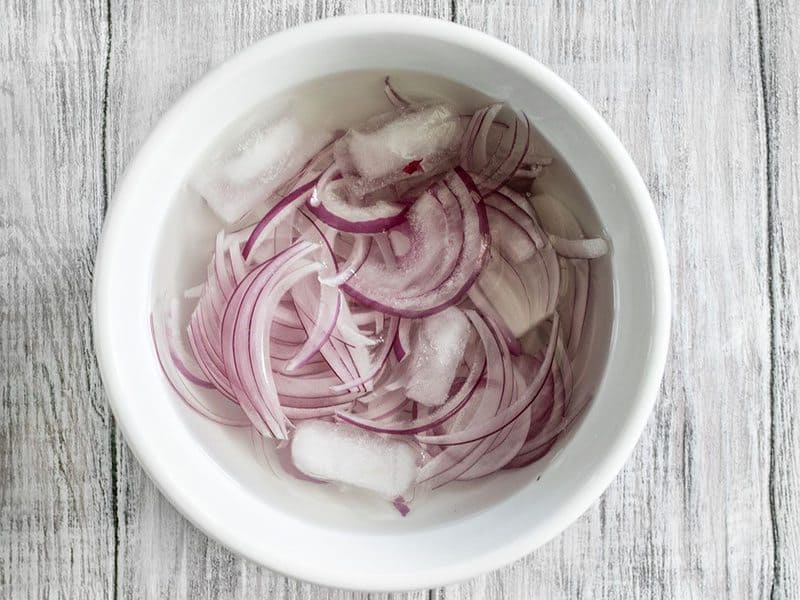 Here's a really handy trick for red onions, which can be a bit strong sometimes (I love their flavor, but they can be over powering and sometimes give me a stomach ache). Slicing them VERY thinly can help balance their strong flavor with the rest of the foods you're eating (big chunks or thick slices = potent). Soaking them for about 5 minutes in ice water also really takes the edge or the bite off the onion.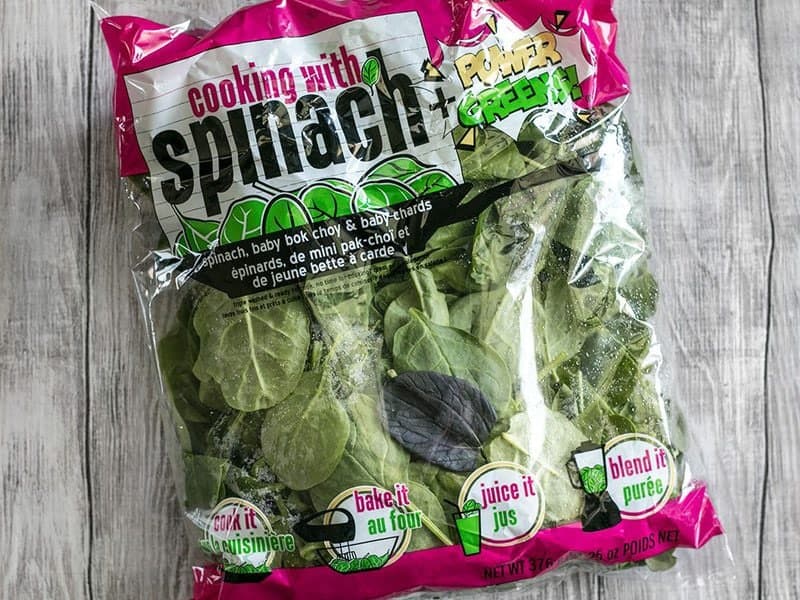 You can use just about any salad green for this, but I chose this mix of baby greens (because I'm also going to use it in pasta and some for smoothies). Salad greens can be expensive if you're buying the small bags, but larger bags or tubs of greens are usually much less per pound. It's hard to tell in this photo, but this bag is about 3-4 times the size of a regular bagged salad.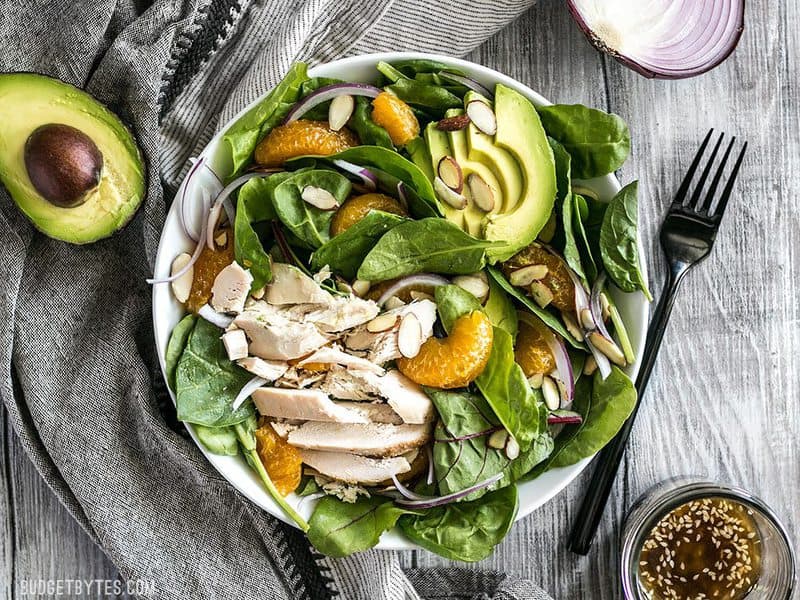 To build the salad, place about 3 cups of salad greens to each large bowl or plate, along chopped rotisserie chicken breast, sliced avocado, mandarin orange segments, some of the sliced red onion, and about 2 Tbsp sliced almonds per salad.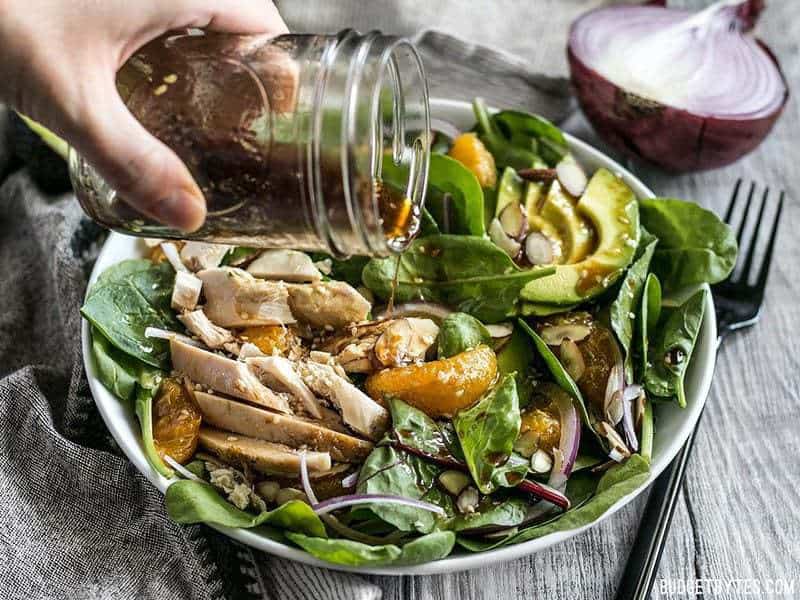 Give the dressing one last whisk, then drizzle it over the salad. Go slowly and add more if needed after stirring the salad.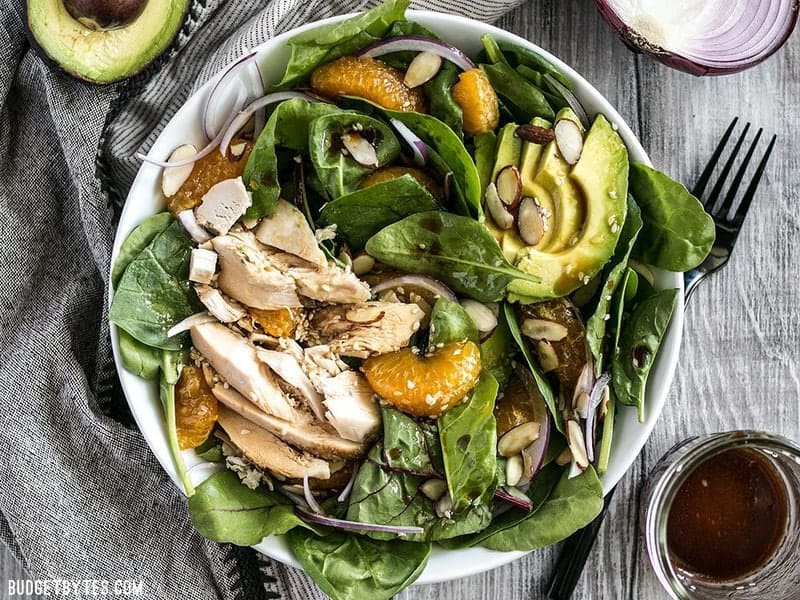 And that's it! This Chicken and Mandarin Salad might be the most epic "leftover" meal I've ever made. :D
TRY THESE OTHER SPINACH SALAD RECIPES: