What is baked oatmeal and why is it different than regular old boiled oats? I had the exact same questions, my friends.
Baked oatmeal is the thicker, almost custard-like cousin, to oatmeal. How can that not be good, right? Well, it took me a couple tries to get the recipe right but I'm happy to say that last weekend I had baked oatmeal success!
You can use any fruit on the bottom. Apples are always an economical choice but use whatever is in season (peaches were on sale this week). I also used some frozen blueberries because I keep a big bag of those in my freezer. You can also try adding things like nuts, ground flax seeds, or other spices. Banana would be incredible with dulce de leche drizzled on top… ooooh.
One word of warning: I don't like things too sweet so I used a very minimal amount of sugar here. If you want a richer, more decadent, dessert-like baked oatmeal, double the brown sugar.
Baked Oatmeal
Baked Oatmeal
Baked oatmeal is a new way to get your oats. Old-fashioned oats are baked in slightly sweet, custard-like mixture for a dessert-like end product.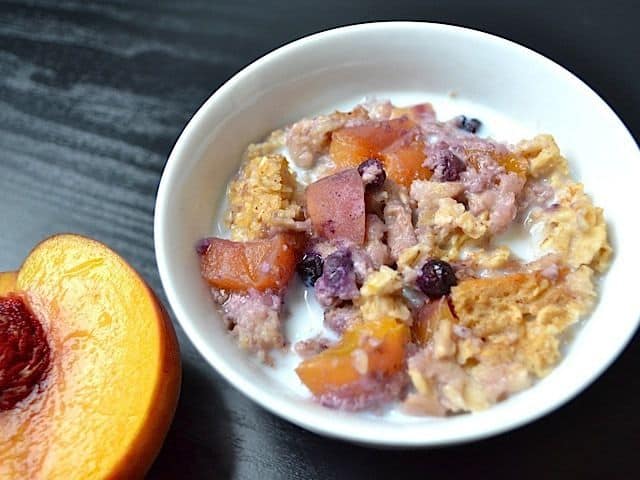 Ingredients
2

med. peaches

($1.06)

1/2

cup

blueberries

($0.71)

1 1/2

cups

milk

($0.56)

1

cup

plain yogurt

($0.50)

1

large egg

($0.18)

1/4

cup

brown sugar

($0.08)

2

cups

old-fashioned oats

($0.34)

1/2

tsp

baking powder

($0.02)

1/4

tsp

baking soda

($0.01)

1/4

tsp

salt

($0.02)

1

tsp

ground ginger

($0.05)

1/4

tsp

cinnamon

($0.02)
Instructions
Preheat the oven to 350 degrees. Clean the peaches and cut them into chunks. Place the peaches and blueberries in the bottom of an 8×8 baking dish coated with non-stick spray.

In one bowl, whisk together the wet ingredients (milk, yogurt, egg, sugar). In a separate bowl, stir together the dry ingredients (oats, baking powder, baking soda, salt, ginger, cinnamon). Combine the two bowls and stir until evenly mixed. Pour the mixture over the fruit in the baking dish.

Cover the dish with foil (to keep the moisture in and steam the oats) and place in the preheated oven. Cook for 20 minutes. Remove the foil at 20 minutes and continue to bake until the top is golden brown (about 25 minutes more).

Serve warm with cold milk, whipped cream, vanilla yogurt or just plain!
See how we calculate recipe costs here.
---
Nutrition
Serving:
1
Serving
Calories:
239.55
kcal
Carbohydrates:
39.18
g
Protein:
8.6
g
Fat:
6.12
g
Sodium:
245.13
mg
Fiber:
3.9
g
Read our full nutrition disclaimer here.
This dish can be refrigerated and eaten either hot or cold throughout the week.
Step By Step Photos

These big beautiful peaches were on sale this week so I had to grab 'em up! Use whatever fruit you want. You'll need about 2 cups worth of chopped fruit.

Preheat the oven and coat a baking dish with non-stick spray. Use an 8×8 inch dish or something close in size. A 9×13 dish will be too big and will make a very thin, flat baked oatmeal. Not good.

Whisk together the wet ingredients in a bowl (milk, yogurt, egg, sugar).

In a separate bowl, combine the dry ingredients (oats, baking soda, baking powder, salt, cinnamon, ginger). Stir until evenly mixed.

Combine the two bowls and stir until mixed.

Pour the oatmeal mixture over the chopped fruit.

Here's a side view before cooking. It's not very thick now but as it cooks, it will plump up. Cover the dish with foil and bake for 20 minutes. Then remove the foil and bake for about 25 minutes more or until the top is golden brown.

See how much thicker it got? The oats soaked up all of that moisture and the milk/yogurt/eggs created an almost custard like texture. Awww-yeah.

Serve it warm or keep it in the refrigerator for a quick breakfast every day of the week!

I like a cold/hot temperature contrast so I like to pour cold milk over top.
I love oats.